Looking for what to serve with sliders at a party dinner? They can be served with a wide variety of tasty condiments.
Sliders are a great finger food option for any event, from game day to backyard picnics. They're delicious and simple to prepare.
What should you serve with sliders? This post will provide you with innovative slider ideas to wow your guests.
Types of sliders to serve at a party
Sliders are perfect for any gathering, whether it's a backyard barbecue, office potluck or housewarming party. When choosing the type of slider to serve at your party, you have many options. Here are some party favorites to consider:
Traditional beef sliders: Well-cooked ground beef sliders with cheese, lettuce, tomato, and pickles. Meat lovers will rejoice with these classic flavors!
BBQ pulled pork sliders: Slow-cooked, tender pulled pork with barbecue sauce on tiny buns with coleslaw.
Chicken parmesan sliders: Breaded and fried chicken cutlets in marinara sauce with melted cheese on tiny buns.
Vegetarian sliders: These sliders include plant-based protein and taste from black beans, quinoa, or lentils. Healthy and tasty toppings include avocado, lettuce, tomato, and others. My best vegetarian sliders for party dinners are black bean juicy bites with guacamole!
Buffalo chicken sliders: Hot sauce-tossed chicken pieces with blue cheese tangy dressing on tiny buns.
Caprese sliders: Fresh mozzarella, sliced tomatoes, basil, and a drizzle of balsamic glaze on tiny buns for a light, refreshing spring or summer party alternative.
Fish sliders: Grilled or breaded cod or salmon fillets with lettuce, tartar sauce, and pickles.
Reuben sliders: Corned beef or pastrami, sauerkraut, Swiss cheese, and Thousand Island dressing on small rye bread slices make a substantial St. Patrick's Day or deli party snack.
Cheese sliders: Cheddar, Swiss, or American cheese with tomato and onion on a soft potato roll. You can also consider these alternatives to white American cheese for your cheesy sliders.
Breakfast sliders: Small breakfast sandwiches with scrambled eggs, bacon, sausage, ham, cheese, and buns are great for brunch or morning celebrations.
These slider suggestions are for your party. Mix & combine to dazzle visitors with a great feast!
If you're a vegetarian or vegan like me, you can still enjoy these recipes with some vegan or vegetarian substitutes.
What sides to eat with sliders?
When serving sliders at a party, it's important to include tasty side dishes as well. The perfect side dishes for mini burgers can help transform your party from ordinary to extraordinary. Here are some tasty appetizers to go with sliders:
What's better than a juicy slider with crunchy french fries? Party people love savory sliders and fries.
Cut potatoes into thin strips, sprinkle with oil and spices, and bake or fry until golden and crispy. Serve them in a basket or dish. It's a party-pleaser!
You can also consider sweet potato fries or tater tots as an alternative.
Check out these sweet potato substitutes to make your fries even more unique!
Serve sliders with creamy loaded nachos for a Tex-Mex fiesta. Stack crispy tortilla chips with melty cheese, beans, jalapenos, guacamole, sour cream, and salsa for a delicious snack that will have visitors coming back.
Nachos' strong flavors go well with slider recipe tastes. It's a party-friendly meal!
Fresh coleslaw is a great side dish to counteract sliders' richness. Coleslaw adds crunch and tang to your party buffet.
Add bell peppers, onions, apples, or pineapple for a distinctive spin. The sliders and coleslaw complement each other wonderfully.
You can also try out some of these bell pepper substitutes in your next coleslaw recipe.
If you love Mexican-style food, serve sliders with street corn. Street corn is a popular Mexican snack that's made with grilled or boiled corn, mayonnaise, chili powder, and cheese. This savory side dish is creamy and cheesy, making it perfect for slider fans.
Potato salad is a fan favorite for good reason. Choose a creamy or vinaigrette potato salad and serve it with sliders. This potato salad recipe might be a good match.
The creamy texture pairs perfectly with the crunchy slider buns. You can customize your simple potato salad any way you want by adding ingredients such as egg, onions, bacon, and pickles.
Condiments and dips to serve with sliders
Condiments and dips are essential for serving sliders. They add flavor to the mini burgers and make them even more delicious. Here are some condiments and dip suggestions to tickle your taste buds:
Barbeque sauce can increase the flavor of your sliders. Ketchup, brown sugar, vinegar, and spices can produce homemade BBQ sauce.
Modify the sweetness, tanginess, and spiciness to taste and brush it over slider sandwiches before grilling or serve it as a dipping sauce. The sliders' smokey and sweet homemade BBQ sauce elevates them!
Mini sliders go well with creamy and cheesy dips. Melt cheddar, Monterey Jack, or Gouda cheese with milk or cream and season with garlic, paprika, or mustard to produce a traditional cheese dip.
Customize your dip with chopped tomatoes or green chilies. Serve it warm with tortilla chips, crackers, or toasted bread for a quick-selling appetizer! It's a great comfort food too.
Sliders with homemade salsa or guacamole are fresh and colorful. Diced tomatoes, onions, jalapenos, cilantro, and lime juice produce tangy salsa.
You can also make guacamole using ripe avocados, onions, garlic, lime juice, and seasonings.
Both methods add extra flavors and freshness to sliders, making them a complete meal. Your guests will love these slider side dishes and the chance to personalize their sliders.
Slider ideas FAQs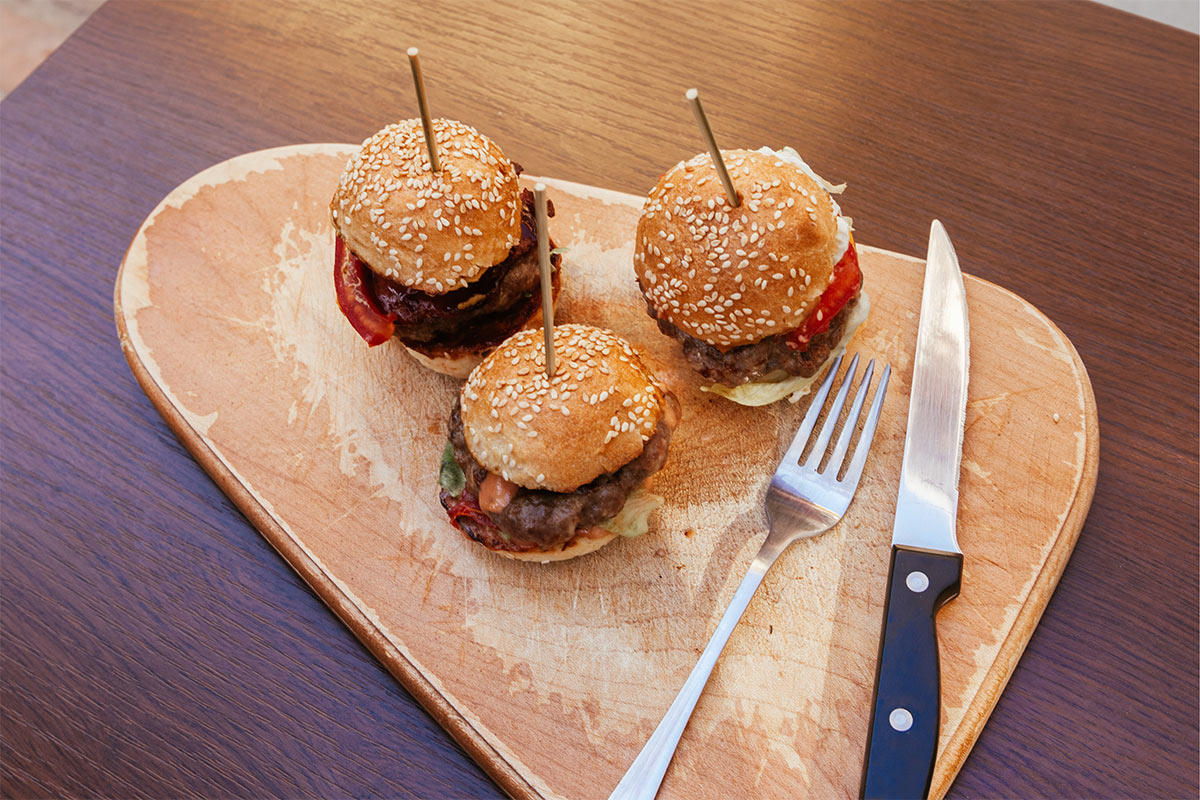 How do you keep sliders warm for a party?
Sliders can be kept warm for a party in the oven or over low heat. Preheat your oven to 150°F, arrange your sliders on an oven-safe tray, and cover them with foil. Place the tray in the oven for 10-15 minutes and serve them immediately when they're hot.
What vegetables go well with sliders?
Pickled cucumbers, carrots and onions are a great way to add crunch and tang to sliders.
How do you keep sliders from getting soggy?
The key to keeping sliders from getting soggy is toasting the buns before assembling them. Spread butter on the cut side of each slider bun and bake in a preheated oven until lightly golden. This will ensure that your sliders stay crispy while adding flavor.

Additionally, add crunchy vegetables like lettuce, tomato or onion slices to add texture and prevent fogginess.
How many appetizers do I need for a 30 person party?
For a 30-person party, plan to serve enough appetizers for each person to have six. Consider offering a variety of foods such as chips and dip, vegetable trays, cheese platters, light sandwiches, and mini pizzas. Additionally, offer healthy options like fresh fruit or veggie cups.
BOTTOM LINE: These are some quick and healthy sides for sliders! These slider toppings, from crispy french fries and loaded nachos to cool coleslaw and savory condiments like BBQ sauce, cheese dip, salsa, and guacamole, will impress your visitors.
These flavor combinations will make your party menu with sliders a smash and leave guests wanting more. Enjoy your mini sandwiches with all the fixings!
Which side dish for sliders did you like the most? Share your favorite recipe in the comments!
Are you looking for more delicious toppings and side dishes? Check out my articles on what to serve with eggs Benedict, what to serve with moussaka, what to eat with biryani and the best side dishes for hash brown casserole.
Why not also try empanadas as a party snack? Find out what to serve with empanadas here.