Moussaka is an amazing Greek cuisine that can be eaten on its own or paired with a tasty side like salads and even bread. Have a look at some of the best options on what to serve with moussaka below!
As an avid lover of Greek cuisine, I pride myself in knowing the best foods to pair with all kinds of Greek meals, even the ones I'm not the biggest fan of.
Moussaka is a dish that packs a lot of flavor with so many layers of eggplant, a tasty creamy béchamel sauce and a ton of ground meat which is a big no no for me.
So I make a vegetarian moussaka with eggplant, lentils and plenty of vegetables like carrots, onion, garlic, etc. Check out this aubergine lentil moussaka recipe for more inspiration!
I acknowledge it is a hearty and satisfying meal, but there are so many sides you could pair with this incredible Greek dish to take it to the next level and in this article, I'll be sharing some of them with you!
What to serve with veggie moussaka
If you're one for hearty and ultra-healthy accompaniments, a Greek salad would be an amazing choice for you. There's no doubt in my mind that the freshness of all those wonderful chunks of tomatoes, cucumbers and that lovely feta cheese would do wonders besides a hot serving of some moussaka.
To make a Greek salad, you'll need some chopped tomatoes, cucumbers, and a red onion while a simple vinaigrette of olive oil, lemon juice and oregano will do for the dressing. Just throw all your veggies in a big bowl and toss them together in that vinaigrette with Kalamantra olives as well as crumbled feta and you've got yourself a salad for the ages!
If you're wondering what salad to serve with moussaka but something on the lighter side, a green salad might be just what you need. It's one of my favorite healthy side dishes for a variety of meals as it combines some of the best leafy green vegetables with a light dressing in one rich bowl. I also love that green salads only take a couple of minutes to make but still end up being one of the most delicious side dishes.
You can choose to have a Caesar salad, baby arugula dressed in virgin olive oil and some lemon juice, a kale salad or even a spinach salad to pair with the moussaka for a complete meal.
And if you need ideas for your green salad, here are alternatives for spinach, bok choy substitutes and even other leafy greens you can use instead of arugula that might inspire you.
Tyrokafteri sauce isn't just great with some pita chips or fresh bread but it can also be a great accompaniment to moussaka, making your meal even more flavourful with all those additional flavors.
It's a super tasty Greek dip made with feta cheese and some red hot pepper and is super easy to make. I like making mine by lightly roasting some cherry peppers in the oven, then whirling them in a blender with yogurt, some feta cheese, lemon juice, and olive oil till the mixture has got a nice and smooth consistency but you can have yours with any other additional ingredients you'd like.
Not a fan of feta cheese but would like a dip? How about you try out some tzatziki sauce with your moussaka for a change!
A creamy combo of yogurt, cucumbers, herbs and garlic, this sauce is a tasty and tangy dip that's sure to elevate your moussaka. It's the perfect side dish for someone who would like something creamy but not as spicy as the Tyrokafteri sauce above.
Mix plain yogurt, grated cucumbers, minced garlic cloves with some olive oil and lemon juice alongside finely chopped leaves of your favorite herbs if you'd like (I usually throw in some diced mint, dill or parsley!). Whirl it all up in a blender and leave it to cool in your fridge for an hour or so and serve it on the side of your moussaka for a delicious contrast in flavors and textures!
Roasted veggies go with a whole host of meals and moussaka is no exception. The tasty and lightly charred vegetables offer a nice contrast to the rich dish that moussaka is.
Go ahead and throw on just about any of your favorite vegetables on a grill but I'd recommend some hearty ones like zucchini, bell peppers and even eggplants to bulk up your dish.
To prep them, you can simply chop and toss them with some olive oil and your favorite seasonings (you can't go wrong with a lil' salt n' pepper!). Roast them on a grill or pop them in the oven until they've soaked up the flavors of your spices and are all tender and caramelized.
Greek rice pilaf is another flavourful side dish for moussaka. The delicious flavor of the rice would go wonderfully well with that creamy béchamel sauce and tomato sauce in the moussaka, making for a hearty dish.
I like starting off my Greek rice pilaf with chopped onions and garlic sauteed in olive oil and then adding some rice and vegetable broth, but you can use the broth of whatever meat that's in the moussaka. I then add some lemon zest for a tang, oregano for some spice and a bay leaf to add more depth to the rice's flavor then I let it simmer till it's all nice and fluffy.
If having your veggies raw in a salad doesn't sound appealing and oven-roasting or grilling them sounds like too much of a hassle for a side dish for you, why not consider sauteed vegetables to eat with moussaka instead?
It's an ultra-healthy side dish to have and is super simple to make too. All you need are pretty much your favourite vegetables, a sauce pan, some olive oil and seasoning for taste.
I think sauteed mushrooms with bell peppers and red onions, chopped garlic as well as some herbs would be a simple but tasty and colourful way to complement your moussaka.
Don't have bell peppers? Have a look at these substitutes for bell pepper that would work easily as well.
Fritters might be the kind of food many people think of as an appetizer, but they also make for an excellent side dish. From lentils to corn and halloumi fritters and Greek tomato fritters to even light and crispy zucchini fritters, there's so much variety to choose from.
Whenever I use zucchini and tomatoes for my fritters, I like to make sure I get as much moisture out of them as possible so the fritters don't end up soggy. I also like to make sure my pan is searing hot before I place the mix on it, that way, my fritters begin to cook the moment they touch the pan so keep these in mind if you're considering making fritters as your side dish for moussaka.
Sometimes all we need are the basics to make the most out of life and having bread slathered with some butter as a side to moussaka is a great example of that.
It's super easy to acquire and would only take a couple of minutes to throw together. So, if you're looking for something quick and easy, you should definitely consider having some crusty bread with butter alongside a delicious dish like moussaka.
You can have the bread plain, lightly seared on a pan or in the oven with some butter (like a crostini) or simply toasted.
Frequently asked questions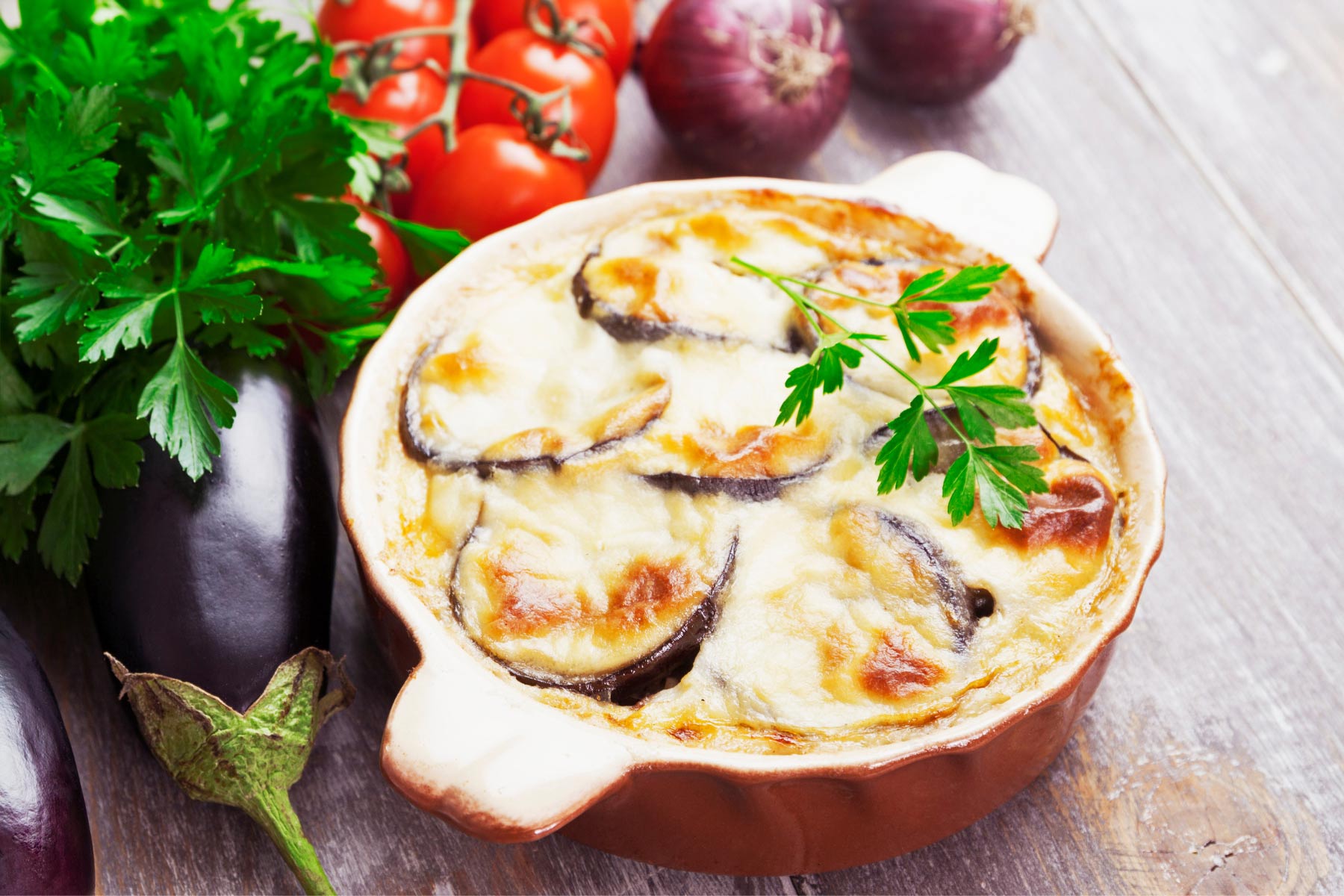 What vegetables go well with moussaka?
Tomatoes, zucchini, potatoes, eggplants, all kinds of leafy greens and even root veggies like potatoes go well with moussaka. I like incorporating them in my side dishes and they'd work well in one to round up your moussaka.
Should moussaka be served hot?
Moussaka is usually served warm after the dish has been taken out of the oven and left to sit for a while, but it can also be served hot, almost straight from the oven.
Is moussaka and lasagna the same?
Moussaka and Lasagna are not the same dish. Moussaka is a Greek dish made from minced beef, layered in aubergine all slathered in a nice and creamy sauce while Lasagna is Italian cuisine made from minced meat, layered sheets of pasta that's topped with a creamy sauce.
BOTTOM LINE: Moussaka is a delicious and satisfying dish, but it's always nice to have some sides to round out the meal. A Greek salad, tzatziki sauce, roasted vegetables, and Greek rice pilaf are all great options that will complement the flavors of your moussaka. Try one or all of these sides at your next dinner party and impress your guests with your Greek culinary skills!
Did you like these ideas? Well, there's more where they came from! Check out these delicious foods you can have with scones, dishes to serve with egg rolls, the best foods to eat with biryani and even options on what to serve with ravioli.