Dinner crepes, anyone? While fillings for crepes are unlimited, you may be wondering what to serve with crepes for dinner to make it a complete meal.
In this article, I'll suggest tasty toppings for savory and sweet crepes. Let's try some amazing selections!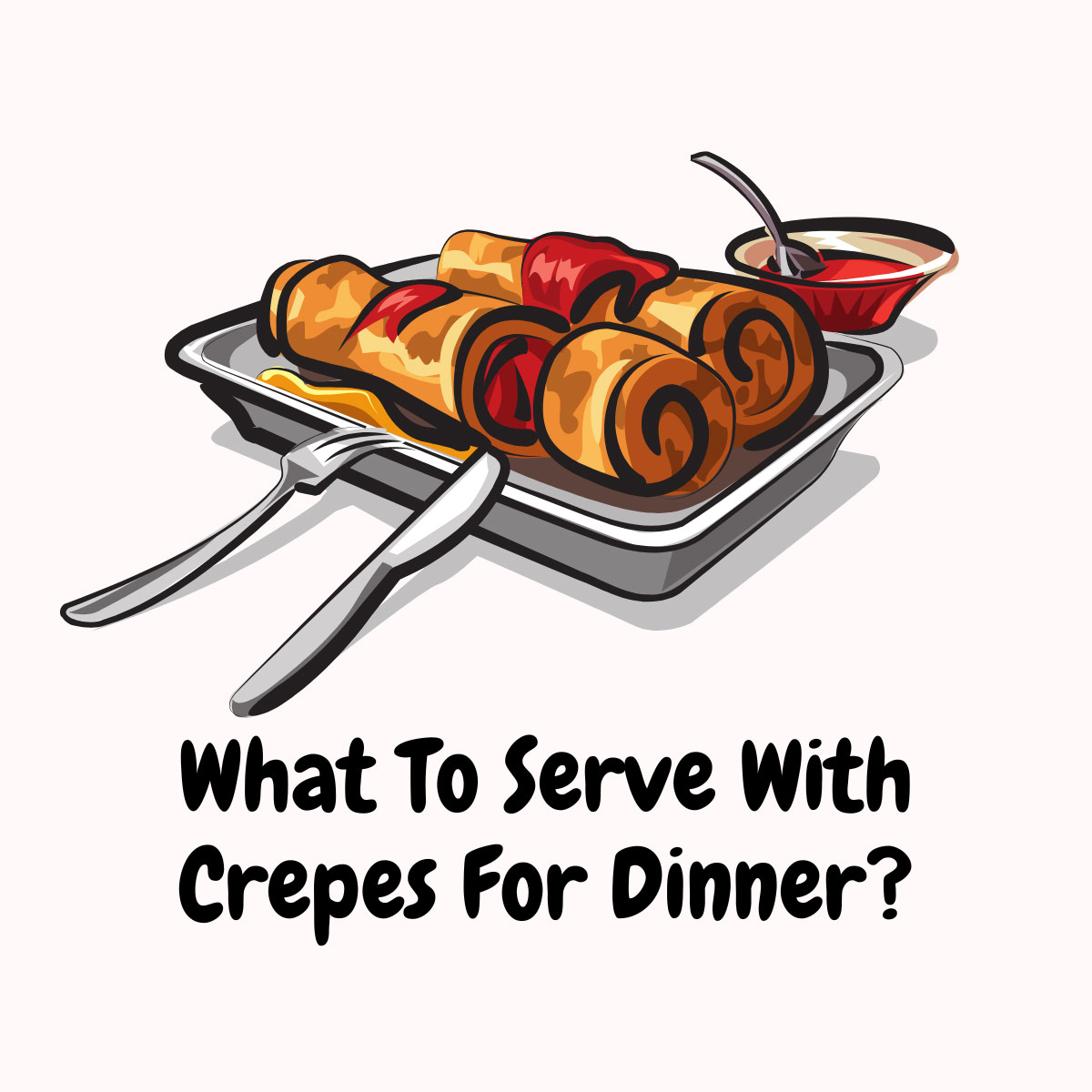 What goes with crepes for dinner?
Crepes are a versatile base for a savory meal, and there are many tasty toppings to choose from. What about these savory crepe fillings?
Creamy spinach and mushroom
Creamy spinach and mushroom fillings go well with savory crepes. Cook fresh spinach and sliced mushrooms with minced garlic and onion until soft. Stir cream cheese until creamy.
For more taste, add salt, pepper, and nutmeg. This creamy, earthy filling will make your crepes a delicious dinner main dish.
If you don't have any spinach on hand, you can substitute fresh kale or even frozen vegetables. You can find other alternatives to spinach in this article.
Ratatouille is another great crepe accompaniment. Sauté chopped eggplant, bell peppers, zucchini, and onions in olive oil until soft and slightly caramelized. Add crushed tomatoes, minced garlic, and a bouquet garni (thyme, rosemary, and bay leaves tied together with string) and cook until the flavors blend.
This rustic French vegetable stew adds Mediterranean flavors to crepes, making them a delicious and healthy dinner.
If you'd like to serve ratatouille with something other than crepes, why not check out these delicious side dishes for ratatouille? I've listed my favorite ideas there!
A zesty avocado salad is a delightful and healthful side dish with crepes. Slice ripe avocados and combine them with some cherry tomatoes, red onion, cilantro, and a splash of fresh lime juice. This fresh and creamy salad will make your crepes a light and fulfilling meal.
Fill crepes with ham and your favorite cheese, such as Swiss or Gruyere. I don't eat meat, so I use sautéed mushrooms or spinach to add flavor instead of ham.
Smoked salmon & cream cheese
For a tasty savory treat, fill crepes with smoked salmon and cream cheese. Capers, red onions, and fresh dill can add even more flavor.
As a vegetarian and part-time vegan, I love to replace smoked salmon with roasted bell peppers and sautéed mushrooms.
Fill crepes with a colorful combination of sautéed vegetables including bell peppers, carrots, broccoli, and snow peas for a nutritious and delightful choice. Soy sauce, ginger, and garlic can offer Asian flavor.
You can choose any of your favorite vegetables to make tasty fillings and side dishes for crepes. Check out these bell pepper substitutes for more veggie ideas!
These savory crepe recipes are only a start. You can customize your dinner with your favorite foods and sauces.
What to serve with crepes for dessert?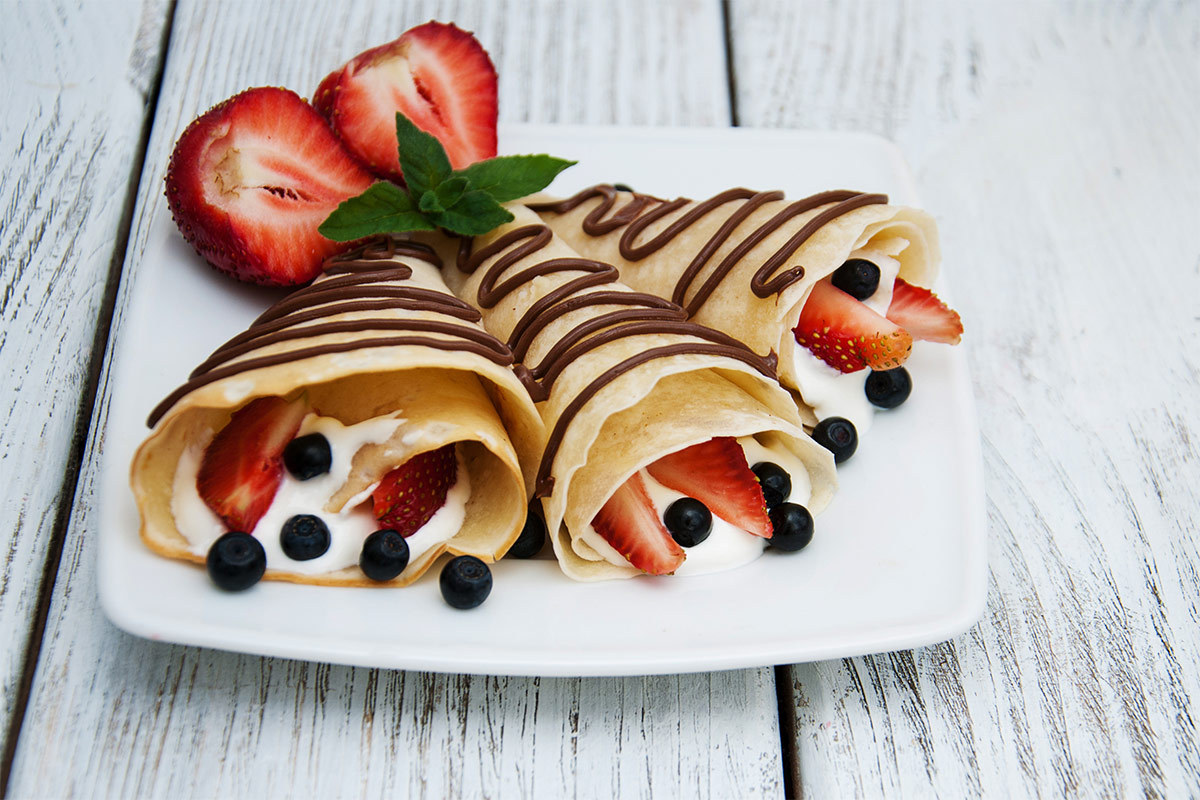 Crepes are versatile desserts that pair well with a variety of tasty ideas. Here are a few sweet fillings:
Cinnamon caramelized apples
Caramelized apples with cinnamon complement delicious crepes for dinner. Cook apples in butter, brown sugar, and cinnamon until tender and caramelized. The sweet crepes, toasty cinnamon, and apples make a delicious dessert-like meal. Moreover cinnamon has plenty of health benefits.
Nutella with fresh berries
Nutella and fresh berries make sweet crepes a sumptuous delight. Nutella and fresh fruit will melt into heated crepes. This decadent chocolate-berry dessert will elevate your evening.
Whipped cream with maple syrup
For a classic and timeless alternative, serve your sweet crepes with a dollop of whipped cream and a drizzle of maple syrup. Whipped cream and maple syrup will accentuate the crepes' inherent sweetness. This simple yet delicious combo will satisfy your sweet desire and make dinner enjoyable.
Lemon sugar is a classic topping for crepes. Dust the heated crepes with a mixture of melted butter, lemon juice, and powdered sugar. The combination of tangy, sweet, and savory flavors makes any dinner special.
Dark chocolate and heavy cream melt into a silky chocolate ganache. Pour the ganache over the crepes and let it set. Chocolate enthusiasts will adore the luscious chocolatey goodness.
Cook your favorite fruits, like mixed berries, cherries, or peaches, with sugar and lemon juice. Pour the fruit compote onto your crepes and enjoy the sweet and tart flavors that suit the crepes nicely.
You can also try out apricots on crepes. Apricots cooked in butter and honey make a delicious addition to the crepes. Check out my article on apricot substitutes for even more ideas.
These tantalizing toppings will make your dessert crepes an unforgettable experience. Be creative and fill and top your homemade crepes with your favorite ingredients.
Dinner crepes FAQs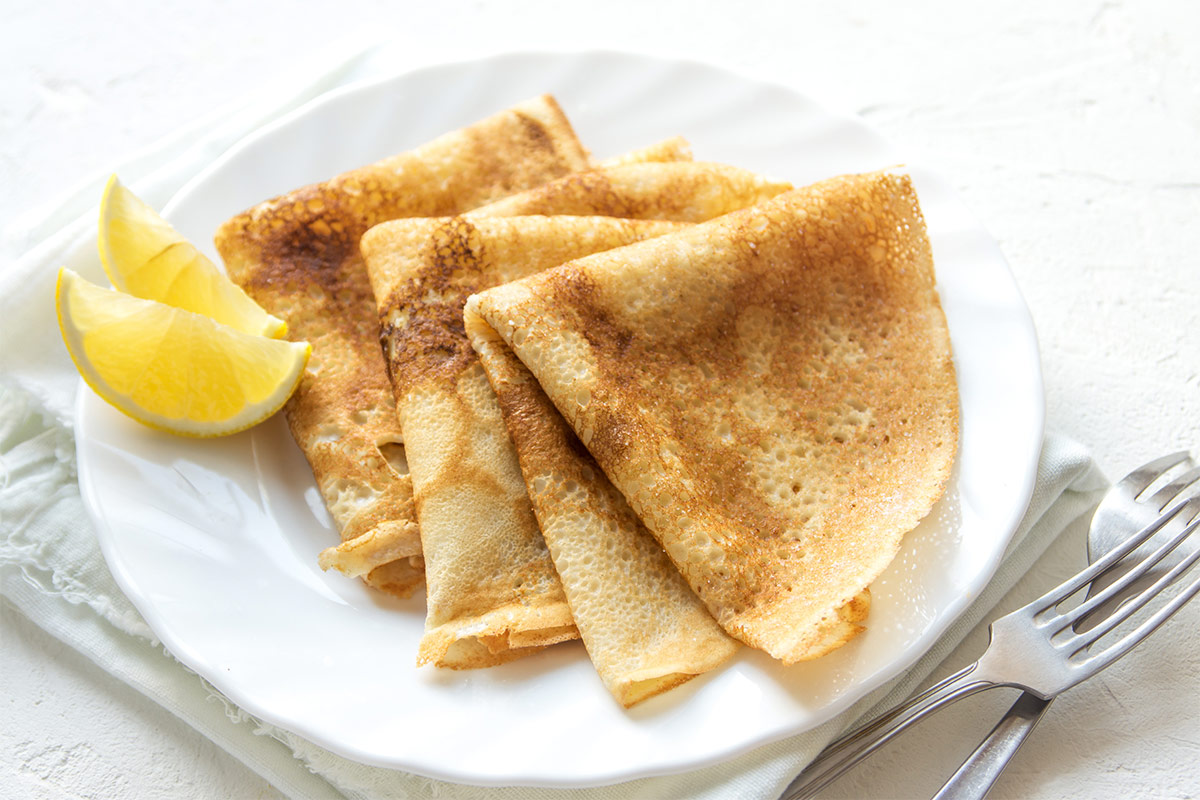 What do the French eat with crepes?
French crepes are often served with a variety of sweet and savory accompaniments. Popular options include fresh fruit, jams, Nutella, cheese, ham, and a variety of vegetable combinations.
What do you drink with crepes?
Crepes can be paired with a variety of beverages. Hot coffee, cappuccino, and latte are traditional choices. For dessert crepes, try sparkling wine or champagne. If you're feeling creative, craft a signature mocktail with juices and herbs like mint or basil.
Are crepes better hot or cold?
Crepes are best enjoyed when they are hot and freshly made. Cold crepes can become dry if stored for long periods of time.
What to serve with crepes for breakfast?
Scrambled eggs or bacon make great breakfast crepes. A delicious sweet option is a mixture of honey, Greek yogurt, and berries.
What are the differences between a dessert crepe and a main dish crepe?
Nutella, chocolate ganache, and fruit compote fill dessert crepes. Main course crepes can be filled with savory fillings — cheese, ham, sautéed veggies, or a mixture of these ingredients.
BOTTOM LINE: These inventive and tasty crepe filling ideas will satisfy your cravings. Whether you like sweet or savory crepes, there are many side dishes and accompaniments.
These options will make your recipes with crepes even better, from creamy spinach and mushroom to caramelized apples with cinnamon, Nutella and fresh berries to whipped cream and maple syrup. So be creative in the kitchen and make a spectacular crepes dinner!
*Note: Use vegan cheese or gluten-free choices to customize the side dishes for individuals with dietary limitations.
What's your favorite crepe filling? Share it in the comments!
Need more ideas to serve with your dinner and brunch dishes? Check out these delicious side dishes for ravioli, perfect brie pairings and serving options for scones, or more dessert treats in the form of accompaniments to donuts!