If you need tasty side dishes to serve with hash brown casserole, I have some ideas for you.
Hash brown casserole! One of my favorite dishes to make for big gatherings. Crispy potatoes, creamy cheese, and aromatic seasonings—sounds yummy, right?
It's easy to prepare, full of flavor, and sure to please a crowd. But what do you serve with it?
I'll offer my favorite hash brown casserole side dishes in this article.
What to serve with hash browns for breakfast?
Hash browns are a breakfast staple that goes well with many other foods. Some delicious breakfast sides for hash browns include:
Scrambled eggs and hash potatoes are a staple breakfast dish. For a protein-packed dinner, serve scrambled eggs alongside your hashbrown breakfast casserole.
Serve toast with hash browns for breakfast. For a typical breakfast, toast some bread and serve it with butter and jam.
I like breakfast burritos with fresh, fluffy scrambled eggs and veggies. Add some peppers, avocado, onions and plenty of cheese for an extra-tasty breakfast wrap.
Hash browns' richness can be washed down with coffee or orange juice. It's also a nice boost of energy we all need for the day.
For added richness, serve hash browns with shredded cheese, creamy cheese sauce, or sour cream. Cheddar, mozzarella, or cream cheese are amazing options!
Perhaps you'll find some new ideas for cheesy deliciousness among these alternatives to Colby.
Vegetables provide freshness and nourishment to breakfast. Sauté bell peppers, onions, mushrooms, or spinach with your hash browns for a complete meal.
You can also add in some more greens with these healthy spinach substitutes!
Serve hash browns with bacon cooked in a skillet or oven. Naturally, it isn't my thing but many people like how bacon and hash browns go together.
Breakfast sausage goes nicely with hash browns. Sausage links or patties can be served with hash potatoes to make the dish more satisfying. Again, this isn't an option I can personally recommend but it's a popular potato side dish.
Hash browns go great with fresh fruit. Serve sliced strawberries, bananas, or blueberries for a pleasant and healthful breakfast.
You can also check out my article on blueberry substitutes for more fruity options!
To build a tasty breakfast, mix & combine these selections to create your own hearty meal.
What to eat with hash browns for lunch?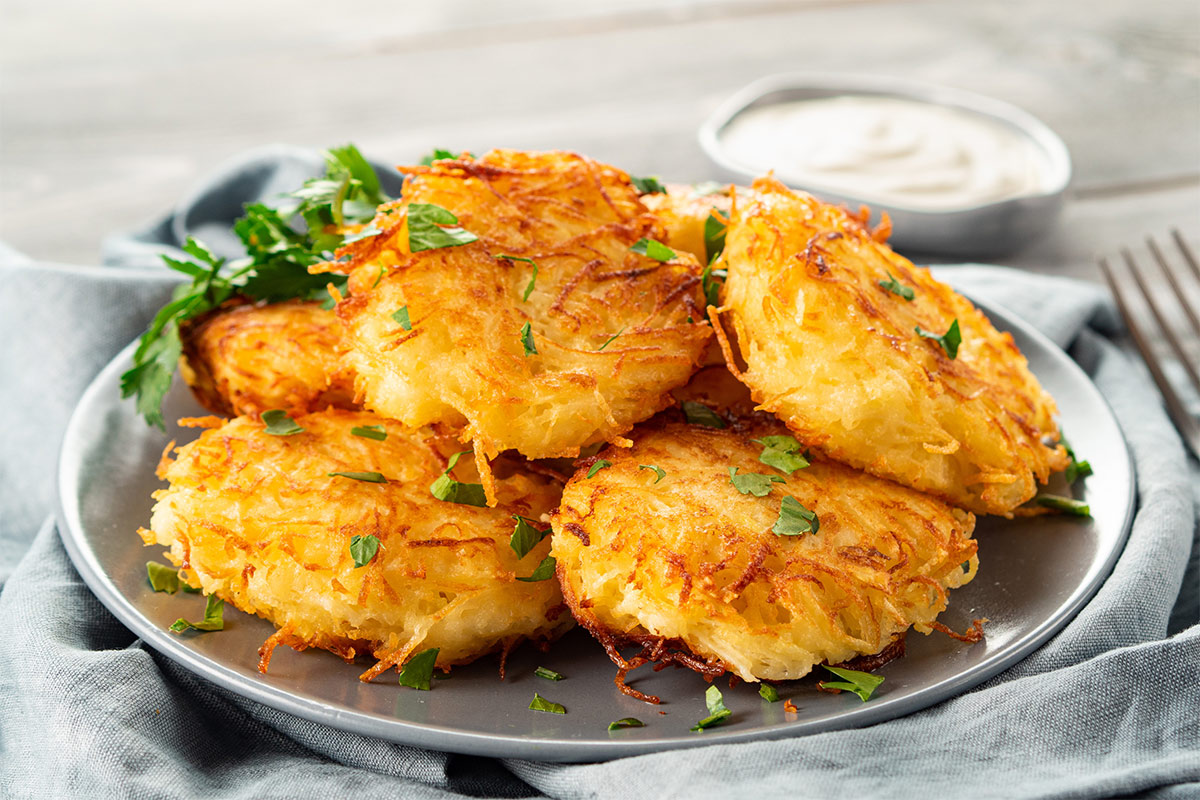 Hash browns make a tasty meal when coupled with a variety of foods. Lunch options with hash browns:
Hash browns go great with sandwiches. A variety of flavors can be served with hash browns on a sandwich, including Deli meats, cheese, lettuce, and tomato.
You can make a sharp cheddar cheese grilled sandwich or try some of these cheddar substitutes for more variety.
Hash browns go great with soup. You can serve them with tomato, chicken noodles, or cream of mushroom soup.
A veggie soup is the ultimate comfort food that requires only simple ingredients and cooking methods. This is my favorite side dish when I need a quick warming lunch.
This one pairs well with hash browns' richness. A salad with greens, vegetables, and a protein like grilled chicken or tofu can be served with hash browns for a balanced lunch.
Hash browns go great with a tasty quesadilla. It can be made with cheese, veggies, and chicken or meat.
Fun and adaptable tacos go great with hash browns. Ground beef, chicken, or tofu tacos can be served with hash browns. You can also make a satisfying lunch by incorporating legumes or beans into your tacos.
What to serve with hash browns for lunch depends on your tastes and diet. Using these ideas, you can make a tasty, well-rounded meal that will fulfill your hunger.
What to serve with hash brown casserole for dinner?
Dinner can start with a cheesy hash brown casserole dish. Dinner side ideas with hash brown casserole include:
A simple green salad pairs well with a hash brown casserole. A salad with lettuce, cucumbers, tomatoes, and vinaigrette dressing requires minimal effort but makes a fantastic dinner.
Hash brown casserole works great with steamed green beans or asparagus. You can prepare them in a saucepan or steamer with salt and black pepper. It's a delicious side dish loaded with nutrients.
If you're looking for an asparagus substitute, I have a post on that, too. So check it out and get some inspiration!
Roasted veggies like broccoli, carrots, Brussels sprouts, and asparagus are amazing side dishes. The caramelized and crunchy veggies can bring a lot of flavor to the table.
Cornbread goes nicely with many foods. Its sweet and savory taste is the perfect complement to hash brown casserole's crunchy and cheesy texture.
Hash brown dish pairs well with grilled chicken. Chicken breasts can be marinated and barbecued for a hearty dinner.
A light and delicate fish goes great with a creamy hash brown casserole. Salmon or whitefish can be grilled, poached, or baked and served with the savory potato dish.
I don't eat chicken or fish so I often choose tofu as an alternative for both. Serve hash brown casserole with grilled, baked, or stir-fried tofu for a protein-packed dinner meal.
Dinner options for hashbrown casserole are versatile and can easily be tailored to your tastes. With these ideas, you can create your perfect dish that'll quickly become a family favorite.
Frequently asked questions
Why is my hash brown casserole soggy?
Your hash brown dish might be soggy if you didn't drain the potatoes or other veggies. Squeeze the potatoes before adding them to the dish. Add a little flour or cornstarch to thicken the sauce.
Why McDonald's hash browns are so nice?
McDonald's hash browns are a popular breakfast option due to their crispy texture and delicious flavor.

The key to the perfect McDonald's hash brown is the cooking process, which involves freshly pressing and grating potatoes, frying them in vegetable oil, and then letting them cool slightly before adding seasoning.
Is it healthy to eat hash browns everyday?
Eating hash browns every day isn't necessarily healthy. Hash browns are generally high in calories, fat, and sodium, which can lead to weight gain and health problems if consumed in excess.
Is it better to cook hash browns with butter or oil?
When cooking hash browns, it is generally better to use oil rather than butter. Butter can burn easily and can give your hash browns a bitter taste. Oil, on the other hand, has a high smoke point which makes it better for frying.
Why won't my hash browns get crispy?
To ensure your hash browns get crispy, it is important to pat them dry after grating. Soggy hash browns are often the result of boiling potatoes that are too wet. You should also use a hot pan and heat the oil before adding the potatoes.
How to store a cheesy potato casserole?
To store a cheesy potato casserole, first cool it completely. Place the casserole in an airtight container or wrap it with plastic wrap. Store it in the refrigerator for up to three days.

To freeze, place the casserole in an airtight freezer-safe container or wrap it in heavy-duty aluminum foil. It will last for up to three months in the freezer.
BOTTOM LINE: Hash brown casserole is a tasty main entrée. Hash browns pair well with many sides. Try a green salad, eggs, roasted veggies, grilled meat or even a fresh fruit salad. What's your perfect side dish for hashbrown casserole?
Are you looking for more ideas? Check out my article on what to serve with baked brie, foods to eat with biryani, accompaniments for donuts or get into Chinese cooking with these chow mein sides.
For more casserole inspo, read all about what to eat with enchilada casseroles!