Have you ever struggled to find the right side dish to serve with empanadas? I've gathered some excellent options!
Empanadas are a classic Latin American pastry with various filling options. But sometimes you want to add something extra to the meal.
I've got you covered whether you want something light and refreshing or heavy and nourishing. So let's try some tasty empanada side dishes.
A side dish to serve with empanadas
Many Latin American countries serve delicious empanadas, which can be eaten alone or with a variety of dishes.
Empanadas are a popular Latin American pastry. They are produced by filling a dough shell with meat, veggies, cheese, or fruit and folding it over to make a pocket. The empanadas are baked or fried until crispy.
Empanadas are served with a variety of sauces as a snack, appetizer, or main meal. There are several sorts of empanadas to taste, with varied fillings and preparation methods depending on the location.
The correct side dish can balance the empanadas' rich and savory flavors while adding nourishment.
What is traditionally served with empanadas?
Latin American countries offer savory empanadas with a variety of traditional sides. Each choice offers a unique flavor profile:
Parsley, garlic, olive oil, vinegar, and red pepper flakes make chimichurri sauce. It's a favorite sauce for empanadas in Argentina and Uruguay, adding a herbaceous, tangy flavor.
Peruvian red onion, lime juice, and chili pepper salsa. Its bright, tangy taste complements empanadas and other street cuisine.
Guacamole-like Venezuelan sauce prepared with avocado, garlic, cilantro, and lime juice. It tastes creamy and tangy with empanadas.
Creamy guacamole is another excellent side dish!
Aji feature Peruvian yellow chili pepper, lime juice, and garlic sauce. It's a spicy spice popular with empanadas and other Peruvian street food that gives a robust, rich flavor.
Pickled carrots, onions, and jalapeños give empanadas a tangy, somewhat sour taste. They offer crunchy textures and are popular in Latin America.
Puerto Rico and the Dominican Republic serve empanadas with rice and beans. The empanadas' rich, meaty tastes complement the fluffy rice and creamy beans, making a complete meal.
Refried beans are a delicious Mexican side dish for empanadas, tacos, and more. The creamy texture and flavorful taste give an additional dose of nourishment.
The type of bean (red, black, or pinto) can vary from place to place. You can check out different kidney bean alternatives to get more ideas!
Serve empanadas with hot sauce for heat lovers. The extra spice can enhance savory empanada flavors, whether it's packaged hot sauce or handmade salsa.
You can also make your own horseradish-based sauces if you're feeling adventurous! If you need more inspo, my post on spicy horseradish replacements might come in handy!
Serve empanadas with a mild salad of mixed greens or sliced tomatoes. It balances the empanadas' thick, savory contents with a refreshing flavor.
Empanada toppings vary by region and taste. These traditional empanada combos are a fantastic place to start.
Now, let's dive deeper into the salad options to give your empanada recipes more refreshing and earthy flavors.
What kind of salad goes with empanadas?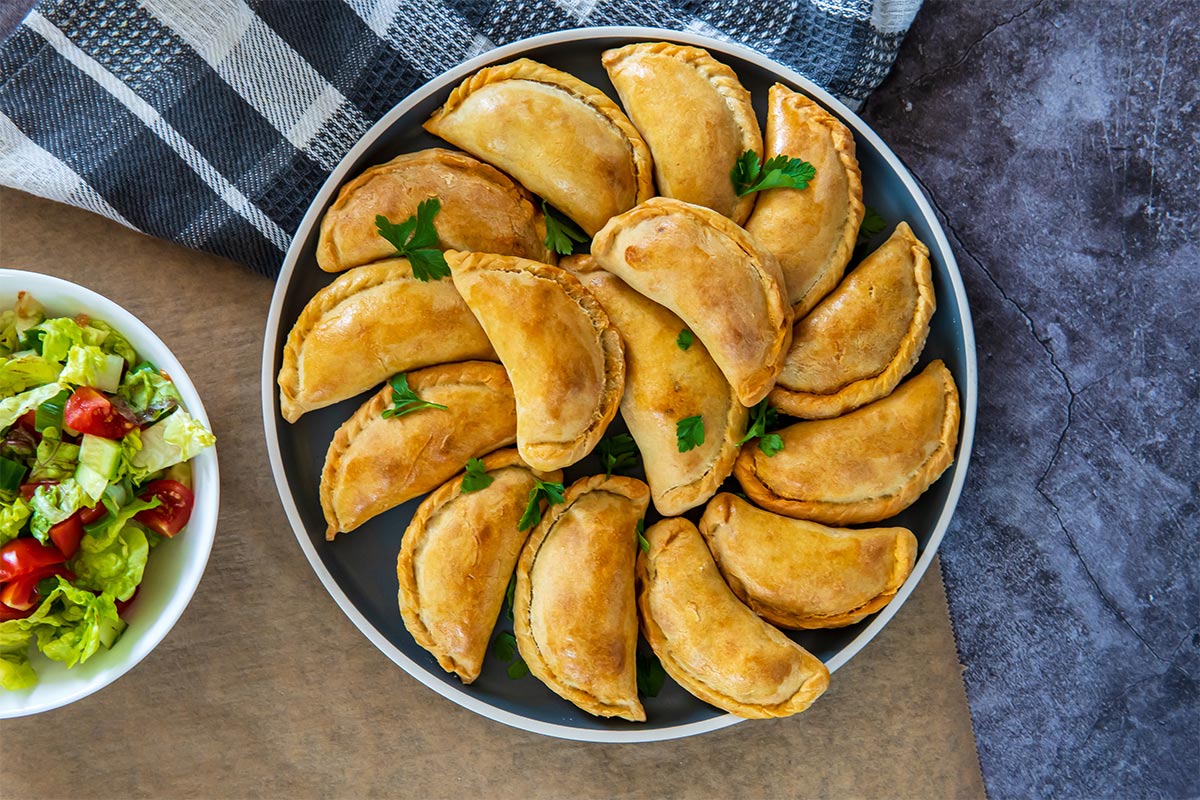 Empanadas can be served with several salads for a full dinner. Here are some of the most delicious options:
Light and fresh salad goes well with the rich filling of the empanadas. This can be a simple mix of field greens, cucumber, tomatoes, and any other vegetables you like.
Mexican street corn salad
A Mexican-style street corn salad is a fantastic option for empanadas. It includes roasted corn, chili powder, lime juice, and additional spices. The sweet-tangy flavors provide a bold contrast to the empanadas' savory filling.
Tomato and cucumber salad
The classic pairing of empanadas and fresh tomatoes and cucumbers is unbeatable. Olive oil, vinegar, and herb vinaigrette can be used as a finishing sauce for sliced fresh tomatoes and cucumbers. This delicious salad is super easy to create!
A protein-rich black bean salad goes well with vegetarian empanadas. Mix canned black beans, sweet corn, red onion, and cilantro with lime vinaigrette create a filling and delicious combination action of flavors.
This healthful grain makes a terrific salad foundation. Throw together some quinoa and roasted veggies like zucchini and bell peppers. A splash of zesty lemon vinaigrette can perk up any meal.
Best quinoa substitutes that work well in salads include farro, millet, etc. They are legitimate superfoods, both nutritious and tasty.
Salads with roasted veggies have a toasty, smoky taste. Mixed greens with balsamic vinaigrette and roasted sweet potatoes are one of my go-to salad combinations. Any kind of empanadas would benefit greatly from having this salad served with them.
I like using Swiss chard for this salad, but you can also use spinach, kale, and other delicious Swiss chard substitutes.
Empanadas are best served with any of your favorite mild salads to balance the heavy dish. Choose your preferred flavor and have fun experimenting with it!
What to drink with empanadas?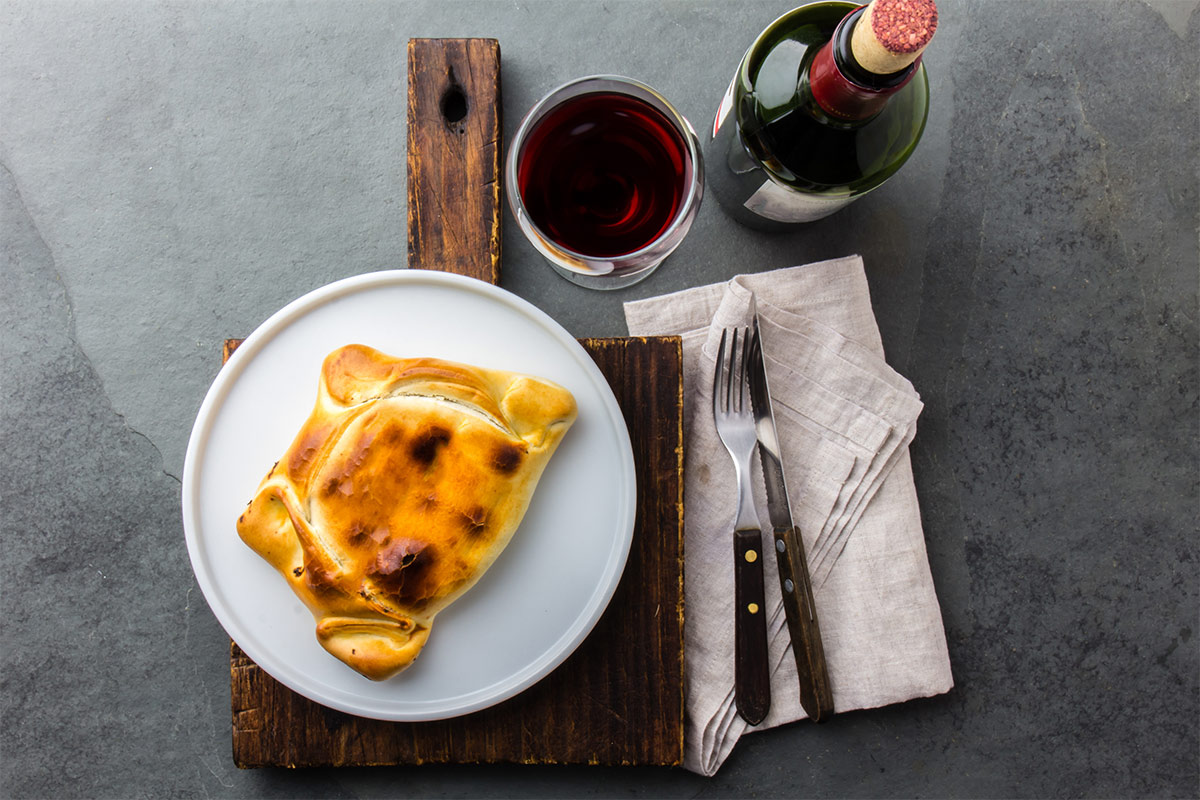 Empanadas are rich and flavorful and go well with alcoholic and non-alcoholic drinks. Here are some popular flavorful drinks for empanadas:
Beer goes well with empanadas, especially as a snack or appetizer. A crisp beer or pilsner helps cut the richness of the empanadas and cleanse your tongue between bites.
Empanadas go well with wine, especially as a main dish. A light-bodied, fruity wine such as a pinot noir or sauvignon blanc works best in this scenario.
A pleasant non-alcoholic option for empanadas is soda. Coca-Cola or Fanta can complement the empanadas' flavorful filling.
Argentina, Uruguay, and other South American countries serve empanadas with mates. Mate is served in a gourd with a metal straw and prepared from yerba mate leaves. Mate's bitter, somewhat smokey taste complements the empanadas' rich, flavorful filling.
Many cocktails go nicely with empanadas. A margarita or paloma adds spice to the empanadas, while a mojito or caipirinha adds citrusy richness to the savory filling.
Personal preference and occasion will determine the best beverage for empanadas. Whether as a snack, appetizer, or main meal, this delectable dish pairs well with numerous drinks.
Side dishes for empanadas FAQs
What kind of sauce do you serve with empanadas?
Popular sauces to serve with empanadas include chimichurri, salsa, and aji amarillo.
Are empanadas a meal or appetizer?
Empanadas can be served as an appetizer, main course, or snack.
What do Chileans eat with empanadas?
Chileans consume empanadas with pebre, a condiment prepared from onions, tomatoes, cilantro, and chili peppers. Some people like empanadas with a simple green salad or Chilean wine.
What are the three types of empanadas?
The three types of empanadas are beef, chicken, and veggie empanadas.
What do Italians call empanadas?
Fried empanadas are called panzerotti in Italy. Panzerotti are similar to empanadas except that they are fried instead of baked.
Should empanadas be baked or fried?
Empanadas can be either fried or baked, depending on the recipe and personal preference.
What is a fancy name for empanadas?
Empanadas are sometimes known as pastelillos, empadas, or empanadillas. They can also be referred to as salteñas or patties in some areas.
What country is best known for empanadas?
Empanadas are a popular dish in many countries throughout Latin America, particularly Argentina, Peru, and Chile.
Are empanadas eaten hot or cold?
Empanadas can be eaten hot or cold. They are traditionally served warm and freshly cooked, but some people prefer them cold.
BOTTOM LINE: Serving empanadas with a nice side is easy. There's a side dish for everyone, whether they want something light or rich. Try one of these tasty ideas to improve your empanadas!
Check out my blog for other side dishes to pair with your delicious meals. These include serving ideas for enchilada casserole, best sides for biryani, and even something as cute as what to serve with donuts!