Are you wondering what to serve with donuts? I'm sure you are because they're a beloved breakfast favorite.
Donuts are wonderful on their own, but they reach their full potential when paired with a good topping or side.
These treats are perfect for every meal, whether you're craving something sweet or savory.
I'll list my top donut pairings in this guide.
What to serve with donuts at a party?
There are many excellent and imaginative side dishes and accompaniments for donuts at a party. Some of my favorite donut serving ideas are:
Serve fresh fruit with the donuts to cut the sweetness. A fruit salad or a serving of strawberries, pineapple, and melon can enhance the rich taste of the donuts.
Small waffles or pancakes
Serve small waffles or pancakes with donuts for a unique twist. These bite-sized snacks are great for dipping in syrup or jam and add whimsy to your party presentation.
Provide donut toppings so visitors can customize their glazed donuts. Glazes, sprinkles, chopped nuts, and fruit compotes are some examples. Let visitors construct their own sweet treats at your donut coffee bar.
Donuts with ice cream are super delicious! Ice cream's creamy texture and chilly temperature can balance the donut's sweetness and produce a delightful taste combination. Find your favorite ice cream flavor by testing.
I love ice cream a lot, so I often pair my favorite chocolate donuts with caramel or vanilla ice cream.
Whipped cream adds lightness and flavor to donuts. For added taste, serve it with fruit on top. It's best to use freshly whipped cream, although store-bought can do in a pinch.
Donuts with chocolate chips, sauce, or glaze are always a delicious treat. Dip the donut in melted chocolate, or drizzle some on top for a chocolaty finish.
Nuts give donuts extra crunch and taste. Sprinkle your favorite nuts on top for a crunchy snack. Almonds, walnuts, hazelnuts and cashews are all good options.
You can also try some tasty cashew replacements like macadamia nuts, sunflower seeds and more.
Cheese adds savory flavor to donuts. Cream cheese, cheddar, and other cheeses go nicely with donuts. If you're a fan of cheese, serve it for a tasty variation.
Feel free to have a look at some white American cheese replacements and substitutes for Colby to discover more options.
In conclusion, donuts can be served with coffee, milk, mini waffles, or even your favorite cheese. Plan your food around your guests' likes and enjoy making a tasty and memorable party spread.
What to serve with donuts for breakfast?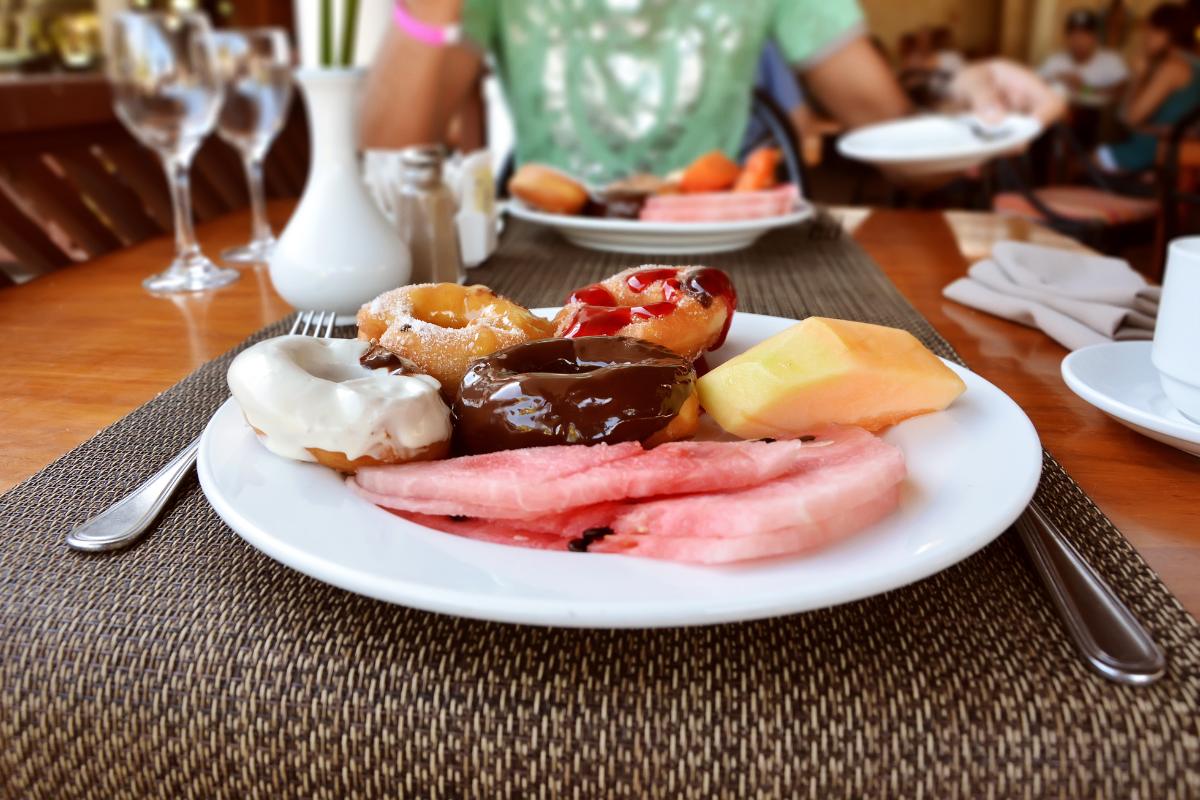 Are donuts a breakfast food or dessert? They're versatile enough to be considered both!
Donuts are a great breakfast treat that can be eaten alone or with other foods to make a meal. What goes with donuts for breakfast? Let's see:
Another healthy pairing for doughnuts is yogurt. Yogurt's protein and probiotics work nicely with doughnuts, and its acidic flavor complements their sweetness. I recommend Greek yogurt for a thicker and creamier taste.
If you want a heartier meal, try donuts with some eggs for breakfast. Protein-rich eggs like scrambled, fried, or hard-boiled eggs can keep you satisfied all morning.
Don't overlook these Eggs Benedict side dishes—amazing additions to the table! 😉
Hash browns go well with donuts too. Hash browns can bring extra texture and taste to breakfast.
If you like hash browns, you might be interested in checking out my article on serving ideas for hash brown casserole.
Pair your donuts with a smoothie for a nutritious, refreshing treat. Breakfast is better with a fruit-yogurt smoothie.
Donuts go well with everything from fruit and yogurt to eggs, smoothies and hash browns for breakfast. Try different combinations to create your ideal breakfast and enjoy the flavors and textures.
What to drink with donuts?
Your favorite beverage can go well with donuts. Serve these drinks with donuts:
Donuts go well with a cup of coffee. The donuts' sweetness and coffee's bitterness make a fantastic pairing. Add milk, cream, or sugar to your coffee.
Donut holes or bite-sized pieces work great as a dunking snack.
Another good donut drink is milk. The doughnuts' richness is balanced by milk's cold, creamy flavor. Hot or cold milk works perfectly.
A hot cup of tea can soothe your taste buds and enhance the donuts' sweetness. Try black, green, or herbal tea to find your ideal match.
A chai tea latte is a perfect accompaniment for donuts. The warming spices and creamy texture go very well with the donut's sweetness. You can make a chai tea latte at home or order one from your local coffee shop.
For a more decadent match, serve donuts with hot chocolate. It provides an extra burst of rich chocolate flavor and sweetness.
A healthy donut pairing is juice. Fruit juice can add a tart, refreshing taste to your party or breakfast donuts. Orange, apple, and cranberry juices can be used to discover the right match.
Serve donuts with soda for a bubbly treat. The donuts' richness can be tempered by the soda's carbonation. Find the perfect soda combination with cola, lemon-lime, or root beer.
Coffee, hot chocolate, and juice combine well with the taste of donuts. Try several combos to find your favorite drink and enjoy the delicious flavors.
FAQs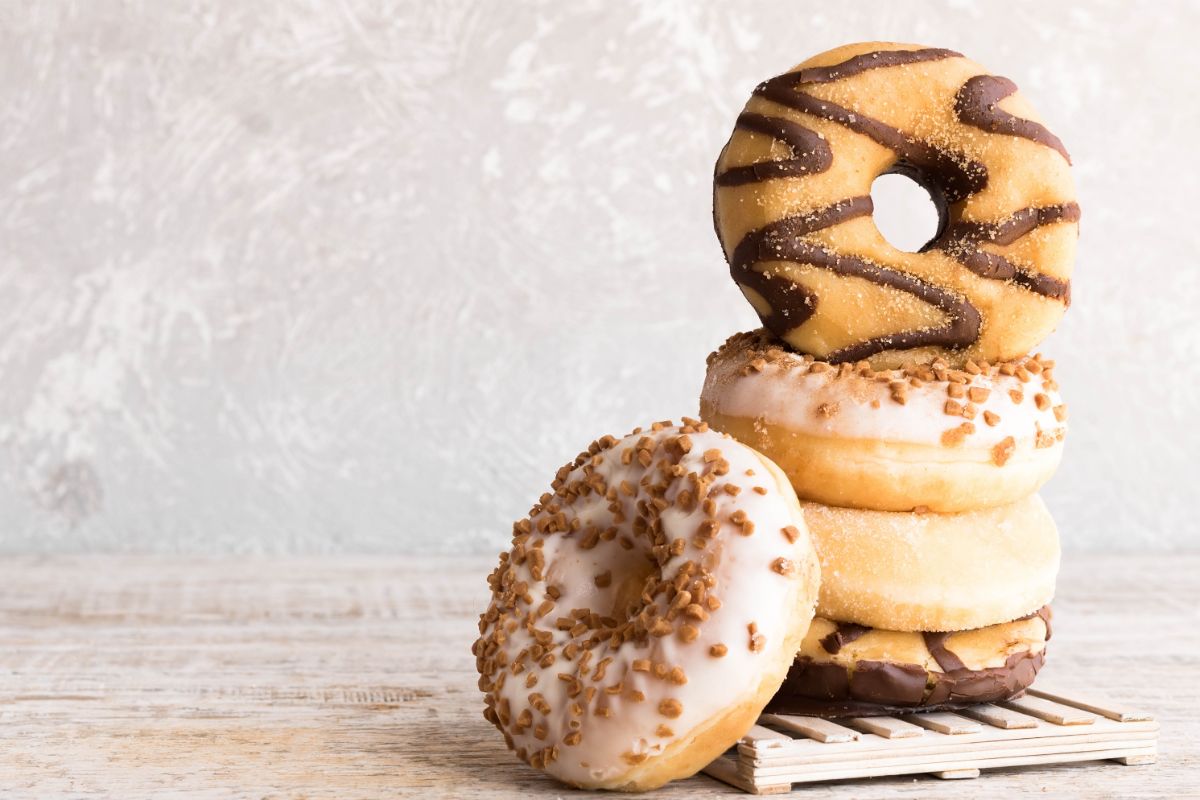 How should donuts be served?
For a classic setup, donuts should be served on a plate or in a bowl with coffee or tea. On special occasions, donuts are a delicious addition to a fruit and sweets dessert tray. Add some eggs, bacon, or hash potatoes to turn them into a full meal.
Are donuts best eaten hot or cold?
Donuts are best enjoyed warm. Try toasting them in a toaster or oven for a few minutes before eating to give them some warmth and texture.
Should donuts be baked or fried?
Donuts can be either fried or baked depending on personal preference. For a healthier option, baking them is your best shot.
BOTTOM LINE: Donuts go well with a wide variety of unusual and tasty toppings. Whether you like your donuts sweet or savory, there's a topping out there that will bring out the best in them.
Any combination is possible, from the most basic coffee and milk to the most sumptuous ice cream and chocolate. If you want to locate your soul mate, you might have to try a few different combinations.
If you like all things sweet, feel free to check out these delicious side dishes for scones, serving ideas for crepes, what to eat with frittatas and yummy alternatives to corn flakes! If sugar isn't your cup of tea, you can find great savory options there too!