Are you wondering what to serve with baked brie? There are endless options to up your baked brie game!
For me, baked brie is a perfect party food. It's versatile, easy to prepare, and always a hit with the guests.
Baked brie is rich and goes well with many toppings. I'll share my fave baked brie pairings here. If you prefer your brie unbaked, check out our ideas for what to eat with brie!
What fruit to serve with baked brie?
Serve baked brie with fresh fruit for a lighter meal. The fruit's acidity and sweetness balance the cheese's richness. The following fruits can complement baked brie:
Apples: Baked brie pairs wonderfully with crisp, sweet apples. Apple slices can provide crispness and freshen the creamy cheese.
Grapes: Cheese goes well with grapes' sweetness and juiciness. A bunch of grapes on a cheese board can brighten baked brie's creaminess.
Pears: Baked brie complements pears' sweetness and softness. You can serve pear slices or pear compote on a cheese platter to complement the cheese.
Strawberries: The sweetness and tartness of strawberries can balance out the creaminess of baked brie. They can also color your cheese platter.
Raspberries: Baked brie pairs wonderfully with sweet, tangy raspberries. They brighten the cheese's subtle taste and creaminess.
For optimal flavor, pick seasonal, ripe fruits. For a colorful cheese dish, mix and match several options.
If you need more fruity ideas, you can also try mango and some of its substitutes for additional sweetness!
Honey and nuts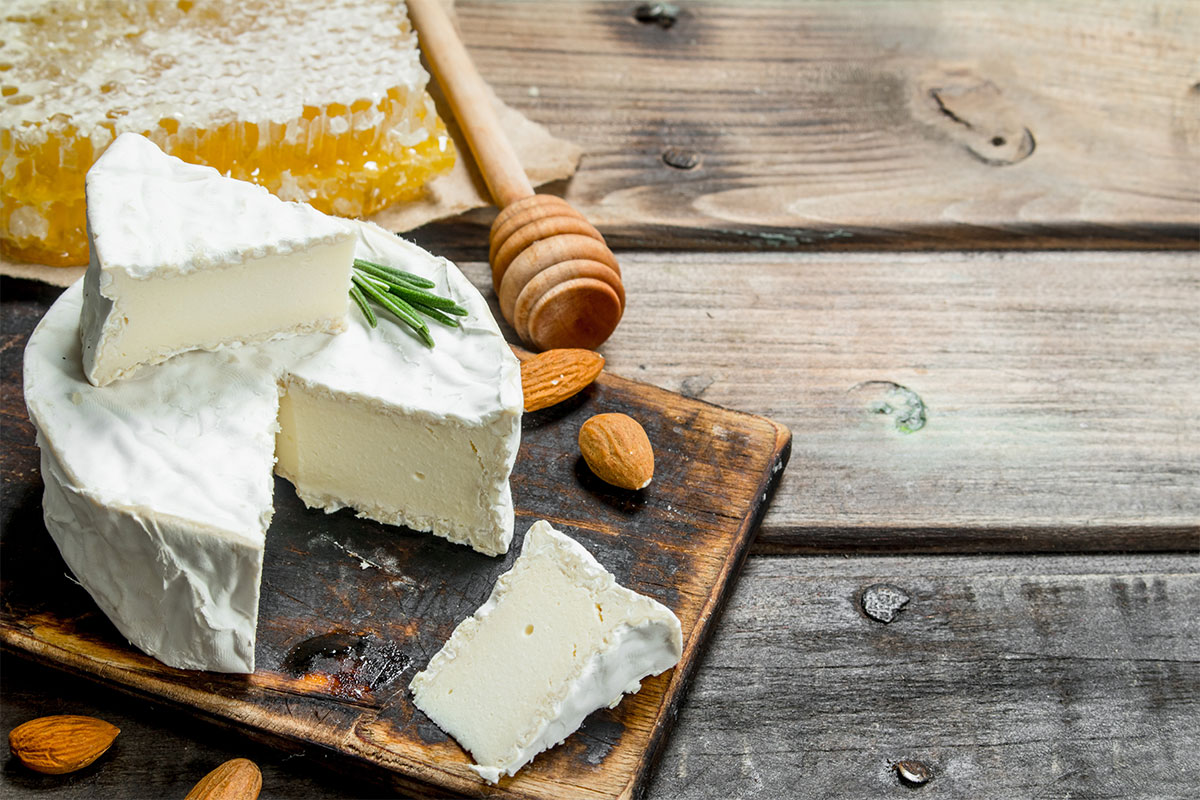 Honey and almonds are my favorite baked brie toppings! This sweet-savory combo pairs well with the brie's soft, creamy texture.
There are several ways to serve brie with honey and nuts:
Honey: Honey has a diverse flavor depending on the variety. Clover or acacia honey tastes milder. Wildflower or chestnut honey has a stronger taste. You can choose whichever type of honey you like the best and serve it on top of the baked brie or on a small plate.
Nuts: Nuts give a crisp and nutty taste to brie cheese. I like how brie tastes with walnuts, almonds, pecans, and hazelnuts. You can serve honey-drizzled brie with chopped nuts as a wonderful sweet topping.
Honey-roasted nuts: Serve honey-roasted nuts with baked brie for a heartier meal. To prepare honey-roasted nuts, throw your choice of nuts in honey, butter, and salt and roast them in the oven until golden brown and aromatic. Serve them separately or around the baked brie on the plate.
Honey and almonds combine well with baked brie, adding sweetness and crunch. This combination will please everyone whether you pour honey over the baked brie, sprinkle chopped nuts on top, or offer honey-roasted nuts on the side.
What vegetables go well with brie?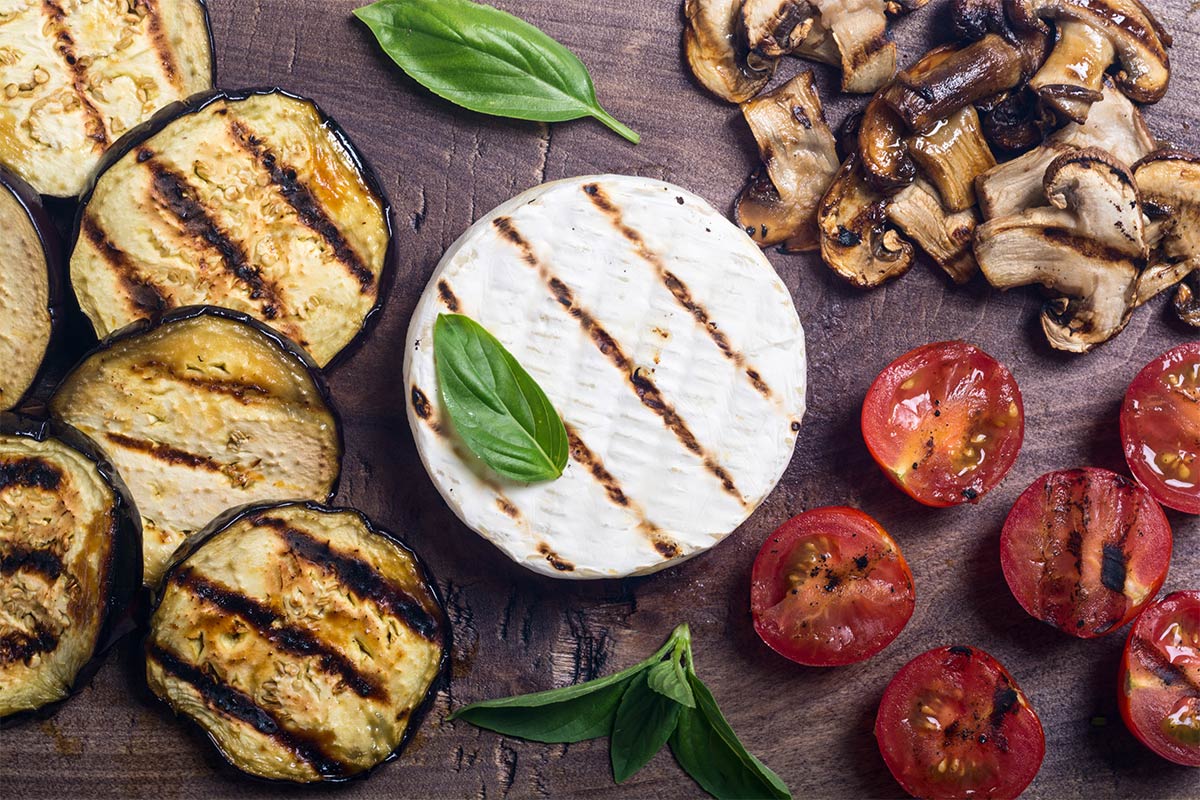 Brie cheese complements fresh and cooked veggies. Brie-friendly veggies include:
Roasted veggies: Caramelizing vegetables bring forth their inherent sweetness and pair well with thick, creamy brie. You can try roasted pepper, Brussels sprouts, cauliflower, carrots, parsnips, or sweet potatoes.
Cherry tomatoes: Brie and cherry tomatoes pair well. They are a raw, vibrant complement.
Grilled veggies: Brie's creamy texture complements grilled vegetables' smokey and slightly scorched flavor. You can grill many simple ingredients like eggplant, zucchini, or bell peppers. Brie also tastes great with caramelized onions.
Mixed greens: A simple mixed green salad adds freshness and crunch to baked brie. Arugula's sharpness and butter lettuce's mildness are both great ideas.
Mushrooms: Sautéed or grilled mushrooms pair well with brie cheese. Try shiitake, cremini, or portobello mushrooms for a variety of flavors.
Asparagus: Brie's creamy, mild flavor complements asparagus' harsh, grassy taste. Grilled or roasted asparagus is a popular side dish.
If you don't have any asparagus, there are several affordable options for a replacement. Check them out for more ideas!
Offering a variety of veggies with brie adds taste and texture to your dish. It's best to place them around the cooked brie for easy access.
There is a pretty speedy recipe of baked potatoes with brie to try straight away! I make it at times on busy weekdays 🙂
What bread to serve with baked brie?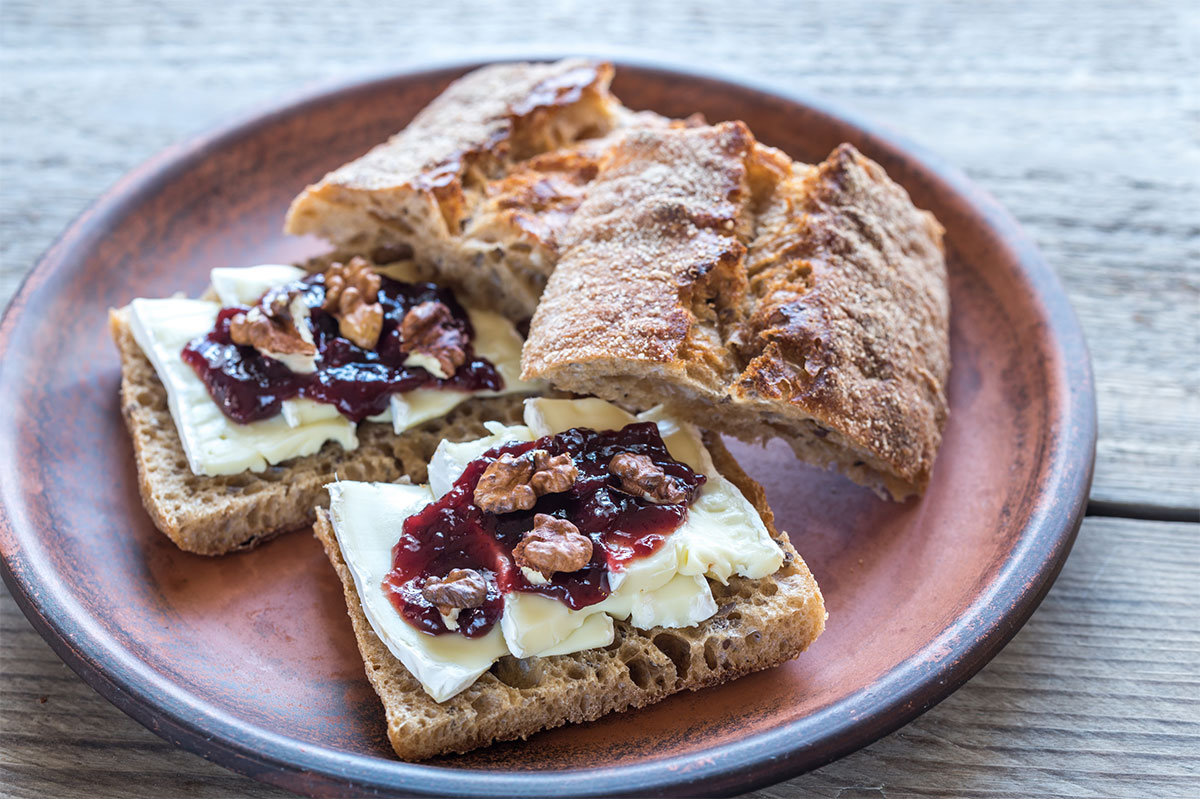 Are you wondering what kind of bread goes with brie? The bread should be moderate and robust to withstand the creamy and rich cheese. Serve baked brie with some of these excellent choices:
Baguette: A crunchy exterior and soft center make a baguette the perfect accompaniment to baked brie.
Sourdough: Sourdough's tanginess enhances the cheese's richness. Its robust texture holds up well to the brie's softness.
Ciabatta: Baked brie goes well with chewy, mild ciabatta. It makes delicious crostini, which go well with cheese.
Focaccia: Baked brie goes well with the crunchy top and soft inside of focaccia. As a bonus, its mild taste won't overshadow the cheese.
Whole-grain bread: Whole-grain bread is a healthy option. Its substantial texture and nutty flavor can complement any cheese without overpowering its taste.
Before serving the baked brie, slice and lightly toast your loaf of bread. This will crisp the bread and make it simpler to dip in melted cheese.
What crackers to serve with baked brie?
There are several baked brie cracker choices. Some of them are:
Plain water crackers: To complement baked brie and bring forth its full taste, try it on some thin, crisp crackers.
Toasted baguette slices: Slice a baguette into thin rounds and bake them till golden brown. I think they taste amazing with hot brie!
Whole grain crackers: Whole grain crackers are a heartier option that works well with melted cheese.
Rice crackers: Thin, crisp, neutral-flavored rice crackers go nicely with brie. They offer a pleasant texture without competing with the cheese's flavor.
Rosemary crackers: Brie's richness can be enhanced by rosemary's aromatic flavor. It's a great way to add a savory note and heighten the flavors.
Your taste preferences will determine the ideal crispy crackers to complement the baked brie flavors.
How to serve brie on charcuterie?
Serve baked brie wheel atop a charcuterie platter to elevate it. If you're serving it as a party food, this lets your guests mix and match flavors and textures, showcasing your culinary inventiveness. Baked brie charcuterie board can include:
Salami: Try spicy, smoky, or mild salami. It doesn't suit my vegetarian lifestyle, but I know other people appreciate it. Slice the salami thinly and place it on the board.
Prosciutto: It's not quite my thing, but many people claim that brie goes well with this creamy Italian cured ham. You can cover the board with prosciutto slices or make rosettes.
Olives: Mix Kalamata, green, and stuffed olives. Distribute them in small bowls or on the board.
If you can't find any olives for your cheese board, have a look at these delicious olive alternatives. You'll figure out a workaround, I'm sure!
Pickles: Cucumbers, carrots, and cauliflower provide a sour bite to your board. You can serve them in tiny dishes.
Mustard: Try sweet and spicy mustards. Spread them on crackers or serve on tiny plates.
Jam/chutney: Sweet and savory jams or chutneys can balance salty meats and cheeses. Fig or apricot jams are excellent ideas.
Also, check out these fig substitutes and alternatives to currant jelly for more options!
You can slice the brie and place it on a charcuterie board with the other ingredients. Bake the brie in puff pastry or phyllo dough and serve a whole wheel of brie cheese as the board centerpiece.
Charcuterie boards with brie are adaptable crowd-pleasers. Your visitors can mix & match meats, cheeses, and sides. Use high-quality ingredients and arrange them artfully for beautiful and appetizing cheesy goodness. Check out our article on what to serve after charcuterie to round off your meal!
What do you serve with warm brie FAQs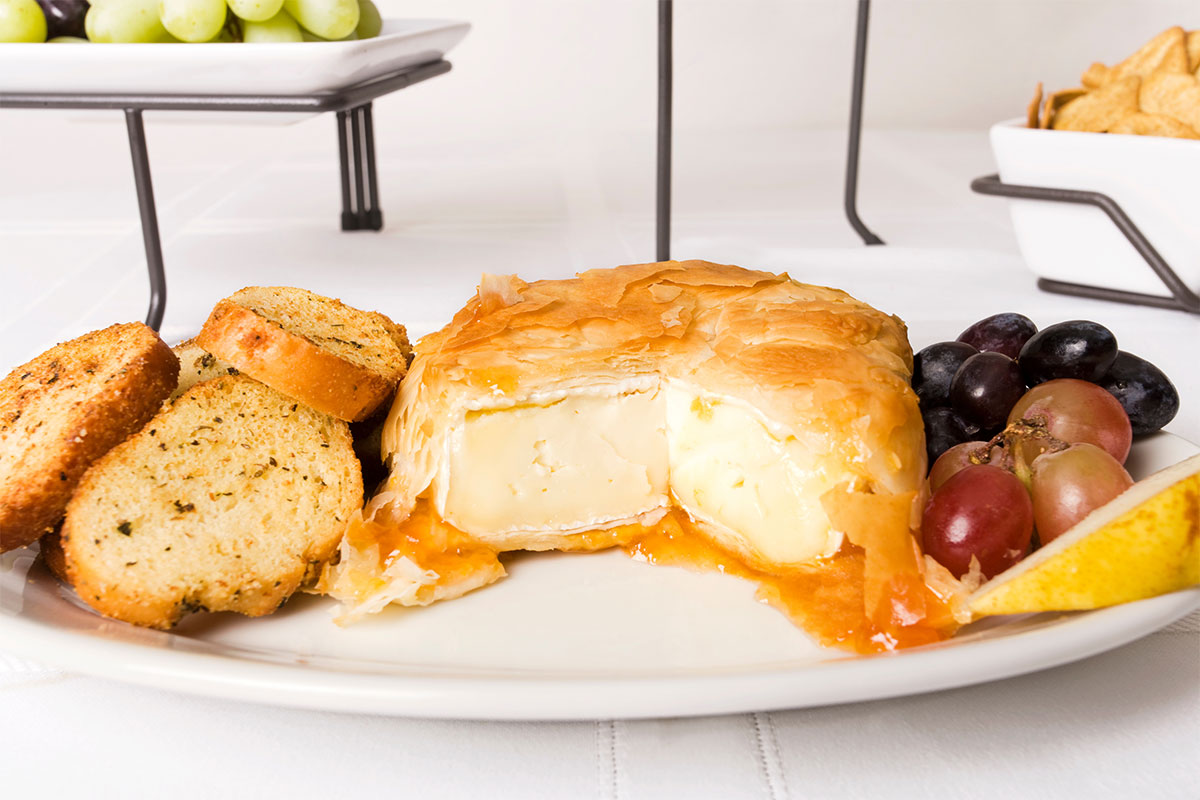 What condiment goes with brie?
Honey and jams also go well with brie. Try fig, raspberry, or apricot jam for extra sweetness. For a savory kick, serve pesto or chutney on the side. Truffle honey is a luxurious accompaniment.
Should baked brie be served warm?
Baked brie can be served warm or at room temperature. If you serve it warm, the cheese will become soft and gooey.
What meat goes best with baked brie?
The mild flavor of baked brie pairs well with smoked meats, including salami, bacon, ham, and prosciutto. Sliced grilled steak or chicken also works nicely with this cheese.
Do you eat the crust on baked brie?
Yes, baked brie has an edible rind. The peel is delicious and gives the creamy cheese an earthy, somewhat tangy taste.
Can you overcook baked brie?
You can overcook baked brie. Brie melts readily and becomes runny if cooked too long.

To avoid overcooking, watch the brie during baking. Brie should be cooked until the middle has a gooey texture but isn't runny. Remove the cheese from the oven a minute or two before it reaches your preferred consistency since it will continue to cook and soften.
What to serve with baked brie in puff pastry?
Serve baked brie in puff pastry with fresh fruit, crackers, almonds, and spreads like honey, fruit preserves, or chutney.
BOTTOM LINE: Baked brie is a delicious party appetizer. You can serve baked brie with sweet or savory sides. Test several combinations to discover your preferred ingredients and be creative in the kitchen. Snack well!
How did it go? Share your favorite baked brie recipes in the comments!
If you want more awesome food pairings, check out our articles on what to serve with biryani, what to eat with frittatas or foods to accompany donuts!