Whether you're in the mood for something light or indulgent, let's see what to serve with enchilada casserole for the most delicious experience.
Are your enchilada casserole sides becoming old? Want to spice up your Mexican meals?
Here are some ideas that are both novel and delicious. These enchilada accompaniments will make your main dish shine even brighter.
What to serve with enchilada casserole?
Here are some of my favorite side foods that will complement your main course perfectly.
Enchilada casserole, in particular, benefits from Mexican rice's versatility. The tomato-based sauce in which this rich and flavorful rice is cooked contains onions, garlic, and spices. Cilantro flavors the rice with additional warmth.
This simple side dish can enhance your enchilada casserole with new Mexican flavors.
Grilled veggies complement enchilada casserole. The grill's smokiness and charred edges give veggies depth and crispiness.
Prepare them for the grill by brushing with olive oil and seasoning with garlic powder or chili powder.
Cook until they are charred to perfection.
Serve this alongside your enchilada casserole for a light and healthy side dish.
Guacamole and chips complement any Mexican dinner. Avocado, onion, and tomato come together with spices in this classic dip.
Serve this flavorful side dish with crunchy Mexican chips or crispy corn tortillas alongside your favorite enchilada recipes.
Refried beans are a delicious Mexican side dish for enchilada casserole. This easy bean dip is smooth and creamy.
To complement your enchilada bake, try serving refried beans seasoned with onions, garlic, and other spices.
Cannellini beans, kidney beans, and black beans are my favorites. You can also try out different kidney bean substitutes for your Mexican dishes.
Refried beans are also one of my favorite foods to serve with empanadas!
Pico de Gallo is a fresh, bright salsa you can use as a condiment or eat with tortilla chips. The combination of tomatoes, onions, cilantro, and lime juice is absolutely explosive.
You can find the ideal accompaniment by trying out new flavors and textures. A tasty enchilada dinner is guaranteed with these suggestions.
Since corn tortillas for enchiladas are usually made with masa harina, you can also play around with masa harina substitutes for more flavor options.
What salad goes with enchiladas casserole?
A crowd-pleasing enchilada casserole is substantial and savory. Salads make terrific sides to balance out the heavier flavors. Here are the greatest enchilada casserole salads:
The enchilada casserole pairs beautifully with the black bean and corn salad. You won't be able to get enough of this delicious combination of maize, black beans, and lime juice.
It's got just the ideal balance of nutrients to go with enchiladas, too.
Mexican street corn salad
You can't go wrong with enchilada casserole and a side of Mexican street corn salad. The right ingredients make for a bold and spicy bite.
You can try out this Mexican street corn salad recipe for a healthier alternative!
Corn is a popular ingredient in Mexican cuisine so I feel compelled to also bring up these alternatives to cornflakes and maize flour substitutes. Check them out if you want to switch up your corn-based dishes.
Taco salad complements enchilada casserole. A zesty salsa sauce tops shredded lettuce, diced tomatoes, black beans, corn, and shredded cheddar cheese. The crunchy lettuce and creamy cheese enhance the thick and delicious enchilada dish.
Feel free to try out different white cheddar alternatives for a fun twist!
Cucumber salad is a pleasant green salad to go with enchiladas. Crunchy cucumbers, red onions, and a tart vinaigrette dressing make this side dish light and refreshing. Serve it cold to get an extra chill in each bite.
The Mexican coleslaw is quite tasty. A lime juice dressing coats shredded cabbage, jalapenos, and red onion. Serving the enchilada casserole with this refreshing salad is a safe bet.
A light vinaigrette-dressed salad of grilled veggies served on the side of an enchilada dish.
Wow, delicious! Grilled veggies provide smokiness to the enchilada casserole's flavorful taste.
Enchilada casserole pairs well with Caesar salad. Roman lettuce, shaved Parmesan, toasted breadcrumbs, and tangy Caesar dressing are its major ingredients. Your dish will benefit greatly from the creamy dressing and crisp croutons.
Enchilada casserole goes nicely with various salads. Try serving a lighter salad alongside heavy enchiladas for a nice contrast in texture and flavor.
Best toppings for enchilada casserole
Many Mexicans enjoy enchilada casserole. Layers of tortillas, meat, cheese, and heavy sauce are cooked to perfection. Toppings make the dish even better.
Mexican food often uses cilantro. Its zesty taste complements the casserole's richness. Serve the dish with chopped cilantro to refresh each bite.
Mexican enchiladas are also good with diced tomatoes. They sweeten and juicily enhance the casserole's richness. Depending on availability, add fresh or tinned tomatoes. Dice them up and sprinkle them on the dish before serving.
Enchilada casserole is wonderful with ripe avocado. Its creamy, buttery texture lends richness to the dish. Before serving, garnish the dish with fresh avocado slices.
Enchilada casserole tastes hotter with jalapenos in the mix. These are great for spicy food lovers. Slice fresh jalapenos and sprinkle on the dish before serving.
Sour cream cools and soothes the spicy enchilada casserole. Its acidic and creamy taste complements the casserole's heat. Before serving, drizzle sour cream over the dish or put it on the side for guests to add.
Adding your favorite toppings to enchilada meals can make them taste really different. You only need a few simple ingredients!
Enchilada side dishes FAQs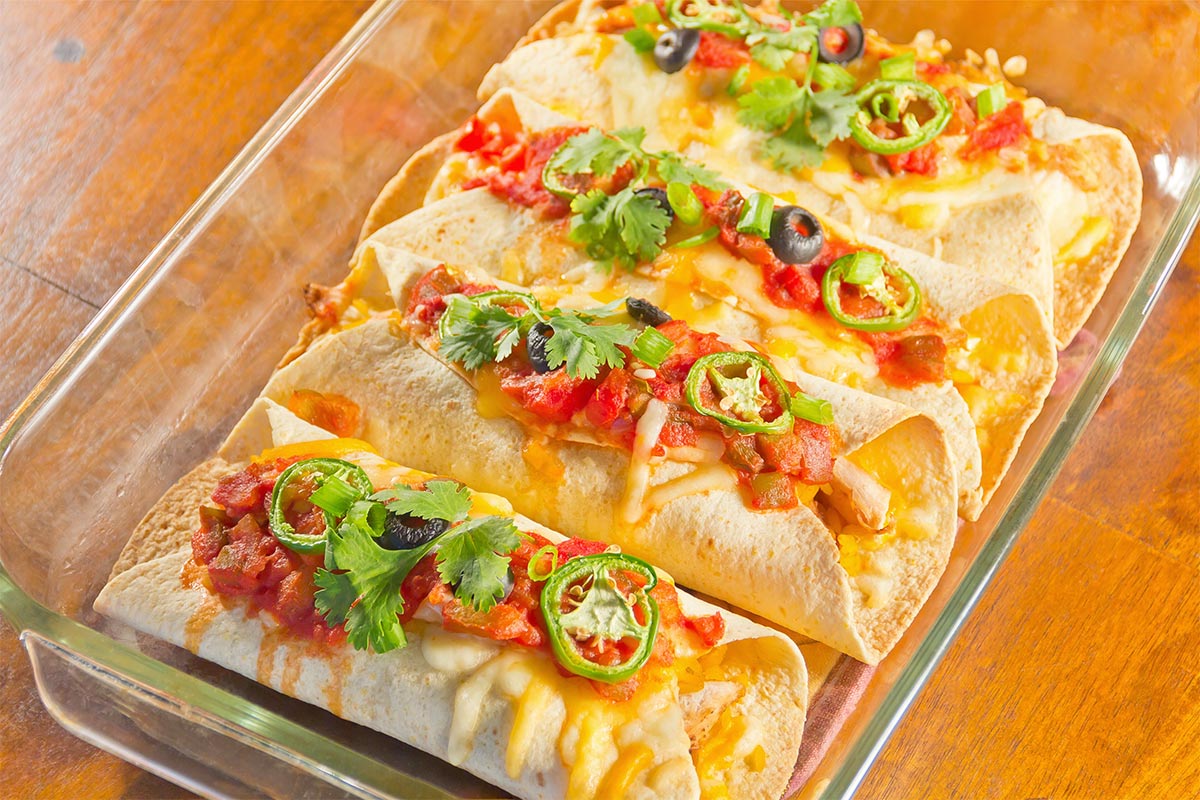 Are enchiladas a dinner food?
Yes, enchiladas are typically a dinner food but they're great any time of the day.
What to serve with Mexican casserole for dinner?
You can serve Mexican casserole with cornbread, rice, or a crisp lettuce salad for a delicious dinner. Guacamole and salsa are also great accompaniments.
Are enchiladas comfort food?
Yes, enchiladas are often considered comfort food. They are hearty and packed with flavor. The combination of ingredients can offer a sense of warmth and contentment.
What side dish goes with chicken enchiladas?
Refried beans, Mexican rice, and guacamole are all amazing side dishes to serve with chicken enchilada recipes.
What's enchilada sauce made of?
Enchilada sauce is usually made of tomato paste, chili powder, garlic, onion, oregano, cumin, and other spices.
BOTTOM LINE: Your casserole can be enhanced with various tasty enchilada toppings and tasty and healthy side dishes. Try one of these amazing flavors with your hearty enchilada casserole to spice up your taste senses.
Need delicious side dishes for other recipes? My blog features several of them, from ideas to serve with egg rolls to Minestrone soup sides, to biryani accompaniments, frittata side dishes and more!