You're in luck, there are several delicious vegetables that can be an asparagus substitute.
This unique vegetable has an unmistakable texture and earthy flavor. It's so versatile that I have problems settling on a favorite cooking method.
But what if you run out of asparagus or simply want a change of pace?
You'll find some tasty and nutritious asparagus substitutes below. Read on!
What is asparagus?
Asparagus is a popular vegetable that greets us in spring. The minute the young spears or shoots emerge from the soil, they may be harvested and consumed.
Whether you prefer it raw, steamed, sautéed, roasted, or grilled, asparagus is a versatile vegetable.
The Mediterranean and Asia both provide ideal conditions for the growth of asparagus. The tasty stalks of this lily relative have been relished for generations all throughout the world.
In addition to being rich in essential minerals like iron, potassium, and calcium, it also has a good amount of fiber and folate. Its versatility as a cooking ingredient stems from its mild sweetness and grassy flavor.
Best asparagus substitutes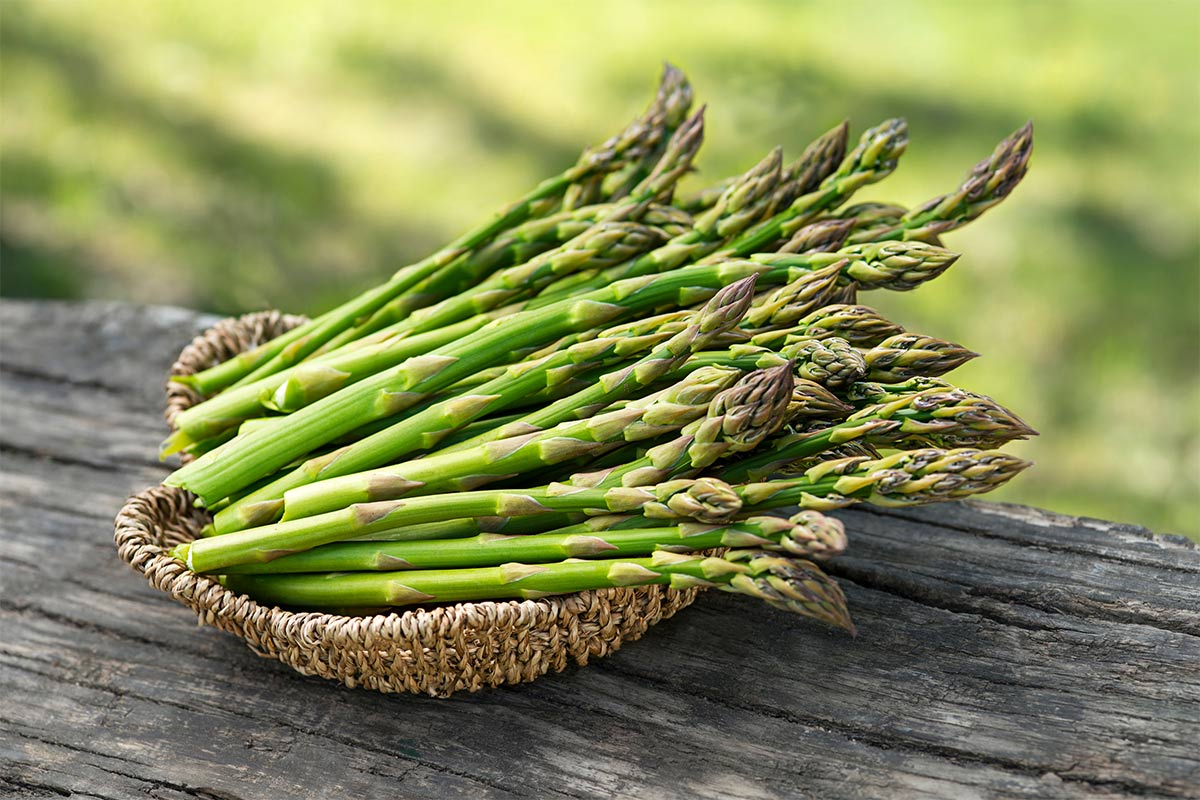 Several green vegetables can replace asparagus in your favorite recipes:
Both green beans and asparagus have a similar texture and a moderate flavour that may be complemented by several seasonings. Most supermarket stores carry them year-round.
I attempted to adapt my standard asparagus cooking method to green beans. They tasted amazing blanched and seasoned with olive oil, lemon zest and parmesan.
Broccoli florets and stems are healthy options full of vitamins and minerals. They can replace asparagus thanks to a similar texture and cooking methods.
Broccoli stems are actually as healthy as florets and feel a lot like asparagus. They're the perfect vegetables that look like asparagus, to be fair.
Although I like asparagus in risotto a lot, I found that broccoli worked just as well. They had a similar earthy flavor and a crisp texture.
Brussels sprouts are cool alternatives to broccoli and asparagus. They're wonderful veggies rich in beneficial nutrients including vitamins C and K.
Brussels sprouts make a perfect side dish when you need something with a sweet taste and cute shape. I really love how they resemble tiny cabbages.
Asparagus and English pea casserole is one of my favorite dishes to cook. I was happy to discover that brussels sprouts also taste great in this bake.
Zucchini may stand in for asparagus thanks to its versatility and similar texture. It contains various necessary nutrients, making it a good choice to supplement any meal.
When cooked, its sweetness shines through more prominently, but its texture becomes less akin to that of asparagus.
Artichokes aren't a vegetable that looks like asparagus but they make an interesting alternative. Seasonings and sauces can enhance their particular taste and texture. They take longer to prepare than asparagus, but the results are worth the effort.
Artichokes are a true delicacy that can make recipes shine. Nevertheless, I enjoy them most as an appetiser served with some melted butter with garlic.
If you're interested in this veggie check out my post about artichoke substitutes, including lots of tips on using it!
Cauliflower has a particular texture, but it can be cooked using several methods comparable to asparagus. Similar to asparagus, cauliflower offers few calories but a wealth of nutrients.
I found that cauliflower roasted with olive oil and garlic powder was a delicious substitute. This recipe turned out to be suitable for both veggies.
These sweet, crunchy peas are a great raw replacement for asparagus. They taste well fresh, in salads, or steamed.
Sugar snap peas are a nutritious addition to any dish since they include both fiber and vitamin C.
Chinese cabbage (bok choy)
Bok choy makes a sweet and crunchy asparagus replacement. While it tastes more like cabbage than asparagus, it provides a similar fresh and grassy flavor.
It's versatile – you can sauté, grill, or roast it – and full of health benefits.
The tender new ferns that appear each spring are a delicious treat. Asparagus-like in crunchiness, but with a distinctive nutty taste.
Fiddleheads should be cooked sufficiently before consumption by steaming or sautéing.
This Southern staple can be prepared in a variety of ways, including grilling, frying or stewing. It goes nicely with spicy ingredients because of its gentle, somewhat sweet taste.
While fennel tastes different from asparagus, it resembles the latter in texture. Its distinct licorice-like flavor might not work in all recipes so it's best to rely on your personal preferences.
Frozen or canned asparagus
Asparagus in these forms is the best alternative to fresh vegetables. Frozen/canned asparagus is generally softer in texture and require less cooking time.
Asparagus Substitute FAQs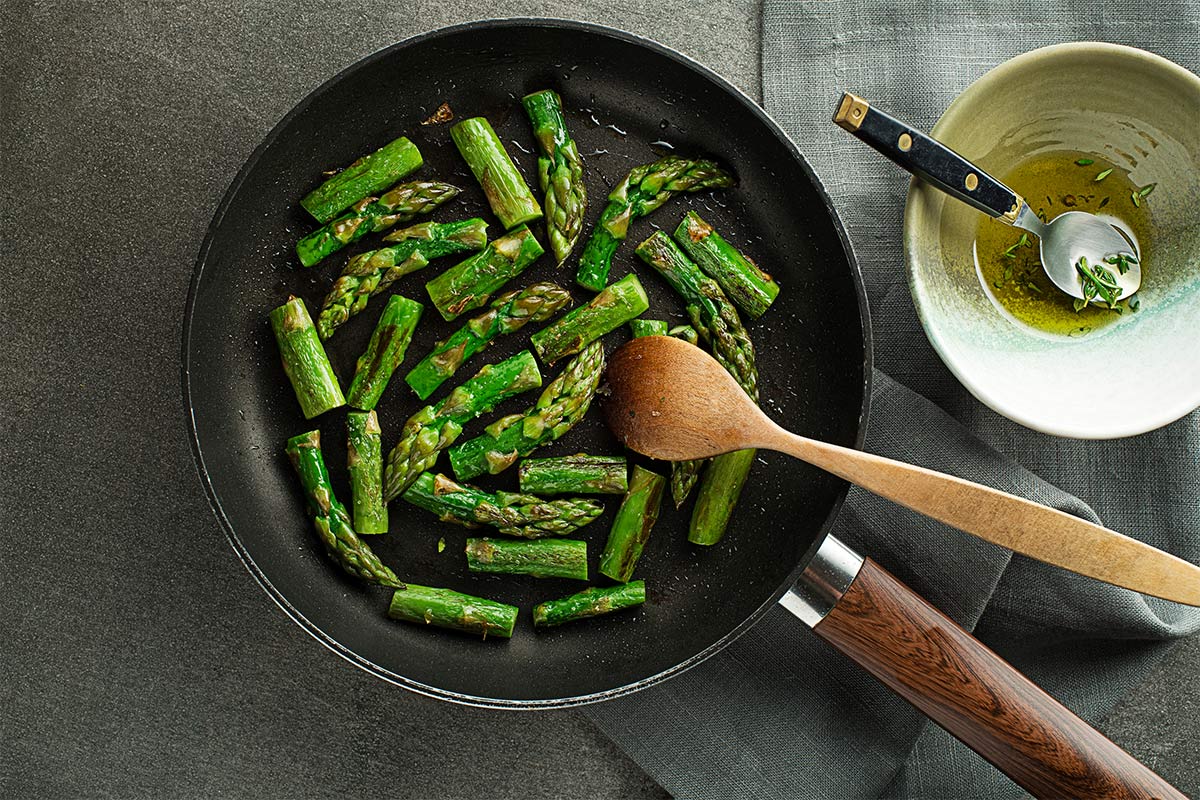 Which substitutes are lower in calories than asparagus?
Zucchini and bok choy are lower in calories than asparagus.
How many calories are in asparagus?
One cup of raw asparagus contains about 27 calories and 3 grams of protein and fiber.
What substitutes for asparagus are available in the summer?
Some substitutes for asparagus that are available in the summer include green beans, zucchini, okra and artichokes.
What substitutes for asparagus are good for grilling?
Zucchini, broccoli, cauliflower, Brussels sprouts, bok choy and okra are all good options for grilling.
What substitutes for asparagus are easiest to find?
Fresh vegetables like green beans, zucchini and broccoli are easiest to find in most grocery stores.
Can I use frozen asparagus instead of fresh asparagus?
Yes, you can use frozen asparagus instead of fresh asparagus in some recipes. Remember that it becomes more tender when cooked so adjust your cooking time accordingly.
Can frozen vegetables be used as an asparagus substitute?
Yes, frozen vegetables can be used as an asparagus substitute.
What is the best substitute for asparagus?
I believe green beans are the best vegetable substitute for asparagus thanks to their similarity in shape and flavor.
Are snow peas a good alternative to asparagus?
Snow peas have a different flavor and texture than asparagus so they don't make a good alternative to asparagus. Sugar snap peas are better in this case.
What to season roasted asparagus with?
You can season roasted asparagus with garlic and parmesan, lemon and herbs, soy sauce and sesame etc. There are plenty of ideas!
BOTTOM LINE: green beans, broccoli, Brussels sprouts, zucchini, cauliflower, sugar snap peas, bok choy, artichokes, fiddleheads, okra and fennel are healthy and tasty asparagus substitutes. They have comparable tastes and cooking methods.
My favorite recipe features olive oil with garlic, Parmesan cheese and lemon juice.
What do you think of these asparagus substitutes? Feel free to share your favorite asparagus recipes in the comments!
Interested in more substitutes for cooking? Find out what you can substitute bell pepper with, what the best avocado oil replacements are, how to substitute barley and pick your perfect mint substitute.
Also, check out these other articles if you're curious about veganism: