Fan of Colby cheese but don't have some? Cheddar, monetary jack and peppery jack cheese are just some of the best Colby cheese substitutes out there. Read on to know them all!
I love adding Colby cheese to sandwiches, burgers, and casseroles.
However, sometimes I find myself running out of this delicious cheese, or I want to try something new.
That's when I started exploring Colby cheese substitutes that could satisfy my cravings.
In this article, I'll share some of my favorite Colby cheese alternatives that I've discovered through my culinary experiments.
What is Colby cheese?
Developed in the humble city of Colby in Wisconsin, Colby cheese is a semi-hard kind of cheese made in a very similar manner to cheddar. It's orange in colour and, like many other kinds of wonderful popular cheeses, produced from cow's milk.
Why would I need a Colby cheese substitute?
If you're lactose intolerant or trying to reduce your dairy intake, perhaps can't find some for a recipe or you're not a fan of the taste, searching for a substitute for Colby cheese is a solid choice.
Whatever the reason though, these amazing Colby cheese substitutes have got what it takes to offer you a taste and texture that's similar to the novelty.
Colby cheese substitutes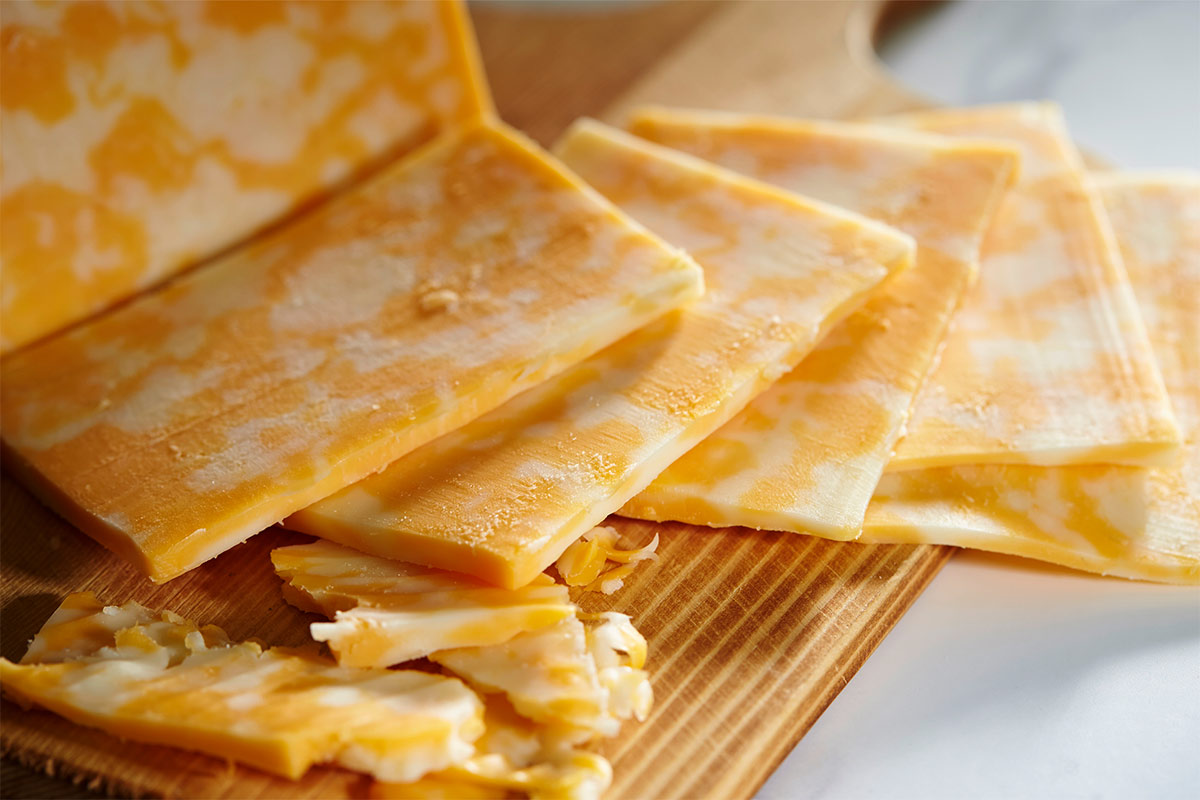 Cheddar cheese is a popular Colby cheese substitute, and for a good reason.
This versatile cheese has a similar texture and flavor, but it's easier to find and more affordable than Colby. Cheddar with a mild flavor is usually aged for a few months while the sharper-tasting kind can be left to age for more than a year.
I'd say mild cheddar is the best kind of cheddar to use as a Colby cheese substitute because of its milder flavor and slightly springy texture. This variety of cheddar cheese also has a comparable moisture content to Colby cheese, making it one of the most suitable substitutes for it.
Use the cheddar in the same way you would for the Colby cheese but I think it works best in casseroles, grilled sandwiches, and even savory dips! And if you aren't still sold on the idea of using it as a substitute for Colby cheese, these health benefits of cheddar cheese should do the trick.
While we're in the spirit of alternatives, check out these awesome cheddar cheese alternatives you'll be sure to love. And, if you're one for aged cheeses, these delicious replacements for white cheddar can be of great use to you.
Monterey Jack Cheese is a white cheese with a semi-soft texture, made from cow's milk, just like Colby is.
I love the creamy texture, mild buttery flavor of this American cheese and the fact that's high moisture and fat content means it melts so well. Although Monterey Jack might not be a yellow cheese like Colby is, their matching flavor profile and many other qualities make it an ideal Colby cheese substitute.
In fact, I'd make the bold statement and say Monterey Jack is the best and most common Colby cheese substitute out there. Throw it on some pasta dishes, in between a sandwich or inside a wrap instead of Colby and you'd still be getting the most out of your meal or snack.
Looking to add a bit of spice to your Colby cheese dishes? Peppery jack is an amazing alternative for the job!
It's a kind of Monterey Jack cheese that's had spicy peppers added to it to give this unique type of cheese some heat.
Peppery jack cheese is made from cow's milk and aged for just a few months, so it's still got that milder taste, creamy texture and buttery flavor we can find in Monterey Jack and Colby.
It holds a special place in my heart as one of my best flavourful cheeses and it's great in cheese sandwiches as well as on pizzas and other tasty Colby cheese dishes as a sub.
One of my favorite melting cheeses, gouda cheese, is also an amazing substitute for Colby cheese. Unlike Colby and Monterey jack cheese, Gouda is not an American cheese but it is made from cow's milk.
Young gouda is preferred as a substitute for Colby cheese over the aged version for its milder, creamier taste and softer texture.
Just like halloumi, I love gouda on a variety of dishes that require placing the mild cheese over a grill. It's also got a subtly sweet flavor which lends itself really well in bakes and all sorts of pastries.
By the way, if you like halloumi just like I do, you might want to take a look at these five amazing substitutes for halloumi cheese.
Colby cheese substitute FAQs
What is the closest cheese to Colby cheese?
Monterey Jack cheese is by far the closest cheese to Colby out there. It's a young American cheese that's also made from cow's milk and has a mild flavor, just like Colby does.
What is the difference between Colby and cheddar cheese?
Colby and cheddar might both be made from cow's milk but Colby has more moisture content and is much less tangy than cheddar.
Can you substitute Colby cheese with sharp cheddar?
If you like a bit of tang to your cheese, sharp cheddar would work pretty well as a substitute for Colby. I especially like using it as a replacement for Colby in sauces but if you wouldn't like an alternative with a stronger flavor, mild cheddar is definitely the way to go.
Is Colby cheese creamy?
Yes, Colby is a creamy and semi-soft orange cheese with a smooth texture. Tastewise, its creaminess is what distinguishes it from cheddar.
Is Colby similar to gouda cheese?
Colby cheese and gouda cheese share a lot of similarities, being that they're both made from cow's milk, have an orange yellow color, and are creamy. But, gouda is a semi-hard cheese while Colby has a softer texture.
BOTTOM LINE: If you want Colby cheese but can't find or don't have some for your recipe, there's absolutely no reason to fret. These Colby cheese substitutes are great options that don't compromise on taste and texture.
I like to use Monterey jack when I want a cheese with a firm texture and mild taste while pepper jack is great for a bit more oomph. Gouda and cheddar are great for all kinds of dishes but in the end, it all boils down to your personal preference. Pick a cheese, try it out in your recipe and enjoy!
For more ideas, check out these amazing blue cheese substitutes and Cheshire cheese alternatives you'll be sure to love.