What to serve with frittata for brunch? I've got some great frittata ideas to make your breakfast a smash!
Frittata is an adaptable and tasty Italian egg dish is excellent for a weekend breakfast with friends or family. To make your favorite recipes even more special, why not add some extra flavors?
I'll share the most delicious accompaniments to a frittata that will make your brunch a hit.
What to serve with frittata for brunch?
Let's see what sides go with frittata for brunch. These additional ingredients are sure to please and make the meal even more special.
Crispy toast or bagels make a wonderful option to serve with vegetable frittatas. Spread butter, cream cheese, or avocado over them to add richness and creaminess.
Fresh fruit can balance the richness of a frittata with freshness and sweetness. Berry, melon, or citrus slices can add natural sweetness to the creamy frittata.
You can also start off your brunch with a delicious fruit salad. You can add some sliced oranges, strawberries, kiwi, and grapes for a colorful and healthy meal.
Roasted bell peppers, cherry tomatoes, zucchini, and asparagus make healthy side dishes. For flavor and nutrition, roast them with olive oil, salt, and black pepper to brighten up your brunch.
A light salad with fresh veggies pairs well with a frittata. For a healthy and tasty side dish, try a mixed green salad with vinaigrette, Greek salad with feta cheese and olives, or roasted beet salad with goat cheese.
A creamy frittata and crisp, tangy salad can make a beautiful protein-packed breakfast.
I have several posts on my blog for leafy green lovers. If you're wondering how to replace endive or need some cool alternatives to Swiss chard, feel free to have a look around!
Garlic and olive oil-sautéed spinach or kale can make a great breakfast side. They can provide extra color and creaminess to your frittata.
Hash browns or home fries
Hash browns or home fries are fantastic for a crispy, delicious meal. These crispy and stodgy potato sides go well with the creamy frittata, providing texture to your breakfast buffet.
Hash browns are a great breakfast idea on their own. You can tweak them with your favorite seasonings or try out these hash brown casserole side dishes.
Buttery biscuits or croissants
For a thick, savory frittata, flaky biscuits or buttery croissants are an excellent choice. Add butter or jam to your toast and frittata for a beautiful combination of flavors.
Toss cheesy grits or polenta with a frittata for a creamy-savory treat. You can also add some garlic and herbs for a delicious brunch meal.
Even though I don't eat bacon, I acknowledge the fact that it's a common ingredient in many breakfasts. Crunchy bacon can complement frittata's creamy smoothness to make your brunch even more tempting.
Frittata goes well with many popular side dishes— salad, sautéed spinach, hash browns, or buttered biscuits. Explore your finest flavor combinations to get the ideal mix.
I can't miss to mention this vegetable frittata recipe. I do like its simplicity, taste and protein amount! Yum! 🙂
What sauce to serve with frittata?
Sauces can give additional flavor to a hearty frittata. Some tasty frittata sauces include:
A tomato-garlic-herb marinara sauce goes well with frittata. The sauce's acidic and savory tastes can make a delicious combination with the creamy texture of frittata.
If you want some spice, try arrabbiata sauce. This spicy tomato-based sauce with garlic, red pepper flakes, and spices gives your frittata a robust and hot flavor.
For a smooth hollandaise sauce, all you need are egg yolks, butter, and lemon juice to top your frittata. The frittata gets even more luscious and creamy thanks to this sauce.
Sour cream or Greek yogurt sauce
Combine herbs, garlic, and lemon juice with sour cream or Greek yogurt for a creamy, tangy sauce. This creamy sauce can freshen the frittata and enhance its tastes.
Prepared with fresh basil, pine nuts, garlic, Parmesan cheese, and olive oil, basil pesto gives your frittata a fresh, fragrant taste. It can also add color to your plate.
Basil leaves are the most common ingredient for pesto sauce, but you can try out other ideas. How about a celery leaf pesto?
While we're on it, I'd also like to mention these replacements for celery leaves as another pesto solution.
A zesty, herb-filled sauce. This Argentinean sauce, made with parsley, cilantro, garlic, vinegar, and spices, gives your frittata a robust taste.
Add a sauce to your frittata for a boost of flavor. There are several sauces to pick from, including tart tomato-based, creamy hollandaise or yogurt, vivid pesto, and chimichurri.
Serve your frittata with a delicious sauce for a brunch that will dazzle your visitors and tickle your taste buds!
Chimichurri is also a classic side dish for empanadas!
What bread to serve with frittata?
Tasty bread can complement your frittata's texture and flavor. Try these delicious breads with your next frittata recipe:
A crispy-crusted French baguette with a soft inside makes a great frittata accompaniment. The crispy crust and creamy frittata provide a great texture contrast, and the baguette's mild taste complements the frittata's rich and savory ingredients.
Ciabatta, a rustic Italian bread with a light texture, is another good choice. Its soft, porous inside soaks up frittata flavors, making each mouthful even more delightful.
Frittatas go well with sourdough's acidic taste. Its chewy texture and unique flavor can enhance your Italian dish with a special touch.
Rosemary focaccia is a delicious accompaniment for frittatas with its sweet and savory toppings and wonderful aroma. The delicious flavors of the focaccia's olive oil, herbs, and cheese will excite your palate with every bite.
Serve a frittata with whole wheat bread for a healthier option. Its solid texture and nutty, somewhat sweet taste can provide substance to a dish.
Multi-grain bread is another nutritional alternative. Multi-grain bread's rich aromas and textures can make your frittata more substantial and healthy.
Your frittata recipes will taste better with the correct bread. You can select from crusty artisan breads like baguette or ciabatta, savory breads like sourdough or rosemary focaccia, or healthy alternatives like whole wheat or multi-grain bread.
Try several bread combos to discover your favorite!
Breakfast frittata FAQs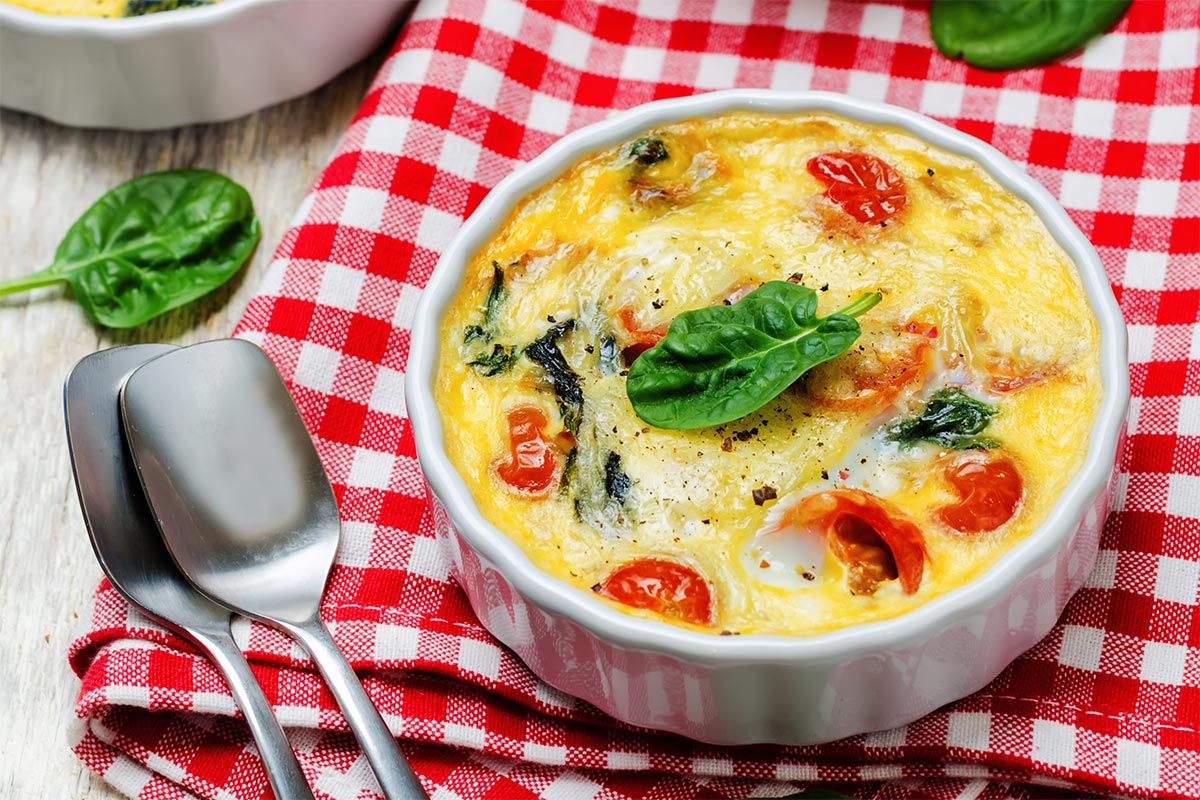 How to serve Italian frittata?
Italian frittata can be served hot or cold. You can serve it as a main dish, or you can slice it and serve it with sides such as toasted bread, salad, roasted vegetables, or a creamy sauce.
What drink to serve with frittata for breakfast?
Fruit juices are a popular option for breakfast. Juices such as orange, cranberry or grapefruit can add a pleasant zing to your frittata. For something a little more decadent, try an Italian-style cappuccino or latte with steamed milk and froth. Tea is also an excellent accompaniment.
What fruits make a good addition to a frittata brunch menu?
Adding berries to your frittata for breakfast is a delicious idea. You can either include fruit like strawberries, raspberries, blueberries, and blackberries into the frittata or serve them on the side. You can also use mangoes, kiwis, and citrus fruits.
What to serve with mini frittatas?
Mini frittatas pair well with salads, roasted vegetables, and toast. For a more substantial meal, you can serve them with potatoes, pasta, rice or other grains. If you're looking for something sweet, add a few slices of fruit, yogurt or granola.
BOTTOM LINE: There's a breakfast frittata for everyone, whether you like veggies, bread or even hot sauce. So cook a frittata and serve it with the above-mentioned side dishes for a brunch that will be remembered!
I have several other side dish ideas you might be interested in. Feel free to check them out on my blog!
You can discover what to serve with Manchego cheese, side dishes for mushroom soup, pairings for egg rolls, accompaniments to biryani and many more!