Are you looking for what to serve with egg rolls for a real game changer of a dinner? I'm here to help!
These savory bites are a hit as an appetizer or between-meal snack because of their delicious filling and crisp shell.
What should you serve with egg rolls to make them a complete meal or delicious finger food for an Asian-themed dinner party?
I've got some delicious side dishes that complement the taste of egg rolls and enhance your eating experience. If you like Asian food, you're sure to find something you'll enjoy here.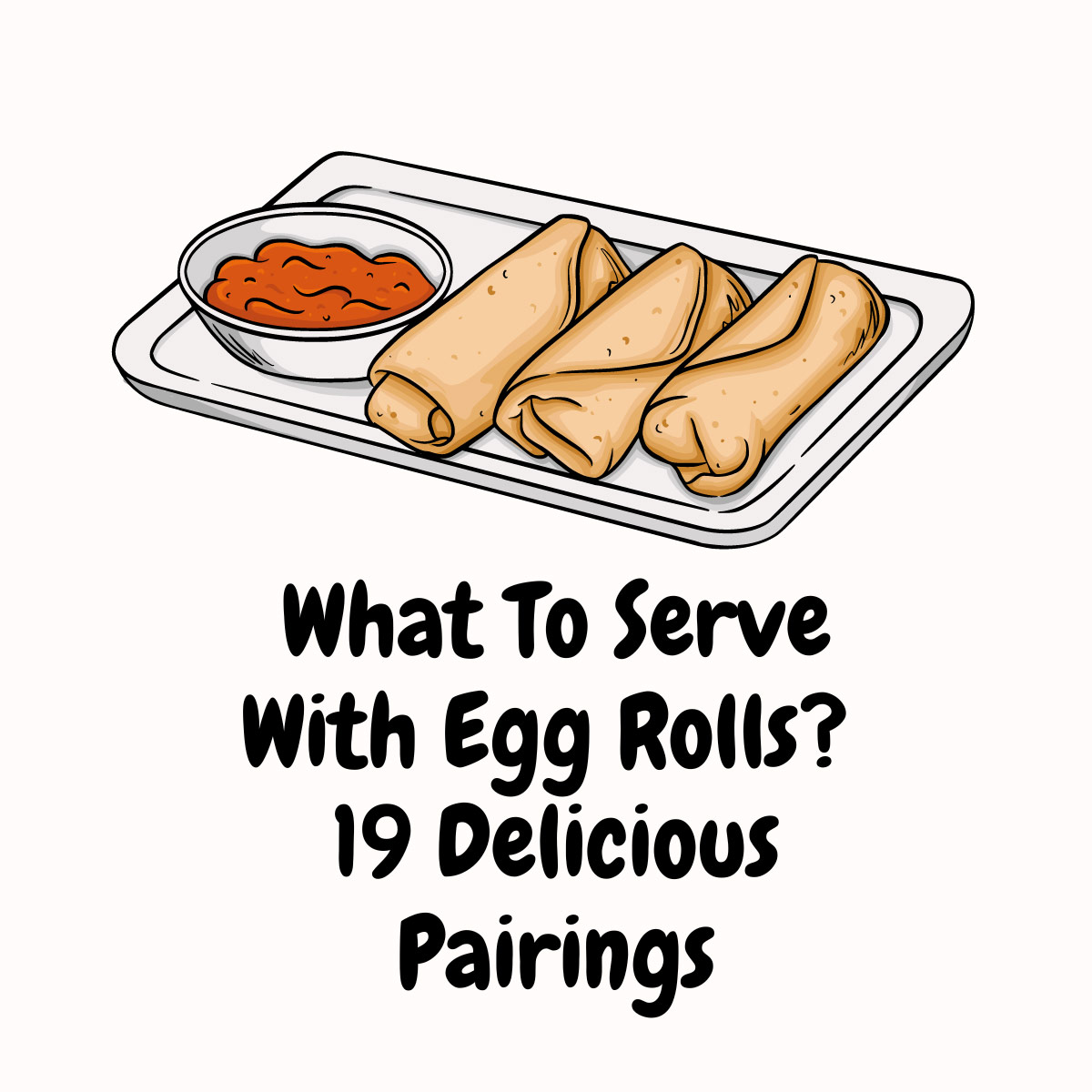 What are egg rolls?
Egg rolls are a popular Chinese-American dish comprised of cabbage, carrots, bean sprouts, meat (pork, chicken, or shrimp), and noodles wrapped in a thin dough wrapper.
The egg roll wrappers are deep-fried until crispy, creating a crunchy exterior with a savory, delicious inside.
Egg rolls are usually served with dipping sauces like sweet and sour or soy. They are popular in Chinese-American cuisine and other Asian cuisines with regional variations.
What to eat with egg rolls for dinner?
What to offer with Chinese egg rolls for dinner? I have some scrumptious meal options that will perfectly complement your crispy rolls and make for a pleasant night.
Dinner egg rolls go great with veggie lo mein—a Chinese noodle dish. Gentle noodles, bok choy, mushrooms, and bean sprouts are mixed in soy sauce and Asian spice sauce. Soft noodles and crunchy egg rolls contrast well for a delectable combination.
Pineapple fried rice goes well with egg rolls and is very intriguing. Thai-style fried rice with pineapple pieces, peas, carrots, and onions. It's spiced and served in a pineapple shell. The pineapple fried rice and egg rolls make a tasty and memorable lunch.
Egg roll dinners taste well with garlic green beans. The egg rolls' richness is complemented by fresh green beans sautéed with minced garlic and soy sauce.
Egg rolls go well with steamed broccoli with ginger sauce. The steamed vegetables are mixed with soy sauce, rice vinegar, and fresh ginger sauce. The crisp broccoli and spicy ginger sauce balance the richness of the egg rolls.
Egg drop soup is a light, comforting side that goes great with egg rolls. Eggs are whisked in chicken broth and cooked until the eggs form thin strands of "egg drop." The richness of the egg rolls is complemented by the lightness of egg drop soup.
Here is my favourite egg drop soup recipe so far, don't miss it. 🙂
Another great pairing with egg rolls is sweet and sour tofu. Crispy tofu and tangy sauce complement the savory egg rolls for a balanced dinner.
These protein-packed main meals, savory rice and noodle dishes, and fresh and vivid vegetable sides will compliment your crispy egg rolls and make for a memorable supper. Go on and choose your perfect side dish!
What to serve with egg rolls in a bowl?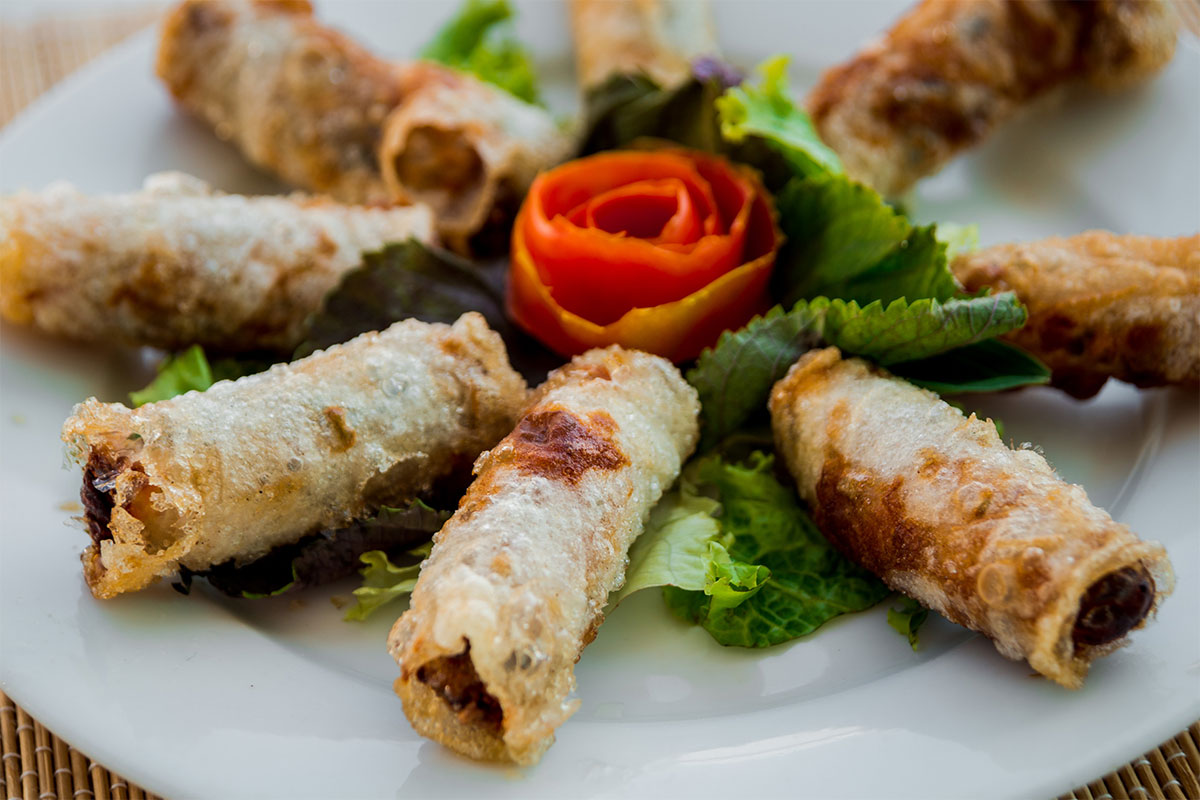 If you like egg rolls in a bowl and deconstructed meals, you may be wondering what sides go with them. Crack slaw, or egg roll in a bowl, is a tasty and easy-to-make meal with all the tastes of an egg roll without the wrapper.
I've put together some great side dishes for egg rolls in a bowl and enhance your dinner.
A serving of egg rolls goes well with an Asian cucumber salad. Rice vinegar, soy sauce, and sesame oil are mixed with thinly sliced cucumbers and topped with sesame seeds and green onions.
The crunchy vegetables and tangy sauce bring freshness to the warm and delicious egg roll in a bowl.
Crunchy cabbage or coleslaw is another popular side dish. You can use mayo, vinegar, and sugar or a tart Asian dressing with soy sauce, rice vinegar, and sesame oil.
You can consider using raspberry vinegar or its alternatives to add a special flavor to your sauce.
The crisp, acidic coleslaw mix and thick egg roll filling in a bowl make a balanced and pleasant dinner.
Garlic fried rice is a tasty accompaniment to egg roll in a bowl. Sauté cooked rice with garlic, soy sauce, carrots, peas, and green onions. The garlic and umami-rich soy sauce accompany the egg roll in a bowl, making a fulfilling lunch.
If you like Chinese food, chow mein is a delicious side dish to egg roll in a bowl. Noodles, bok choy, mushrooms, and mung bean sprouts (or a suitable mung bean sub) are mixed with soy sauce and Asian spices. The crunchy noodles and egg roll in a bowl go together nicely.
Don't worry if you don't have all the listed ingredients on hand! You can mix in some of these bean sprout substitutes and replacements for bok choy.
If you need some ideas to pair with these stir-fried noodles, check out my article on chow mein side dishes.
Sesame ginger roasted vegetables
Sesame ginger roasted veggies pair well with an egg roll in a bowl. Marinate broccoli, carrots, and bell peppers in sesame oil, ginger, soy sauce, and honey, then roast until caramelized. The sesame ginger marinade's nutty and zesty tastes enhance the roasted veggies and egg roll in a bowl.
Steamed edamame adds color and nutrition to your egg roll in a bowl. For a delightful, protein-packed side dish for egg rolls, steam edamame pods and sprinkle them with salt. The egg roll's richness is balanced by the edamame's inherent sweetness and brilliant green hue.
These tasty side dishes can boost your egg rolls in a bowl lunch. You can select from crisp salads, tasty rice and noodle meals, or colorful veggie sides. Get your ideal flavor and texture by experimenting!
What sauce to serve with egg rolls?
Some delicious sauces can improve egg rolls. A tangy, sweet, or spicy dipping sauce for egg rolls recipe can enhance the savory taste. Serve your favorite Asian dishes with these tasty sauces:
Sugar, vinegar, and ketchup combine to make this popular dipping sauce. Sweet and sour sauce for egg rolls contrasts nicely with the crunchy and salty egg rolls.
This sweet and slightly tart dipping sauce is made from sugar, vinegar, and dried apricots. Perfect for egg rolls, duck sauce has fruity tones that balance the salty flavors.
Another popular choice, plum sauce enhances egg rolls' savory flavors with its rich, fruity taste. It's prepared with plums, sugar, vinegar, and spices and adds sweetness and tang to egg rolls.
Soy sauce is great for umami lovers. It enhances egg roll tastes with a salty and rich taste. Depending on saltiness, use standard or low-sodium soy sauce.
You can also serve dark soy sauce with your egg rolls for a less salty taste and a thicker texture. Consider these dark soy sauce substitutes if you don't have the real thing.
Fermented soybeans, garlic, and spices provide this rich, sweet taste that enhances egg rolls. Rich flavor lovers will adore its sweet, tangy, and smoky flavor.
Sriracha or sweet chili sauce
Serve it with egg rolls if you enjoy a little heat. These spicy egg roll dipping sauces can balance the egg rolls' richness.
This creamy sauce with peanut butter, soy sauce, and other ingredients gives the egg rolls a rich and nutty flavor that makes dipping enjoyable.
Adjust the sauce to your taste and mix and match different ideas to make your personal favorite.
Savory sauces benefit from being garnished with sesame or sunflower seeds, green onions, or cilantro, all of which provide both flavor and visual appeal. Additionally, try any of these alternatives to sunflower seeds for garnish.
So be creative with your sauces and enjoy the taste boost a well-paired sauce can provide your egg rolls!
Egg rolls FAQs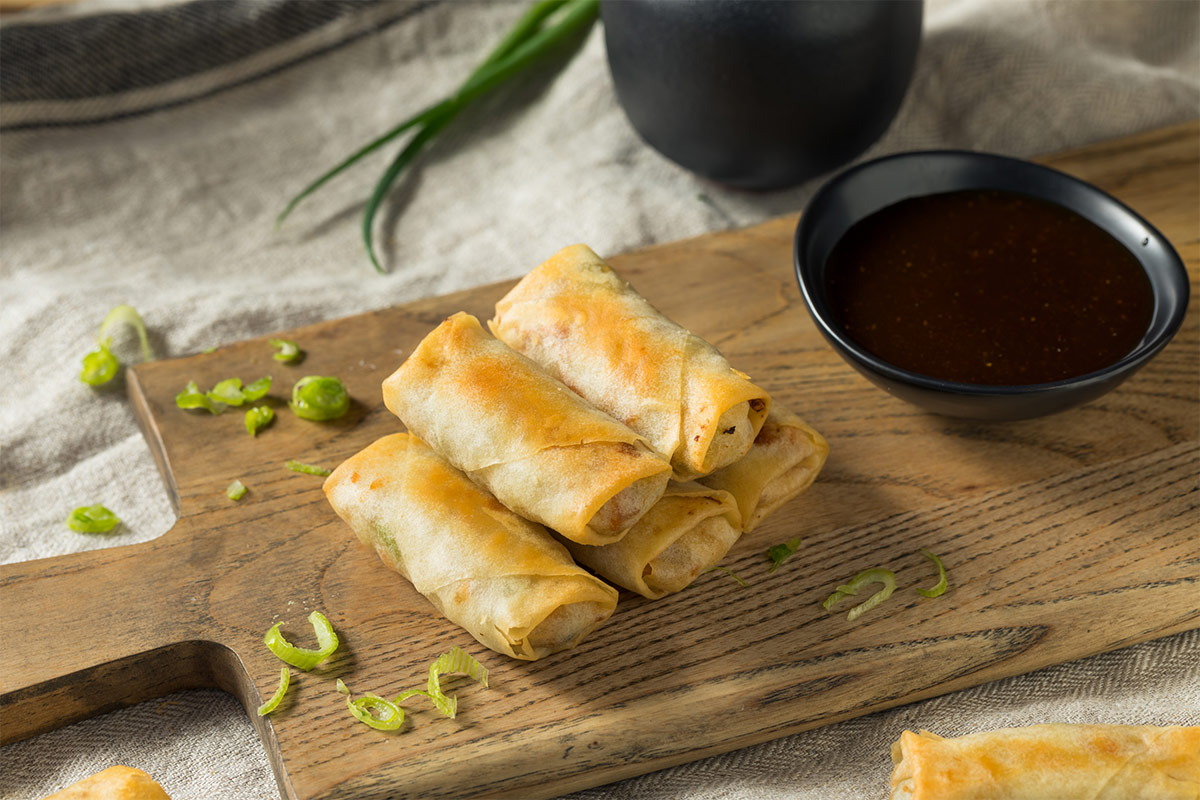 How do you keep egg rolls crispy?
To keep egg rolls crispy, place them on a cooling rack after cooking. Also, preheat the oven before baking your egg rolls to ensure a crunchy texture.
What country invented egg rolls?
Egg rolls' origin is unknown, however, some believe they originated in China. The dish may have arrived in the US in the early 1900s with Chinese immigrants.
Are egg rolls a meal or appetizer?
Egg rolls can be served as a tasty appetizer, snack, or meal. It really depends on the size of the roll and the amount you prepare.
Do you use chopsticks to eat egg rolls?
Egg rolls can be eaten with chopsticks, depending on the size of the roll and personal preference.
Are egg rolls supposed to be hot or cold?
The best way to enjoy an egg roll is hot and freshly cooked.
What is a good side dish for spring rolls?
A light and fresh salad is an excellent side dish for spring rolls. For a more substantial side, mix together cooked noodles, vegetables, and herbs for a colorful and flavorful dish.
BOTTOM LINE: Now that you know some great egg roll side dishes, you can amaze your visitors with a wonderful egg roll feast. These side dishes will go well with your egg rolls, whether you pick fried rice, noodles, or salads. Pair egg rolls with one of these side dishes to tickle your taste buds.
Feel free to check out my other articles to discover the best side dishes for your favorite recipes!
I've had a great deal of fun writing about what to serve with scones, the best sides for frittatas and side dishes for minestrone soup. For a bite-sized snack from the other side of the globe, find out how to serve empanadas! Visit my blog for more ideas!