What to serve with brie? I've put together several ideas for the most delicious and convenient choice to accompany this French cheese.
Many adore brie's delicate taste and velvety texture. It's adaptable and popular for snacks, appetizers, and complete dinner parties.
There are many great pairings with brie. Fruits, nuts, charcuterie, and wine are all options.
Let's discuss brie's greatest partners, both traditional and unusual. I've got you covered for parties, snacks, and wonderful meals.
How is brie traditionally served?
Brie is versatile. It's served at room temperature to properly develop its tastes and fragrances. To serve at room temperature, take the cheese from the fridge at least an hour before.
Brie on a cheese or charcuterie board is popular too. Crackers, bread, fruit, nuts, and charcuterie can be served with sliced or entire wheel of brie. This lets people try the cheese alone or with other flavors and textures.
Baked or grilled brie improves its creamy texture and gently caramelizes its exterior. Brie is roasted in a small oven-safe dish with honey or jam until soft and gooey. Cooked brie is foil-wrapped and barbecued or cooked in a skillet.
If you need some serving ideas for baked brie, I've got you covered in one of my earlier posts. There are endless options, from fruit to crackers to charcuterie.
Brie can also top savory foods. It can be melted over roasted vegetables, served with fruit compote, or spread on sandwiches or burgers. Its mild, creamy flavor complements many foods.
Brie tastes good whichever way you serve it. Its buttery, creamy texture and delicate flavor make it ideal for entertaining, nibbling, and cooking.
How to eat brie for breakfast?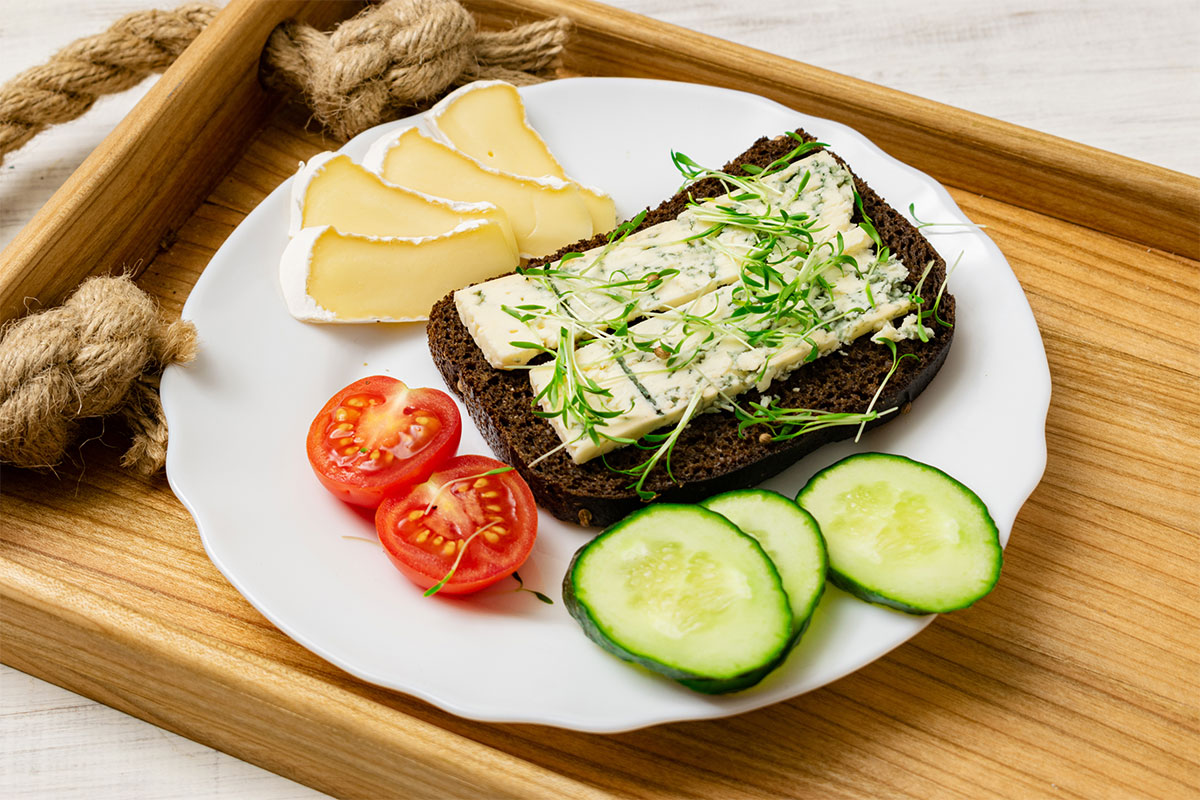 Brie is wonderful for breakfast and other meals. Here are some brie breakfast ideas:
If you're in a rush yet want a filling breakfast, try this. Spread your favorite jam over toasted bread. Add a couple of thin slices of brie and broil for a minute or two until melted and bubbling. Toaster ovens work too.
This combination of jam's sweetness and brie's creaminess is excellent.
A light and refreshing breakfast choice. Stack berries, grapes, and apples on a dish. Serve bread or crackers with a few brie pieces. The sweet fruit and mild brie go well together, while the crackers or bread give extra crunch.
A heartier breakfast choice. Make a French omelette with brie slices and fold it in half. Serve it with bread or fresh fruit. Brie's richness and the omelette's fluffiness are an excellent combination.
Try this delicious breakfast choice, if you fancy some bacon. Spread a small coating of Dijon mustard on one slice of bread, add a few brie slices and bacon, then top with the other slice. Bacon and brie make a wonderful morning sandwich.
This breakfast is healthful and satisfying. For a kick, garnish the avocado with brie slices and red pepper flakes. This tasty breakfast mixes avocado's healthful fats with brie's creaminess.
Brie is a versatile breakfast cheese. It can be used in breakfast dishes that are sweet, savory, light, or full.
If you'd like to expand your breakfast horizons even more, why not also check out these tasty side dishes for Eggs Benedict?
What goes well with brie in a sandwich?
Brie, a creamy, buttery cheese, complements many sandwich toppings. Some sandwich pairings for brie are:
Apples give brie sandwiches a delicious, juicy crunch. Granny Smith or Honeycrisp apples are the best options to pair with the flavor of brie cheese.
Apples can be sliced thinly and layered on brie or chopped and mixed with the cheese for a creamy, delicious spread.
Sweet, golden-brown onions are cooked slowly to complement a brie sandwich with arugula or mustard. Slice a big onion thinly and sauté it in butter or olive oil over low heat for 30–45 minutes, turning regularly, to caramelize it.
Although it's not an option for me, prosciutto can add a salty, rich flavor to a meat lover's sandwich. It tastes great with fig jam or honey. Arugula or mixed greens can add a fresh, spicy taste.
Roasted vegetables give brie sandwiches a smoky, charred taste. After roasting, you can pile your veggies on brie or mix them with it for a creamy, savory spread.
The best roasted vegetables for brie are mushrooms, tomatoes, red peppers, zucchini, and eggplant.
Brie sandwiches taste delicious and juicy with pears. Slice a nice, juicy pear thinly. For a creamy, delicious spread, place pear slices over the brie or mix them in. The balsamic glaze can provide some acidic sweetness.
For a creamy, delicious spread, add some greens to your brie. It'll definitely taste fresher with spinach or arugula. They also provide extra fiber and minerals.
Brie sandwiches taste delicious and are protein-packed with roasted turkey. Cranberry sauce or Dijon mustard add flavor. For a heartier sandwich, add lettuce, tomato, and avocado.
If you prefer vegan or vegetarian options as I do, you can replace roast turkey with roasted tofu or tempeh.
These are some brie sandwich pairings. It goes well with many amazing flavors, so the choices are unlimited!
What to eat with brie and crackers?
Brie and crackers are a typical snack, appetizer, or light meal. Cheese and crackers are excellent on their own, but adding toppings and accompaniments can elevate this match. More information on each option:
Brie and crackers go well with sliced apples, pears, grapes, or berries. They sweeten the thick, creamy cheese. The various textures also balance each mouthful.
Nuts make great accompaniments to brie and crackers. Walnuts, almonds, or pecans provide some crunchy texture, while hazelnuts and macadamia nuts add a buttery flavor. Sprinkle them over your cheese platter or mix them into a spread.
Add flavor to brie and crackers with thinly sliced prosciutto, salami, or ham. Salty, meaty flavor balances light, creamy cheese. Charcuterie can also elevate any celebration with an impressive presentation.
You can also check out my list of foods to serve after charcuterie to make your vegetarian friends feel included!
Olives add a salty kick to cheese and crackers. Serve them pitted or stuffed with feta, cream cheese, or garlic. Green olives are the most common for this type of platter. But black olives also go well with brie.
Sliced cucumbers, cherry tomatoes, or roasted red peppers give fresh color to brie and crackers. They provide crunch and fiber to your snack.
Drizzling honey over brie and crackers sweetens the cheese's rich, creamy taste. Honey goes well with cheese and is a crowd-pleaser.
For a sweet, fruity twist, spread some jam or preserves over your cheese board. Cranberry, fig, and raspberry are popular options for brie. You can also spread the jam on crackers before adding brie.
Brie and crackers go nicely with white or red wine. Wine acidity and tannins break through cheese richness. You can try different wines to discover your favorite combos like Sauvignon Blanc, Pinot Noir, or Cabernet Sauvignon.
Brie and crackers can be personalized for each occasion or taste. Adding fruit, nuts, charcuterie, olives, veggies, honey, jam, or wine provides a fantastic taste experience.
Try brie and crackers for a simple yet tasty snack or appetizer!
Brie FAQs
Should brie be served warm or cold?
Brie can be served warm or cold. It is typically served at room temperature but can be heated for a more savory flavor. Warmed brie tends to have a soft texture, while cold brie is firmer.
What sauces go with brie?
Sauces that go with brie include honey, jam, preserves, and chutneys.
Do you eat the crust on Brie?
Yes, you can eat the crust on Brie. The outer rind of Brie is made of edible mold that gives the cheese its distinctive flavor. If you don't like the taste of the rind, it is okay to cut it off, but you will be missing out on some of its unique flavor.
What jam goes well with brie cheese?
Jam that goes well with brie cheese includes raspberry, fig, and apricot. Other jams that pair nicely with brie include strawberry, blueberry, and blackberry.
How do you bring brie to a party?
Get some brie from the grocery store or purchase some online to bring to a get-together. Wrap the cheese in wax paper and store it in the fridge if you don't plan on serving it straight away. When you get to the party, take the brie out of the packaging and put it on a serving tray. Complement the dish with snacks like fruit, almonds, and crackers.
What crackers go well with brie?
Crackers that go well with brie cheese include water crackers, sesame crackers, olive crackers, and wheat thin-style crackers.
Brie pairs well with many flavors. The cheese goes well with sweet or savory pairings. Cheese plates can include fruit, nuts, charcuterie, and various condiments while wine can further enhance the taste experience. Happy matching!
Are you looking for more ideas to serve the perfect party food each time? You can discover delicious accompaniments for sliders, pairings for empanadas and side dishes for donuts!