What to serve with ravioli depends on whether you're looking for a simple dish or an impressive dinner party. I'll share some ideas to help you get rolling.
These tasty pasta squares are a real treat for pasta lovers like me.
Nonetheless, you may ask what to pair ravioli with for a well-balanced meal. Rest assured!
In this post, I'll show you how to mix ravioli with wonderful sides and accompaniments to make it even better. Let's find out what to serve with ravioli!
What is ravioli?
Italian ravioli are tiny, square or circular pasta dough pockets filled with various ingredients. Before being filled with cheese, meat, veggies, or shellfish, pasta dough is rolled out thin and formed from wheat flour, eggs, and water.
The filled pasta pockets are boiled in water and served with sauce, such as tomato sauce or butter and sage sauce, and grated cheese.
Many individuals worldwide like Italian ravioli. There are different types of ravioli ranging in form, size, and flavor depending on the chef and area of Italy.
What sauce to serve with ravioli?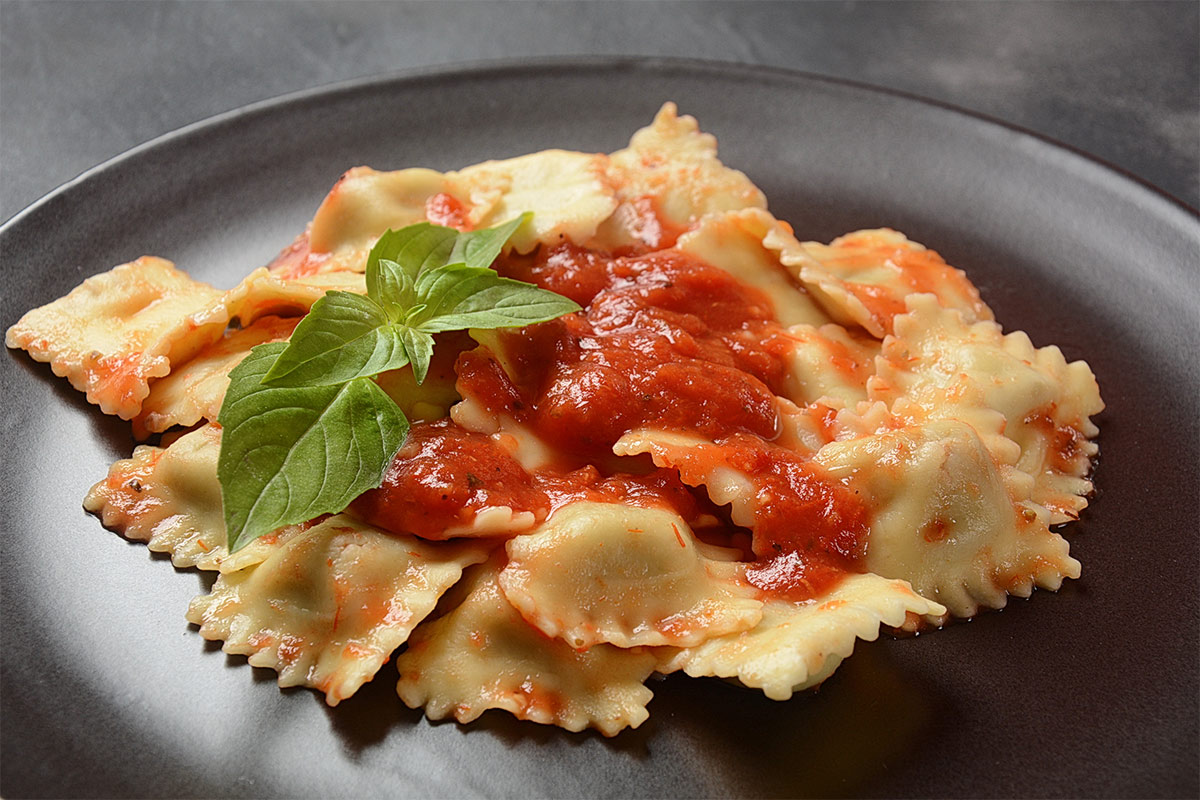 Dips and sauces can improve ravioli's taste. Here are some ravioli-friendly dips and sauces:
Traditional marinara sauce
Marinara sauce is great with any pasta dish. This simple, delicious sauce accentuates the ravioli's inherent tastes without overpowering them.
Simmer homemade or high-quality marinara sauce over low heat to develop flavors. For a real Italian touch, garnish the ravioli with a big ladle of marinara sauce and freshly grated Parmesan cheese.
Ravioli with creamy Alfredo sauce is a decadent alternative. This rich sauce makes ravioli silky smooth with butter, cream, garlic, and Parmesan cheese.
Simmer homemade or store-bought Alfredo sauce to thicken. Toss cooked ravioli in creamy Alfredo sauce and top with chopped parsley for color and freshness.
Pesto sauce pairs well with ravioli for a fresh taste. This sauce gives ravioli a fresh, tangy taste with basil, pine nuts, garlic, Parmesan cheese, and olive oil.
Toss ravioli with pesto sauce, either homemade or store-bought. For texture and crunch, sprinkle more Parmesan cheese and pine nuts over top.
If you want to experiment with other flavors for an aromatic pesto, I've written about cool basil alternatives in this article.
Brown butter sauce with sage is a unique and refined ravioli sauce. This sauce gives ravioli a subtle, fragrant taste by melting butter in a skillet until it turns golden brown and nutty, then adding fresh sage leaves and crisping them.
Toss cooked ravioli in the brown butter sage sauce and garnish with grated Parmesan cheese for a delicious combo.
There are several wonderful ravioli sauces. Each sauce—marinara, Alfredo, pesto, or brown butter sage—enhances the ravioli entrée. Try different sauces to discover your perfect pairing for homemade ravioli.
What protein to serve with ravioli?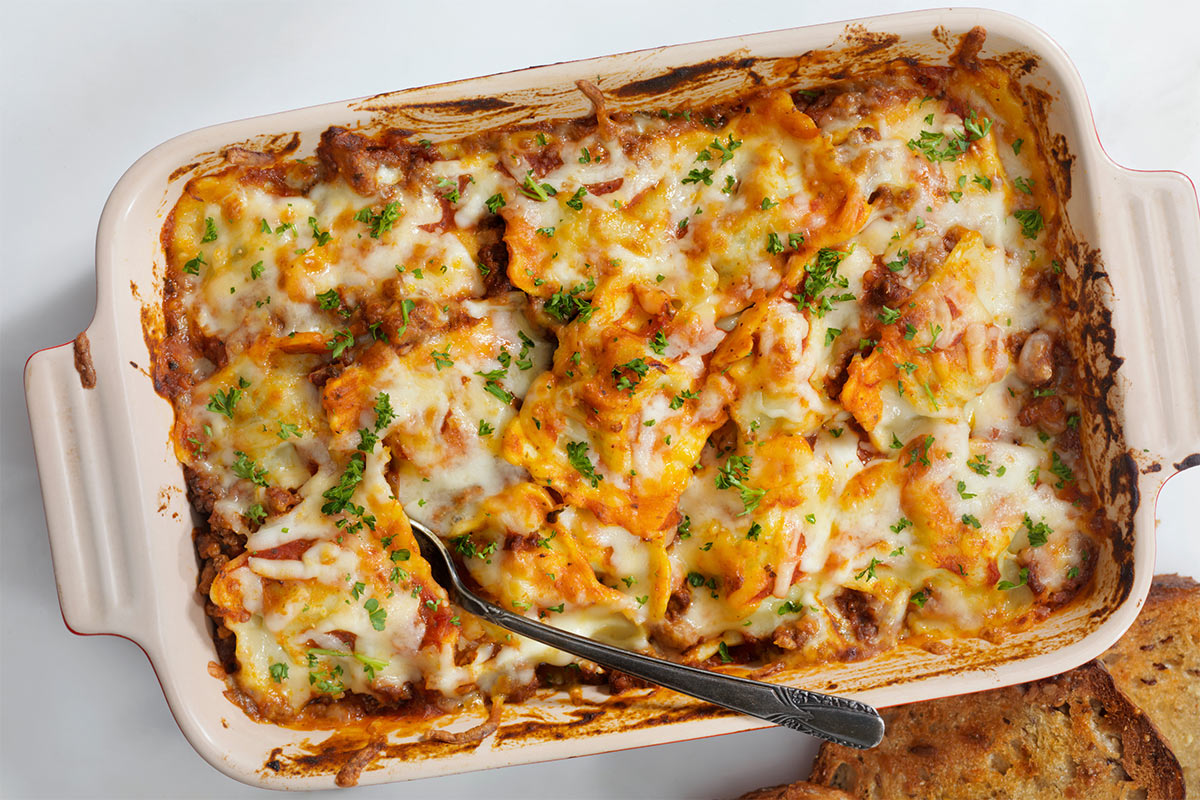 Protein is a crucial part of any meal. Ravioli can be enjoyed on its own, but it's even better when paired with a delicious protein. Here are some great vegetarian proteins to pair with ravioli:
Serve ravioli with protein-rich tofu. Crispy tofu adds crunch and protein to ravioli's creaminess.
Pan-fry or bake tofu cubes until crispy and golden brown. Soy sauce, ginger, garlic, and a dash of red pepper flakes can give them an Asian taste.
Oven-roasted vegetables make a great ravioli protein and fiber for vegetarians and vegans.
Cut bell peppers, zucchini, mushrooms, and onions, sprinkle them with olive oil, salt, pepper, and any herbs or spices, and roast them on a baking pan until soft and caramelized.
Serve your ravioli with roasted veggies and cheese sauce or nuts for a tasty, healthy meal.
Ricotta cheese, a common ravioli filling, can be served on the side too. Mixed with herbs, lemon zest, salt, and pepper, it makes a creamy, tangy sauce.
Cannellini or Great Northern beans are protein-packed white beans that pair well with ravioli. To make a delicious white bean dish, I first sauté chopped garlic, onion, and rosemary in olive oil. Then I add white beans and vegetable broth and boil the beans until creamy and soft.
You may also be wondering what meat to serve with ravioli. Although it's not my area of expertise, I can still share some popular side dishes. Here are ideas for a filling ravioli dinner:
Pan-seared chicken breast
Pan-seared chicken breast goes great with ravioli. You can serve it as a protein-based main course or cut it into strips and toss it in Alfredo sauce with the ravioli.
Grilled shrimp adds refinement to ravioli. You can marinate the shrimp in olive oil, minced garlic, fresh lemon juice, salt, and pepper for 15 minutes, then skewer them and grill them over medium-high heat for a few minutes on each side until they turn pink and opaque. Serve ravioli with grilled shrimp and lemon butter sauce.
Ravioli is often served with Italian sausage for taste and texture. The thick ravioli filling and Italian sausage's savory, somewhat spicy taste are great together.
Meatballs pair well with ravioli. Ground beef, pork, or a mix of both, breadcrumbs, eggs, chopped garlic, grated Parmesan cheese, and Italian seasoning produce meatballs.
Serve meatballs with ravioli and marinara sauce and grated cheese for a tasty meal.
Braised short ribs make a luxurious ravioli topping. Gently braise short ribs in red wine, beef broth, and aromatics until they're fall-off-the-bone tender. Shred the meat and mix it with ravioli and braising liquid.
There are several tasty protein alternatives for ravioli. Each protein—pan-seared chicken breast, grilled shrimp, roasted veggies, or Italian sausage—adds flavor to ravioli. Enjoy your delicious protein-rich ravioli!
What vegetables go good with ravioli?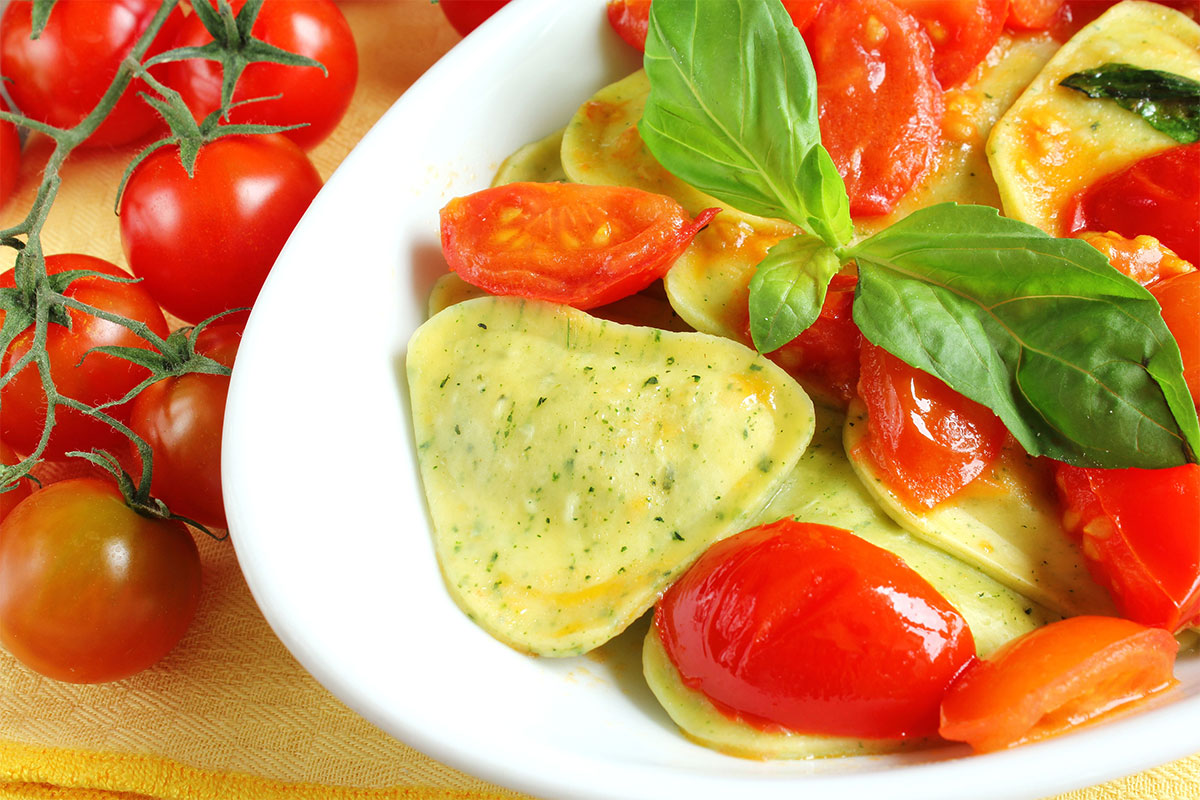 Vegetable side dishes are amazing with ravioli. They bring color, texture, and nutrients to your dish. These are some ravioli-friendly ideas:
Spinach is the perfect vegetable to serve with ravioli. Sauté fresh spinach with olive oil, minced garlic, salt, and pepper until wilted. Gently mix cooked ravioli with sautéed spinach. Spinach freshens the creamy ravioli filling with its earthy taste.
If you don't have any spinach but need a similar experience, check out these spinach substitutes for more bright flavors.
Cherry tomatoes are another ravioli-friendly veggie. Toss cherry tomatoes with olive oil, chopped garlic, salt, pepper, and sugar. Roast them till they caramelize. Juicy tomatoes complement ravioli's richness with acidic sweetness.
Artichoke hearts lend a delicious taste and texture to ravioli. You can serve them with lemon wedges and grated Parmesan cheese for a special dinner option.
Asparagus' earthy, somewhat bitter taste pairs well with ravioli's creamy, savory taste. It's also a great way to add color and texture to the meal. You can roast asparagus in vegetable oil, minced garlic, salt, and pepper and serve it warm over cooked ravioli.
You can also take a look at these asparagus substitutes for more delicious flavors.
Italian cuisine often uses mushrooms to add umami to ravioli. Sauté sliced mushrooms in butter, chopped garlic, salt, and pepper until brown and soft. Mushrooms' earthy taste complements ravioli's savory flavors, giving depth and complexity.
Broccoli rabe is a perfect side dish for ravioli. Sauté broccoli rabe with olive oil, minced garlic cloves, red pepper flakes, salt, and pepper until tender. Broccoli rabe's mild bitterness brings out the best in your delicious ravioli meal.
There are limitless ravioli-vegetable combinations. Spinach, cherry tomatoes, asparagus, and mushrooms are some ways to increase the ravioli taste. They're a perfect option anytime, especially for veggie eaters like me!
Best salad to serve with ravioli
A crisp salad with fresh vegetables pairs well with ravioli for a delicious Italian dinner. Here are some delicious ideas:
Serve ravioli with a Caprese salad. Simple, fresh, and full of perfect flavors. Sweet tomatoes, creamy mozzarella, aromatic basil, and acidic balsamic sauce balance the rich taste of ravioli.
This arugula and pear salad pairs well with ravioli. Mix fresh arugula with sliced pears, toasted walnuts or pecans, and crumbled goat cheese to make a delicious ravioli topping.
You can also make a vinaigrette with simple ingredients like olive oil, lemon juice, Dijon mustard, honey, salt, and pepper.
You can also try arugula substitute greens as fresh ingredients for your next ravioli side salad.
Serve ravioli with a Mediterranean salad with mixed greens, cherry tomatoes, cucumbers, red onions, Kalamata olives, and feta cheese. These fresh and tart Mediterranean flavors can brighten ravioli's creaminess.
Caesar salad makes a wonderful salad idea that works with a lot of flavors. The rich ravioli tastes great with the creamy and tangy dressing, nutty Parmesan cheese, and croutons atop crisp romaine lettuce. Cherry tomatoes give a slight sweetness that complements the ravioli.
A tasty salad goes well with a ravioli dish. Say no to boring salads and choose the one that brightens, refreshes, and contrasts your ravioli based on your tastes and desired flavor balance. Eat ravioli with a refreshing salad to satisfy your taste buds!
What are the best drinks for ravioli?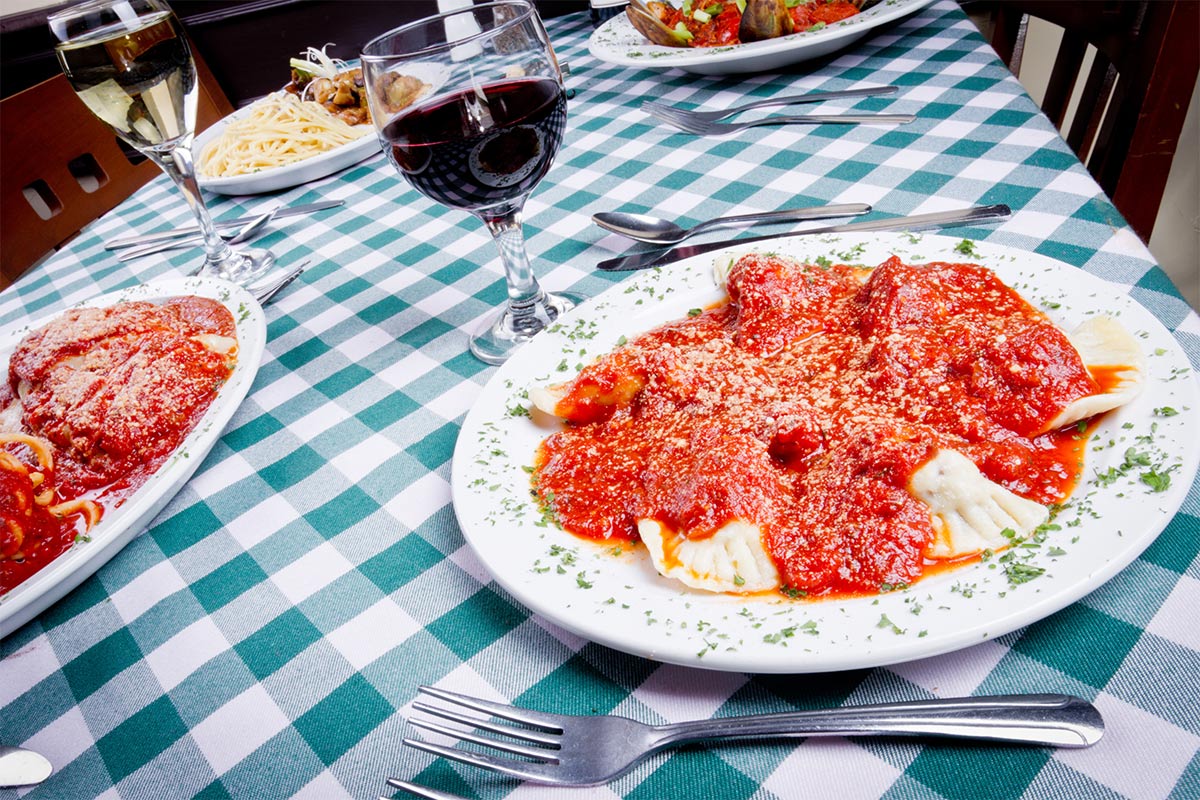 The correct drink can improve your ravioli meal and add extra flavor too! These drinks pair well with ravioli:
Wine complements ravioli's noodles and satisfying tastes. Some ravioli-friendly wines are:
Red wine: Pair meat-filled ravioli or tomato-based sauces with a medium-bodied red wine like Sangiovese, Barbera, or Pinot Noir. Red wine's acidity and fruitiness offset the dish's richness.
White wine: Pinot Grigio, Sauvignon Blanc, or Vermentino go well with cheese- or vegetable-filled ravioli in cream sauces. White wine's acidity and citrus aromas might complement the dish's richness.
For cool, effervescent drinkers, beer pairs well with ravioli. Some ravioli-friendly beers are:
Lager: A light, crisp lager can freshen the palette and compliment ravioli's tastes.
Amber ale: With its maltiness and caramel overtones, amber ale can balance and sweeten meat-filled ravioli or tomato-based sauces.
Some non-alcoholic drinks for ravioli can also bring out the best in your pasta meal.
Sparkling water: Sparkling water with lemon or lime is a delicious and palate-cleansing accompaniment to ravioli.
Iced tea: Black, green, or herbal iced tea, unsweetened or moderately sweetened, pairs well with ravioli.
It's no secret that ravioli tastes better with the appropriate drink. Wine, beer, or non-alcoholic drinks can accentuate ravioli tastes. Cheers to a delicious dinner and a wonderful drink!
Ravioli FAQs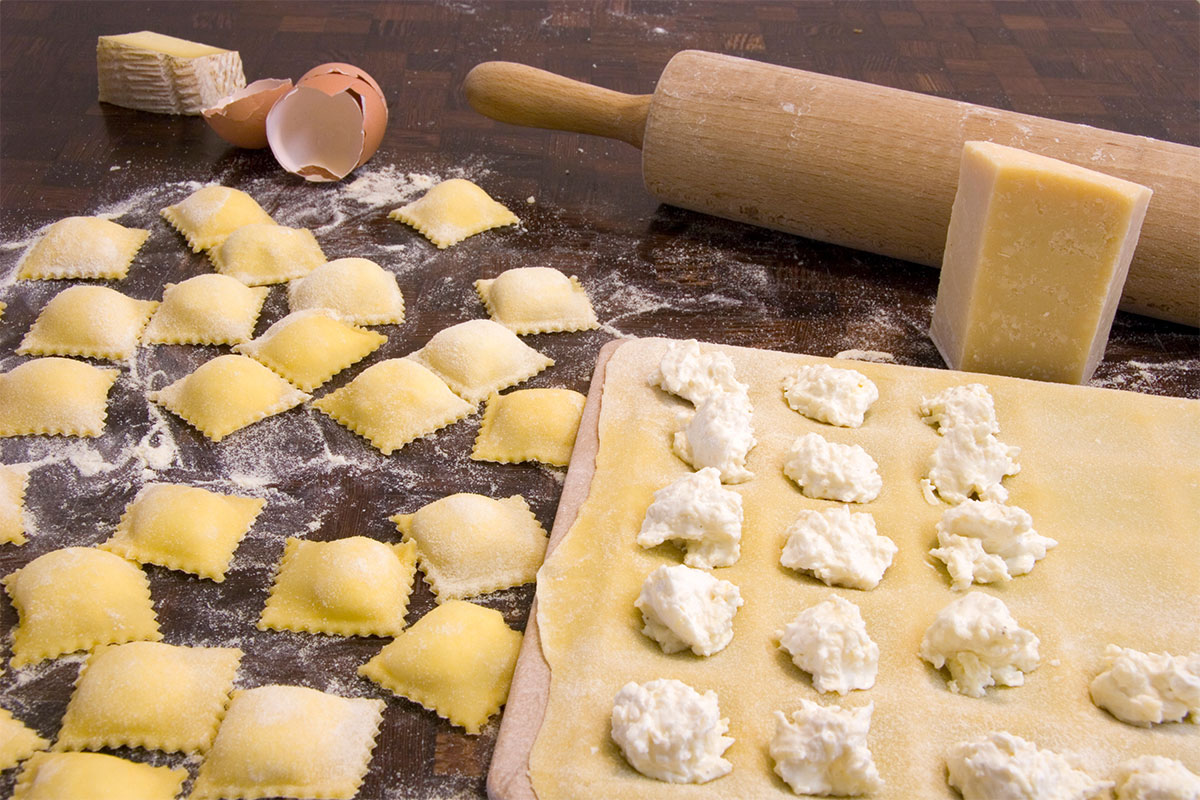 What is ravioli traditionally served with?
Ravioli is traditionally served with a sauce, such as marinara or pesto.
How do Italians serve ravioli?
Italians serve ravioli with a variety of sauces, herbs, and vegetables. Classic Italian dishes include ravioli with tomato sauce, mushrooms or vegetable ragout, and even pesto. Ravioli can also be served with butter and Parmesan cheese.
How many ravioli is a meal?
Generally speaking, 10-12 medium-sized ravioli are enough for a single serving.
Do you eat ravioli on a plate or a bowl?
Ravioli can be served on either a plate or a bowl, depending on the dish. Many people opt for a plate if the ravioli are served with a sauce and vegetables, as this will help to keep the meal from becoming too wet. If you're serving ravioli in broth, then a bowl is more appropriate.
What is ravioli called in India?
In India, ravioli is known as gujiya. This Indian-style pasty is fried and stuffed with sweet or savory fillings.
Do you cook ravioli like normal pasta?
Ravioli should be cooked slightly differently than normal pasta. Bring a pot of salted water to a boil and add ravioli. Stir gently and cook for 3-5 minutes, or until the ravioli is just tender.

Drain the ravioli and serve it with your favorite sauce or topping. It's important not to overcook the ravioli since they are delicate.
BOTTOM LINE: There are a number of healthy sides for ravioli to make a complete dinner. There are limitless combinations, from fresh salads to savory cooked veggies and tasty dips to creamy sauces. Try several ravioli side dishes in the kitchen to find your ideal match. Bon appetite!
I hope you liked these delicious side dishes. I'm sure there are some other great options out there, so don't be afraid to experiment!
You can also explore side dishes for other meals that I have on my blog, like serving ideas for Ratatouille. Eggs Benedict accompaniments, egg roll accompaniments and things to serve with donuts are also a great place to start!