Do you need a dark soy sauce substitute for your Asian cooking? There are several options that can impress even the most loyal dark soy sauce lover!
If you enjoy Asian food, there's a good possibility that many of your favorite meals use black soy sauce. This rich, black sauce adds depth and complexity to every dish it's used on.
Yet, a suitable replacement for black soy sauce can be hard to come across.
Many alternatives exist that can successfully imitate black soy sauce in both flavor and texture.
So I'll list some of the best dark soy sauce alternatives for cooking. You can easily adapt your diet to avoid soy, gluten, or animal products!
Let's get moving, then!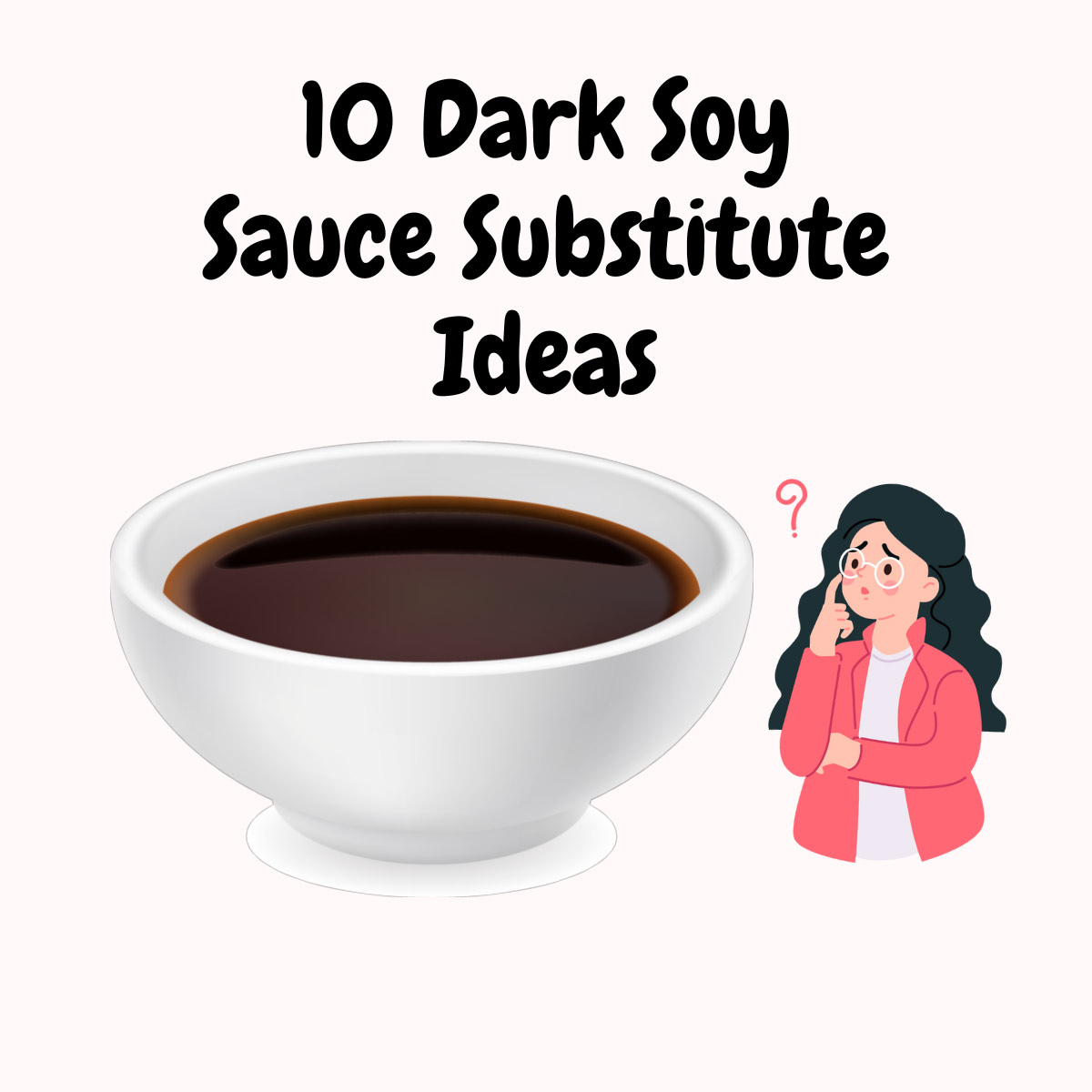 10 best dark soy sauce substitute ideas
Let's look at some alternative options for a wide array of amazing Asian-inspired dishes:
Tamari is a Japanese version made from soybeans, water, salt and fermented rice. For gluten-free diets, it's a popular soy sauce substitute. Tamari sauce is thicker and bolder but less salty than soy sauce.
The tamari sauce adds a deep umami flavor without the salty flavor that sometimes comes with dark soy sauce.
I used tamari in place of soy sauce in a stir-fry and the vegetables were delicious. I liked that the tamari was gluten-free and contributed a similar umami flavor to the meal.
Unlike soy sauce, coconut aminos don't contain any soy or gluten. Coconut aminos, which are fermented from coconut tree sap rather than being salted like soy sauce, are a low-sodium substitute for the latter.
They share soy sauce's umami flavor.
To lighten up a pan-fried noodle dish, I've tried using coconut aminos in place of dark soy sauce.
They provided additional sweetness and more subdued flavors, which worked well with the dish's other components.
The fact that I was replacing the soy sauce with something that lowered my salt intake helped, too!
Coconut aminos are nothing like coconut, despite their name. If you need some coconut-inspired ingredients, here are some of my favorite substitutes for coconut water!
Soybeans and straw mushrooms are combined to create rich, thick, and mushroom-flavored dark soy sauce. Similar to conventional soy sauce in flavor, but with a somewhat higher level of sweetness and earthier undertone.
A fantastic substitution for dark soy sauce in recipes, like marinades, dipping sauces, and stir-fries!
Liquid aminos made from soybeans taste like soy sauce but are sweeter and less salty. They make a good low-sodium and gluten-free substitute for thick soy sauce.
I made a terrific batch of hiyayako with liquid aminos instead of black soy sauce last night. The deep flavor of tamari sauce went exceptionally well with the tofu.
While I like to sprinkle chopped scallions over my silken tofu, you can use whatever you have on hand. Here are some substitutions for green onions to consider.
Spices, molasses, vinegar, and fermented anchovies make up Worcestershire sauce. Thanks to its robust flavor, it can stand in for soy sauce in a number of dishes. A lot of people use it for meat sauces and marinades.
Vegetarians and vegans need to look elsewhere for their Worcestershire sauce needs; the sauce typically contains anchovies, which are not acceptable.
Nevertheless, there are vegan and vegetarian-friendly alternatives that create a similar flavor.
I've tried vegan Worcestershire sauce made with miso paste as a substitute for anchovies. I found that it still had the tangy and savory burst of flavor that I love.
Soybeans, garlic, vinegar, and spices make hoisin sauce, a thick, sweet sauce. It tastes like sweeter, more subtle soy sauce.
Stir-fries, marinades, glazes, and dipping sauces employ hoisin sauce as it complements grilled meats and roasted veggies.
The Bragg's liquid aminos
Bragg's liquid aminos is a soy-based seasoning that doesn't contain wheat. It tastes similar to soy sauce despite being softer and less salty.
Teriyaki sauce is made by combining soy sauce, sake, sugar, and a few additional ingredients. While it still retains the umami taste, it is sweeter and more pungent than soy sauce.
If you're making a marinade or glaze, teriyaki sauce is an excellent sub for dark soy sauce in terms of flavor.
Fermented anchovies and salt are the key ingredients in fish sauce. It tastes and feels quite similar to soy sauce, but the fishy fragrance gives it a stronger flavor.
It adds depth of flavor to soups, stews, marinades, and dipping sauces. Nevertheless, it's not an option for vegetarians and vegans.
Have you ever wondered if a particular food is vegan? You can find out if Takis are vegan and learn the vegan status of Maruchan ramen noodles in my earlier articles.
Oyster sauce is primarily made from caramelized oyster extract, sugar, and seasonings. It has a stronger saltiness and flavor than soy sauce.
It works really well in place of soy sauce while preparing Chinese food. Vegan oyster sauce is one of my favorite ingredients for tofu marinades and stir-fry dishes.
Dark soy sauce vs light soy sauce
Soy sauce is essential to East Asian and Southeast Asian cuisine. Both light and dark soy sauce are equally common.
Since dark soy sauce is made with more soybeans and matured longer, it's considerably more intense than its lighter counterpart. The darker sauce will have a thicker consistency and more depth and complexity, with a tinge of sweetness. It can enhance the flavor and add a darker color to marinades, braises, and stir-fries.
There is more wheat in and less time spent aging light soy sauce, also known as regular soy sauce. With a thinner, saltier, and slightly sweeter taste, the light sauce is used as a dipping sauce or to subtly enhance the flavor of whatever you're cooking.
Which soy sauce to use depends on the recipe. Knowing these differences can make cooking better and more fun.
Dark soy sauce substitutes FAQs
How much sodium is in dark soy sauce?
One tablespoon (16g) contains 878mg of sodium.
What's the best alternative to soy sauce for sushi?
Tamari is one of the best alternatives to dark soy sauce for sushi. It is a Japanese soy sauce that is thicker and bolder, but less salty than regular soy sauce.
Can I use low-sodium soy sauce instead of traditional soy sauce?
Yes, you can use low-sodium soy sauce instead of traditional soy sauce. It can help reduce your sodium intake.
What's the best light soy sauce substitute?
Tamari is one of the best light soy sauce substitutes for Asian recipes.
Can I substitute soy sauce for salt?
Yes, you can substitute soy sauce for salt, but its flavor is more complex.
BOTTOM LINE: There are several dark soy sauce substitutes so that the soy sauce's rich, nuanced flavor can be enjoyed even if you follow a gluten-free, soy-free, or vegan diet.
You can cook using coconut aminos, tamari sauce, mushroom soy sauce and more. Try one of these alternatives to make your favorite Asian dish that suits your taste preferences.
What's your ideal substitute for dark soy sauce? Share your thoughts in the comments!
Love sauces? Check out these horseradish substitutes for your spicy condiments or alternatives to basil leaves for unique pesto ideas! Or if you're going sweet, learn how to replace strawberry extract in baking!