What to serve with broccoli cheese soup? I'll examine some tasty and easy-to-make side dishes that will elevate your bowl of comforting soup!
Broccoli cheese soup's creamy texture and cheesy taste make it excellent for chilly evenings or leisurely days. Complementary side dishes might improve the general flavor profile.
This soup can be served with many things! I have lots of ideas to make your next bowl of broccoli cheese soup a complete delicious meal, from warm crusty bread to savory salads.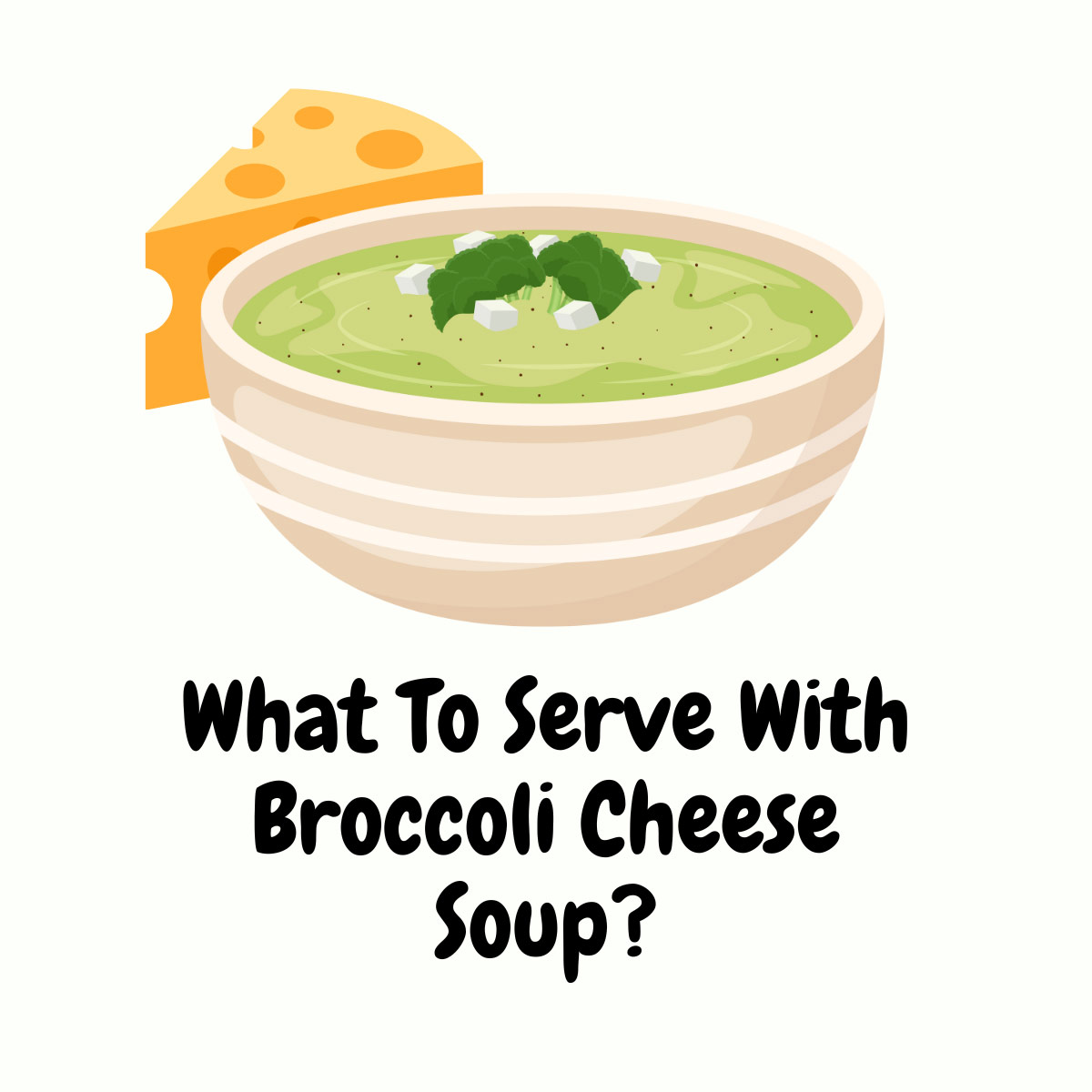 What kind of bread to serve with broccoli cheese soup?
Broccoli cheese soup is best dipped in warm and delicious bread or crackers. These carb-filled choices offer crunch and texture:
Broccoli cheese soup goes great with crusty, chewy French bread. It can also absorb any of the leftover soup. Slice or tear the bread to dip it into your delicious soup.
Broccoli cheese soup tastes well with tangy sourdough toast. It's perfect for individuals who like heartier bread with texture.
Most supermarket stores sell crispy saltine crackers. Crumble them into soup for some extra crunch.
Ritz crackers can lend a buttery taste to broccoli soup. They can be crumbled on soup and are sweeter than saltine crackers.
Garlic bread is a great way to add flavor to your bowl of soup. It offers the same crunch and texture of French bread but with a zesty garlic taste.
Serve broccoli cheese soup with any piece of bread or cracker. To select your favorite, you can try different bread recipes, crackers, and even homemade biscuits.
A delicious homemade bread bowl with garlicky flavors is one of my favorite sides to serve with broccoli cheese soup. I really enjoy flavorful garlic bread and garlic knots.
What salad goes with broccoli cheese soup?
I love pairing broccoli cheese soup with a side salad. Salads are an easy way to make your tasty meal more balanced.
The thick broccoli cheese soup goes well with a Caesar salad with romaine lettuce, croutons, Parmesan cheese, and a creamy dressing. Crisp lettuce and acidic dressing can contrast your creamy bowl of soup.
Garden salads with mild vinaigrette dressing are lighter side dish options. Fresh greens, carrots, cucumbers, and cherry tomatoes can provide a crispy texture to your creamy broccoli cheese soup. Very simple ingredients but packed with lots of flavor!
Potato salad is a classic summer side dish. Creamy, cool potato salad and warm broccoli cheese soup can make an amazing meal.
Bacon-cranberry broccoli salad
This broccoli salad pairs well with broccoli cheese soup. It has chopped broccoli florets, bacon, dried cranberries, and a creamy dressing. You can skip bacon if you don't eat meat.
You might also like these alternative salad toppings to cranberries.
Broccoli cheese soup goes well with any salad with fresh vegetables and crisp greens. You can get the perfect dressing and topping by experimenting.
What sandwich goes with broccoli cheese soup?
A warm sandwich goes well with delicious broccoli cheese soup. Several sandwiches I like pairing with cheesy soup are:
Broccoli cheese soup goes well with grilled cheese. Melted cheese and toasted bread complement the creamy texture of your favorite broccoli cheese soup.
Cheddar cheese is a classic recipe, but any cheese works. You can try these alternatives to white cheddar for similar flavors.
Miniature cheesy sandwiches are a great option for a light and simple recipe. Try different kinds of cheese, such as sharp cheddar cheese or Swiss cheese, for a serving of cheesy goodness, or even some grilled halloumi or a substitute for halloumi.
You could even do a delicious melty brie sandwich – this broccoli soup makes an awesome pairing for brie!
Broccoli cheese soup goes well with a veggie wrap. For increased nutrition and flavor, wrap a variety of veggies in a whole wheat wrap. Avocado, lettuce, tomato, cucumber, shredded carrots, bell pepper, and sprouts are good choices. For extra flavor, add hummus or tzatziki.
Simple yet amazing. Top a baguette or ciabatta with fresh mozzarella cheese, tomatoes, and basil leaves (check out basil substitutes here). Season with salt and pepper and drizzle with olive oil and balsamic vinegar.
For a Middle Eastern sandwich, fill a pita with falafel balls, cucumber, tomato, and tzatziki sauce. Ground chickpeas and seasonings are shaped into balls and cooked to make falafel. It provides flavor and nutrition to this sandwich.
Grill zucchini, bell peppers (or some of these tasty bell pepper alternatives), onions, and your favorite cheese for a warm and toasty sandwich. Use a panini press or cook the sandwich on a stovetop griddle with a heavy pan. The creamy soup goes well with this hearty sandwich.
If you eat meat, you can also consider other options. I can't really vouch for these sandwiches, but I know a lot of people pair the broccoli cheddar soup recipe with these:
A ham-and-cheese sandwich goes well with broccoli cheese soup. Ham's saltiness and cheese's creaminess contrast the soup's taste.
Roast beef sandwiches are heartier and pair well with thick soups. The soup's cheesiness complements roast beef's meatiness.
Turkey and avocado sandwiches are healthy options. The creamy avocado and lean turkey can balance the soup's richness.
Broccoli cheese soup goes well with cheese, meat, or vegetable sandwiches. You can try different options for a delicious lunch or weeknight meal!
Roasted veggies to eat with broccoli cheese soup
Roasted vegetables are the perfect side dish for broccoli cheese soup. You should definitely try some of the following suggestions:
Crunchy and sweet roasted Brussels sprouts are a perfect complement to broccoli cheese soup. Roast them with olive oil, salt, and pepper or balsamic vinegar for a tangy taste.
Roasted cauliflower can add crispness and a nutty flavor to your favorite soup. For flavor, mix cauliflower florets with olive oil, garlic, and Parmesan cheese before roasting.
Roasted carrots give color and flavor. The soup's deep taste complements the carrots' sweetness, and the roasted edges provide crunch. For a sweet and spicy flavour, roast them with honey and cinnamon, or for a savory taste — garlic and thyme.
Roasted sweet potatoes accentuate the soup's cheesiness and are healthful. Roasting sweet potatoes enhances their sweetness and adds crispiness to the creamy soup.
To make them smoky, mix them with olive oil and smoked paprika, or sweet and spicy with cinnamon and nutmeg. Sweet potato fries are another fantastic dish!
Check out this post for alternatives to sweet potatoes if you don't have any on hand or just want a change of pace.
Any of your favorite vegetables can possibly work well with broccoli cheese soup. So you can experiment with various ideas to discover your favorite.
Potatoes to eat with broccoli cheese soup
Potatoes are versatile side dishes that absorb soup flavors well. Try some of these:
Broccoli cheese soup tastes great with baked potatoes. To enhance the soup's taste, top the fluffy potato flesh with butter, sour cream, chives, and grated cheese. For an even creamier soup, scoop out the potato and toss it in.
Creamy soups like broccoli cheese go nicely with mashed potatoes. Their buttery flavor and velvety texture enhance the soup's richness. You can also add roasted garlic, herbs, or shredded cheese for a perfect combination of flavors.
Creamy soup and crunchy potato wedges go well together. To add flavor, sprinkle them with olive oil and your preferred seasonings like garlic powder, rosemary, or paprika before roasting.
Broccoli cheese soup goes well with any potato recipe. For diversity, consider sweet potatoes, russet potatoes or Yukon gold, or branch out and try Delicata squash or a Delicata squash substitute.
Enjoy your hot soup!
Broccoli cheese soup FAQs
What protein goes with broccoli cheddar soup?
You can add grilled or roasted chicken, steak, pork chops, and shrimp. For a vegetarian option, consider adding tofu, beans or legumes like lentils. Other options include fried eggs, bacon bits, and cubed ham.
What main dish goes well with broccoli cheddar soup?
A hearty sandwich or a crusty bread bowl filled with salad would pair well with broccoli cheddar soup.
What is the healthiest thing to eat with soup?
A mixed greens salad with carrots, cucumbers, and tomatoes is one of the healthiest soup accompaniments.
How to store broccoli cheese soup?
It's best to store broccoli cheese soup in an airtight container in the fridge. It can be refrigerated for about four days. If you won't consume it within four days, freeze it in smaller containers or freezer bags.
BOTTOM LINE: Comfort food at its finest, broccoli cheese soup complements a wide variety of other foods. Bread, salad, grilled cheese, roasted vegetables, and potatoes all go wonderfully with this. Try one of these delicious options the next time you need a side dish for your soup.
I love this creamy soup and its complementary side dishes, from warm bread to crunchy salads. The broccoli cheese soup recipe is sure to make your mouth water. Now you know what to serve with broccoli cheese soup — enjoy!
Feel free to share your favorite side dishes for easy lunches and busy weeknight dinners! Or try some of our other recommendations – like what to eat with biryani, foods to serve with minestrone soup, pairings for frittatas or what to serve with donuts!