Looking for a good buckwheat substitute? Rest assured there are several alternative grains that make a suitable replacement.
From porridge to soba noodles, buckwheat is super versatile! You can add this ancient grain's taste and nutrients to everything from salads to soups to stir-fries to pancakes.
Lack of access to buckwheat or an allergy to it aren't major obstacles. Some grains can taste and feel like buckwheat in cooking.
Let's talk about alternatives!
First off, what is buckwheat?
Given its high protein content and low glycemic index, buckwheat makes for a fantastic wheat substitute for those with gluten sensitivities.
Buckwheat is known as a "pseudocereal". It's a non-cereal plant that, despite its lack of cereal genes, produces grain that acts like that of wheat or rice.
Raw buckwheat groats (kernels of buckwheat) are a great source of many beneficial elements. The slight nuttiness of buckwheat makes it an excellent grain to use as a replacement for blander grains.
You can also make bread and soba noodles with buckwheat flour.
Best buckwheat substitutes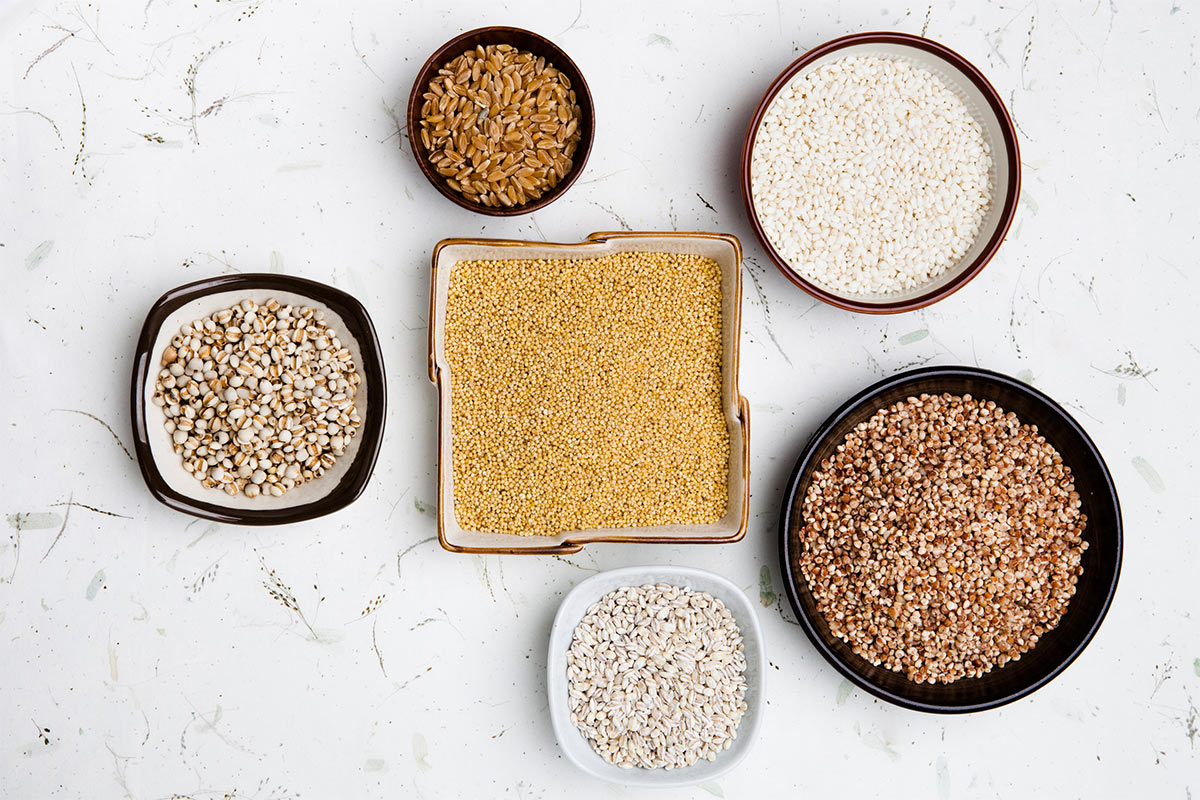 Finding a substitute for buckwheat groats might be challenging, regardless of your rationale. Thankfully, you can substitute buckwheat with other grains:
Several dishes can substitute buckwheat with gluten-free, high-protein quinoa. In porridge, pilaf, and salads, its nutty taste and texture can replicate the buckwheat flavor.
Apart from being a great source of protein, quinoa is also known for its high fiber content.
In a buckwheat salad with kale and feta, I swapped out the buckwheat for quinoa. It provided an earthy flavor with nutty undertones.
If you'd like to know how to replace kale in similar recipes, check out these nutritious greens to use as a kale substitute.
African and Asian cuisine uses millet groats, a little gluten-free grain. Due to its moderate flavor and texture, it can replace buckwheat in porridge, pilaf, and stuffing.
Millet stir-fry with veggies is one of the coolest grain meals I've ever prepared. Millet groats are great substitutes for buckwheat groats in similar recipes.
Interested in how to replace certain veggies in your favorite stir-fries? These bell pepper alternatives and substitutes for scallions can give you some amazing ideas!
Gluten-free, protein-rich amaranth tastes and feels like quinoa. This type of grain can substitute buckwheat in cereal, pilaf, and baking.
From my experience, amaranth can make great breakfast food. You can pair it with plant-based milk for a sweet porridge or top it with a poached egg for a nutritious savory meal. A healthy replacement for corn flakes if ever there was one!
By the way, amaranth also has some substitutes that are worth your while!
Brown rice is healthful and adaptable, even if it's not a direct replacement for buckwheat. It's an excellent source of fiber and minerals like magnesium and selenium.
Bown rice finely ground into flour is an excellent alternative to buckwheat flour in gluten-free baking. It's great for gluten-free pancakes, waffles, and bread.
These gluten-free grains with a nutty flavor can replace buckwheat in porridge, pilaf, and baked products. Oats have a mild flavor which suits many dishes – from savory oatmeal to sweet pancakes.
I find that oats work best as a substitute for buckwheat flour in baked goods. If you don't have any buckwheat to make buckwheat banana bread or brownies, oats are an amazing alternative.
Classic buckwheat pancakes taste great with oats too!
Gluten-free cornmeal is often used in baking. In certain recipes, it tastes like buckwheat and has a sweet flavor that enhances many desserts.
Buckwheat substitute FAQs
What's another name for buckwheat?
Another name for buckwheat is kasha or Japanese soba.
What is buckwheat flour?
Buckwheat flour is a type of flour made from ground buckwheat groats.
What are some buckwheat flour substitutes?
Some substitutes for buckwheat flour are:

• brown rice flour
• almond flour
• oat flour
• chickpea flour
• coconut flour
• spelt flour
• whole wheat flour
• quinoa flour
• sorghum flour
• barley flour
Is buckwheat flour gluten-free flour?
Yes, buckwheat is naturally gluten-free and so is the flour.
Can I use grain-like seeds to replace buckwheat?
Yes, you can use grain-like seeds like quinoa, millet, amaranth, and oats to replace buckwheat.
Is brown rice a gluten-free substitute for buckwheat groats?
Yes, brown rice is a gluten-free substitute for buckwheat groats.
What are some cheaper alternatives to buckwheat groats?
Some cheaper alternatives to buckwheat groats are cornmeal, quinoa, millet, amaranth, oats, and brown rice.
BOTTOM LINE: Quinoa, millet, amaranth, rice flour, and oats can be used in various dishes to replace buckwheat. See which substitutes work best in your recipes!
I hope you liked all the ideas! Which buckwheat groats substitute is your favorite?
Interested in learning more about food substitutes? Check out these delicious apricot substitutes, replacements for barley and best maple extract alternatives.