My quest to find out whether BBQ Pringles are vegan has led me to an unfortunate answer: no, BBQ Pringles are not vegan in most countries.
Sadly for vegans, Pringles manufacturers have decided to add lactose to some of the previously vegan products. One of them is BBQ.
With its original crisps and the now-favorite BBQ Pringles, Pringles has become one of the most recognizable names in savory snack foods. Keep reading to learn why vegans should avoid BBQ Pringles.
We'll check out the BBQ Pringles ingredient list to see if these chips are vegan-friendly.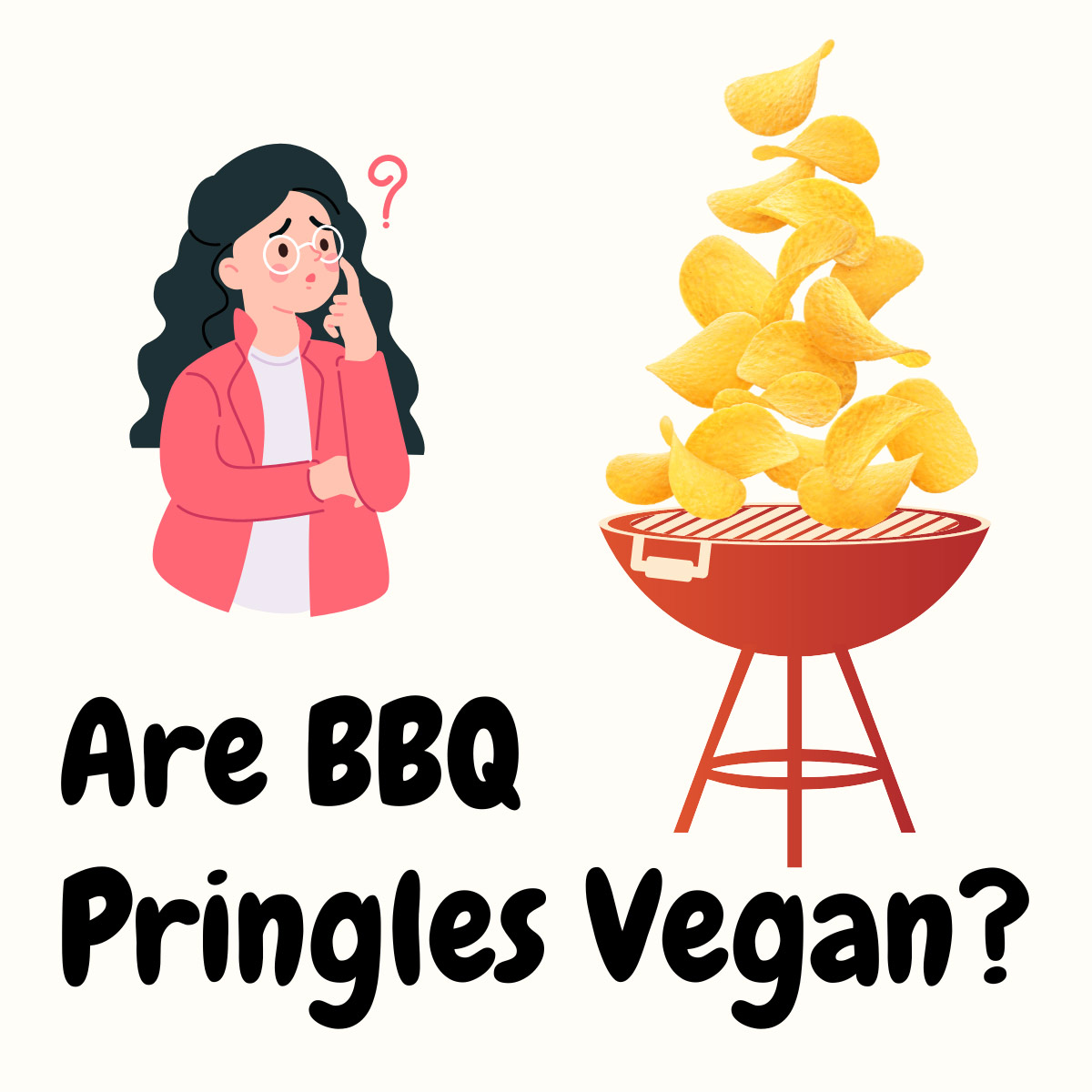 Are BBQ Pringles vegan?
The answer might be different depending on where they are made. Due to the absence of any animal-derived ingredients, BBQ Pringles are vegan in Australia. However, in the US, BBQ Pringles contain whey derived from milk and are therefore not suitable for a vegan diet.
Texas BBQ Sauce Pringles made in the UK also use an animal-derived ingredient – lactose and are therefore unfit for vegan consumers.
The good news is there are some vegan-friendly alternatives to BBQ Pringles that you can enjoy instead.
BBQ Pringles are vegan in Australia but not in the United States and the United Kingdom due to the presence of whey and milk.
What are Pringles?
Since 1967, Pringles chips have been a well-liked snack food. To reduce breakage when stacked or transported, they are made of potatoes and shaped into a hyperbolic paraboloid.
Proctor & Gamble originally created Pringles, and organic chemist and food storage technician Frederic Baur gave the crisps their recognizable shape.
These delicious chips are now available in a variety of flavors, from the traditional salt and vinegar to more unusual combinations like jalapeno and sour cream. They can be eaten on their own or added to dishes like Pringles nachos or Pringles pizza.
Pringles are great on-the-go snacks and easily fit into lunch boxes or backpacks. Pringles can help satisfy your cravings whether you're looking for a quick snack or something to incorporate into your favorite recipe!
In 1967, Proctor & Gamble collaborated with organic chemist and food storage specialist Frederic Baur to create Pringles.
BBQ Pringles ingredients
Potatoes, vegetable oil, wheat starch, maize flour, maltodextrin, salt, and natural flavors are all used in the production of BBQ Pringles. The actual Pringles chip has no animal products, however, the added flavorings typically spoil the experience for vegans.
Tomato powder, sugar, onion powder, garlic powder, spices, and other natural tastes make up the BBQ seasoning.
Many kinds of BBQ Pringles include onion powder and garlic powder. Dehydrated onions are the base for onion powder, which is used as a seasoning.
Garlic powder is made from dehydrated garlic cloves ground into a fine powder. Its robust taste and smell make it a great seasoning for savory snacks like BBQ Pringles.
On another note, if you're in search of new ingredient ideas, check out my lists of substitutes for mint or alternatives for basil leaves.
Which Pringles flavors are suitable for vegans?
To find out which Pringles Flavors are vegan, I analyzed the product on the Pringles website. Unfortunately, the only vegan options that are available in most countries are:
Pringles Original
Original Reduced Sodium
Original Reduced Fat
Wavy Original Flavor
Scorchin' Chili & Lime
There's a little bit of heat and a little bit of neutrality here; in other words, these flavors provide something for everyone. Fortunately, without any meat, dairy, or eggs!
My favorite flavor is Pringles Original. They have a noticeable potato taste, which I enjoy more than other overwhelming seasonings.
You can enjoy these popular chips with your favourite dip or salsa for an extra burst of flavor. It's easy to find something that will please your taste, just make sure it pleases your dietary choices as well!
Smokey Bacon is a popular flavor of Pringles that many people enjoy. Unfortunately, it is not vegan-friendly.
The ingredients list for Smokey Bacon Pringles includes pork fat, which is derived from animals. Additionally, the product contains milk and cheese derivatives, animal-based products.
However, there are some vegan flavors available to enjoy. It's important to check labels carefully every time!
Some plant-based Pringles options are Original, Original Reduced Sodium, Original Reduced Fat, Wavy Original Flavor, Scorchin' Chili & Lime.
BBQ Pringle FAQs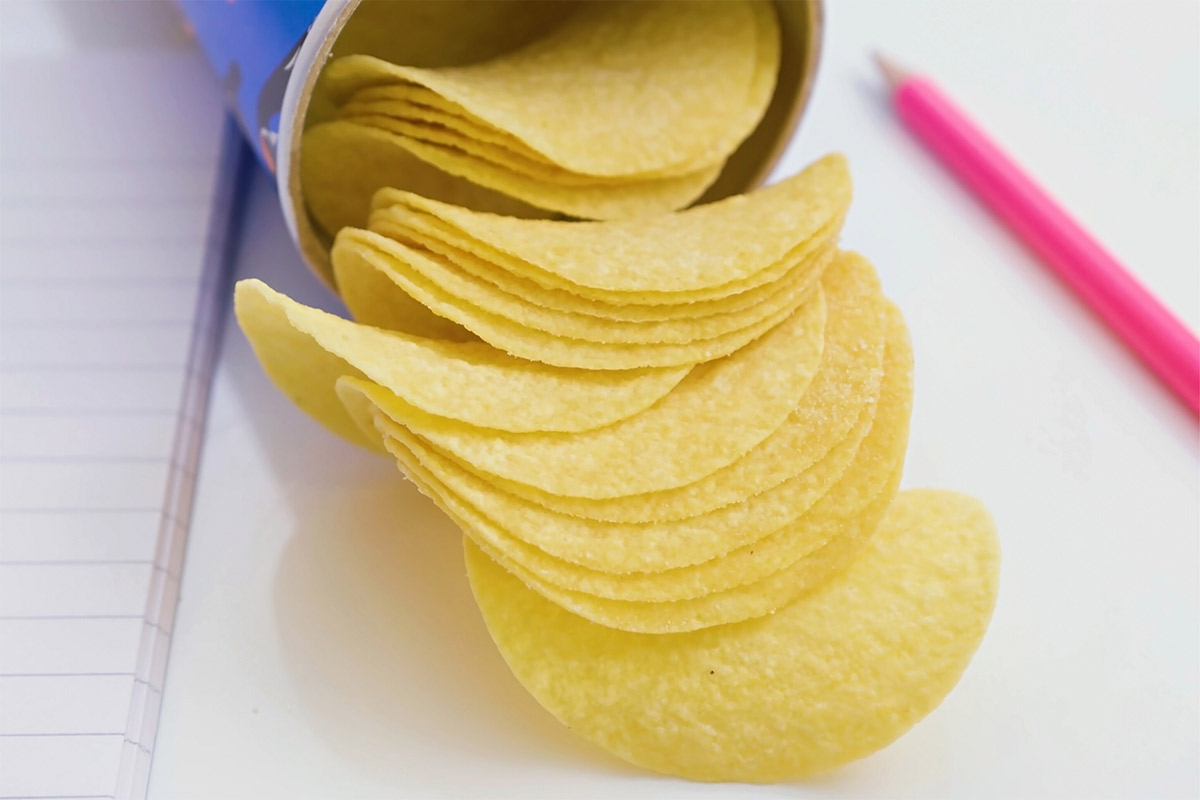 Are BBQ Pringles vegetarian?
BBQ Pringles may or may not be vegetarian. These chips contain sugar, flavorings and preservatives that may have been sourced from animals or derived from animal fat.

To make things worse, tools used to produce the chips may have traces of animal ingredients.

Therefore, most vegetarians should avoid BBQ Pringles unless they can find a version of the product certified vegetarian-friendly by an independent organization.
What ingredients are in BBQ Pringles?
BBQ Pringles are made with dried potatoes, vegetable oil (corn, cottonseed, high oleic soybean, and/or sunflower oil), degerminated yellow corn flour, cornstarch, rice flour, maltodextrin, sugar, mono- and diglycerides, 2% or less of salt, tomato powder, monosodium glutamate, citric acid, onion powder, spice, garlic powder, yeast extract, hydrolyzed corn protein, malted barley flour, malic acid, disodium inosinate, disodium guanylate, paprika extract color, natural flavors, whey, wheat starch.

They use malted barley flour and garlic powder for their signature smoky-flavored BBQ taste.
BBQ Pringles, like many other processed snacks, use citric acid as a component. It's a mild organic acid that may be found in citrus fruits and is used to add taste and prevent spoilage.
Are BBQ Pringles dairy free?
BBQ Pringles are not dairy free, as the ingredients list states that it contains a small amount of milk.
These chips may also contain traces of dairy products from cross-contamination during the manufacturing process, so those with severe dairy allergies should take caution and not consume them.

Additionally, some of the BBQ flavorings in the chips come from maltodextrin, often made using lactose (milk sugar).
Can vegans eat BBQ Pringles?
Vegans typically don't consume animal products, so BBQ Pringles aren't vegan. However, there are some vegan flavors of Pringles that do not contain animal-derived ingredients and can be enjoyed by vegan customers.

In addition, some companies and brands have vegan BBQ chips available if you're looking for an animal-product-free way to enjoy barbecue taste.

My advice is to check the ingredient list on the back of the can to be on the safe side.
Hope you aren't too disappointed about non-vegan BBQ chips. There are plenty of other snack options to explore!
BOTTOM LINE: BBQ Pringles aren't vegan in most countries because of lactose. In Australia, however, they don't include any components that come from animals. Some other vegan flavors are Original, Original Reduced Sodium, Original Reduced Fat, Wavy Original Flavor and Scorchin' Chili & Lime.
If you're looking for more snacks, check out if Arby's fries are vegan or Lay's potato chips are vegan.