There are many great Chinese broccoli substitutes if you are unable to locate it in your area or if you are simply seeking a fresh taste profile.
The somewhat bitter flavor and soft stems of Chinese broccoli, also known as gai lan, make it a sought-after ingredient in many Asian dishes.
I'll cover 9 healthful and flavorful vegetables for your Asian-inspired stir-fries, soups, and other recipes.
You can find a new favorite option here, whether you're a seasoned chef or just starting out in the kitchen.
What is Chinese broccoli?
Chinese broccoli (Gai Lan, Chinese kale) is a leafy green vegetable used in Chinese cooking.
Long, dark green stems with broad, flat leaves and a slightly harsh flavor contain vitamins A, C, calcium, and iron.
Like broccoli, cauliflower, and kale, it is a member of the Brassica family of vegetables. It's a typical ingredient in stir-fries, soups, and salads, but you can also eat it raw.
Best Chinese broccoli substitutes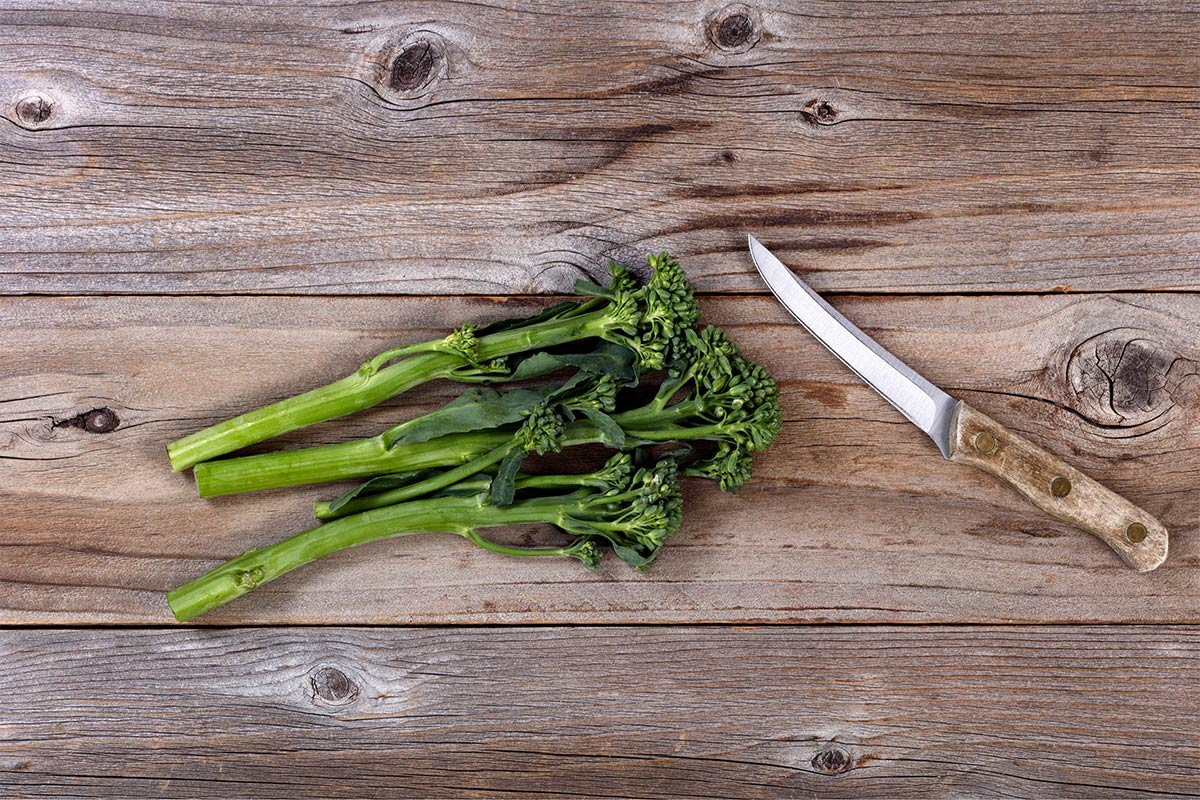 Sometimes Chinese broccoli is hard to get. You can use these alternatives in recipes:
Broccolini is a hybrid between broccoli and Chinese kale. Long, slender stems with little broccoli-like florets and a gentle, sweet taste can replace Chinese broccoli in stir-fries, salads, and soups.
It resembles Chinese broccoli and works well in gentler, sweeter dishes.
I've tried making roasted broccolini with garlic, lemon and parmesan instead of Chinese broccoli. They created an amazing flavor combination!
Rapini (broccoli rabe) is a leafy green vegetable with tiny broccoli-like florets and slender, fragile stalks. Like Chinese broccoli, it tastes slightly harsh.
Broccoli rabe can replace Chinese broccoli in spaghetti and sautés. Its sharpness makes meals more complicated and unique.
Baby Bok Choy is soft, mild-flavored, and crisp. Like Chinese broccoli, it is a cabbage with dark green leaves and light-colored stalks.
With its sweetness, it can be used as a substitute for Chinese broccoli in stir-fries, soups, and salads.
Chinese broccoli with oyster sauce can be modified to use baby bok choy as the key ingredient. I've tried it with garlic and vegan oyster sauce and it had an exceptional flavor!
Having trouble finding bok choy? No problem! You can discover some great bok choy alternatives for similar recipes.
Kale is a bitter, chewy green vegetable. It can replace Chinese broccoli in salads, soups, and sautés. Its rougher texture can demand longer boiling times than Chinese broccoli.
Kale has recently gained more attention as a superfood. If you like this leafy vegetable, check out my earlier post about kale substitutes!
Swiss chard is a crisp, bitter green vegetable. In salads, stir-fries, and soups, it replaces Chinese broccoli well.
Swiss chard's large, flat leaves and bright stems can also make meals attractive. If you value aesthetics in your cuisine, swiss chard is the real deal in a variety of dishes!
From my experience, it tastes best sauteed with some olive oil, garlic and lemon juice or added to a Tuscan white bean soup.
Asparagus has a surprisingly grassy and earthy flavor. The texture is similar to that of Chinese broccoli, but the flavor is tame by comparison.
In salads and stir-fry dishes, asparagus is a great alternative to Chinese broccoli. Asparagus is really delicious whether roasted or steamed!
If you don't share my love for asparagus or simply can't find it, why not discover some alternative vegetables?
Spinach is a delicate, somewhat bitter leafy green vegetable. It's a great gai lan substitute in soups, stir-fries, and salads. Its tenderness makes it easy to work with and its flavor is very accessible.
Iron, calcium, and other minerals make spinach leaves a welcome addition to many of my favorite recipes!
I also covered spinach alternatives in one of my articles. Check them out for some cool inspiration!
Collard greens are chewy leafy greens with a bitter flavor. They can replace Chinese broccoli in sautés, stir-fries, and soups. Collard greens are rich in vitamin C, vitamin K, and calcium.
Mustard greens have a unique spicy and peppery flavor. They're a suitable substitute for gai lan in sautés, stir-fries, and soups.
Mustard greens contain antioxidants and other health-promoting substances. So they're an amazing option both in terms of taste and healthfulness.
Chinese broccoli substitute FAQs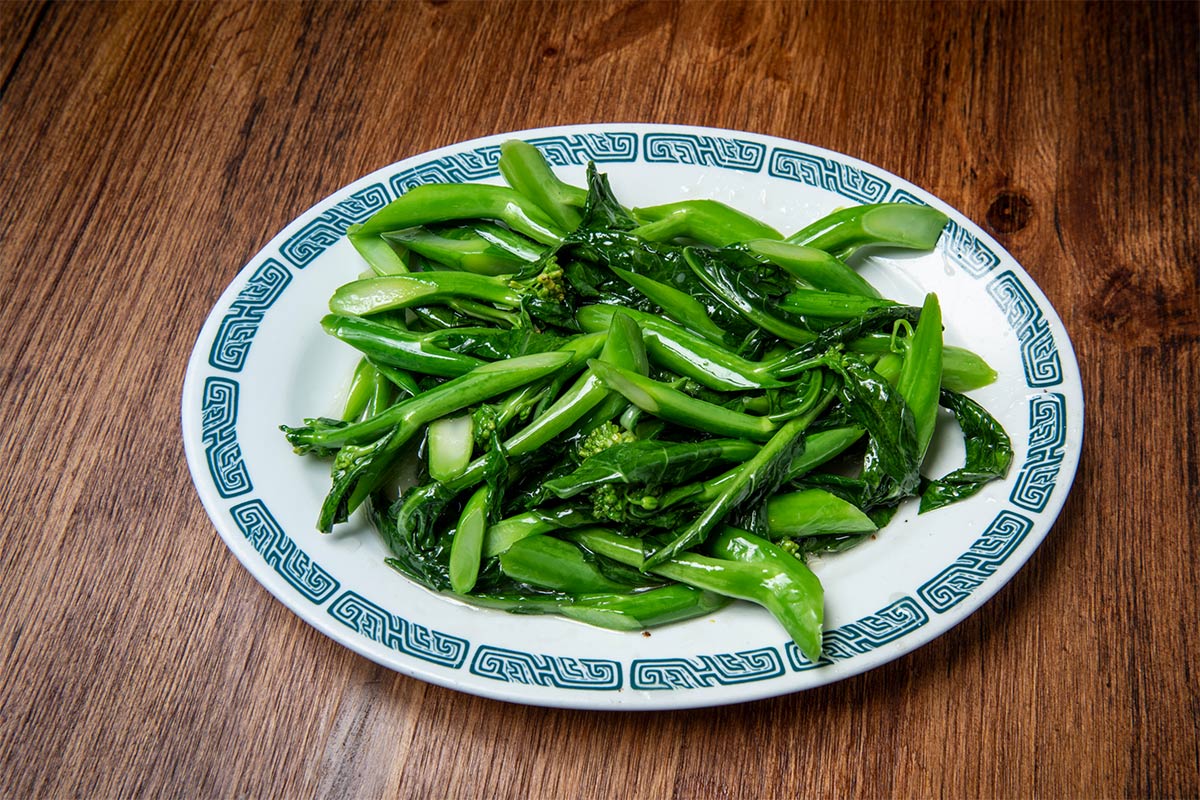 How many calories are in Chinese broccoli?
A 100g serving of raw Chinese broccoli contains only 26 calories.
Does Chinese broccoli have a bitter taste?
Chinese broccoli has a mild, slightly bitter taste. The flavor is delicate and sweet and can be compared to that of baby bok choy.
Can I use regular broccoli as a substitute for Chinese broccoli?
Regular broccoli is a suitable substitute for Chinese broccoli, though it has a stronger flavor. The texture is slightly firmer so it requires a longer cook time.
What is chinese broccoli called?
Another Chinese broccoli name is gai lan.
Where can I find Chinese broccoli?
Chinese broccoli can usually be found in Asian supermarkets or Asian grocery stores. It is sometimes sold fresh, frozen, or canned. You can also order it online from various retailers.
BOTTOM LINE: several veggies can replace Chinese broccoli in your favorite meals. You can make tasty and healthful dishes with asparagus, spinach, collard greens, and mustard greens. If you can't locate Chinese broccoli or want a different flavor, try one of these excellent substitutes!
I hope you liked all the substitutes for this flavorful Asian green. Share your favorite Chinese vegetable dishes in the comment!
Are you fond of Asian cuisine? Why not check out these daikon radish substitutes for more inspiration?