I'm glad to be the bearer of good news because yes, Mission Flour Tortillas are vegan!
These days, you can get vegan versions of just about anything, from cheese to ice cream, but it may be tricky to find adequate substitutes for common ingredients like flour tortillas.
Mission Flour Tortillas are just one of several brands available in stores that have responded to the growing demand for vegan tortillas.
Find out if these renowned tortillas meet the standards for a fully vegan product in this article.
Are Mission flour tortillas vegan?
The answer is a resounding yes! Mission Flour Tortillas are vegan-friendly and contain no animal products.
The three essential tortilla ingredients are bleached wheat flour, water and vegetable oil (interesterified soybean oil, hydrogenated soybean oil and/or palm oil).
So you can rest assured that your vegan diet won't be compromised with these delicious tortillas.
Mission also offers gluten-free tortillas, low-carb and whole-wheat products. These are great vegan options for people with other dietary limitations.
What is vegan food?
Vegan food doesn't contain any ingredients derived from animal sources. Meat, dairy products, eggs, honey, and gelatin are avoided.
Some staples of the vegan diet include:
tofu
tempeh
fruits and vegetables
legumes (lentils, beans and chickpeas)
whole grains (rice, quinoa)
nuts
seeds
seitan
Even if a vegan diet does not include any items derived from animal sources, it's still possible to consume a lot of processed food and not acquire enough nutrients to support healthy living.
As a part-time vegan, I focus on a wide variety of whole foods to get an appropriate amount of all nutrients: proteins, fats and carbs.
To keep one's health in good standing, one must keep a balanced plant-based diet. This means choosing whole foods wherever possible and supplementing their diet with vitamins and minerals.
What are Mission flour tortillas?
Mission Foods is a popular brand of flour tortillas and several authentic Mexican products. They're widely available in grocery stores across the US and Canada, as well as online.
They're so popular for their delicious flavor and fluffy consistency. I've used them to make some tasty vegan burritos, tacos, fajitas, and quesadillas.
The results were amazing! So incorporating them into your vegan diet is super easy and fun.
Ingredients in Mission tortillas
Let's look at the ingredients in flour tortillas. Mission Soft Taco Flour Tortillas include:
enriched bleached wheat flour (wheat flour, niacin, reduced iron, thiamine mononitrate, riboflavin, folic acid)
water
vegetable shortening (interesterified soybean oil, hydrogenated soybean oil and/or palm oil)
2% or less of:
salt
sugar
leavening (sodium bicarbonate, sodium aluminum sulfate, corn starch, monocalcium phosphate and/or sodium acid pyrophosphate, calcium sulfate)
distilled monoglycerides
enzymes
wheat starch
calcium carbonate
antioxidants (tocopherols, ascorbic acid, citric acid)
cellulose gum
guar gum
dough conditioners (fumaric acid, sodium metabisulfite and/or mono- and diglycerides)
calcium propionate
sorbic acid (to preserve freshness)
The ingredient list doesn't contain any dairy products or animal fat. So this it's safe to use for any vegan tortilla recipes.
How healthy are Mission tortillas?
For those wishing to include vegan-friendly components in their diets, mission tortillas are a terrific choice. They don't contain any animal products and are manufactured with basic, healthy components.
Additionally, they are a healthier alternative to conventional flour tortillas because they are low in fat and calories.
The enriched wheat flour used to make Mission tortillas contains vital nutrients like folic acid, iron, and niacin.
It's a good idea to look for flour tortillas manufactured with whole wheat flour and check the label for added sugars and other components that can contribute to an unhealthy diet if you want to make the healthiest possible decision.
Variety of flavors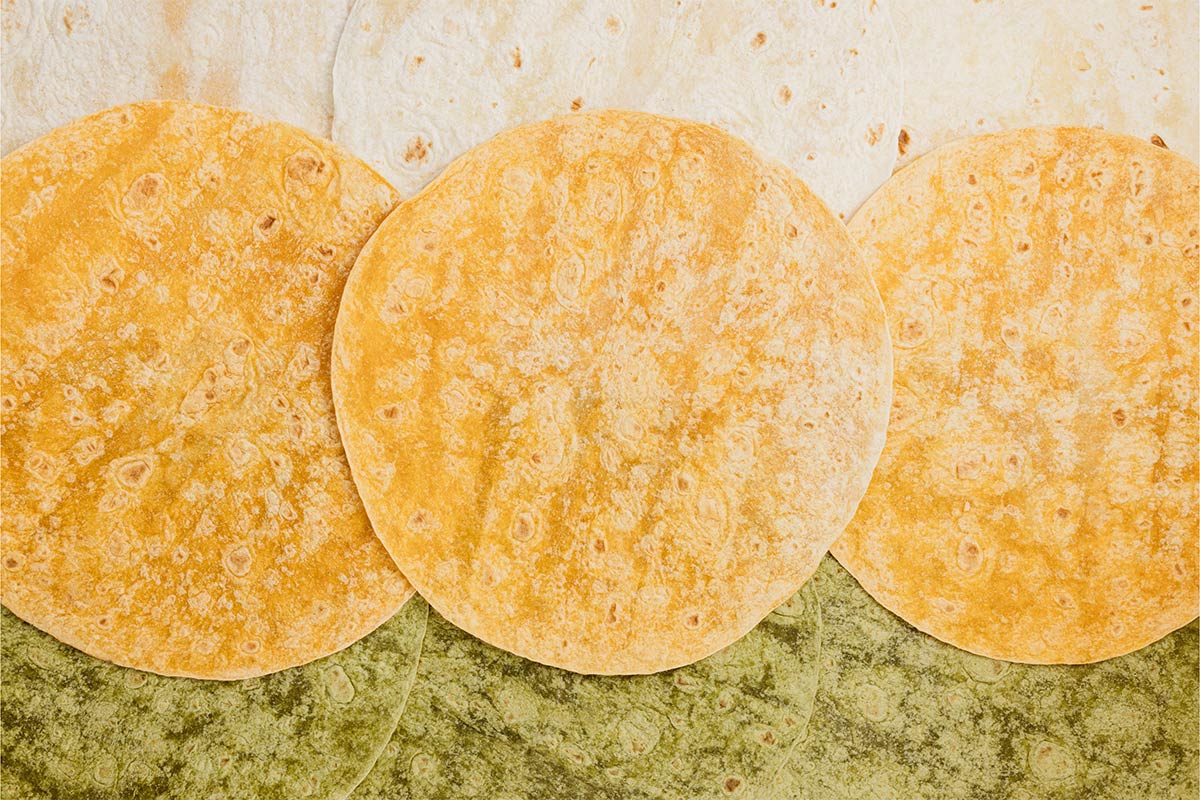 There's bound to be a flavor of Mission Flour Tortillas that's just right for you. From classic white flour tortillas to whole wheat and gluten-free options – there's something for any taste.
You can go for fajita-sized tortillas, taco-sized tortillas, or burrito-sized wraps. There are also different styles available – from homemade to restaurant style tortillas.
If you're looking for something with a bit of a kick, Mission offers vegan tortilla chips that you can pair with dips or add to your favorite dishes.
Additionally, you can try out some bolder flavors with seasoned tortillas like:
Protein Garlic Herb Tortillas
Cauliflower Tortillas
Spinach Herb Tortilla Wraps
Sundried Tomato Basil Tortillas
My favorite product is Protein Garlic Herb Tortillas. These tortillas have a pleasant taste and contain high-quality protein.
Mission flour tortillas FAQs
Do Mission flour tortillas contain animal-derived ingredients?
No, Mission Flour Tortillas don't contain any animal-based products. All the ingredients are plant-based and suitable for vegans.
Do tortillas contain any animal by-products?
No, Mission Flour Tortillas do not contain any animal by-products.
What other vegan tortilla brands are there?
There are quite a few vegan tortilla brands including La Tortilla Factory, Amaizin Organic Tortillas, Food For Life, Taco Bell, Tortillas and Angelic Bakehouse Vegan Tortillas.
Can I make vegan homemade tortillas?
Certainly, you can vegan flour tortillas right in your own kitchen.

I usually make homemade tortillas with some wheat flour, oil, water, salt and additional seasoning for extra flavor and depth. Then I cook the tortillas in a skillet but they can also be made on a griddle.

These may turn out even better than store-bought flour tortillas!
How can I check if tortillas are vegan?
You can always search for any non-vegan ingredients on your tortilla package. If you still have concerns after reading this, the best option is to get in touch with the food manufacturer.

Non-vegan tortillas typically include lard (animal fat), butter, whey and animal enzymes.
Can I create vegan tacos with Mission flour tortillas?
Yes, feel free to use Mission flour tortillas to make vegan tacos. Beans, veggies, guacamole, and salsa are just some plant-based ingredients that can be thrown in.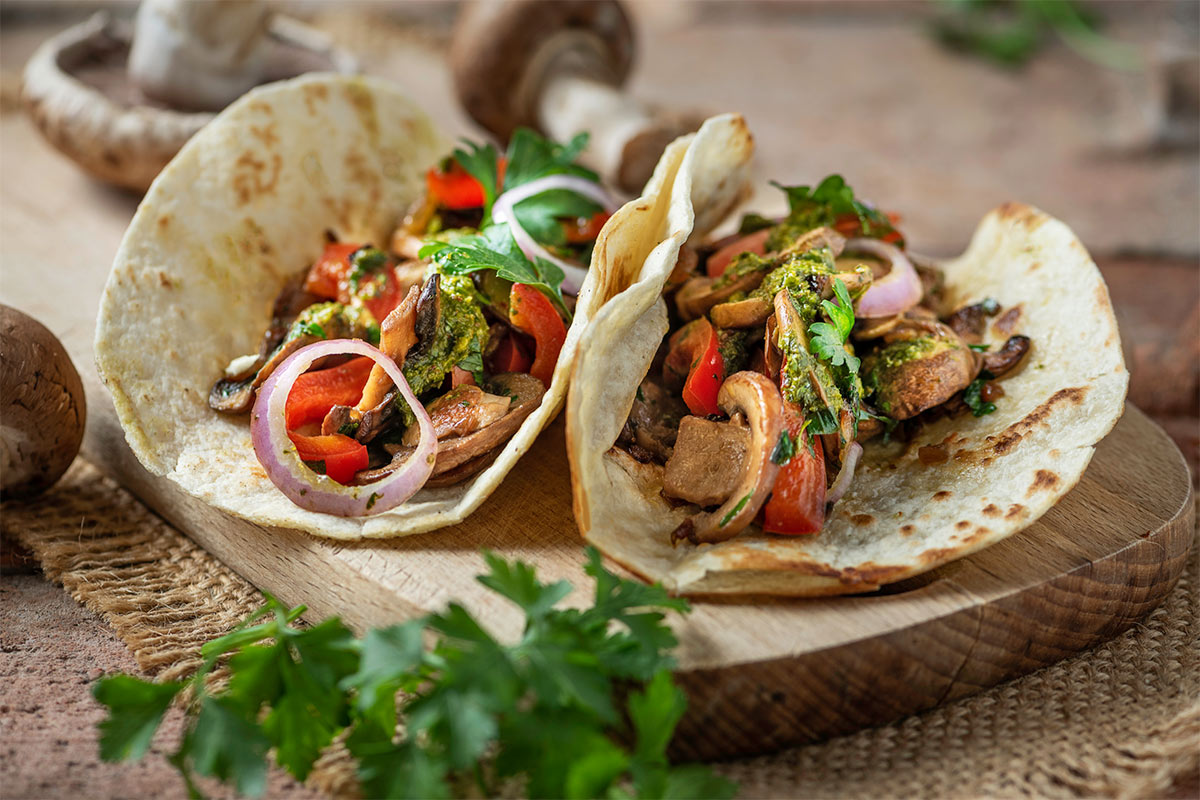 Are Mission flour tortillas high in fat?
Flour tortillas from Mission aren't particularly fatty.

The amount of fat in one Mission flour tortilla depends on the type and size. Generally, small 8-inch round tortillas contain about 3g of fat, while a large burrito wrap has about 4g of fat.
How versatile are Mission flour tortillas?
Flour tortillas from Mission are great for preparing authentic Mexican food products like burritos, tacos, and quesadillas.

They're super versatile and can be used in all sorts of wraps, tortilla pizzas, flavored chips and other tasty foods.
Is the oil used in tortillas vegan?
Yes, the oil in Mission flour tortillas is normally a vegetable oil, and it's appropriate for vegans.
Are Mission flour tortillas gluten-free?
Unfortunately, Mission wheat flour tortillas aren't gluten-free because of wheat. But there are plenty of corn flour options.

So you can use a variety of gluten-free tortilla products, like:
• Gluten-Free Original Tortilla Wraps
• Yellow Corn Tortillas
• White Corn Tortillas
• Gluten-Free Spinach Herb Tortilla Wraps
• Cauliflower Tortillas
• Almond Flour Tortillas
• Red Corn Tortillas
BOTTOM LINE: Mission Flour Tortillas are vegan-friendly as they do not contain any animal-derived ingredients. Mission's gluten-free alternatives and seasoned tortillas cater to a wide range of dietary restrictions and preferences.
If you're looking for more vegan food find out whether Maruchan ramen noodles are vegan or Takis are vegan! If you want to make your own tortillas but don't know if you have the ingredients, look at our list of masa harina substitutes now!