From mouthwatering dishes to diverse cuisines to condiments to wholesome foods, get ready to learn about foods that start with T. Discover 110 incredible T-inspired treasures!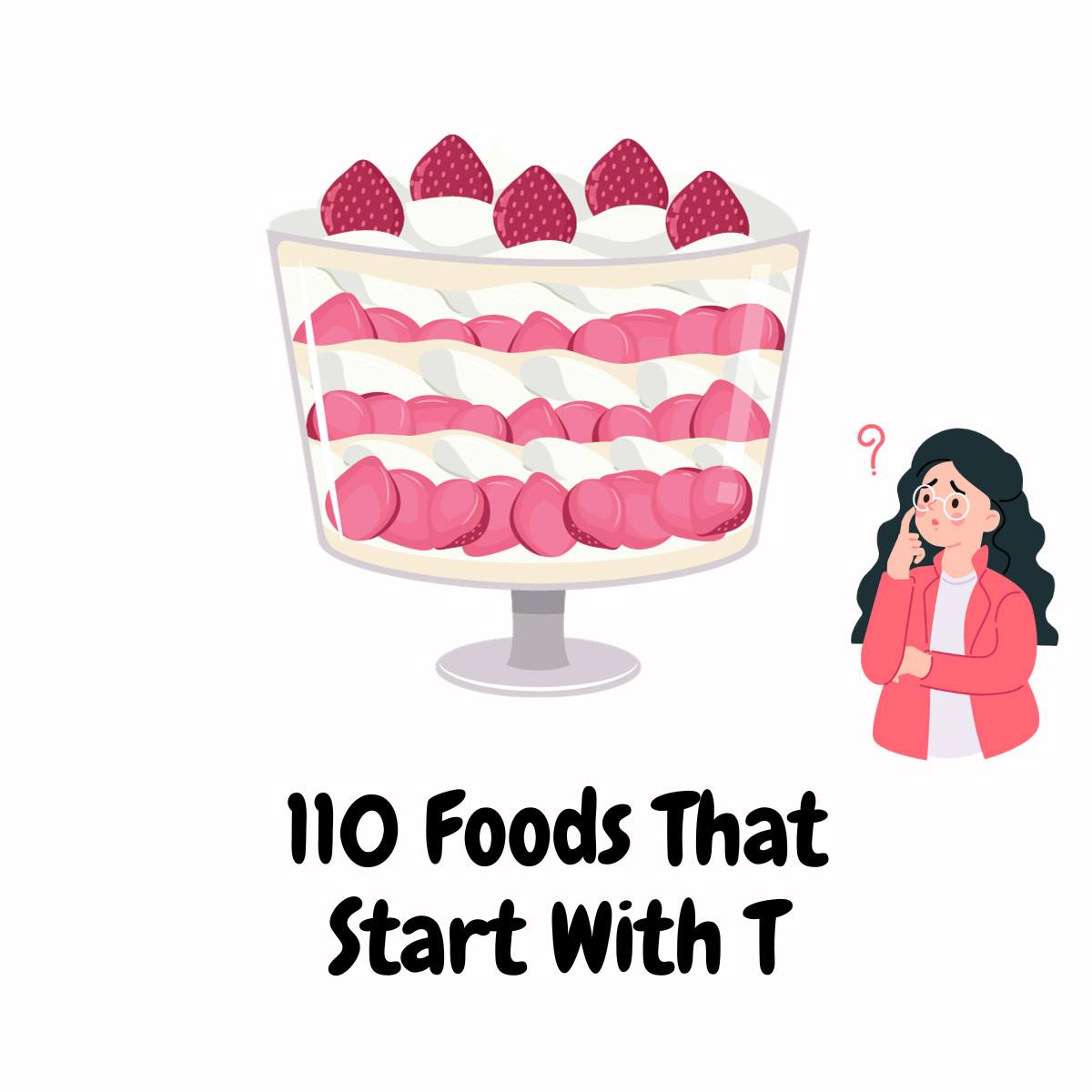 As a hard-core foodie, I never miss out on an opportunity to try out and learn about new dishes. That's why I always have a full menu and loads of ideas to share with you guys.
Today, I'm excited to take you on a tantalizing journey through the letter "T" in the world of culinary delights.
Whether you're searching for sweet desserts, tangy dishes or anything edible in between, have a look at some foods that start with letter T.
Whole foods and condiments that start with T
Tahini
Tahini is a Middle Eastern condiment made by grinding sesame seeds into a smooth paste. It is also known as Tahina and has a rich, nutty taste that lends itself well to all kinds of dressings, dips and even spreads.
Taleggio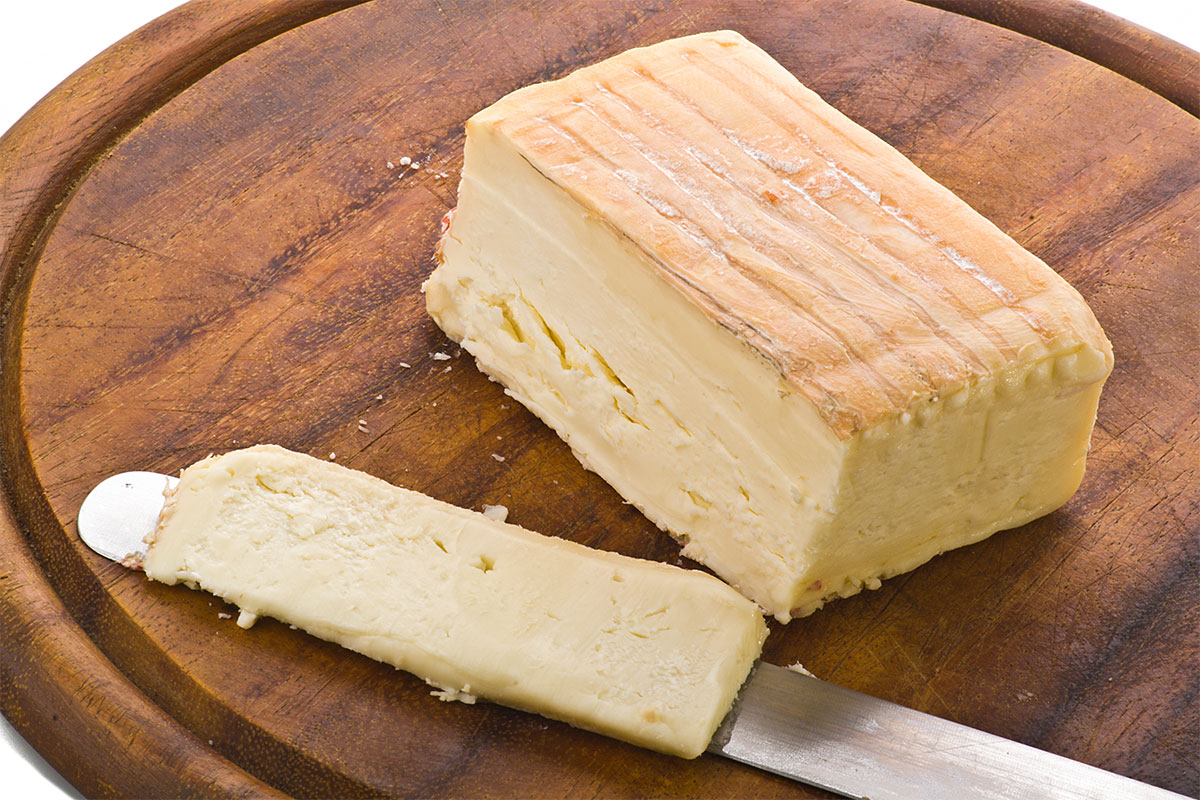 Taleggio is a kind of smear-ripened soft Italian cheese with a distinct flavor and texture made from whole cow's milk. It's one of the oldest cheeses in the world and its taste is creamy, nutty and somewhat fruity.
Tamarind chutney
This sweet and sour sauce is a popular condiment in Indian cuisine. Made from sugar, many spices and tamarind pulp, it's usually included in samosas as well as pakoras for added flavor.
Tapenade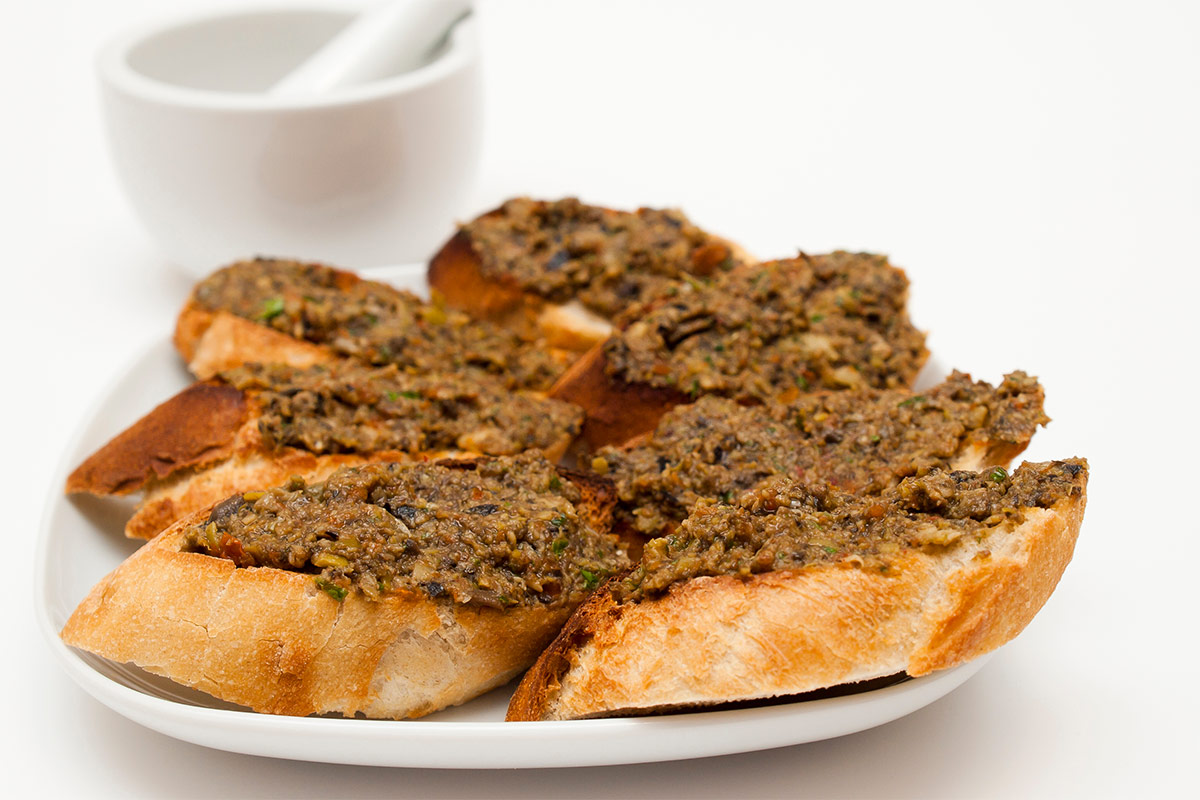 This is a salty, briny spread whose main ingredient is chopped olive. It originated in France and also includes capers or anchovies.
Fresh herbs and spices are also included to give it more flavor and tapenade is often used as a replacement for pesto sauce on crackers, on crusty bread or sandwiches.
Tartar sauce
This cold dipping sauce is made of mayonnaise, capers, dill, pickles, lemon juice, mustard, Worcestershire sauce as well as herbs like parsley.
It's a super creamy sauce that's usually served with seafood dishes, sandwiches and even salads.
Teff
Popular in Ethiopia and Eritrea, this ancient grain is gluten-free, nutrient-dense and used to make a kind of fermented flatbread with a spongy texture called injera. It can also be ground into flour and included in stews.
Tempeh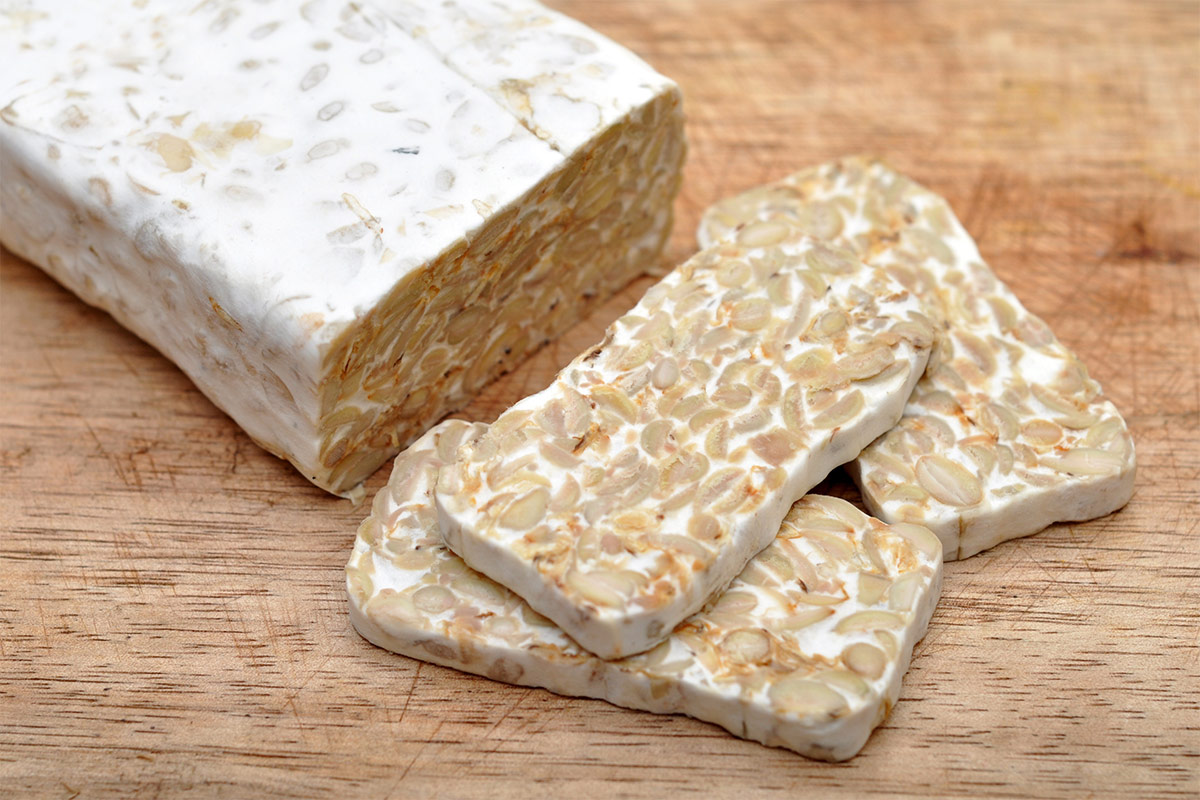 Tempeh is a kind of plant-based protein food that originated in Indonesia. It's made from fermented soybeans that have been formed into blocks. It has a strong nutty flavor and can be cut into cubes before being pan-seared or boiled to make savory dishes.
Tofu
Tofu is made from curdled soybean milk. They're usually pressed into blocks and are a popular plant-based protein option in East Asia. It's also frequently consumed by vegetarians after being fried, grilled or oven-baked.
Tomatillo salsa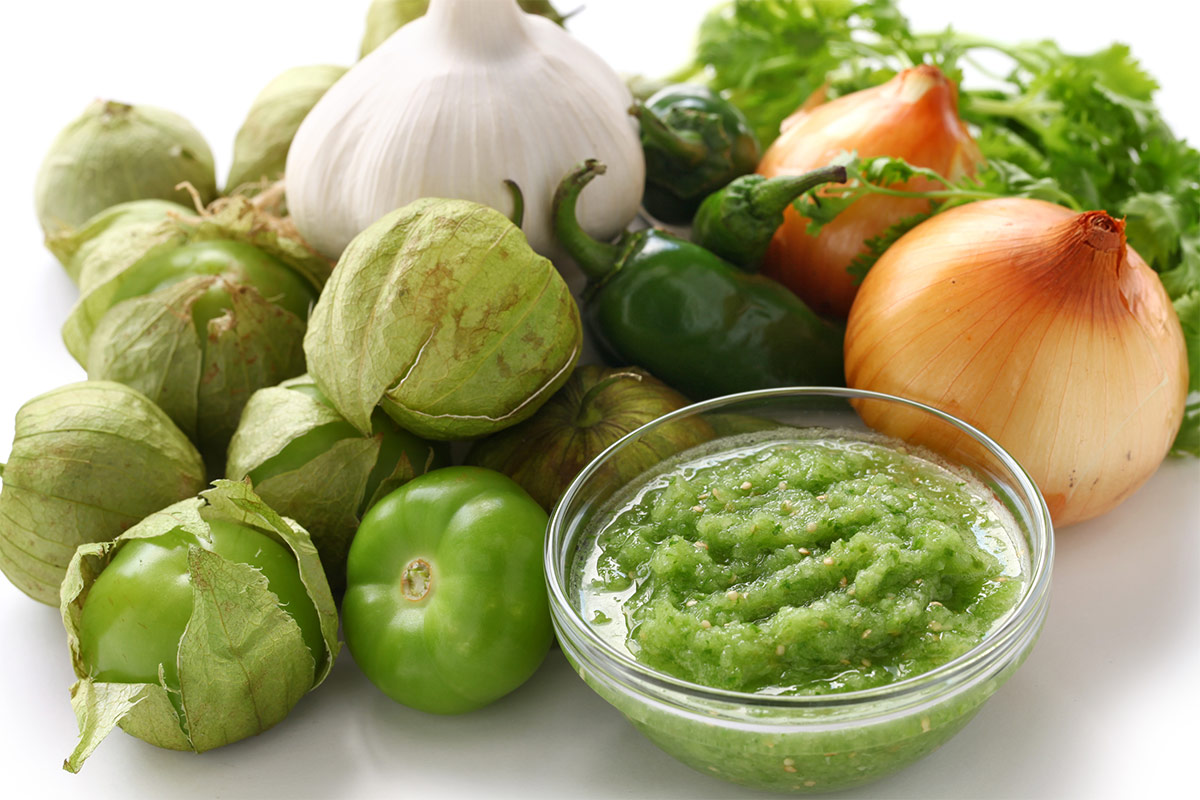 This is a kind of dip made from the tomatillo fruit. It's also known as the Mexican husk tomato and it closely resembles the common unripe tomato, only that it is covered in a papery husk. The salsa is often seasoned with garlic as well as ground pepper and herbs and usually includes lemon juice for flavor.
Tortillas
Tortilla is a thin unleavened flat bread made from corn flour or wheat flour. It is a major component in Mexican cuisine as well as many Central American dishes where they're stuffed with a savory filling and eaten by hand.
Truffles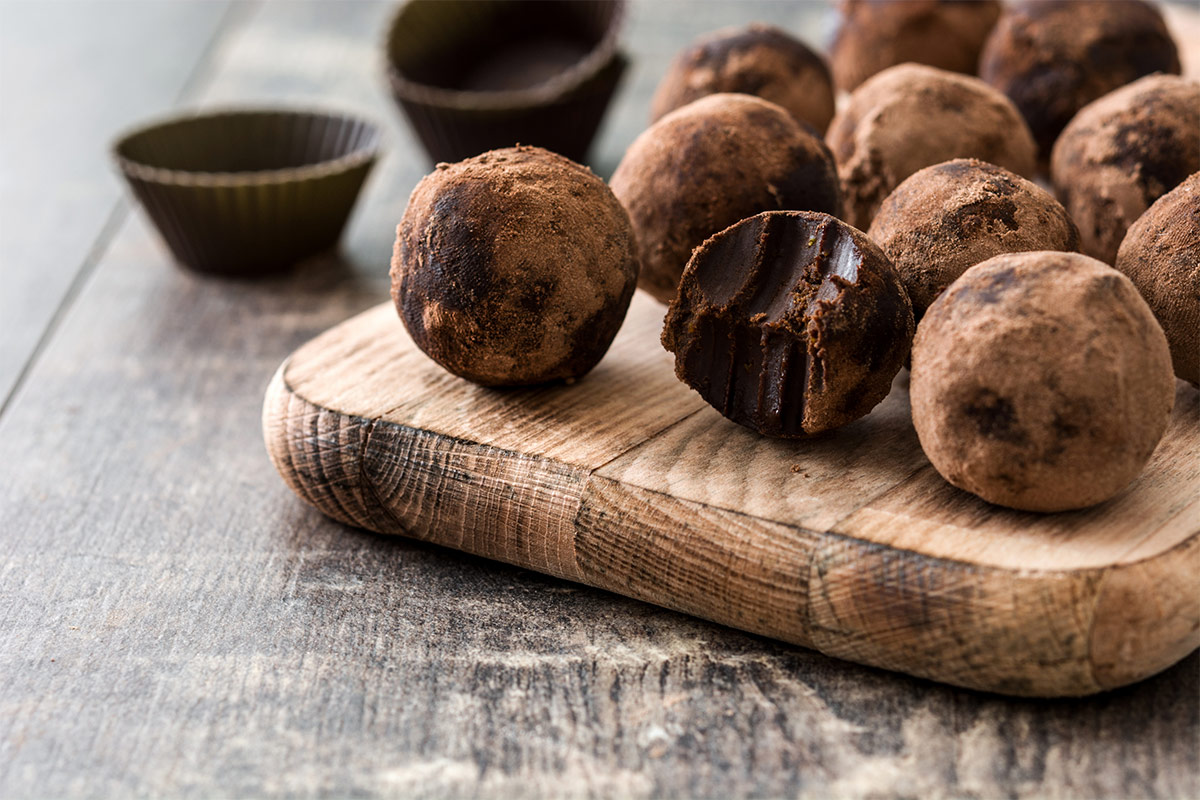 Truffles are a kind of edible fungi sought after for their culinary value. They're quite expensive and grow underground or at the base of trees to which they are parasites. truffles can be included in pasta dishes, sandwiches and all kinds of savory cuisines.
Turmeric
Known for its vibrant orange color and flavor, turmeric is a common spice used to add color and taste to dishes. It adds a warm kind of feeling to all sorts of cuisines like curries, soups and even rice. It is a member of the ginger family and is also valued for it's medicinal properties.
Turnip greens
It isn't just the root vegetable that's edible, the visible shoots we see above the ground are too, Turnip greens are the dark leafy green leaves of turnips that are a food staple and can be cooked in numerous ways to make savory meals.
Tzatziki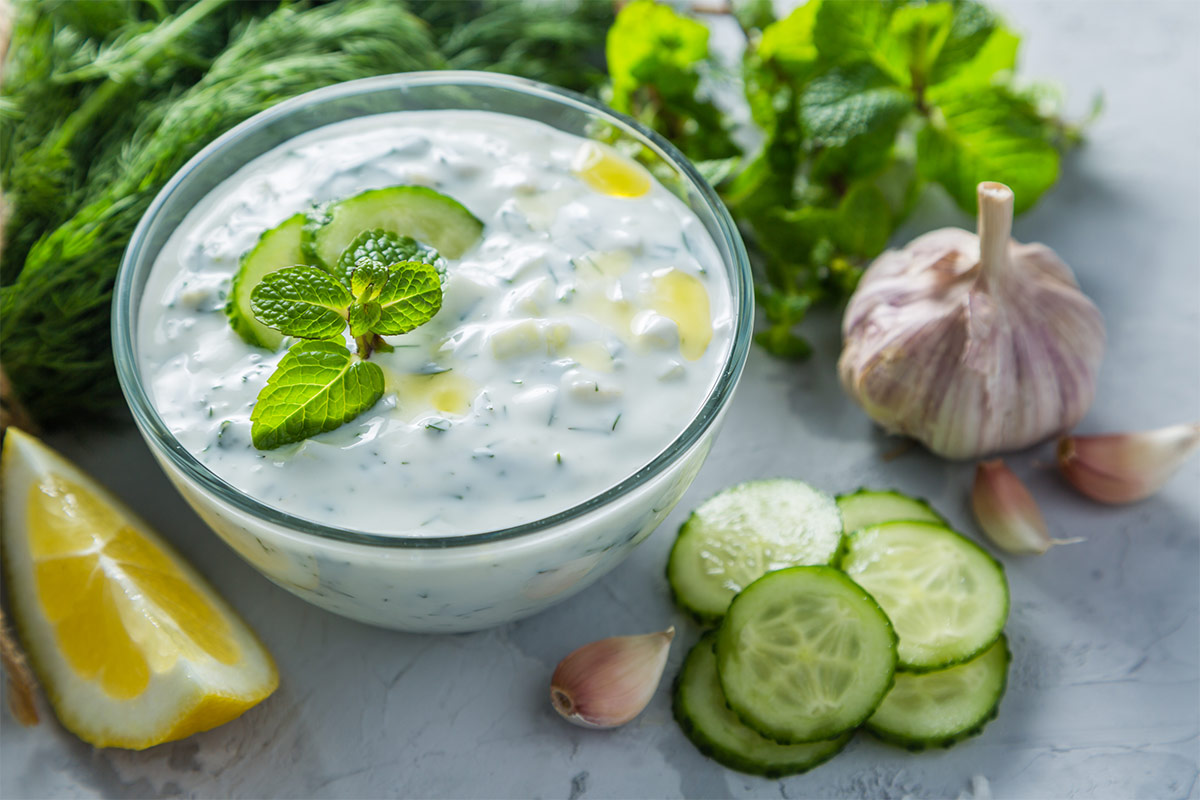 This is a traditional creamy sauce or dip that originated from Greece. It usually includes cucumber, a spice like garlic, herbs like mint leaves, a dairy like Greek yogurt and vegetable oil or olive oil.
Sweet treats and beverages that start with T
Tahini cookies
Nutty but sweet, Tahini cookies are a kind of pastry made of flour, sugar and butter with the defining ingredient being tahini paste. This sweet treat can be topped with granulated sugar and can include chocolate chips in some variations.
Tahini yoghurt bowl
The perfect breakfast or accompaniment to barbecue, a tahini yogurt bowl is a small dish containing plain Greek yogurt topped with berries like bananas, strawberries, blueberries and other fruit flavored with a sweetener and tahini sauce. It is often topped with nuts and served cold.
Tamales de Elote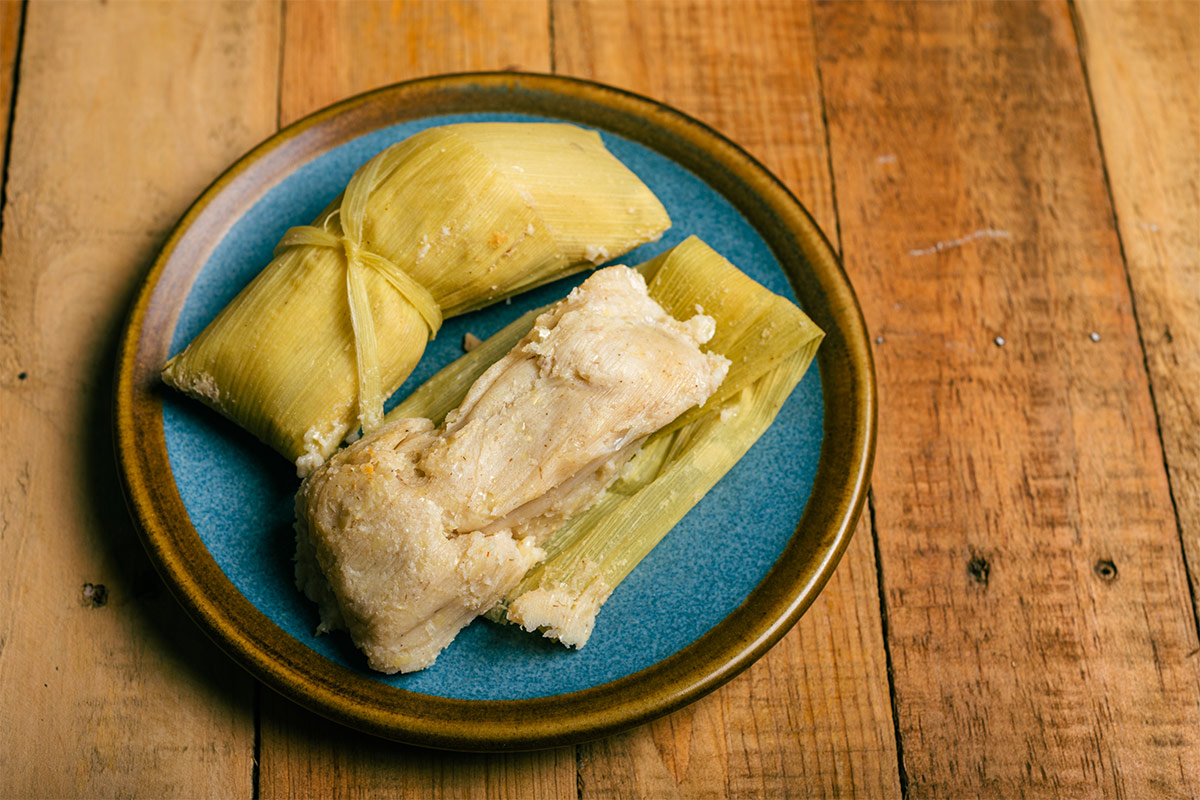 Translated to sweet corn tamales, the tamale here is prepared with fresh corn kernels, masa dough, sugar as well as dairy and served as a dessert or snack. It's sweet and moist and can also be served for breakfast.
Tapioca pudding
This sweet dessert is made of tapioca pearls (from cassava root) and cream or milk. Coconut milk is often used in place of dairy and vanilla is also included to give it a sweet flavor and aroma. Tapioca pudding can either be served warm or cold.
Tart
A tart is a kind of pastry that's round in shape and has a sweet filling. The filling is usually made of fruit or custard and the pastry dough is usually very light.
Thai mango sticky rice
Made of steamed sticky rice mixed in a sweet creamy coconut cream and paired with sweet slices of ripe mango, Thai mango sticky rice is a popular Southeast Asian dessert. It is often sold on the streets and is often topped with some extra coconut cream.
Tiramisu
Tiramisu is a no-bake Italian dessert of ladyfingers which have been dipped in coffee and layered with a rich mixture of sugar, eggs, flavored cocoa powder and mascarpone cheese as well as some whipped cream. It's occasionally topped with shredded chocolate.
Tres Leches cake
Tres Leches cake is a kind of popular dessert that's a staple in many Latin American countries. It's a very light treat made by soaking a sponge cake in three different kinds of milk. The tres leches cake is super moist and can be enjoyed with a dollop of whipped cream.
Trifle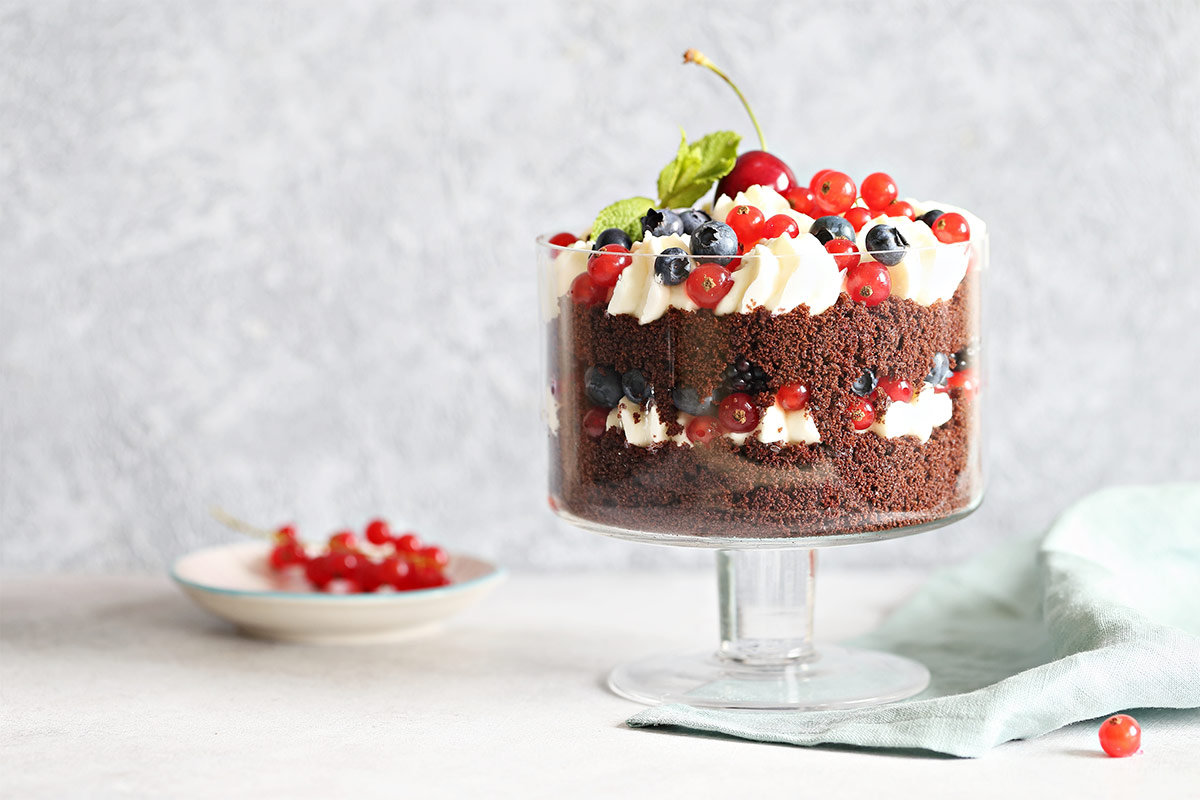 This popular English dessert is made of sponge cake or ladyfingers that have been soaked in an alcoholic beverage like brandy or sherry. It is then layered with jam, custard or fruit and topped with whipped cream and often served in glass cups.
Turmeric latte
Turmeric latte is a kind of beverage made of milk, ground or fleshly grated turmeric with spices like ground pepper, cinnamon and even ginger alongside a sweetener for some extra taste. This spicy beverage is also known as the golden latte and can be served either hot or cold.
Savory dishes that start with T
Tabbouleh
A tabbouleh is a kind of fresh salad that originated in the Mediterranean. It includes bulgur wheat, lots of finely chopped vegetables (as well as fruits like tomatoes) and the main ingredient, which is the herb, parsley tossed in lemon juice and olive oil.
I do like the lentil tabbouleh due to its nutrition, flavor and ease!
Tabbouleh stuffed peppers
Colorful bell peppers are stuffed with a tasty tabbouleh salad and baked till the peppers are tender to create this hearty dish. It's filled with lots of fiber and makes for a wonderful option for a vegetarian dish or vegan meal.
Tabouli wrap
This Middle Eastern wrap recipe is basically made of a slice of tortilla that's been slathered with hummus and filled with a tabouli mixture that's almost identical to the popular tabbouleh salad. It is often eaten by hand as a snack or lunch.
Tacos
Tacos are a kind of popular Mexican dish consisting of a savory filling of either meat, seafood, vegetables or both in a folded tortilla. This staple food is usually eaten by hand with no utensils and can be enjoyed as either a full meal or a snack.
Tamales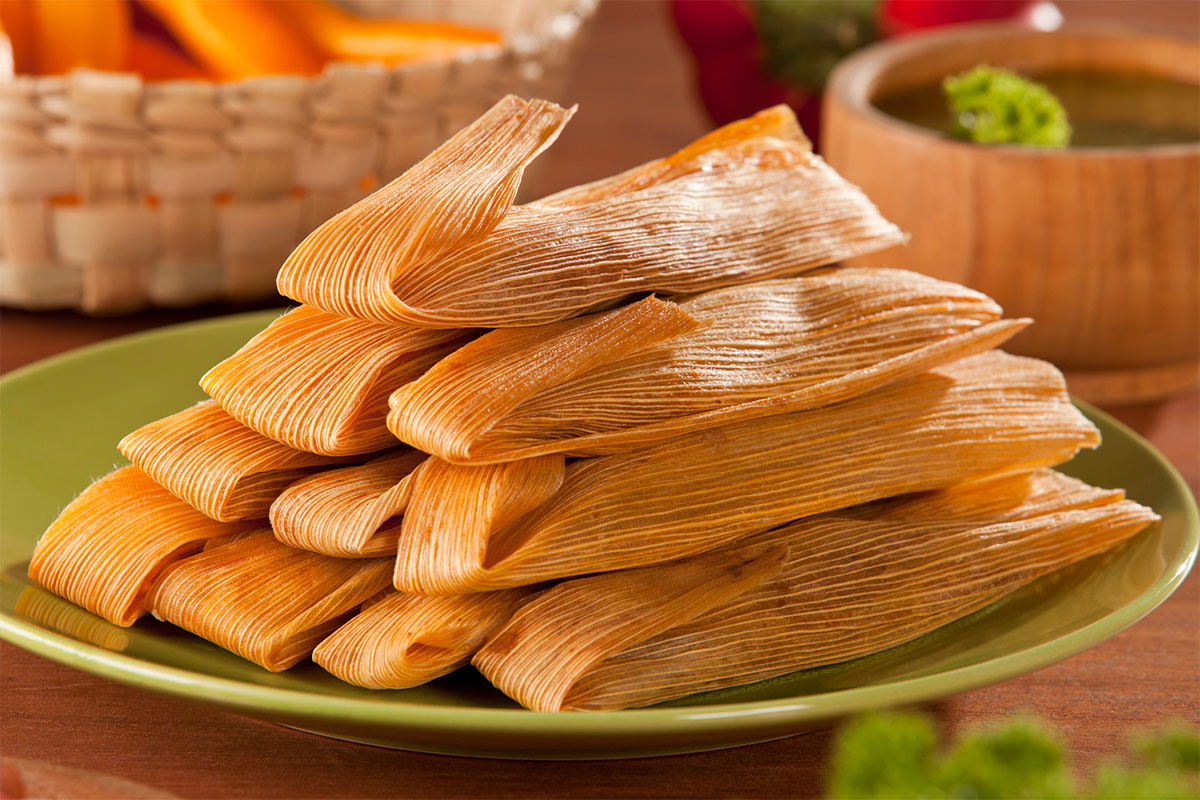 Tamales are a kind of dish made from corn masa dough filled with savory ingredients and steamed in corn husk or banana leaves until cooked. In some variations, the filling can be sweet but savory filling usually includes meat like pork or beef.
Tandoori chicken
This popular Indian cuisine is basically a kind of grilled chicken dish. The meat is first marinated in a mixture of lemon juice with yogurt as well as spices and herbs before being chugged in a cylindrical clay oven called the tandoor and then grilled till tender.
Tapenade stuffed chicken
Chicken breasts are sliced into thin pieces or halved midway through and stuffed with a savory filling of tapenade amongst other things like cheese before being oven-baked till tender. It is then served with veggies like broccoli or garlic bread for a heartier meal.
Tarragon chicken
Chicken breasts are well seasoned before being pan-fried and then cooked in a creamy sauce that features tarragon herb. This French dish is often served over pasta and is also seasoned with garlic and pepper.
Tater tots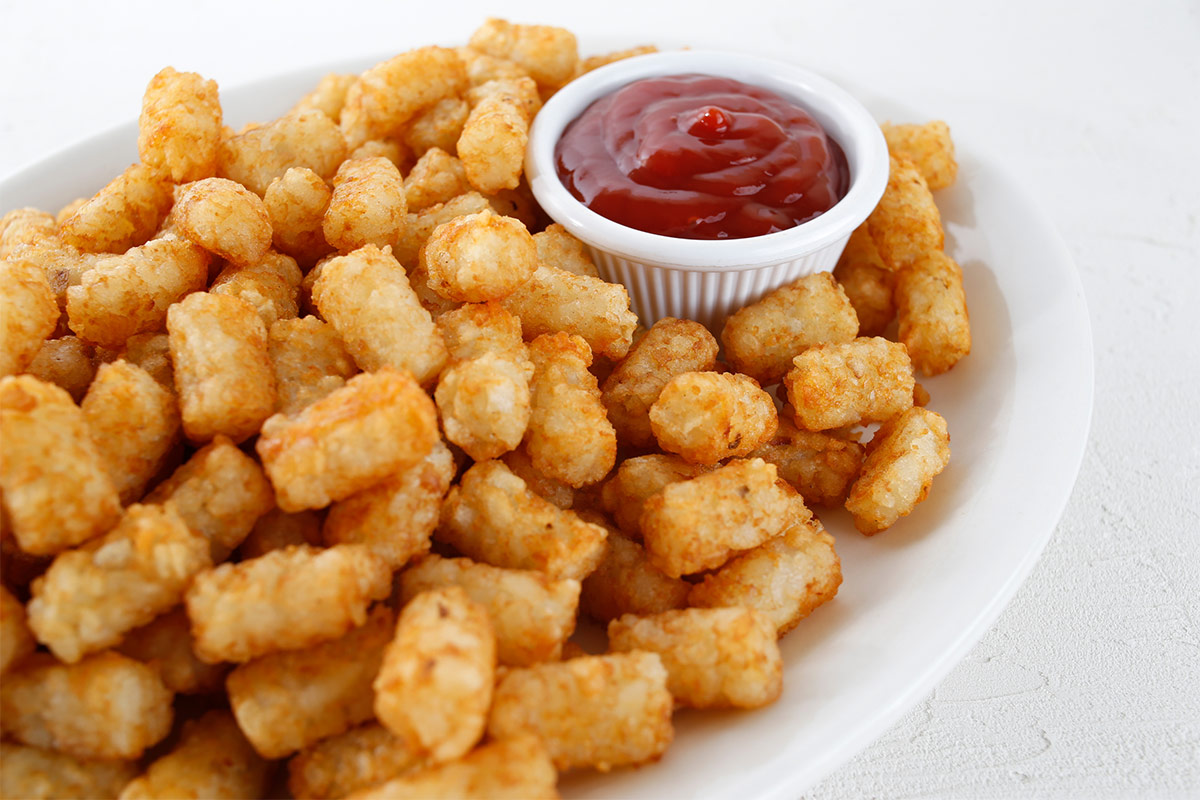 Tater tots are a kind of deep-fried dish made from shredded potatoes. Boiled potatoes are grated and then drained of excess moisture before being stirred with flour and spices like garlic and herbs like oregano. The mixture is then formed into tots and then oven-baked until evenly cooked and crispy.
Tempura
This Japanese cuisine consists of seafood, meat or even veggies that have been coated in a light batter and then fried till crispy. It's usually accompanied by a dip and eaten as a snack.
Tempura Udon
Udon is a kind of Japanese noodle made from wheat with a chewy and thick texture. The tempura Udon dish is basically a kind of thick wheat noodle soup. The broth has a nice umami taste and is usually accompanied by pieces of veggies as well as crisp shrimp
Teriyaki
Teriyaki is a kind of Japanese dish where meat is marinated in a savory soy sauce before being grilled. The meat can be beef, chicken, pork or even any form of seafood and it is usually served with a side of rice.
Thai green curry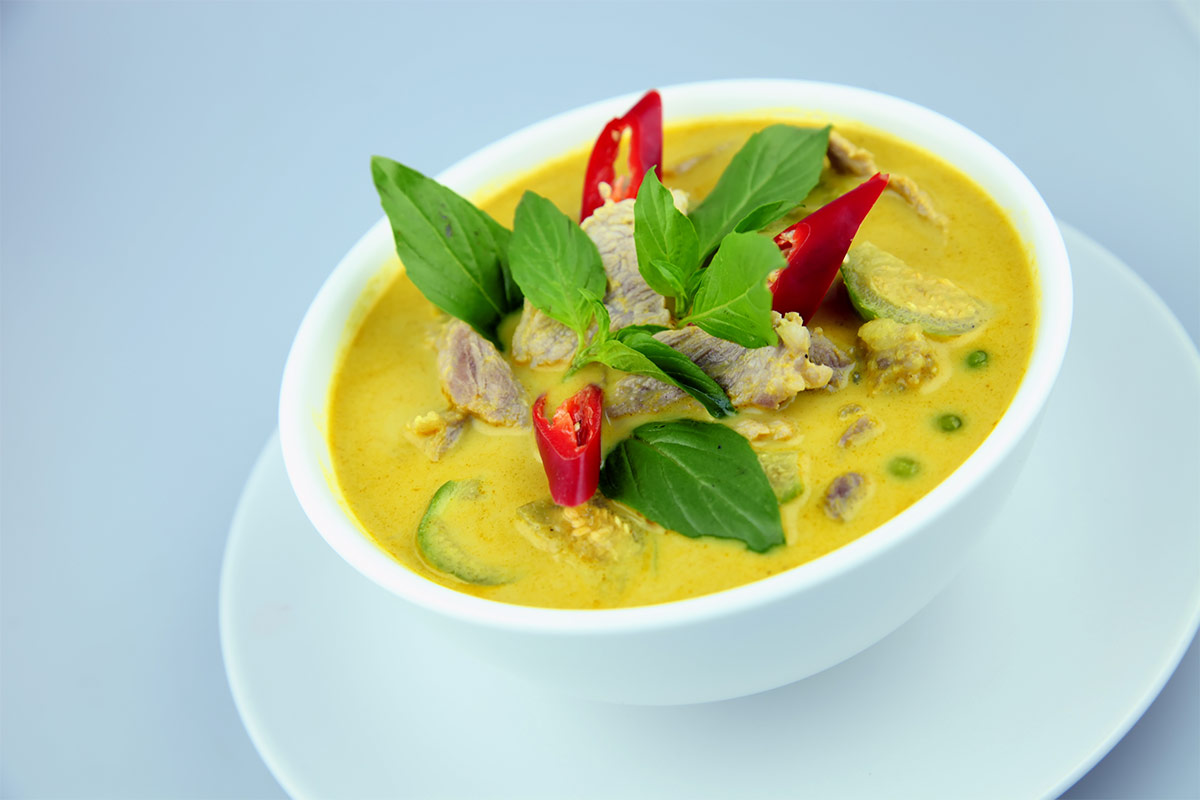 Thai green curry is a variety of curry popular in Thailand. It's made from a green sauce of Thai basil, green chili and lemongrass in a rich coconut milk base. It is usually served with a side of rice or eaten on its own.
Tikka masala
Tikka Masala is a popular Indian dish of spicy chunks of chicken that have been marinated then roasted and tossed in a savory, creamy sauce.
The sauce is usually made of dairy like yogurt, and sour cream as well as heavy cream and tomatoes. It is then served with a side of rice.
Tofu scramble
Tofu scramble is a kind of breakfast dish that closely resembles the popular egg scramble. Here, tofu is crumbled and spiced with curry or turmeric to give it a yellowish color and then cooked alongside veggies.
It's often eaten by vegans as an alternative to scrambled eggs and enjoyed with a side of toast.
Tofu stir-fry
This is a kind of stir-fry dish that uses tofu as the main ingredient, tofu. Firm or extra firm tofu is often used and the stir fry sauce is usually made of soy sauce, a broth and some spices. It is often topped with sesame seeds and served hot with any kind of rice or even noodles.
Tom Yum soup
Also known as the "tom yam", these are a kind of sour and hot Thai soup that derive their flavor from herbs such as lemongrass, galangal and makrut.
It is usually made with shrimp but can be cooked with other kinds of seafood as well as meat.
Tomato and avocado salad
Juicy tomatoes are combined with avocado wedges or cubes, red onions and a zesty dressing to create this fresh dish. It is usually seasoned with salt and pepper while sweet corn is also tossed with the mix.
Tomato and mozzarella caprese salad
This classic Italian salad features the regular caprese salad ingredients; juicy slices of ripe tomatoes layered with sliced mozzarella cheese and basil leaves.
It's usually drizzled with some balsamic vinegar and pesto sauce for extra taste.
Tomato-basil soup
Made from fresh tomato puree or canned tomatoes, this classic comforting dish combines the tangy taste of the fruit with fresh basil and some cream to give it a nice texture. It's usually paired with a grilled cheese sandwich or toast to keep things simple.
Tomato Bruschetta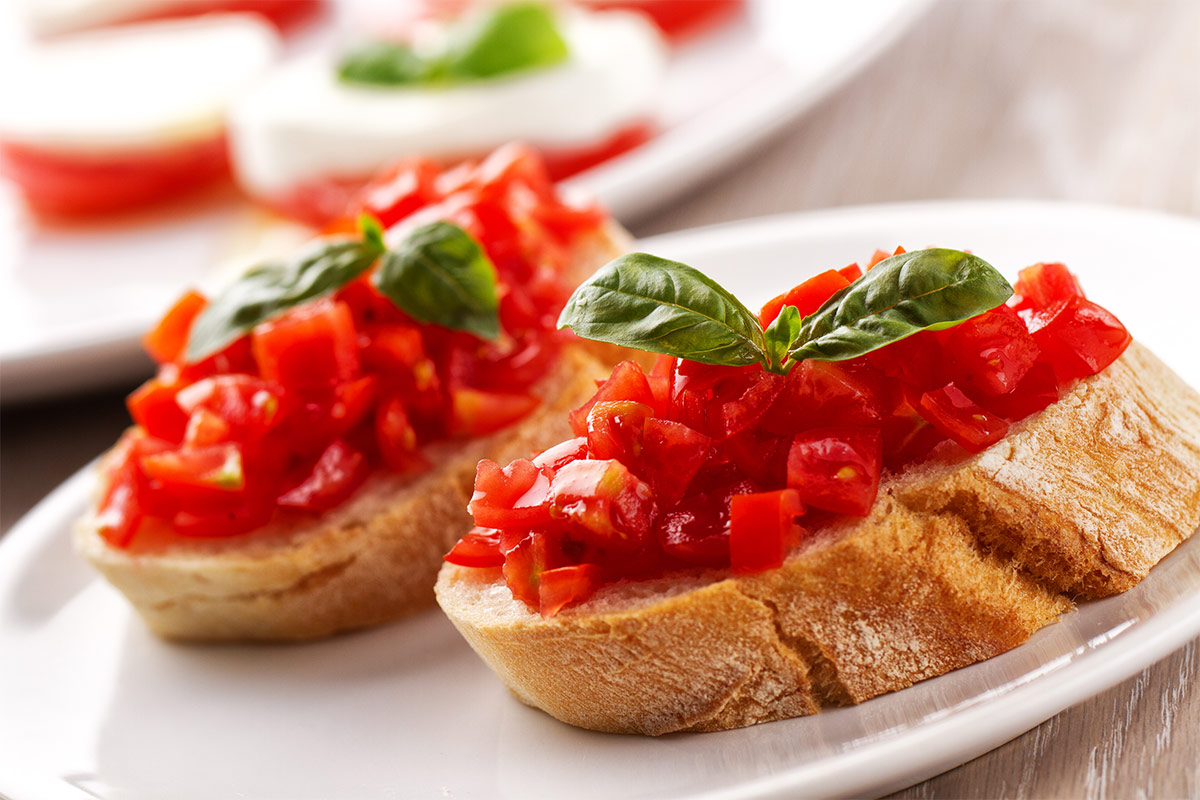 This popular Italian appetizer is made from freshly chopped tomatoes tossed with olive oil and vinegar alongside seasonings like garlic and herbs like cilantro and basil.
The tomatoes are then topped on some crusty bread or toast to create the perfect appetizer or brunch.
Tomato soup
Tomato soup is a kind of soup where tomatoes are the main ingredient. It's usually smooth and semi-thick in texture and can be made thicker with cream. Veggies like carrots and peppers are usually included and it is often garnished with herbs.
Tomato tart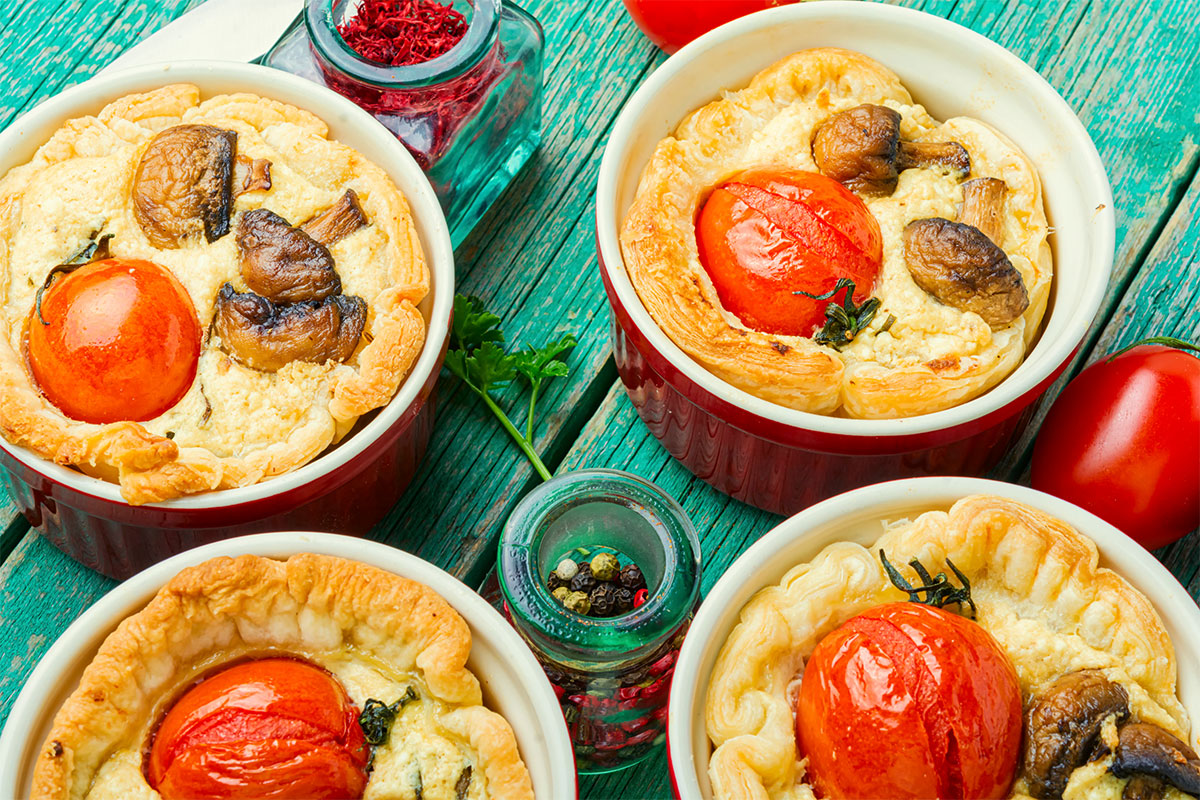 A tomato tart is a kind of dish whose main ingredients are juicy tomatoes with a buttery and flat puff pastry as the base. It is then topped with cheese, tomatoes and herbs before being oven-baked till brown.
Tonkatsu
Pork cutlets are coated in a batter and then deep-fried to make this popular Japanese dish. The loin and fillet are the most used cutlets for this and are often served with a sauce of the same name as well as a side of finely chopped cabbage.
Tortellini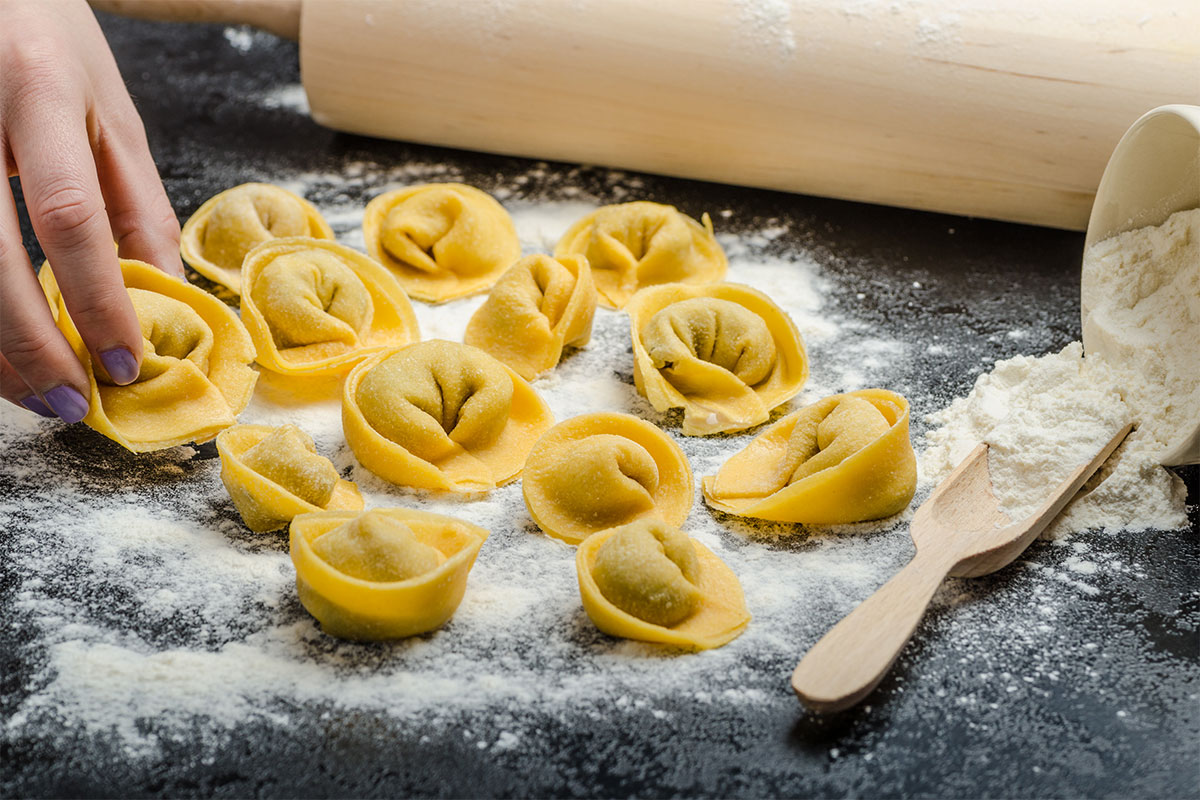 Tortellini is a small ring-shaped kind of Italian pasta that's usually stuffed with a mix of cheese and greens and served with a meaty, savory sauce. They look like tiny croissants and it is a popular kind of pasta dish in Italy.
Tortelli d'Erbetta
Originating from Parma in Italy, this is a traditional pasta dish. It's a meatless meal that comprises a kind of pasta that's been stuffed with all kinds of greens and cheese, more specifically ricotta.
Tortilla española
The traditional Spanish cuisine whose main ingredients are eggs and omelettes, tortilla española is a popular dish. It is thick and often includes onions in some variations. Served as a tapa or main course, the tortilla española is thick and can be served hot or at room temperature.
Tostada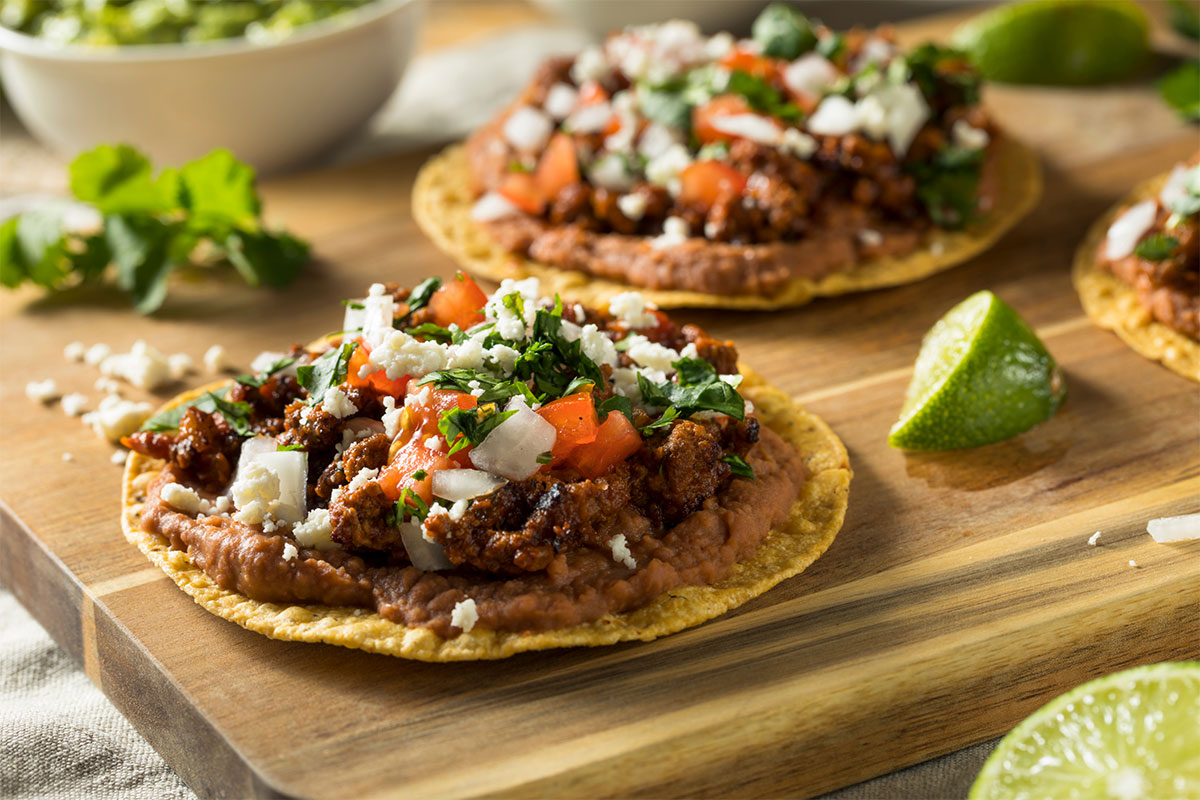 Tostada is the general term for a variety of Mexican and Latin American dishes where crispy deep-fried or toasted tortillas are used as the base. They're usually topped with all kinds of ingredients like veggies, eggs and meat.
Tostones
Unripe plantain slices are fried before being smashed and fried for the second time to make these crispy treats. They're popular in both Latin American and Caribbean cuisines, usually served as a snack or side dish, enjoyed with dipping sauces.
Tuna casserole
Made with a grain like rice or pasta, tuna casserole is a kind of savory baked dish that features canned tuna as the key ingredient. It usually includes some creamy mushroom soup as well as egg noodles and is often topped with potato chips or bread crumbs.
Tuna salad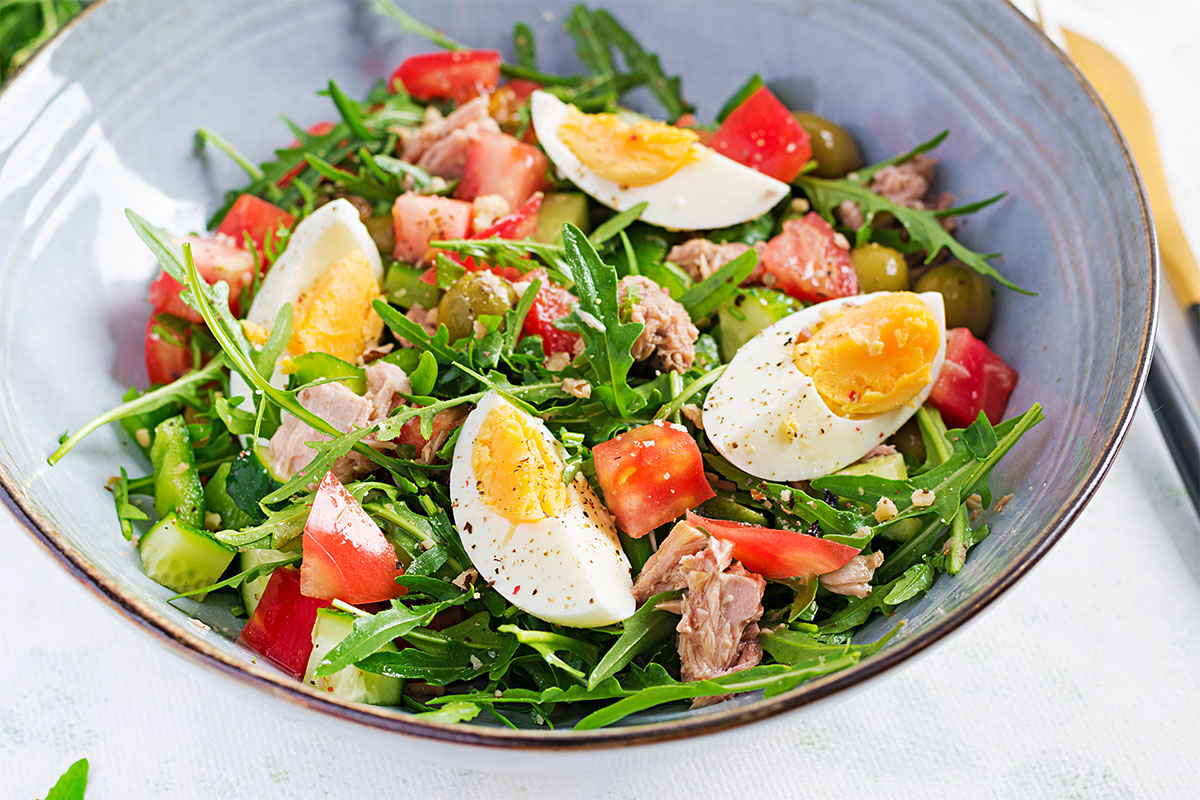 Made with tuna and mayo, tuna salad is a creamy salad that combines canned fish, red onions, garlic, cheese and herbs like celery alongside spices. When placed between two slices of fluffy white bread, it makes a tuna salad sandwich.
Tuna sashimi
Tuna sashimi is a kind of meal made of thinly sliced raw tuna fish. Tuna sashimi is usually served on its own but can also be accompanied by a soy, ginger or wasabi dipping sauce.
Turmeric chicken curry
This kind of chicken curry is made with the main seasoning being turmeric. It's also infused with some ginger and garlic for some extra warmth and flavour as well as many other spices. The creamy dish is often served with rice.
Turmeric rice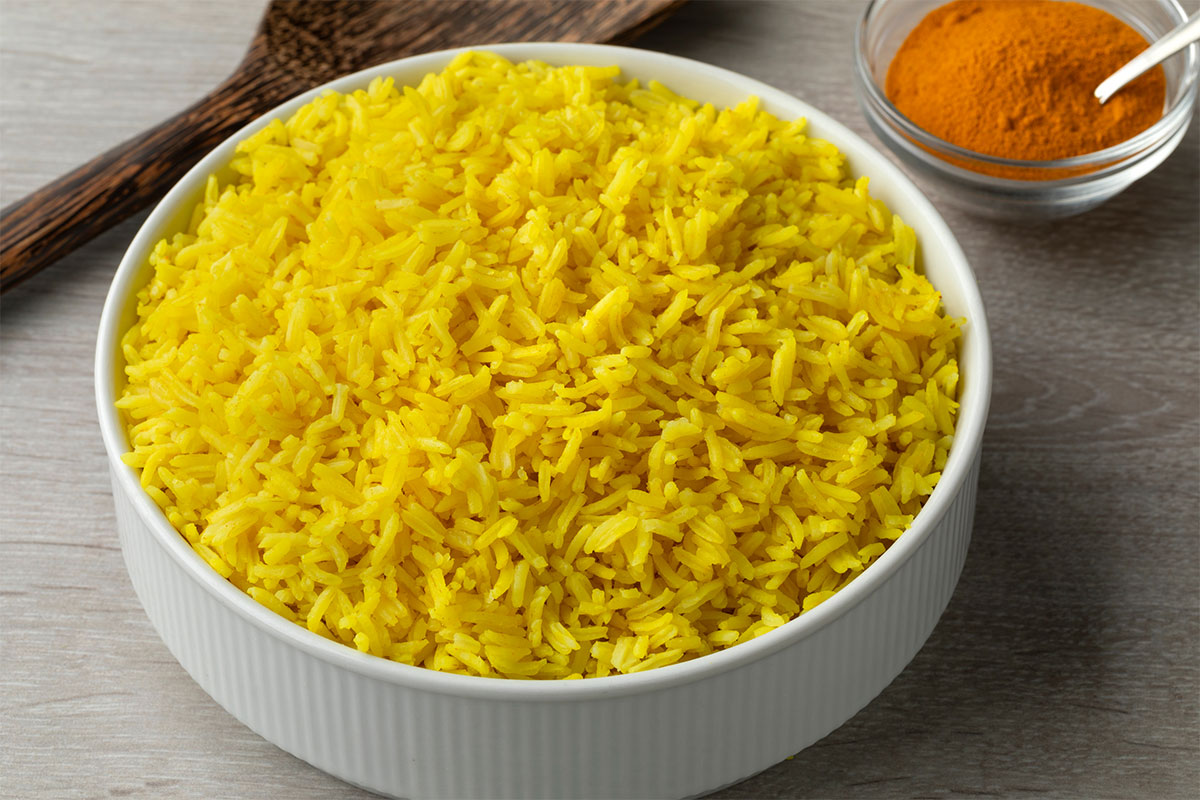 Rice is cooked with turmeric and warm spices for a tasty and warm meal. It is also known as Middle Eastern or Indian rice and is often cooked with veggies and served with curries or stews.
Turmeric roasted cauliflower
Cauliflower heads are divided into small bits and tossed with spices like garlic, pepper and olive oil alongside powdered turmeric before being oven-baked to make this delightful side dish. It's usually golden brown and crisp on the outside but soft and tender on the inside when properly cooked.
Tres colores pasta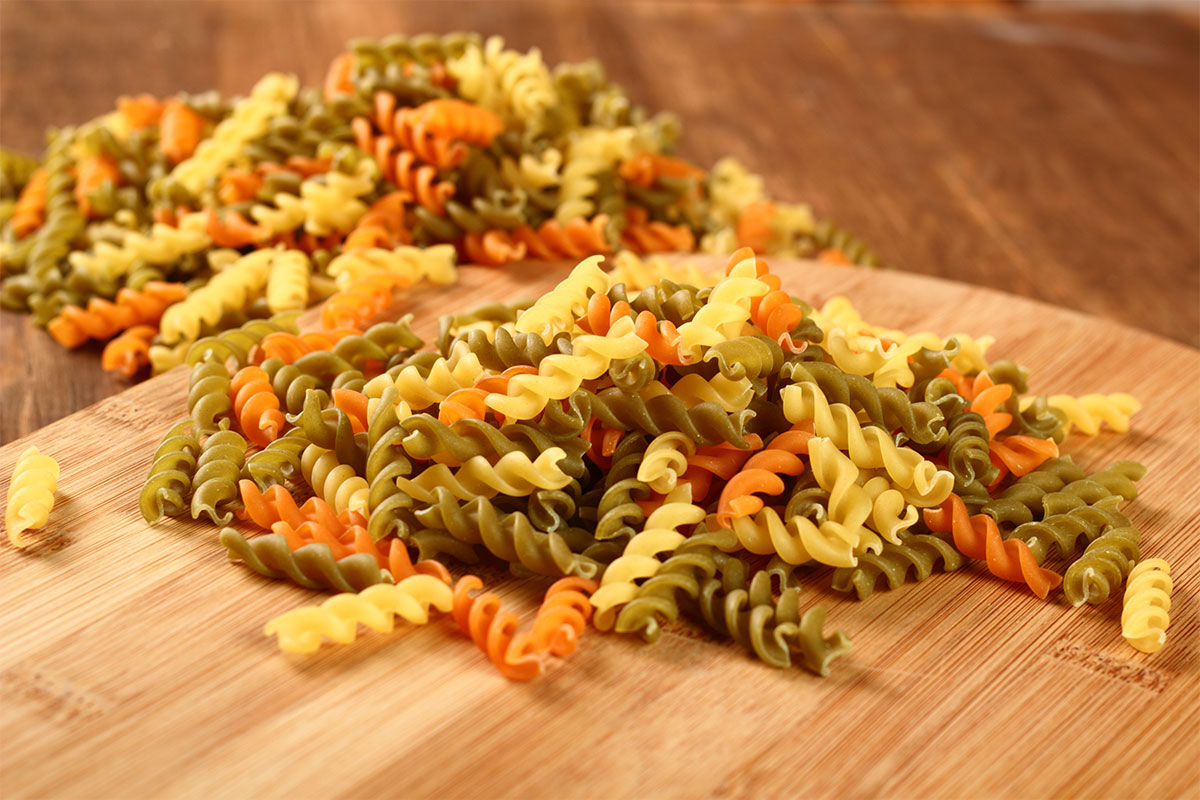 Literally meaning "tri-colored pasta", this is a kind of dish that includes pasta with different colors. The pasta is usually dyed using real food ingredients like tomatoes, pesto and spinach which in turn gives the pasta some added flavour.
Tzatziki salmon
Tzatziki Salmon is an elegant-looking dish made of salmon fish that has been spiced and pan seared topped with a creamy tzatziki sauce. It is then served with a leafy green salad or pita chips.
Tzatziki-quinoa salad
This is a kind of salad with quinoa as the main grain. It often accompanies other ingredients such as fruits like avocadoes, cucumbers and tomatoes alongside herbs like mint and parsley all tossed in a generous amount of tzatziki sauce.
Vegetables that start with T
Tabasco pepper
Mexico is the birthplace of the Tabasco pepper, a kind of chili pepper. When compared to cayenne pepper, its taste is not quite as intensely spicy.
The pepper known as tabasco has the scientific name Capsicum frutescens 'Tabasco' and is used to manufacture the spicy condiment of the same name.
Taro
Taro is a starchy root vegetable with a nutty and somewhat sweet taste that is also a great source of fiber and other minerals. Its flesh, which can be ivory or white with purple streaks, is widely used in cooking across the globe.
The leaves and stem of this nutritious plant, known scientifically as Colocasia esculenta, are also edible.
Tarragon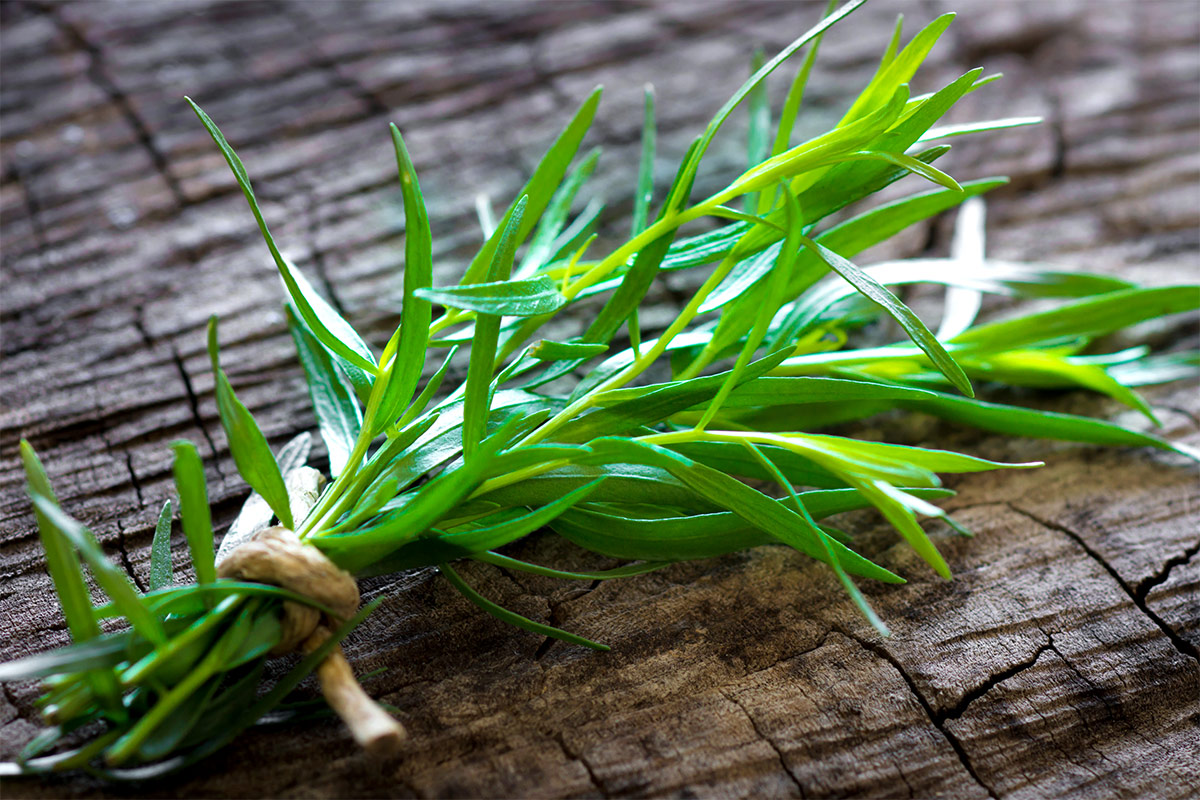 The tarragon is a plant that also goes by the name estragon. Because of its culinary and therapeutic uses, it is highly prized throughout Eurasia and North America. It's related to sunflowers and has a flavor similar to licorice.
This plant is known as Artemisia dracunculus scientifically.
Tarwi
Tarwi is a South American lupin bean cultivar. It's highly prized for both its oil and its protein content.
The cooked beans have a solid texture and a somewhat nutty flavor, and they, like other beans, are versatile. The botanical name for it is Lupinus mutabilis.
Tatsoi
This green vegetable, also known as tat choi or tat choy, is a member of the cabbage family, making it closely related to other well-known leafy greens like bok choy and Chinese cabbage.
There are hints of mustard and pepper in its earthy taste. The vegetable is widely used in Asian cooking and is now gaining popularity in the Western world.
Tatsoi, or Brassica rapa subsp. mariposa, is a leafy green vegetable often used in Asian salads and stir-fries.
Tepary bean
Ancient tepary beans are from the southwestern US and Mexico.
They're high in protein and nutty, with white varieties being sweeter than brown ones. The scientific name is Phaseolus acutifolius.
Thai basil
Thai basil is a popular culinary herb that is used to provide a bold and exotic flavor to food.
The plant's scientific name is Ocimum basilicum var. thyrsiflora, and its vivid green leaves are accompanied by purple stalks.
This versatile herb works well in both cold and hot dishes.
Thai eggplant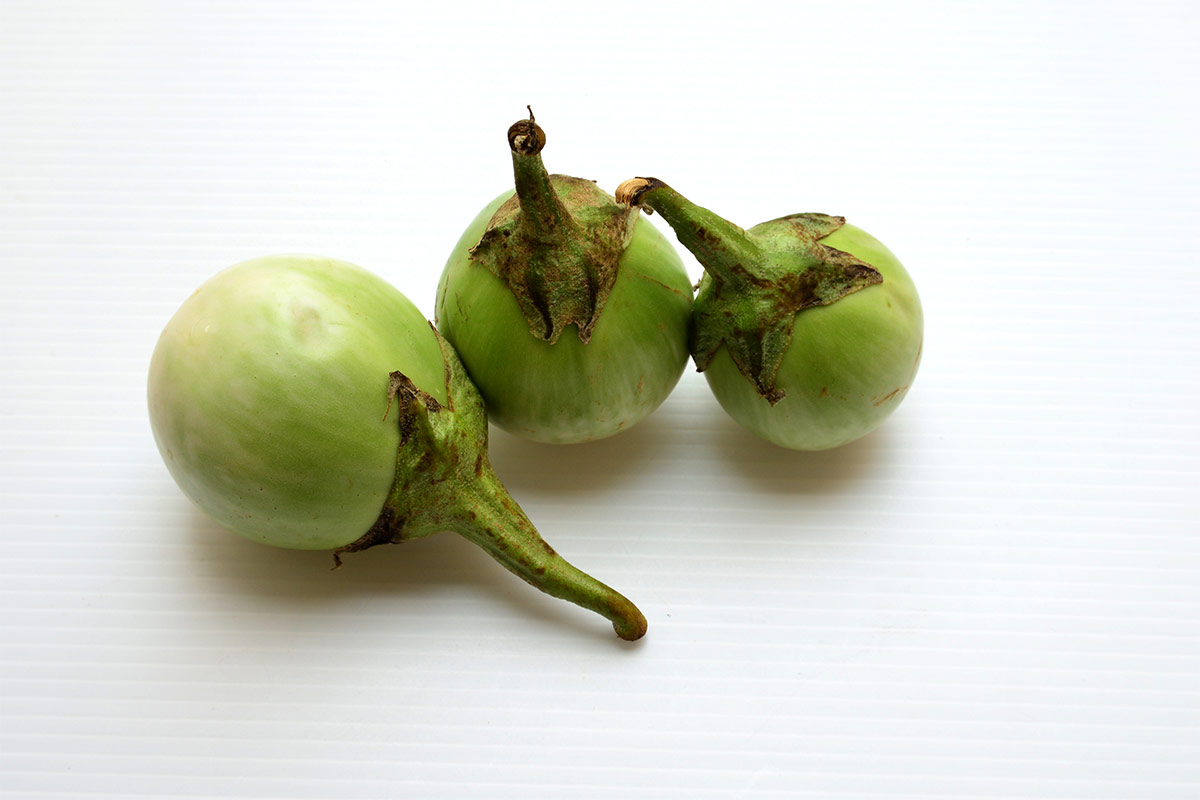 The phrase "Thai eggplant" really refers to many different types of eggplant often seen in Southeast Asian cooking. They're tiny and can only survive in the tropics.
Plant scientists have assigned the name Solanum melongena to this T vegetable.
Three-cornered leek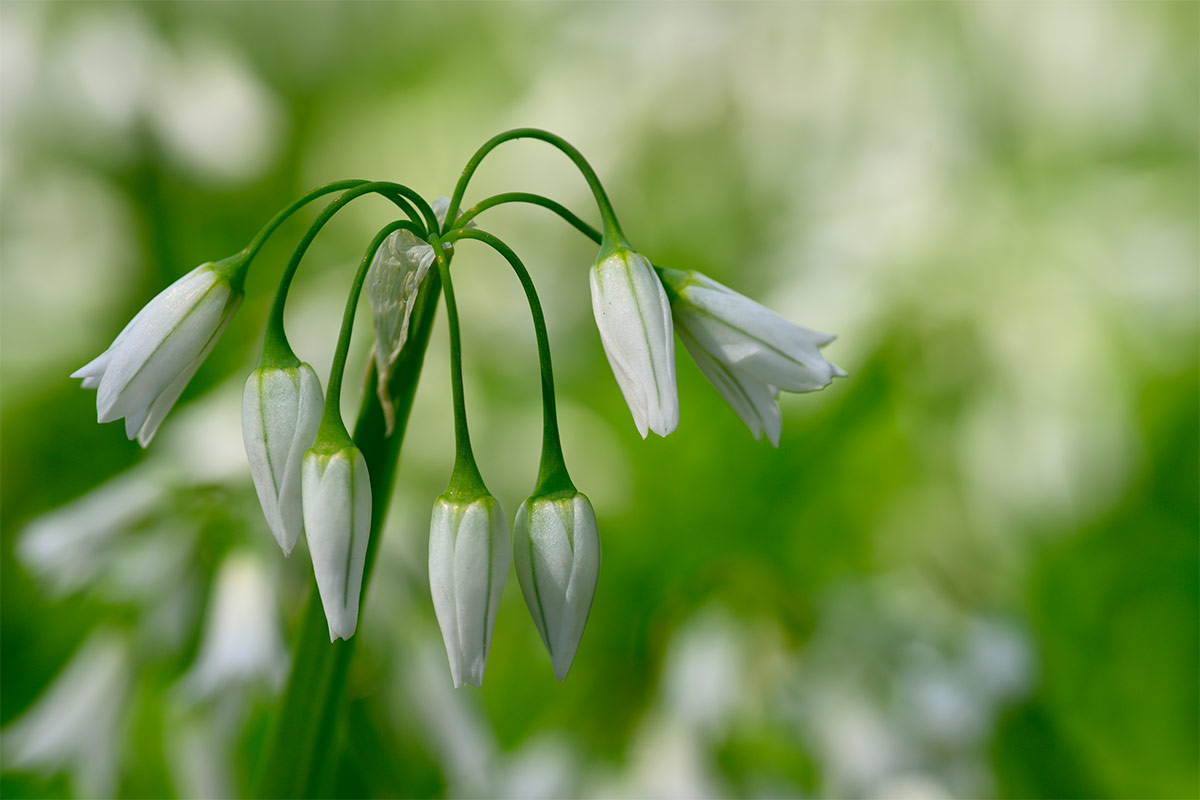 Unique among plants, the three-cornered leek can be consumed from root to tip.
Stews and soups benefit from the inclusion of the leaves and flowers, while the bulbous, onion-like roots of fully developed plants can be used as a seasoning.
The scientific name for these beautiful plants is Allium triquetrum.
Tigernuts
Tiger nuts, despite their name, are really a kind of root vegetable native to the warm climates of the Mediterranean and the tropics. They have a sweetness and an earthiness similar to coconuts.
This root vegetable can be eaten raw or made into milk. Lupinus mutabilis is its official scientific moniker.
Tinda
Tinda, sometimes called the Indian round gourd, is a mild-tasting green vegetable that is quite tiny in size. It goes well in stir-fries and other Asian dishes.
Praecitrullus fistulosus, more often known as apple gourd, is a squash-like vegetable that stands in for pumpkin in many recipes.
Tindora
The tindora, or ivy gourd, is yet another member of the gourd family among the vegetables beginning with T.
You can eat this tropical plant raw, pickled, or cooked in a number of tasty ways. Tindora is known by its scientific name, Coccinia grandis.
Tomatillo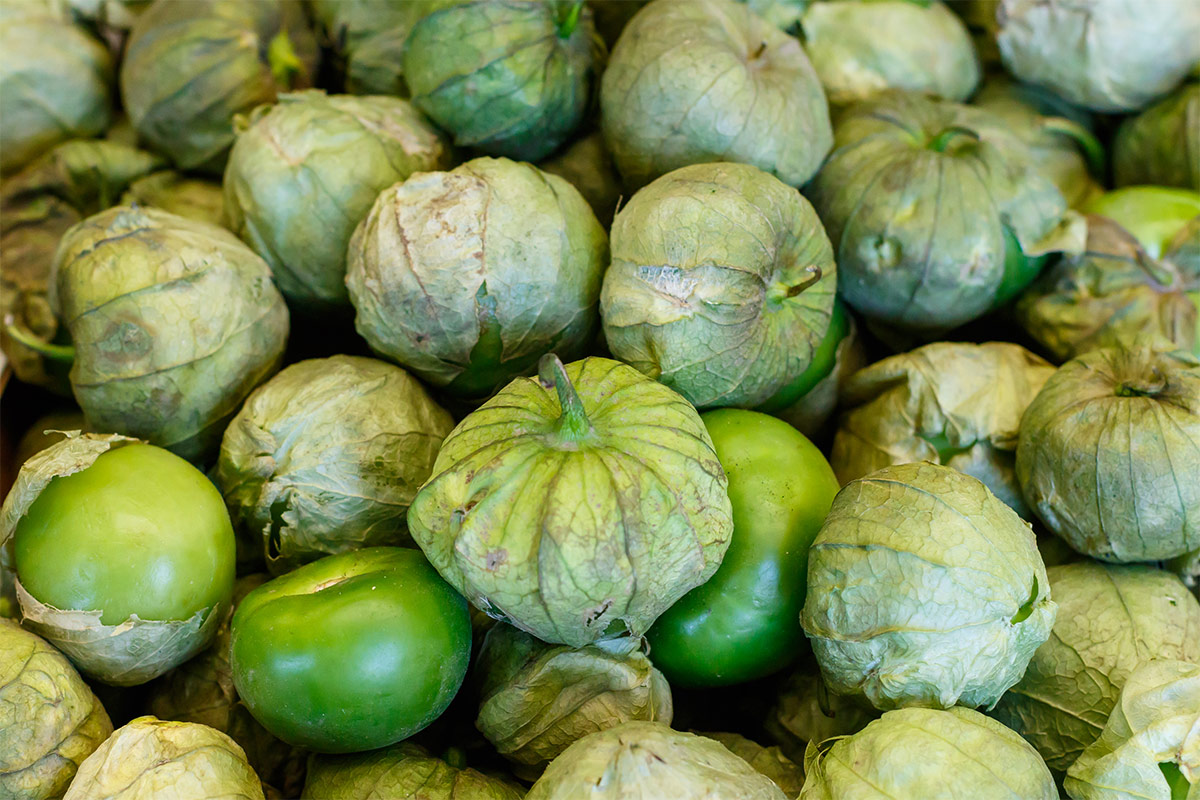 The tomatillo is a little green fruit that comes encased in a papery husk and is also known as the Mexican husk tomato. It's a mainstay in Mexican cooking because of its sweet-but-tart taste that's reminiscent of an unripe tomato with nutty overtones.
Salsas, a wide variety of sauces, and even stews and soups benefit from their inclusion. Physalis philadelphica is the scientific name for tomatillos.
Here are some more green veggies to try if you're looking for something other than green tomatoes.
Tomato
Tomatoes are botanically fruits, yet in the kitchen, they are a valuable vegetable. Since their sugar level is far lower than that of most other fruits, they can be utilized in savory applications such as salads, sauces, and stews.
Tomatoes, known by their scientific name Solanum lycopersicum, are packed with nutrients.
Tonka bean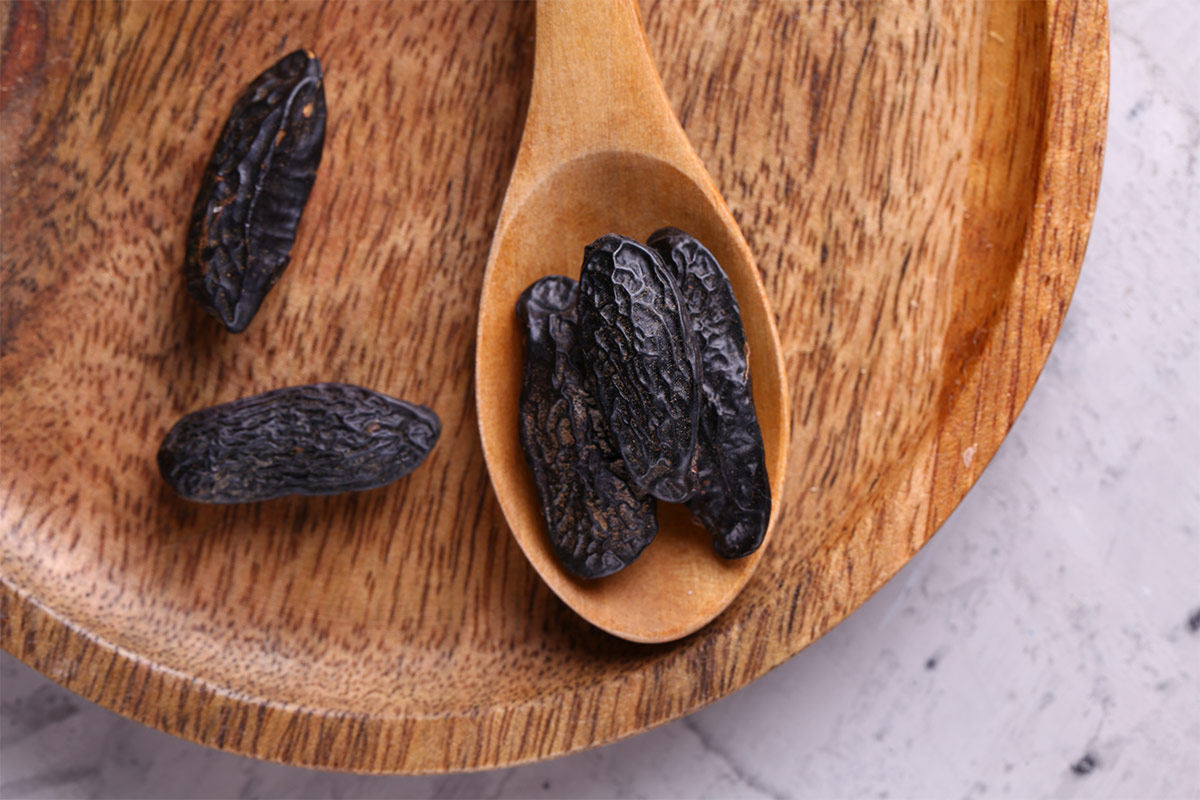 The tonka bean is the seed of a tree that grows naturally in South America.
It's wrinkly and black on the outside, yet soft and silky within. It's useful in the medical field, but it also smells nice and tastes well in baked goods. The scientific name for this seed is Dipteryx odorata.
Tree onion
The tree onion, or Egyptian walking onion, is a perennial plant with bulbs that seem remarkably similar to those of regular onions but instead grow in clusters.
Botanically speaking, they are known as Allium proliferum, and their edible forms range from raw to fried or used as a seasoning.
Tree spinach
The edible leaves of this perennial shrub resemble cassava but are used to substitute spinach.
Younger shoots taste more like spinach and are used in salads, stir-fries, and soups. Scientifically, tree spinach is Cnidoscolus aconitifolius.
Trinidad scorpion butch T pepper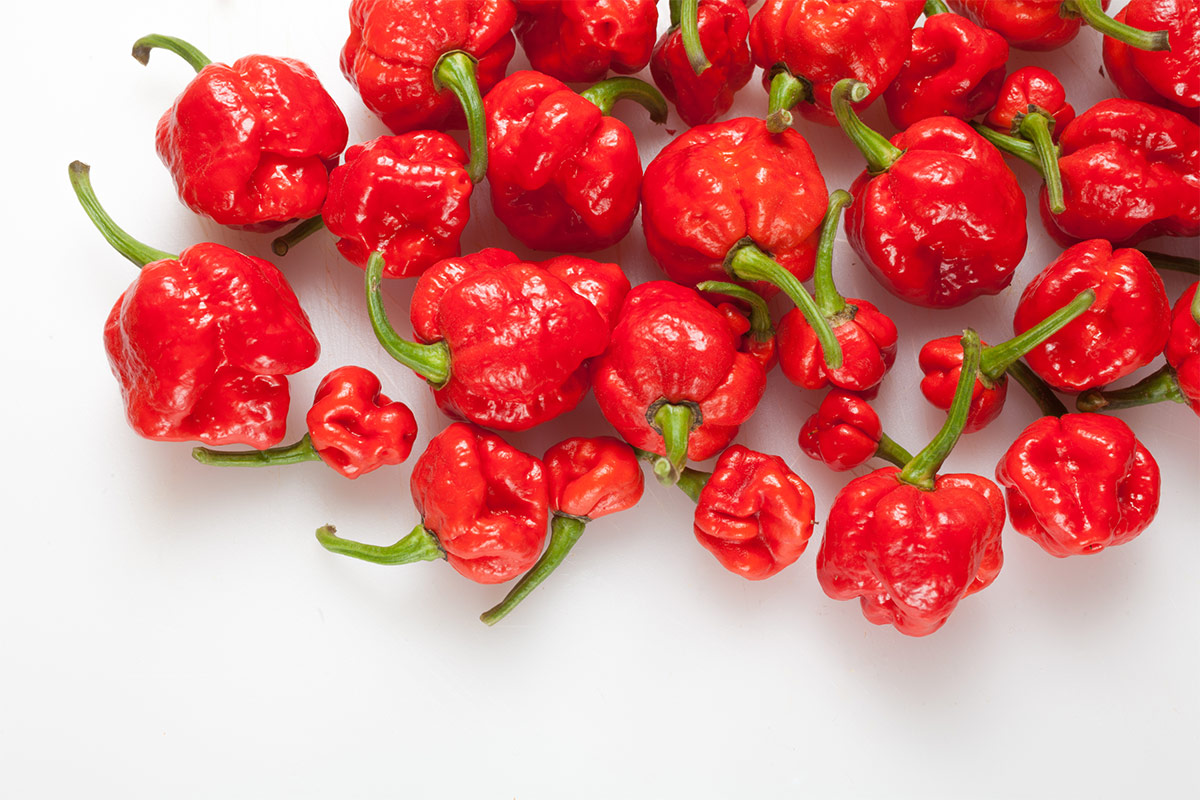 Trinidad scorpion butch T peppers are among the hottest in the world. It's scientifically known as Capsicum chinense 'Trinidad Scorpion Butch T'.
This pepper is lumpy and creased. It's used in sauces, dips, and taco fillings.
Trumpet mushroom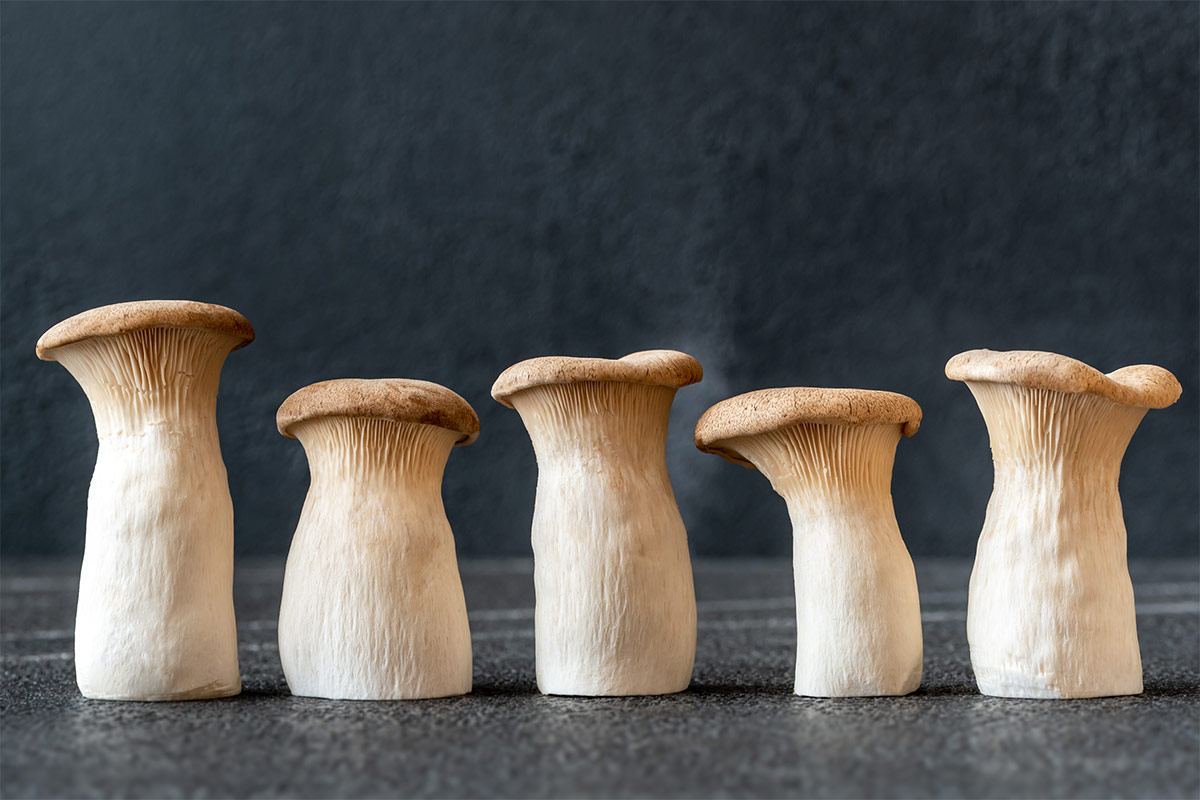 Mushrooms, which are technically fungi, are still a delicious and versatile culinary addition. The trumpet mushroom is a kind of oyster mushroom with a conical stem and a flatter cap.
When cooked, they absorb flavor well and have a soft, spongy consistency. The proper scientific name for these large mushrooms is Pleurotus eryngii.
Turmeric
Turmeric is a plant in the ginger family valued for its rhizome. Its plant is herbaceous and perennial and is packed with loads of health benefits.
To utilize turmeric as a spice, it must first be cooked, dried, and then crushed into a fine orange powder. Curcuma longa is the scientific name for turmeric.
Turnip
The turnip is a culinary staple produced all over the globe for its light yellow hue, earthy taste, and crisp texture.
Its white and purple flesh goes well in a wide range of soups, stir-fries, and stews. Brassica rapa subsp. rapa is the scientic name for this green vegetable.
Tuscan kale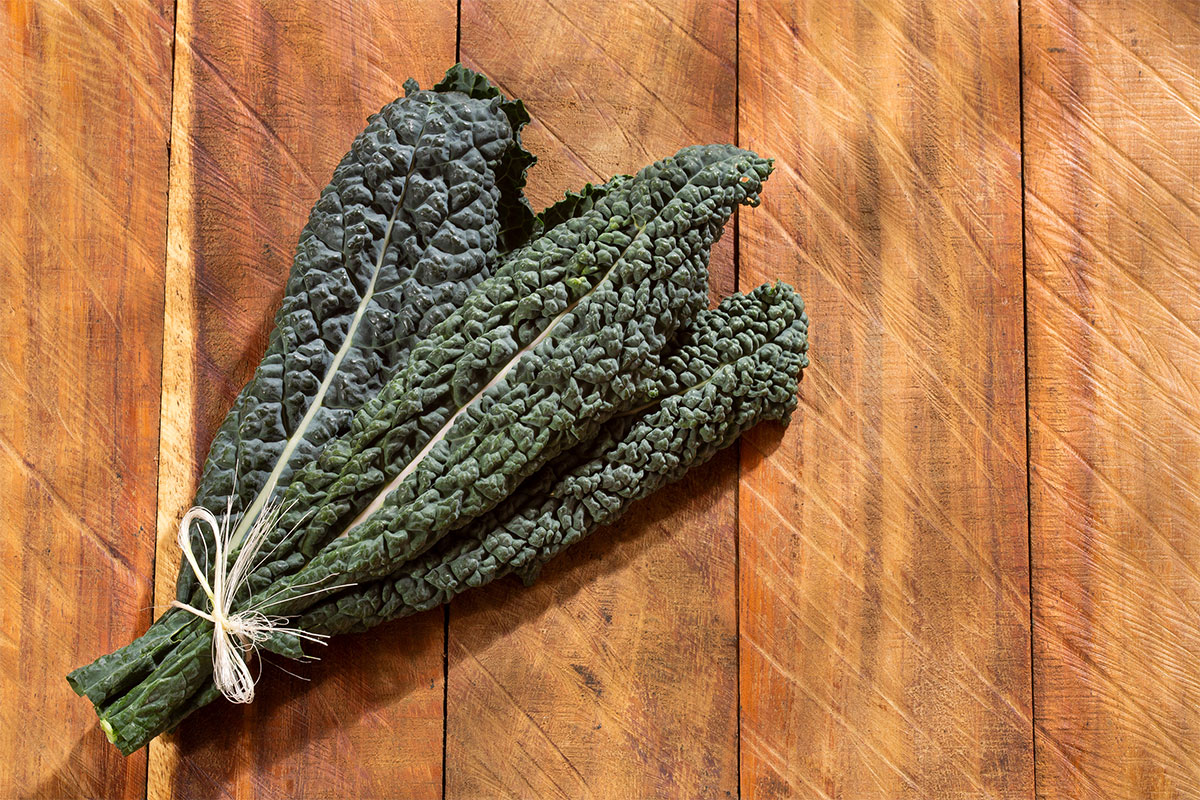 Tender and somewhat sweet Tuscan Kale is a favorite leafy green in Italian cooking.
It is often referred to as dinosaur kale due to its dark green hue and many wrinkles (in place of curls). Brassica oleracea var. palmifolia is the scientific name for this well-liked vegetable.
Fruits that start with T
Tachibana orange
The wild Tachibana orange is one of the many types of mandarin oranges. It is brilliant orange in color and has a flattened form; it is a native of Japan.
Because of its bittersweet taste, it works well in marmalades. Citrus × tachibana is its official Latin name.
Tahitian apple
This fruit, native to Tahiti, is widely consumed because of its health benefits. It's native to a wide range of tropical regions, and it's great for snacking or spicing up salads with its crisp texture and gently sweet flavor.
The fruit can be green when unripe but becomes a bright yellow when it's ready to eat.
Tamarind
The tamarind fruit, a member of the legume family with a distinctive sweet-and-sour taste, originates in the African tropics. It's used to provide food and drinks with a zingy flavor and has several health advantages.
Tamarindus indica is the botanical name for this fruit.
Tangerine
Tangerines are orange fruits with a thick leathery rind which is easy to peel. This citrus fruit is sweeter and less sour than most of its family.
When mature, tangerine fruit is utilized in sweet drinks, snacks, and dishes. Citrus tangerina is this T fruit's scientific name.
Tangor fruit
Tangors are a cross between mandarins and sweet oranges.
Its flesh is rich and delicious, and it glows an eye-catching orange. The scientific name for this fruit is Citrus reticulata × sinensis.
Tayberry
The tayberry is a delicious hybrid fruit with the flavor profiles of blackberries and red raspberries. It is a kind of aggregation fruit that is not as sour as its parent and is hence popular as a snack food and an ingredient in salads.
Jams, pies, and tayberry cocktails are further uses for this versatile fruit. Rubus fruticosus x idaeus is the scientific name for the tayberry.
Teardrop tomatoes
These little tomatoes, sometimes referred to as "pear-shaped tomatoes," have a firm texture and juicy flesh. They come in both yellow and red varieties and are prized for their crack resistance and delicious, somewhat sour taste.
These pears are roughly the size of cherry tomatoes and can be found in many different salads. This fruit is known as Lycopersicon esculentum var. cerasiforme in scientific terms.
Texas Mayhaw
The Texas Mayhaw is a tiny fruit that is native to the southern United States and tastes a lot like a crabapple.
Jellies, syrups, and even wine are all made from this T fruit because of its pleasing tartness.
Crataegus opaca Hook. & Arn. is the scientific name of the mayhaw fruit.
Texas persimmon
The Texas persimmon is a little fruit found in many parts of the Lone Star State. When fully ripe, the Texas persimmon has a rich and sweet taste.
Its rich purple hue gives a touch of sophistication to any dish, therefore it is often used in jams and sweets. Diospyros texana is the scientific name for the Texas persimmon.
Thai lychee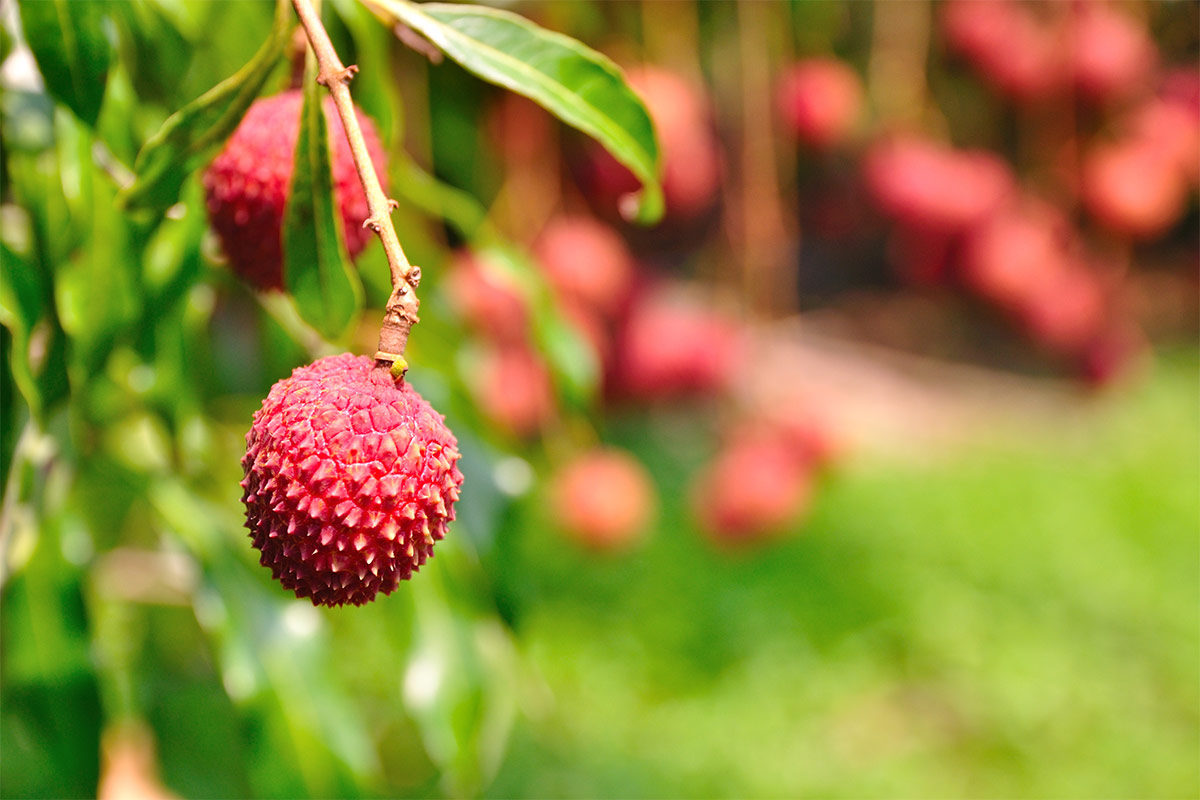 The Thai lychee has sweet and juicy pulp. Its mild flavor makes it a versatile addition to many different types of sweets and fruit salads.
This Southeast Asian fruit has red inedible skin. Thai lychee is also known as Litchi chinensis or simply lychee.
Thorn melon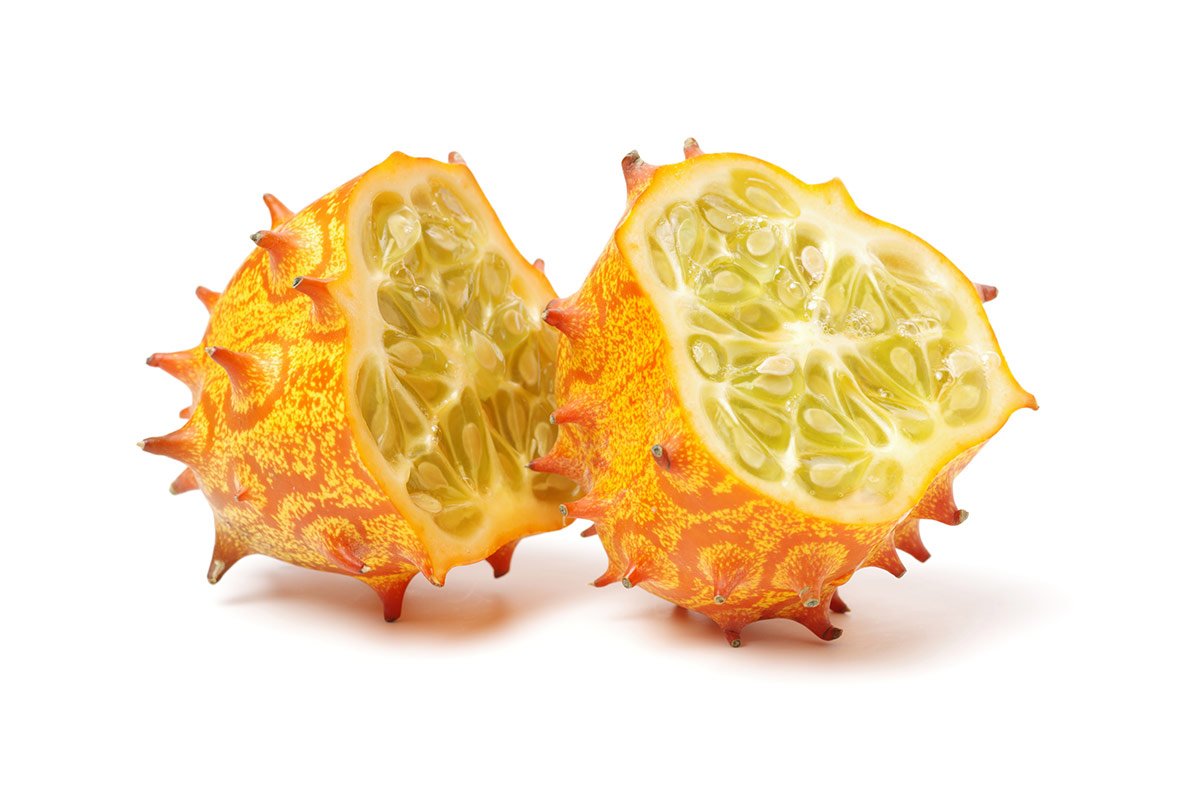 The thorn melon, or Kiwano as the locals call it, is an unusual fruit with a flavor and texture reminiscent of cucumber.
It has a mild, mildly sweet taste and edible seeds, and its yellowish, spiky surface gives rise to its other common name, "spiked melon."
Its scientific name is Cucumis metuliferus, and it works well in both sweets and smoothies.
Tibetan Goji berry
The health advantages of goji berries are well-known, and the Tibetan version is no exception. Tibetan Goji berries, originally from China, are a little red berry with a sweet-sour taste.
These little red fruits are loaded with antioxidants. They go by the scientific name Lycium barbarum.
Tindora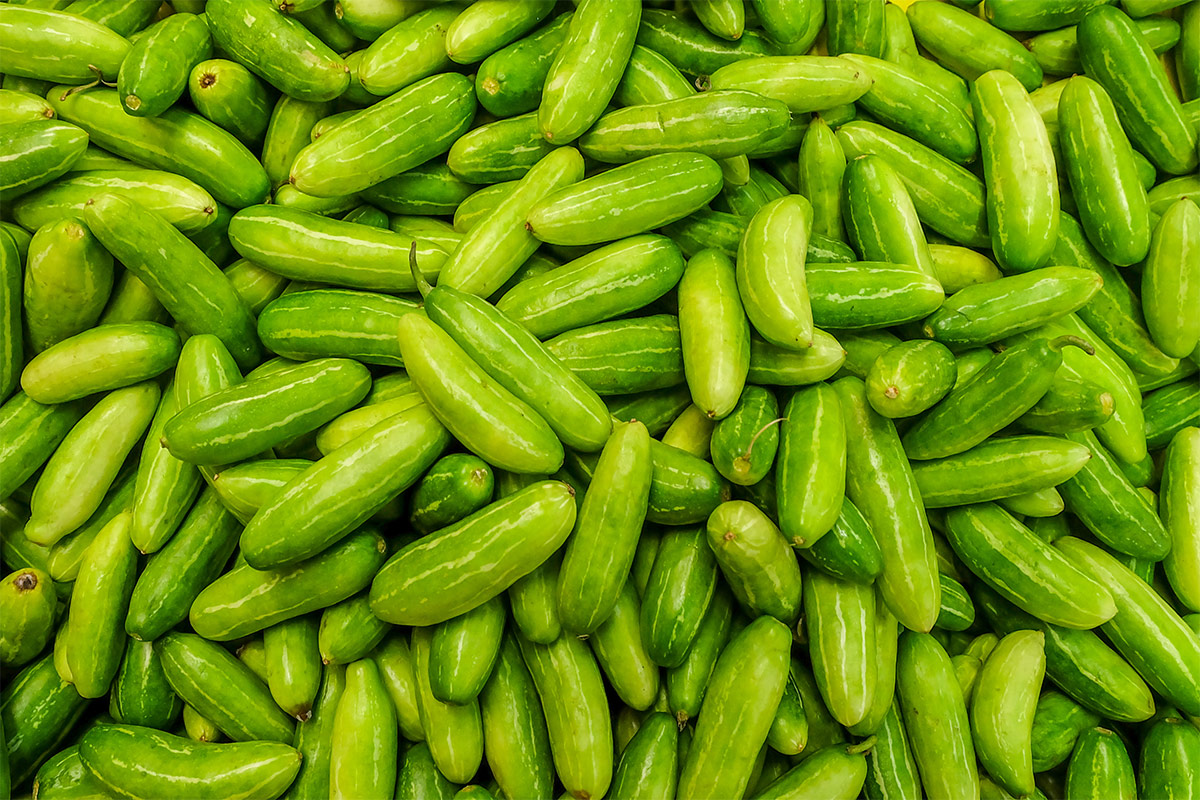 The ovoid-shaped tindora fruit is endemic to the tropical zones of Africa and Asia. This little fruit, which can be found in shades of green, yellow, orange, and even red, is a staple in Indian cooking and is enjoyed both fresh and cooked.
The tindora fruit is crunchy, and the aftertaste is somewhat bitter. Also known as ivy gourd, or Coccinia grandis is often used in pickling.
Toka plum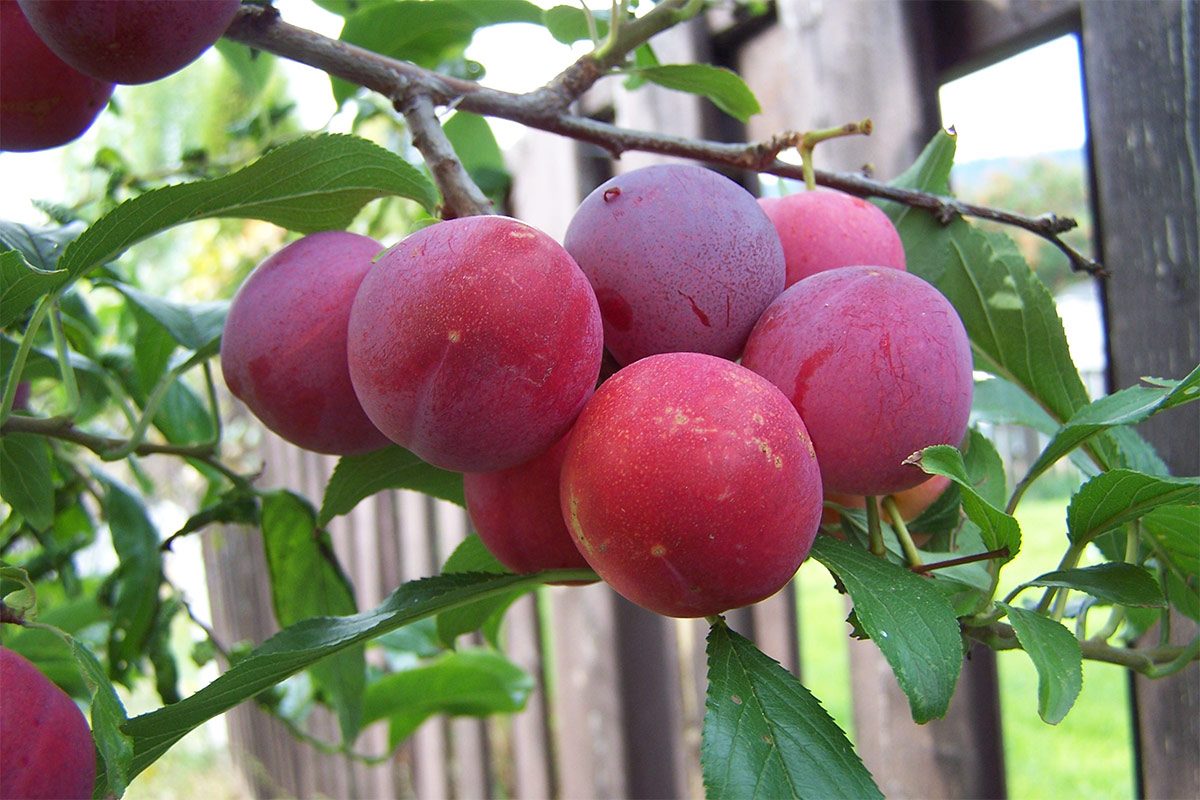 The toka plum is a juicy, ruby-red fruit. When mature, its flavor is described as "the essence of bubblegum," and its tree is valued for its attractive and fragrant white blooms. The fruit is called Prunus 'Toka' in the scientific world.
Tomato
Tomatoes, contrary to popular belief, are botanically speaking a kind of fruit (a berry) rather than a vegetable.
It's a great way to get more vegetables into your diet, and it goes well with salads, sandwiches, and other stews and sauces.
This edible plant goes by the scientific name Solanum lycopersicum and is one of the world's most adaptable fruits.
Tomato berry
Tomato berries are a hybrid variety of the ordinary tomato, and they are a relatively unknown fruit that has virtually all of the qualities of the common tomato.
They're strawberry-shaped but considerably more diminutive. The somewhat sweet flavor of these fruits makes them an excellent snack food or an interesting addition to salads and sweets.
Tommy Atkins mango
Despite its less-than-desirable flavor, the Tommy Atkins mango cultivar is prized for its long shelf life.
In comparison to other types of mangoes, they keep for a longer period of time and are less likely to spoil during travel. The fruit is known by its scientific name, Mangifera indica 'Tommy Atkins'.
Toromiro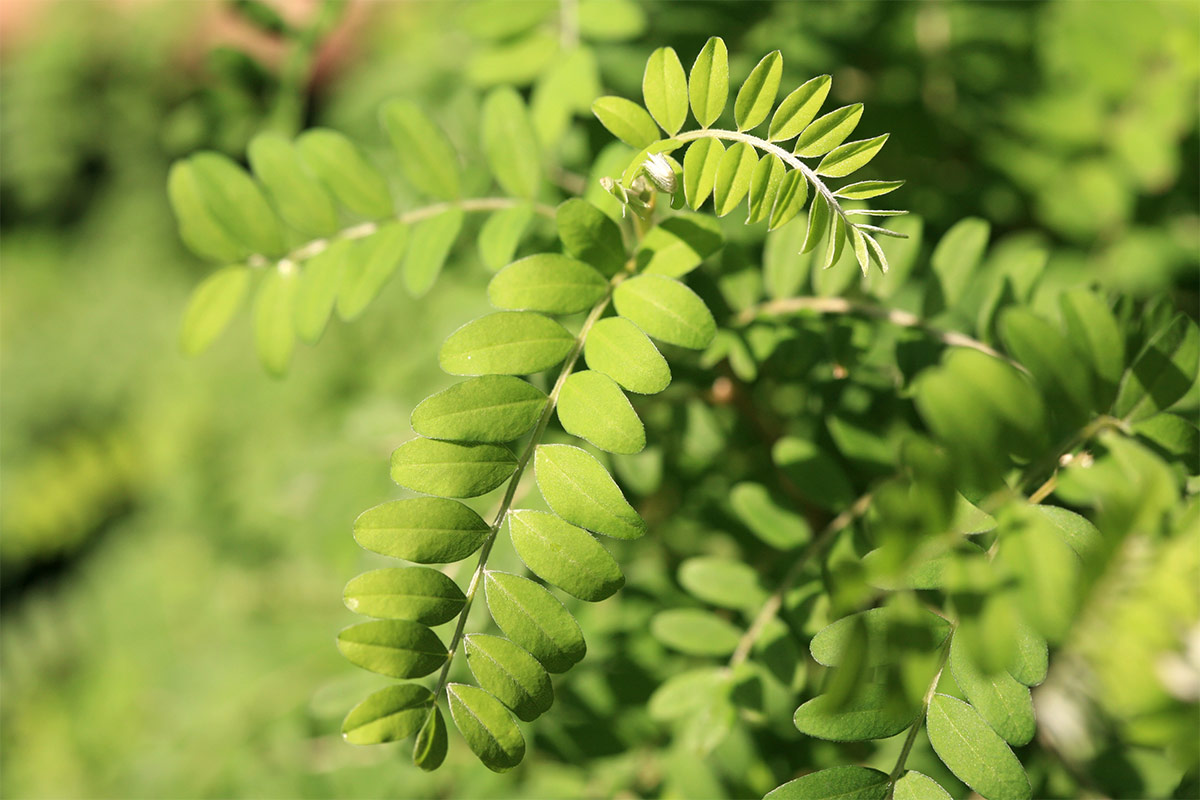 The Toromiro fruit is a delicacy that can be found on Easter Island. The high quality of the tree's wood is highly prized, and the tangy, somewhat sweet fruit is a favorite of the locals.
This fruit, known scientifically as Sophora toromiro, is now believed to be extinct in the wild.
Tree strawberry
This fruit has a distinct taste and grows on trees, making it unlike the conventional strawberry. Despite looking like a lychee, this fruit is far smaller and has a sweet-but-sour flavor that makes it ideal for jellies, jams, and even as a garnish.
It originates in the Mediterranean and is also known there as the arbutus berry. The evergreen shrub, Arbutus unedo, is the scientific name for the tree from which this fruit is harvested.
Tree tomato
This fruit, which goes by the name tamarillo, is notable for its brilliant red or orange color and unusual egg-like form. Originating in South America, the tree tomato has gained widespread international popularity due to its delicious flavor.
Tomatoes and passionfruit seem to go hand in hand in describing its taste. The tamarillo fruit is scientifically known as Solanum betaceum.
Trifoliate orange
Although the trifoliate orange is most often grown for its ornamental value, its fruit is very remarkable. It's a citrus fruit with a mild, muddled flavor that's been compared to a cross between lemon and grapefruit.
The scientific name for the citrus fruit used in making marmalades and preserves is Poncirus trifoliata.
Tropical guava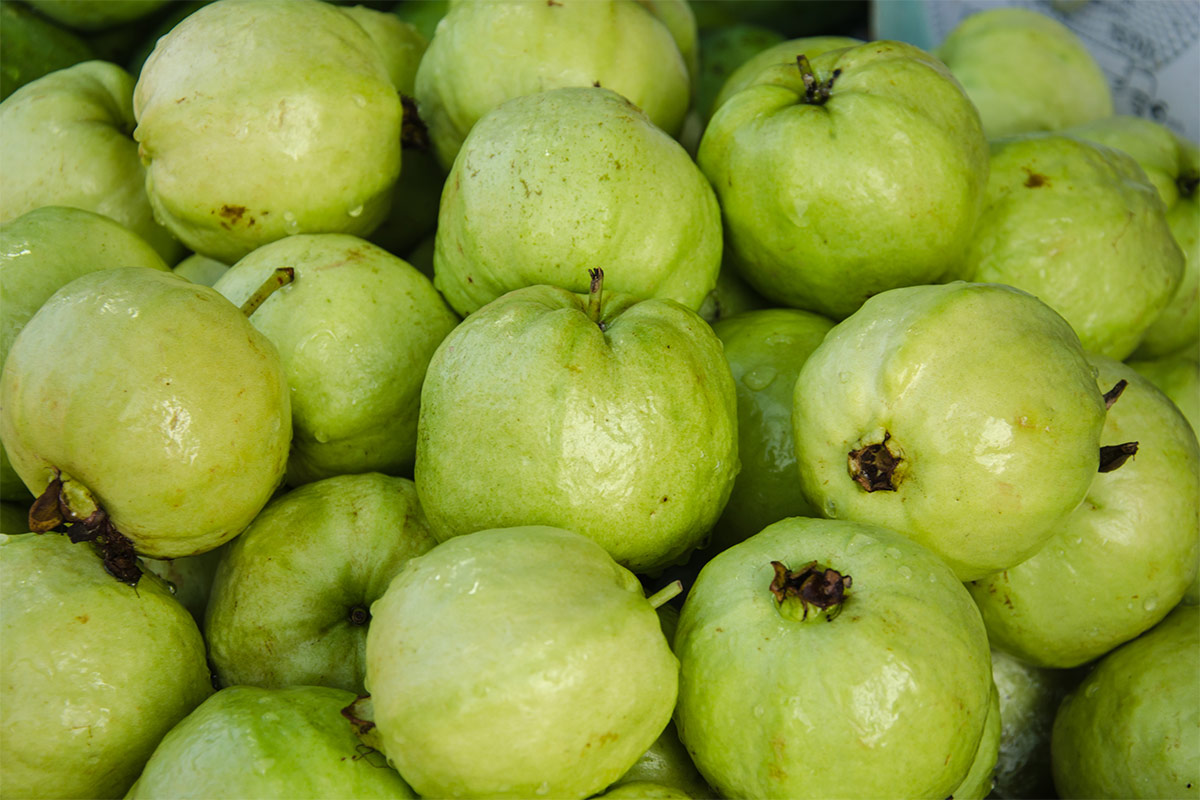 The tropical guava is a tiny fruit with a variety of colors from green to yellow with a delicate, pinkish-red flesh.
The flavor somewhere between peach and strawberry, works well in desserts, cocktails, and other sweet preparations. The scientific name for this T fruit is Psidium guajava, and it provides a wide variety of essential elements.
Tulip apple
The tulip apple is a unique variety of the common apple fruit (Malus domestic). It has a distinct tulip-like shape when it's cut laterally. It has a crisp texture, just like other varieties of apples.
Tuna (prickly pear)
The tuna fruit is the edible fruit of the prickly pear cactus, which is native to the Americas and particularly well-liked in Mexico.
Colorful and tasty, the "tuna" fruit goes well in fresh salads or gets stirred into all sorts of sugary beverages.
The blooming plant that produces this fruit belongs to the Opuntia genus.
Twinberry
This exotic North American fruit is named for the way its two berries develop side by side.
Twinberry honeysuckle is another name for these berries, which can range from mildly sour to downright unpleasant and bitter.
Known by its scientific name, Lonicera involucrata, twinberries are a popular ingredient in sweet preserves.
Conclusion
Now, wasn't that one heck of a journey? This list of more than a hundred dishes, cuisines, and whole foods has taken us on a mouthwatering trip through different cultures and flavors.
From tantalizing tacos and tangy tamarind to comforting tomato soup and creamy tahini, the world of culinary treasures starting with "T" is truly diverse and exciting.
Whether you're a meat lover, vegetarian, or vegan, there's something for everyone to enjoy. So go ahead, get adventurous in the kitchen, and get to know the wonderful world of foods that start with T!
And, if you're searching for even more options to explore, how about you check out these foods that start with Z, foods that start with S as well as these foods that begin with the letter X?
Also, don't forget about fruits starting with T and these amazing T veggies!
Have a look at them all and tell me what you think in the comments below.
110 Amazing Foods That Start With Letter T: 2023 Edition
Whether you're out for condiments, dishes or anything edible in between, have a look at some foods that start with T.
Ingredients
Whole foods and condiments that start with T
Tahini

Taleggio

Tamarind chutney

Tapenade

Tartar sauce

Teff

Tempeh

Tofu

Tomatillo salsa

Tortillas

Truffles

Turmeric

Turnip greens

Tzatziki
Sweet treats and beverages that start with T
Tahini cookies

Tahini yoghurt bowl

Tamales de Elote

Tapioca pudding

Tart

Thai mango sticky rice

Tiramisu

Tres Leches cake

Trifle

Turmeric latte
Savory dishes that start with T
Tabbouleh

Tabbouleh stuffed peppers

Tabouli wrap

Tacos

Tamales

Tandoori chicken

Tapenade stuffed chicken

Tarragon chicken

Tater tots

Tempura

Tempura Udon

Teriyaki

Thai green curry

Tikka masala

Tofu scramble

Tofu stir-fry

Tom Yum soup

Tomato and avocado salad

Tomato and mozzarella caprese salad

Tomato-basil soup

Tomato Bruschetta

Tomato soup

Tomato tart

Tonkatsu

Tortellini

Tortelli d'Erbetta

Tortilla española

Tostada

Tostones

Tuna casserole

Tuna salad

Tuna sashimi

Turmeric chicken curry

Turmeric rice

Turmeric roasted cauliflower

Tres colores pasta

Tzatziki salmon

Tzatziki-quinoa salad
Vegetables that start with T
Tabasco pepper

Tamarind leaves

Taro

Tarragon

Tarwi

Tatsoi

Tepary bean

Thai basil

Thai eggplant

Three-cornered leek

Tigernuts

Tinda

Tindora

Tomatillo

Tomato

Tonka bean

Tree onion

Tree spinach

Trinidad scorpion butch T pepper

Trumpet mushroom

Turmeric

Turnip

Tuscan kale
Fruits that start with T
Tachibana orange

Tahitian apple

Tamarind

Tangerine

Tangor fruit

Tayberry

Teardrop tomatoes

Texas Mayhaw

Texas persimmon

Thai lychee

Thorn melon

Tibetan Goji berry

Tindora

Toka plum

Tomato

Tomato berry

Tommy Atkins mango

Toromiro

Tree strawberry

Tree tomato

Trifoliate orange

Tropical guava

Tulip apple

Tuna prickly pear

Twinberry