Hey there, fellow food enthusiasts! Today, I'll be taking you on a delicious journey through a list of over 60 different dishes and foods that start with S.
What is a food that starts with S?
From savory to sweet, from breakfast to dessert, we've got it all covered. I searched the internet tirelessly to come up with this comprehensive list of different kinds of foods from all corners of the globe that begin with the letter S.
Use it to explore and learn more about new and different kinds of cuisines or as a handy prep resource for a pop quiz!
Dig into this tantalising list of foods that begin with the letter s!
Savory and spicy foods
Salsa
Salsa is a kind of Mexican condiment for tacos and other Mexican foods made from tomatoes, peppers, and onions. It's usually confused for being a hot sauce and either served raw or cooked and is also great as a dip for chips.
Salt and pepper shrimp
A Chinese dish made with shrimp that's been lightly coated in a starchy batter and seasoned with all kinds of spices including salt and pepper.
Samosas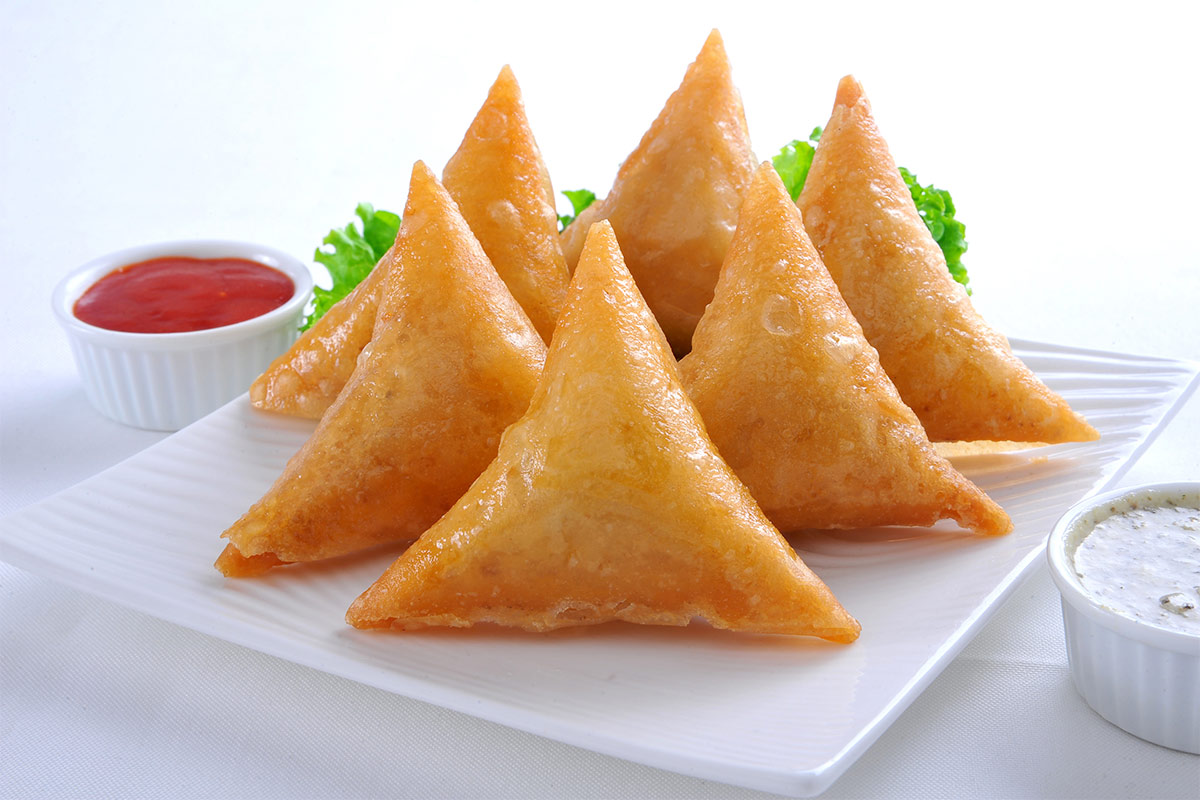 Also known as singara, a samosa is a kind of South Asian pastry made from a thin cylindrical or triangular-shaped piece of dough that's been stuffed with a savory filling made of veggies or meat and then deep-fried or baked.
Sauerbraten
Sauerbraten is a German dish made from roasted beef that's been marinated in a sour but savory mixture of wine, vinegar and spices then left for several days.
Sausage and peppers
Sausage and peppers is a hearty dish featuring sausages and colorful bell peppers cooked together. It can be served alone or with a side like some rice, pasta or even stuffed in between some bread to make a sandwich.
Scrambled eggs
One of the most beloved breakfast staples all across the world, scrambled eggs is a dish made from eggs, seasoning and other ingredients (like dairy products) cooked in such a way the eggs form into curds in contrast to flattening out.
I occasionally make this breakfast. I do like scrambled eggs with cream cheese, yum! 🙂
Seafood paella
Paella itself is a popular Spanish dish made with rice, vegetables, saffron and other spices cooked and served in a large pan with meat. It's called seafood paella when the meat used there consists of fish, shrimp, prawns and other forms of seafood.
Shepherd's pie
Shepherd's pie is a comforting British dish also known as cottage pie. It's a casserole kind of meal made from minced meat, and vegetables laced in a rich tomato sauce, topped with mashed potatoes, and then baked.
Shepherd's pie is usually served as the main course and can be accompanied by a side of glazed carrots or roasted sweet potatoes.
Shish kebab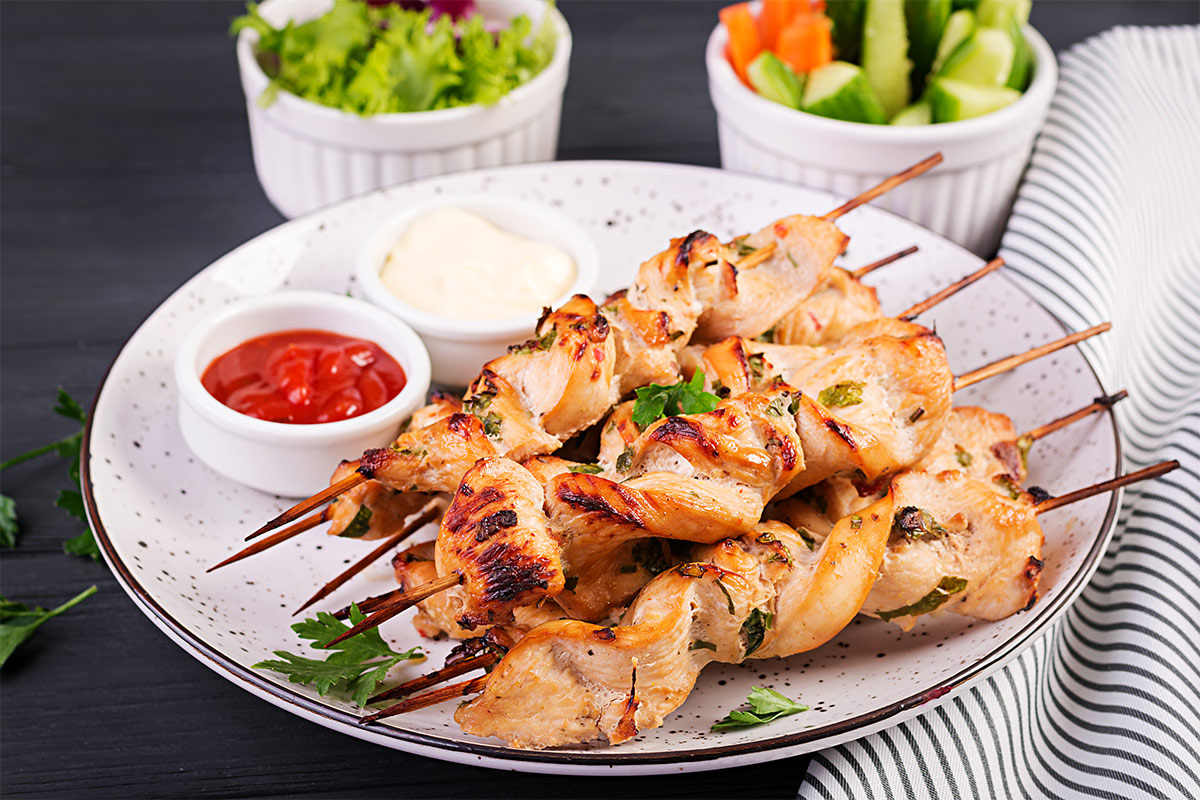 Shish Kebab is a popular Middle Eastern dish made with spicy grilled meat and vegetables that have been cooked and served on a skewer.
Shrimp scampi
Shrimp scampi is a unique and savory Italian-American dish. It's basically garlicky-flavored shrimp that's sauteed with some other spices, lemon juice or wine (usually dry white wine) and butter.
Soba noodles
A type of thin Japanese noodles made from buckwheat flour and wheat flour, giving the dish a subtly nutty flavor and earthy taste. This Japanese dish is usually served chilled with some dipping sauce or as a steaming hot noodle soup.
Learn some healthy buckwheat flour alternatives along the way! They have the potential to be very useful kitchen additions.
Spaghetti bolognese
Spaghetti bolognese is a classic Italian dish made of pasta tossed in or served with a sauce made from tomatoes, wine, herbs, spices and minced meat, usually beef. It's usually topped off with cheese like mozzarella or even Swiss cheese.
Spanakopita
Spanakopita is a kind of Greek dish made with spinach and feta cheese topped with layers of pastry crust and baked in a casserole. It's basically a savoury spinach pie.
Spicy tuna roll
Spicy tuna rolls are a popular kind of sushi roll in the United States of America. It's made of the usual sushi ingredients but here, we've got finely chopped tuna that's being wrapped.
Spinach and artichoke dip
A spinach artichoke dip is one made with a creamy base of mayonnaise, sour cream, cream cheese and features two main green vegetables; spinach, and marinated artichokes.
The veggies are then combined with cheese, then baked, and served with chips and crackers.
If you can't get your hands on artichokes, try some of these artichoke heart substitutes for a unique twist!
Spinach and stuffed chicken breast
This dish is made from tender chicken breast that's been stuffed with a flavorful combination of spinach and feta cheese, seasoned then baked in a savoury sauce.
Steak
A juicy and tender piece of grilled beef, where the meat has been sliced across the muscle fibers and doesn't include any bone. It's a popular food beginning with S that's usually eaten with a side for dinner or during gatherings.
Stir fry
Stir fry is a common Chinese dish made with vegetables and a protein like meat, seafood or even tofu cooked in a wok. It can be served with a side or sometimes, additional ingredients like pasta and a sauce are added to make this a whole meal on its own.
Stuffed peppers
A common dish made with different kinds of sweet peppers (especially bell peppers) that have been filled with rice, meat, and vegetables usually topped with cheese and then baked, usually in a casserole.
Sushi
Probably the most well-known Japanese dish worldwide, sushi is a unique delicacy consisting of vinegared rice, some raw fish and raw seafood as a whole that can be cooked sometimes. It's also topped with various ingredients like jalapeno peppers and sesame seeds.
Swedish meatballs
A European dish often referred to as Kottbullar in Sweden, Swedish meatballs is an S food that combines seasoned ground meat rolled up into small spheres with bread crumbs and flour then dipped in a savory and creamy sauce.
Szechuan chicken
A dish originating in southeast Asia (more specifically, it's Chinese) made of small cuts of tender chicken pieces and chopped veggies that have been spiced to perfection and then seared together in a pan.
Satisfying soups
Seafood chowder
Seafood chowder is a creamy and flavorful soup filled with an assortment of seafood that can be eaten on its own or even as a starter. To make this soup even more hearty, it can be served with a side of crusty bread.
Soba noodle soup
A Japanese soup consisting of buckwheat and wheat noodles served in a hot and savory broth and then topped with all kinds of ingredients like sesame seeds, meat and even seafood.
Spicy chicken tortilla soup
Spicy chicken tortilla soup is a zesty dish made with a variety of ingredients like shredded chicken and all sorts of vegetables like tomatoes, carrots and peppers then topped with crunchy tortilla strips.
Split pea soup
A greenish-yellow thick and comforting soup made with split peas, flavourful vegetables, and ham or bacon. It's usually served with some rice, croutons, chips or even a side of toast.
Squash soup
Squash soup is a velvety soup made with roasted or pureed squash with vegetables like onions, potatoes as well as carrots and aromatic spices. It's usually somewhat orange in color and has a nice and rich consistency.
Scrumptious salads
Shepherd's salad
Also known as choban salad, Shephed's salad is a kind of Turkish salad made with finely chopped veggies. It usually includes some fresh tomatoes, cucumbers, onions, and herbs like parsley tossed in a tangy vinaigrette of olive oil and lemon juice.
Southwestern black bean salad
A vibrant salad featuring black beans, canned corn, avocado, tomatoes with herbs like cilantro, and a zesty lime dressing. It's great for having during potlucks and all kinds of parties as well as gatherings.
Spinach salad
A spinach salad is basically a healthy salad featuring the leafy vegetable, fresh spinach leaves, as its main ingredient.
The salad usually includes many other ingredients like spices, parmesan cheese and fresh fruits topped with nuts and tossed in a simple, light vinaigrette like some vegetable oil.
Strawberry fields salad
A refreshing salad combining fresh strawberries mixed with greens, some strips of bacon, onion slices, dried berries, and feta cheese, topped with some glazed nuts drizzled in a balsamic dressing.
Summer caprese salad
A simple and elegant salad made with ripe tomatoes, topped with some mozzarella cheese, and fresh basil leaves, seasoned with a bit of salt and pepper then lightly drizzled in olive oil.
Sensational snacks
Salted pretzels
Salted pretzels are basically crunchy pastry, pretzels, sprinkled with coarse salt, perfect for snacking. The salt acts as an amazing finishing touch for the pastry, giving it a salty kick.
Shepherd's salad
Also known as choban salad, Shephed's salad is a kind of Turkish salad made with finely chopped veggies.
It usually includes some fresh tomatoes, cucumbers, onions, and herbs like parsley tossed in a tangy vinaigrette of olive oil and lemon juice.
Soft pretzels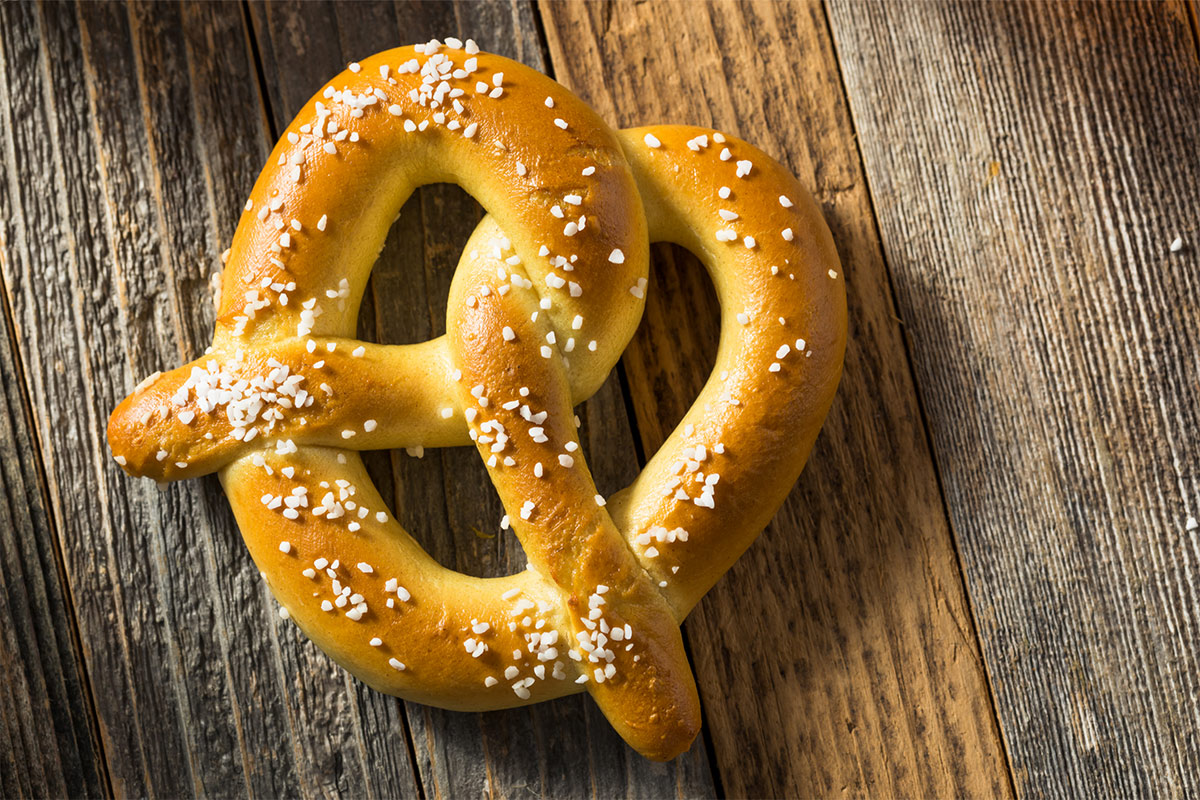 Soft pretzels are a kind of pastry made from wheat flour and as their name implies, they have a soft texture. This food with S is usually warm and chewy and can be enjoyed with some mustard or even cheese dip.
Stuffed mushrooms
Just like stuffed peppers, stuffed mushrooms are S foods where mushroom caps are filled with a delectable mixture of breadcrumbs, herbs, and cheese and then placed in an oven to bake or boiled.
Spring rolls
The Asian dish (more specifically, Chinese), spring roll, is an S food made with vegetables and some kind of protein wrapped in a thin rice paper wrapper and then fried till the outer is crisp. It's usually eaten as a healthy snack or filling appetizer.
Sweet and spicy nuts
This is a delightful blend of different kinds of roasted nuts like almonds, pecans, peanuts, walnuts, hazelnuts and cashews coated in a mixture of sugar or honey as well as some warm spices like cinnamon and nutmeg with a hint of heat.
Sandwiches
Smoked salmon bagel
A smoked salmon bagel is a kind of seafood bagel sandwich. It's a classic combo of thinly sliced smoked salmon, tomatoes, red onions and cucumbers placed between a split bagel with its sides slathered in cream cheese.
Sloppy joe sandwich
Sloppy Joe sandwiches are probably one of the most popular and beloved sandwiches all over the world. It's a messy yet delicious sandwich made with ground beef cooked in a tangy tomato-based sauce with veggies and served on a soft bun.
Spinach and artichoke grilled cheese
The Spinach and artichoke grille cheese sandwich is a unique twist on the classic grilled cheese sandwich. Here, fresh spinach is tossed with some spices and a creamy artichoke mix then placed between two pieces of bread to make a hearty sandwich.
Steak sandwich
A steak sandwich is a savory and popular kind of food with S made of tender slices or strips of steak that has been either grilled, fried, or barbecued then nestled between crusty bread, often topped with onions, cheese, and a flavorful sauce.
Sausage and egg breakfast sandwich
One of the best breakfast sandwiches, a sausage and egg breakfast sandwich is a hearty meal great to have in the mornings to kickstart a day.
It features a tasty sausage patty with some fried egg and melty cheese at its most basic level. Veggies like lettuce, avocado slices and even tomatoes can be added to this sandwich to make it even more healthy.
Sides and appetizers
Saffron rice
Saffron rice is basically just plain cooked rice with saffron and some kind of stew or stock made from simmering vegetables or meat in water. It's a staple of Persian cuisine and is usually eaten as a side.
Saganaki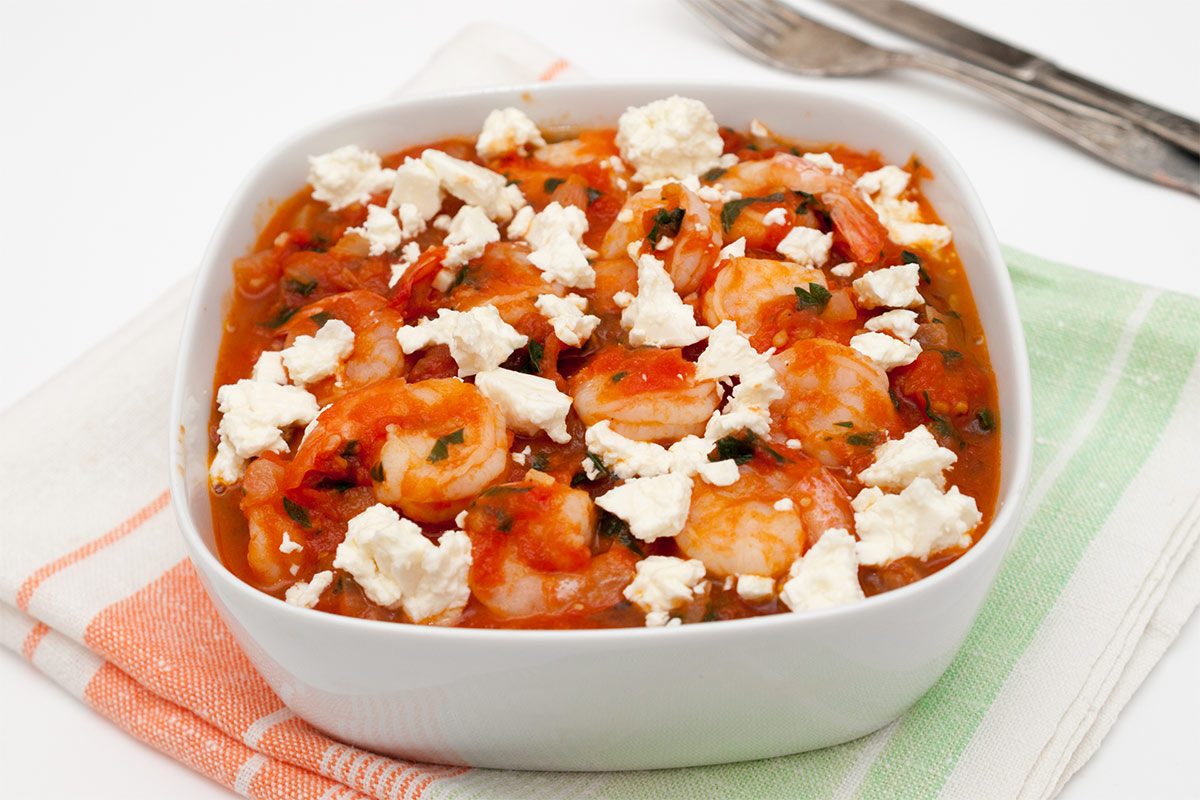 Saganaki is actually a variety of Greek dishes that obtain their name from the unique type of pan that's used to prepare them. Most of them are basically appetizers made from fried cheese A Greek dish made with fried cheese.
Sauteed mushrooms
Sauteed mushrooms, as the name implies, are a simple dish made by cooking mushrooms by lightly frying them in a pan. Tender and savory mushrooms are usually cooked with butter, garlic, and herbs and served as a side to a main dish or even used as some form of topping for meals
Scalloped potatoes
These S foods are made of thin slices of the root vegetable, potato, layered with a savory and creamy mix of cream, butter, cheese, and different spices like onions, garlic, salt, and pepper. Scalloped potatoes are baked in a casserole until golden and bubbly.
Spanish rice
Spanish rice is essentially a kind of rice pilaf. It's a flavorful and fluffy rice dish cooked with a tasty broth with some tomatoes, onions, all kinds of veggies and spices. Occasionally, herbs are also added to the rice to make it an even tastier side dish.
Steamed vegetables
A nutritious side dish featuring a variety of freshly cut vegetables, spiced then lightly steamed so as to retain their vibrant colors and crunch and drizzled in a simple sauce. It's served as a healthy side to some dishes.
Sweet potato fries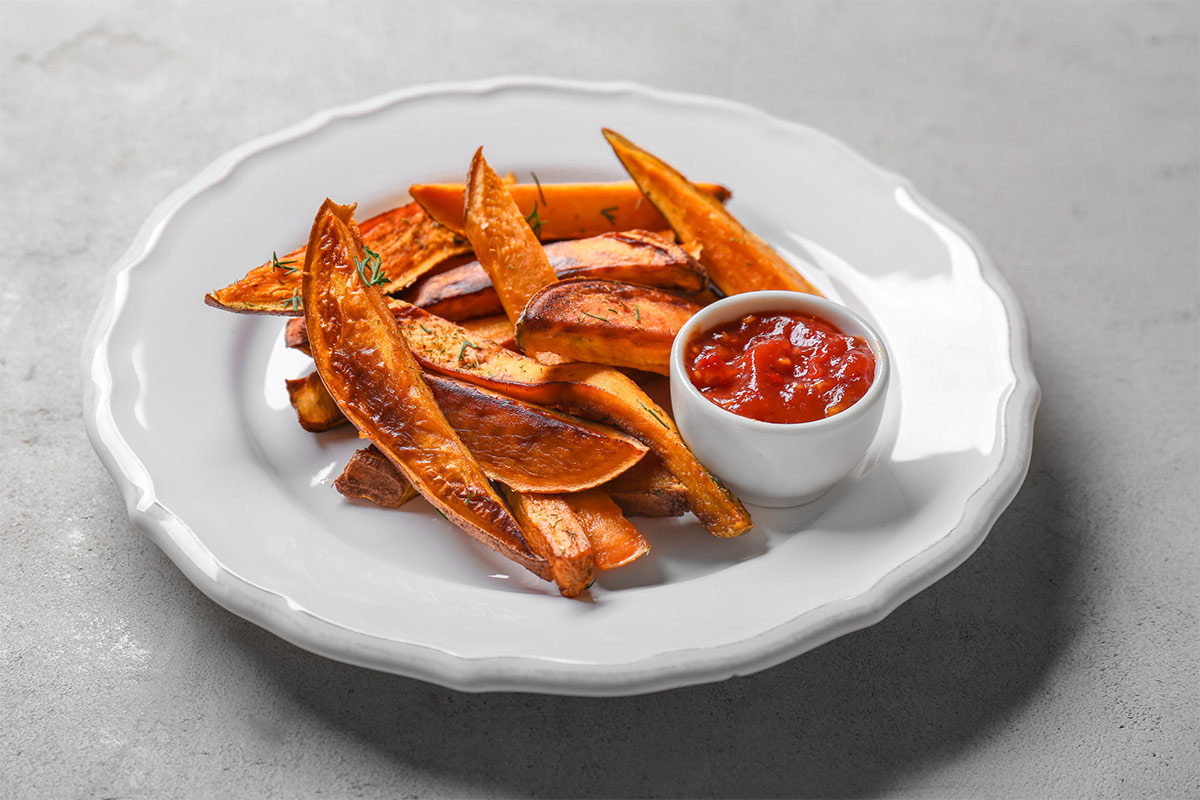 Crispy and flavorful fries made from sweet potatoes seasoned wonderfully offer a healthier alternative to regular fries. They can be eaten as a side to all kinds of creamy and savory sauces as well as dips or on their own for a lighter meal.
Sweets and desserts
S'mores
A campfire favorite, s'mores are a kind of sweet treat popular in North America that consist of toasted marshmallows and chocolate sandwiched between two pieces of tasty graham crackers.
Salted caramel brownies
Salted and caramel brownies are decadent, moist and fudgy chocolate brownies that have been topped with a luscious layer of soft caramel sprinkled with a dash of salt. This gooey treat is the perfect blend of sweet and salty.
Sangria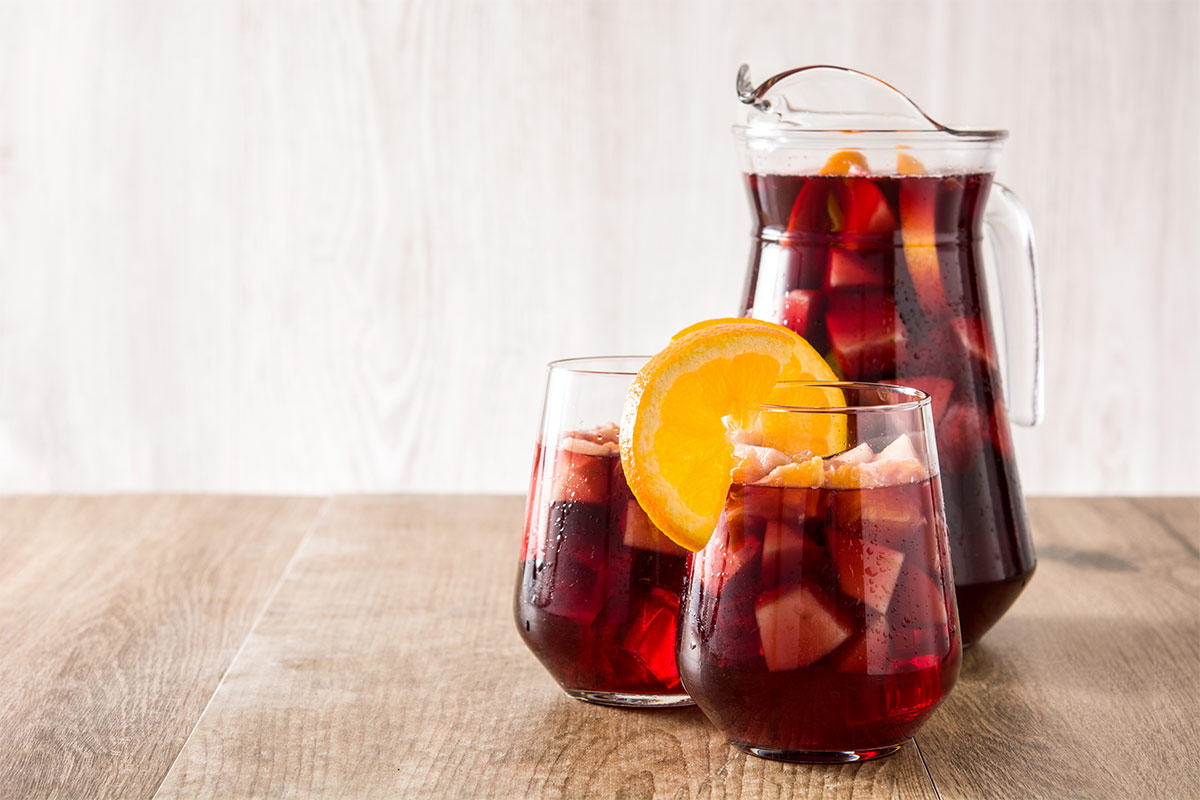 If you need some drinks that start with S, here's a fantastic option!
Sangria is a popular drink prepared with red or white wine, fruits, sugar, fruit juice, and brandy or liqueur.
It's a delicious, fruity drink that starts with S, served chilled, particularly in warm weather.
Scones
Looking for some breakfast foods that start with S?
A scone is an English pastry made from a dough consisting of wheat or oatmeal that's been leavened with baking powder and baked on sheet pans.
It's usually glazed with egg wash, includes toppings and can be savory, sweet or both. Scones are eaten as snacks or as an accompaniment to tea for breakfast.
If you're curious about this breakfast option, you can find what to serve with scones here!
Sherbet
Not to be confused with a sorbet, sherbet is also a frozen dessert starting with S which is similar to both ice cream and sorbet. The main difference between it and the latter is that sherbet contains some form of dairy like cream, milk or even buttermilk while sorbets don't.
Additionally, the main ingredient in ice cream is dairy but in sherbet, it's the fruit puree, just that it's being made creamier with a rich flavor by adding dairy.
Sorbet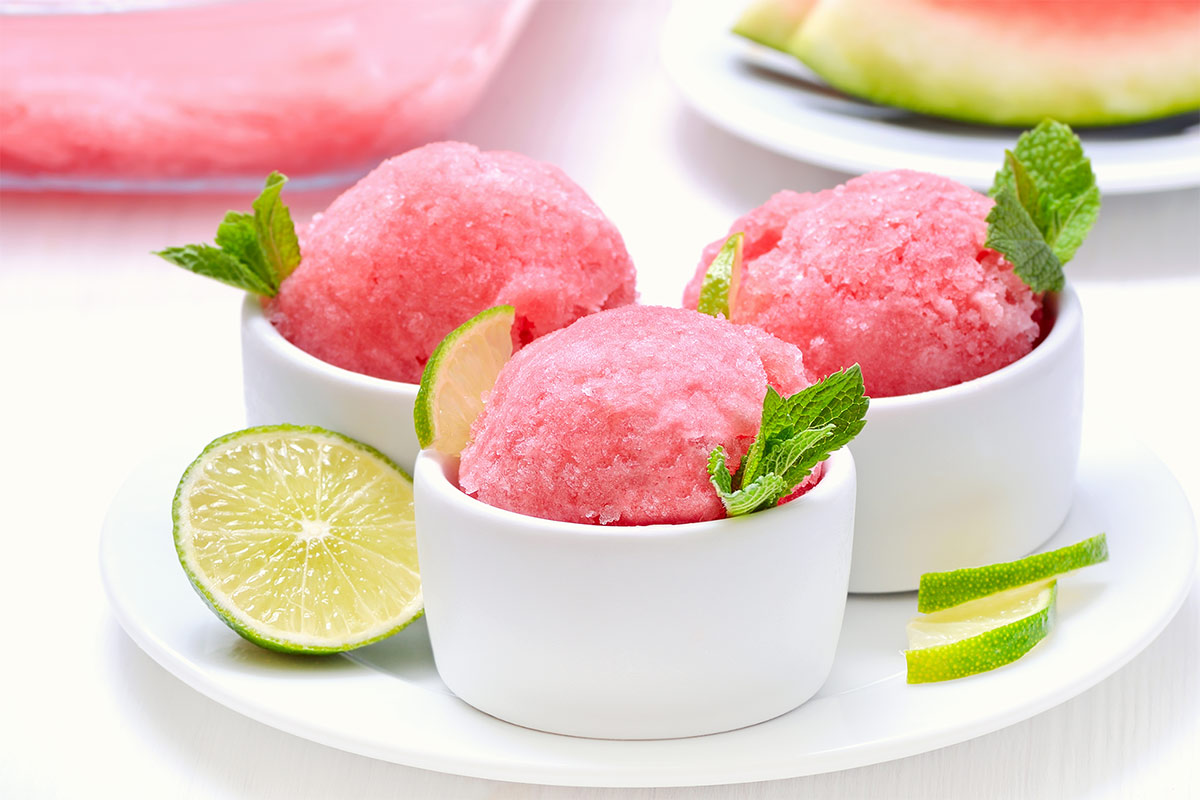 Sorbet is a kind of refreshing frozen dessert that's made from several ingredients including ice, some fruit juice or fresh fruit puree (usually of tropical fruit), and honey or sugar to give it a sweet flavor.
Sourdough pretzels
Made from a fermented mix of flour, water, yeast and lactic acid bacteria, sourdough pretzels are a unique kind of soft but dense and chewy pretzels. Here, sourdough is used as the leavening agent instead of some regular old yeast, just as in the case of sourdough bread.
Sponge cake
Sponge cake is a unique type of dessert and light cake made from the usual main ingredients for cake, just that it usually doesn't include egg yolks and beaten egg whites are used as its leavening agent.
Sticky buns
Sticky buns are a kind of pastry made from a soft and rich dough that has some dairy worked into it (like butter, milk, cream, eggs etc.) and patted into a square or rectangular shape the topped with a sweet and sticky glaze.
Sometimes, nuts like pecans and other toppings are added to this treat.
Sticky toffee pudding
Sticky Toffee pudding is a moist British dessert starting with S. It consists of sweet date cakes that have been soaked in a warm toffee sauce and served with some whipped cream or vanilla custard as well as ice cream.
Strawberry cheesecake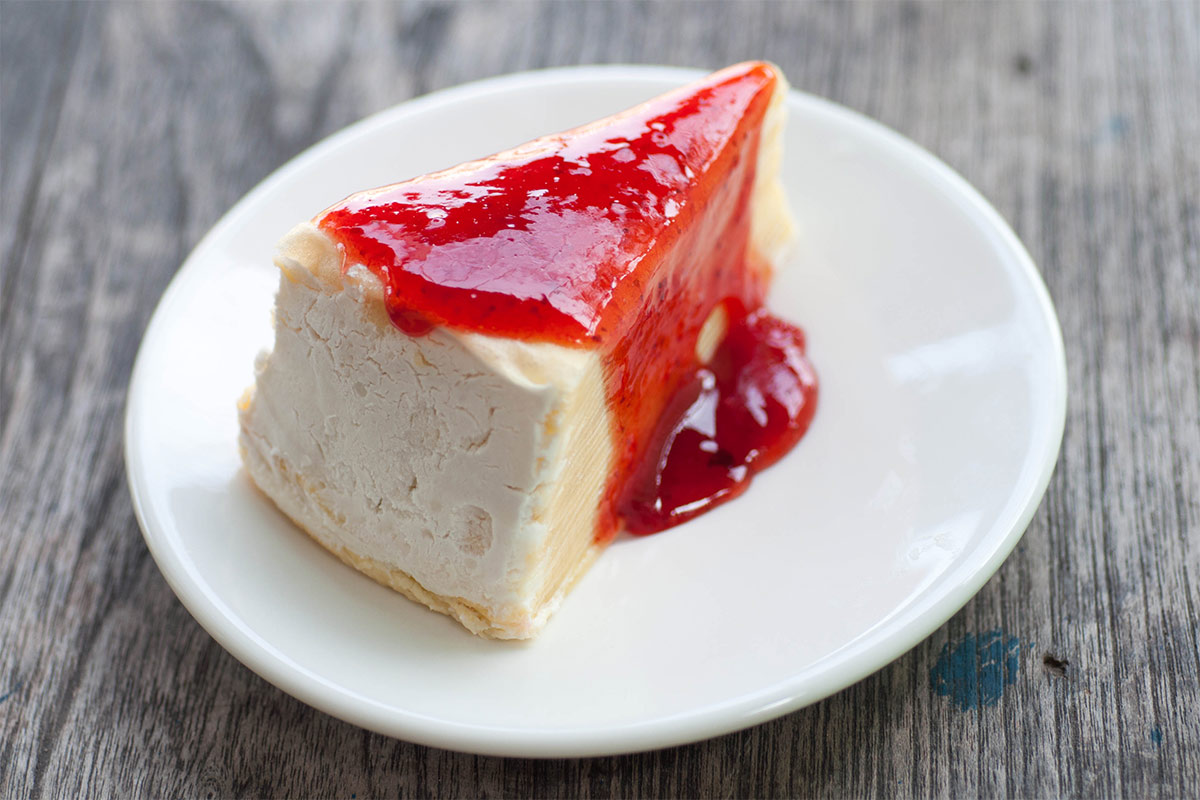 A soft, creamy and light or firm and dense strawberry-flavored cheesecake topped with juicy fresh strawberries and a drizzle of strawberry sauce. Sometimes, it can be topped with a layer of cream cheese filling before being drizzled with strawberry sauce.
Strawberry shortcake
Strawberry shortcake is a dessert of a crumbly scone-like textured pastry layered and served with whipped cream and juicy slices of strawberry. The shortcake itself can also be flavored with strawberry extract.
Vegetables that start with S
Salad burnet
The salad burnet is a popular garnish in many different cuisines and can be found in its natural habitats over most of Europe, northern Africa, and certain areas of Asia.
The flavor is light and refreshing, like a cucumber. Sanguisorba minor is the correct scientific name for this plant.
Salsify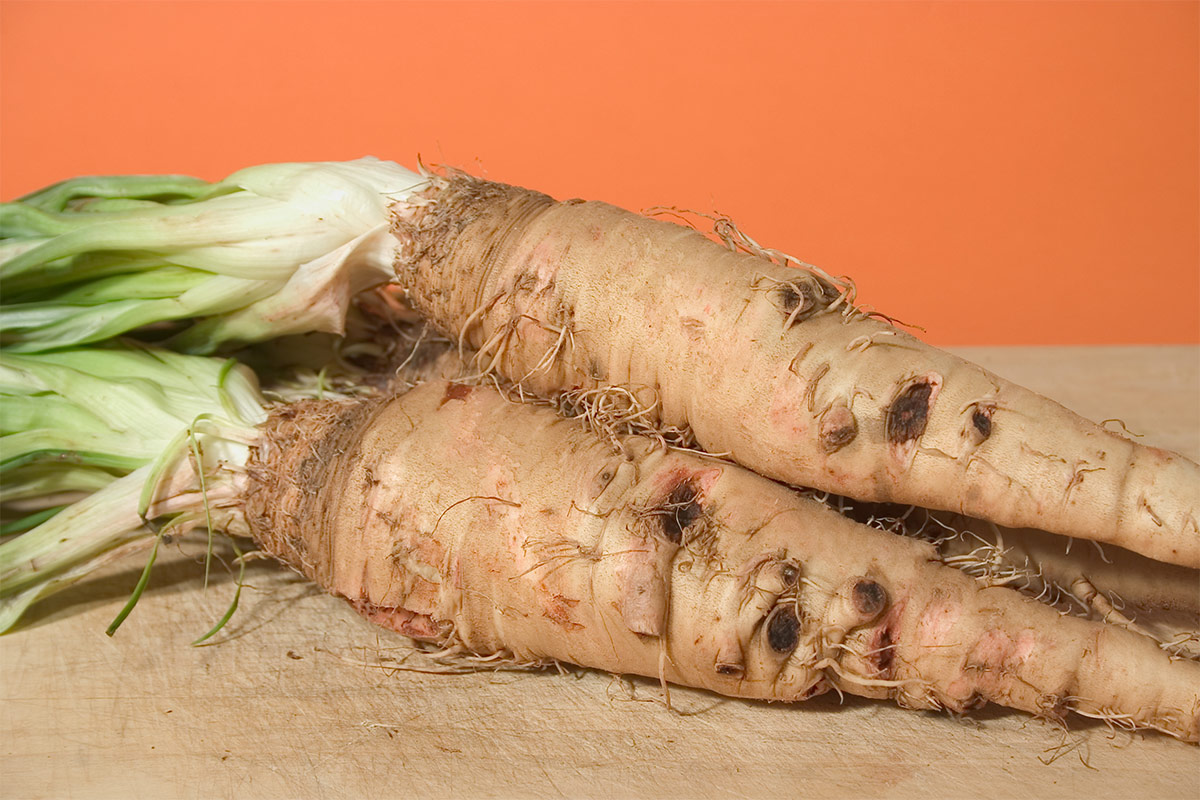 Salsify, a plant in the dandelion family grown for its edible roots and attractive blooms.
Its other name "oyster plant" comes from the common belief that the plant has a flavor like that of oysters. Even though I already have a list of veggies beginning with O, I had to include this one.
Salsify, or Tragopogon porrifolius, is a versatile root vegetable that can be prepared in a number of tasty ways.
Savoy cabbage
This green vegetable, which is related to cabbage, is high in vitamin C and fiber. Savoy cabbage has a sweeter flavor than normal cabbage and can be eaten both raw and cooked due to its thick leaves.
It's known by the scientific name Brassica oleracea var. sabauda.
Scallions
Scallions are a kind of vegetable that have a milder flavor than other members of its plant family. They are also known as green onion and spring onion.
They are used to enhance the taste of a wide variety of foods in the same way that other types of onions are.
Allium fistulosum is the scientific name for these onions.
Check out my suggested alternatives to scallions if you like the flavor of this vegetable.
Scarlet runner beans
Scarlet runner beans, like salsify, are cultivated for both their edible and decorative qualities. The people of Mexico and Central America have long relied on these beans for their high protein and fiber content.
Raw or cooked, their mild sweetness makes them a versatile food. Phaseolus coccineus is the scientific name for this S vegetable.
Sculpit
Sculpit, a herb with a bitter taste, is excellent in salads and sauces. This European-originated vegetable is a staple in Italian sauces, stews, and omelets, among many other preparations.
Its scientific name is Silene vulgaris, and its blooms can be used as decorations.
Sea kale
Native to Europe, the perennial plant known as sea kale has a mild flavor and is excellent in salads and soups. Crambe maritima is its scientific name.
Shallots
Shallots are little onions that are rich with flavor and are sometimes mistaken for their spicier relative.
You can tell them apart from common onions only by their size and form, which is more elongated oval than round.
Allium cepa aggregatum is the scientific name for this bulbous root vegetable.
Shallot greens
Shallot greens are edible and can be used in place of bulbs while cooking. Sautés, soups, stews, and salads are just some of the many uses for shallot greens.
Allium cepa is the scientific name for this vegetable.
Skirret
Skirret is an interesting root vegetable with a wide range of potential preparations. It has a taste that's somewhere between a carrot and a parsnip, but the firmness of its white flesh is more like a potato's.
Sium sisarum is the scientific name for this vegetable.
Snake gourd
The snake gourd is a long, lean vegetable that is eaten both immature and ripe. It has a low calorie count and a high fiber content. It has a somewhat bitter flavor.
Trichosanthes cucumerina is the scientific name for the snake gourd.
Snow peas
These green, mellow, and refreshing veggies are native to southwest Asia. Snow peas provide a wealth of vitamin C and fiber, not to mention a satisfying crunch.
Snow peas are a low-calorie, very adaptable vegetable that can be consumed either fresh or cooked.
They're known as Pisum sativum var. saccharatum in the scientific world.
Soko
Soko, a leafy green used in stews and soups, is native to several areas of Nigeria and other tropical regions of Africa.
It is often utilized as a primary component in various dishes around the nation, and is well known as Lagos spinach.
Celosia argentea is its scientific name.
Sorrel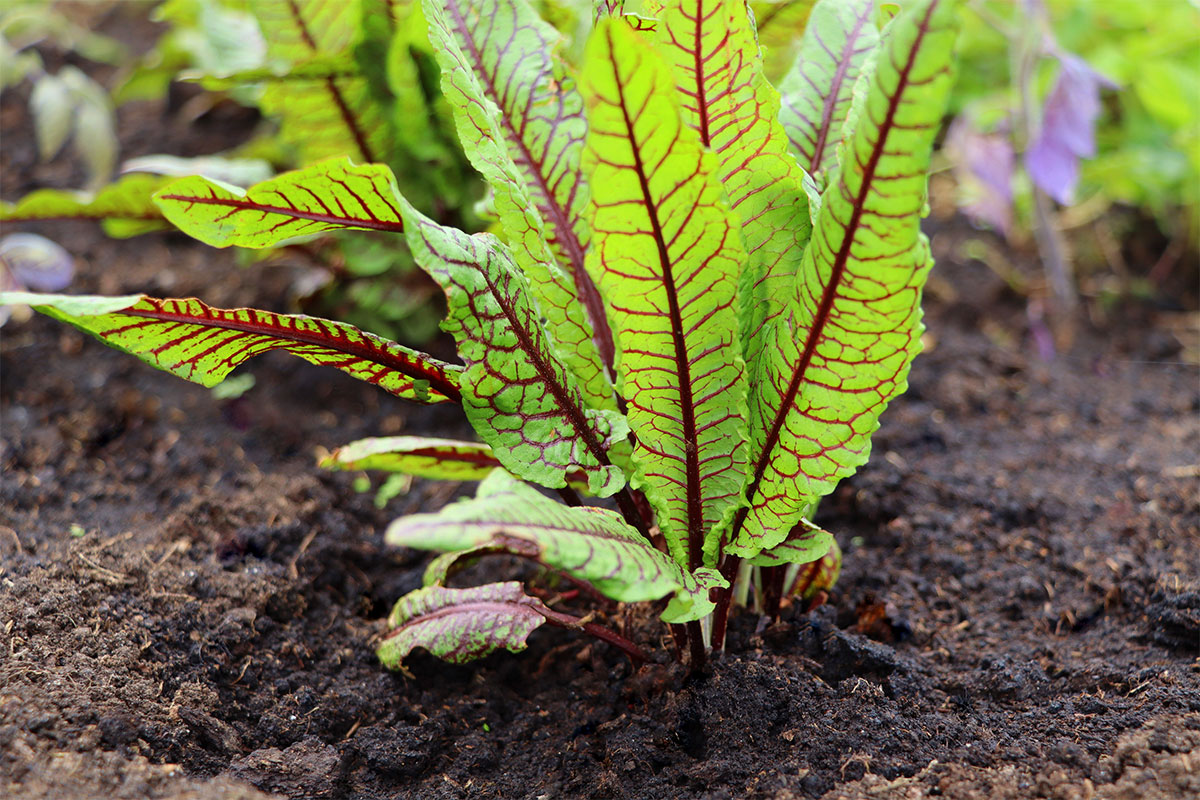 This green is often grown in herb gardens as well. When eaten raw, sorrel has a little bitterness, but when cooked, it takes on a zesty, lemony flavor. Rumex acetosa is its botanical name.
Soybeans
Soybeans are well-liked legumes that can be used for their high nutritional and fiber content. It's great for use in a wide variety of salads and stews.
This bean is multipurpose since it can be processed into spreads, utilized to create soy milk (a plant-based milk) and soy sauce.
Glycine Max is the technical term for a soybean.
Spaghetti squash
Spaghetti squash is a kind of squash with solid flesh when fresh but rather stringy flesh when cooked, thus the name.
It's a good, nutritious alternative to regular pasta, and it has a very subtle taste.
Cucurbita pepo var. pepo si is the scientific name for this delicious vegetable that is low in calories and rich in fiber.
Spearmint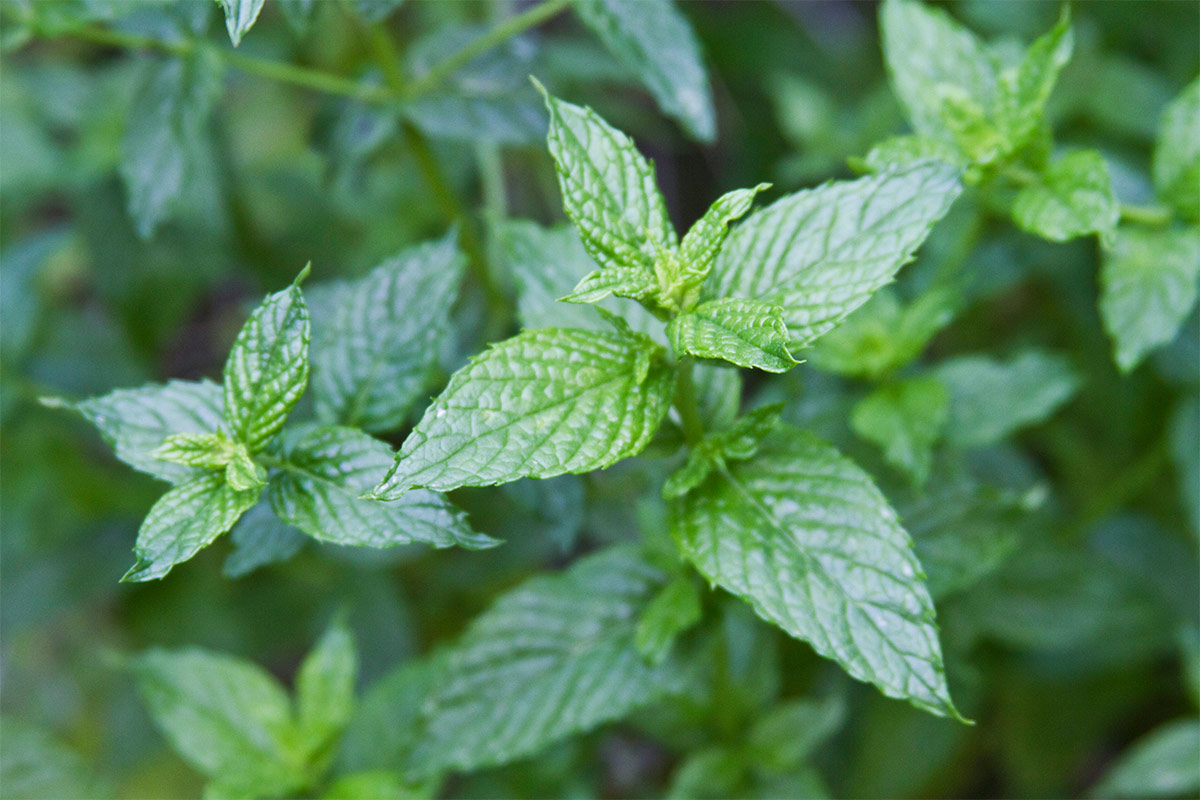 Because of its distinctive flavor and aroma, spearmint is often used as a herb in addition to being a leafy green. Its crisp, clean taste makes it a welcome addition to salads, sauces, and even cocktails.
Spearmint, or Mentha Spicata, is the scientific name for the plant.
Spinach
It is one of the world's most popular greens. Originating in the region now known as Southwest Asia, spinach is a rich source of vitamin K, iron, and calcium.
The versatility of spinach allows it to be used in a wide variety of salads and even dips. The antioxidants it contains may also help keep the body healthy.
Spinacia oleracea is its botanical moniker.
Squash
Squash is a culinary vegetable despite its botanical fruit status. Depending on the kind, it might have a sweet and nutty flavor, or it can be earthy and mild.
Butternut, zucchini, pumpkin, and summer squash are some of the most common types. It's a great complement to a balanced diet due to its low calorie count and high fiber content.
Cucurbita is its botanical name.
String beans
String beans, also called green beans, french beans, and snap beans, are long, slender pods that contain green seeds.
Although these terms are commonly used interchangeably, string beans are really simply one kind of green bean.
They flourish in warm climates and, once seared, form a fantastic accompaniment to many different types of healthful meals. Phaseolus vulgaris is the scientific name for these beans.
Sugar snap peas
Hybrids between snow peas and garden peas result in sugar snap peas. In contrast to the flat pods of snow peas, the rounder pods of sugar snap peas may be eaten together with the peas they contain.
These crisp veggies are high in vitamin C and fiber and are delicious both fresh and cooked because of their mild sweetness.
Pisum sativum 'Macrocarpon Group' is the botanical name for sugar snap peas.
Sunchokes
Sunchokes are a kind of root vegetable that, despite their resemblance to ginger, are more starchy and taste more like jicama or potatoes.
Despite their foreign names—sunroot and Jerusalem artichoke—these plants originated in the middle of the North American continent.
Its scientific name is Helianthus tuberosus.
Sweet corn
Sweet corn is a grain and a fruit in the botanical sense, but it is used in the kitchen as a vegetable. This summertime staple is an excellent source of fiber and antioxidants, and it can be prepared in a variety of tasty ways (on the grill, in the microwave, or in the oven).
Zea mays L. is its scientific name.
Sweet peppers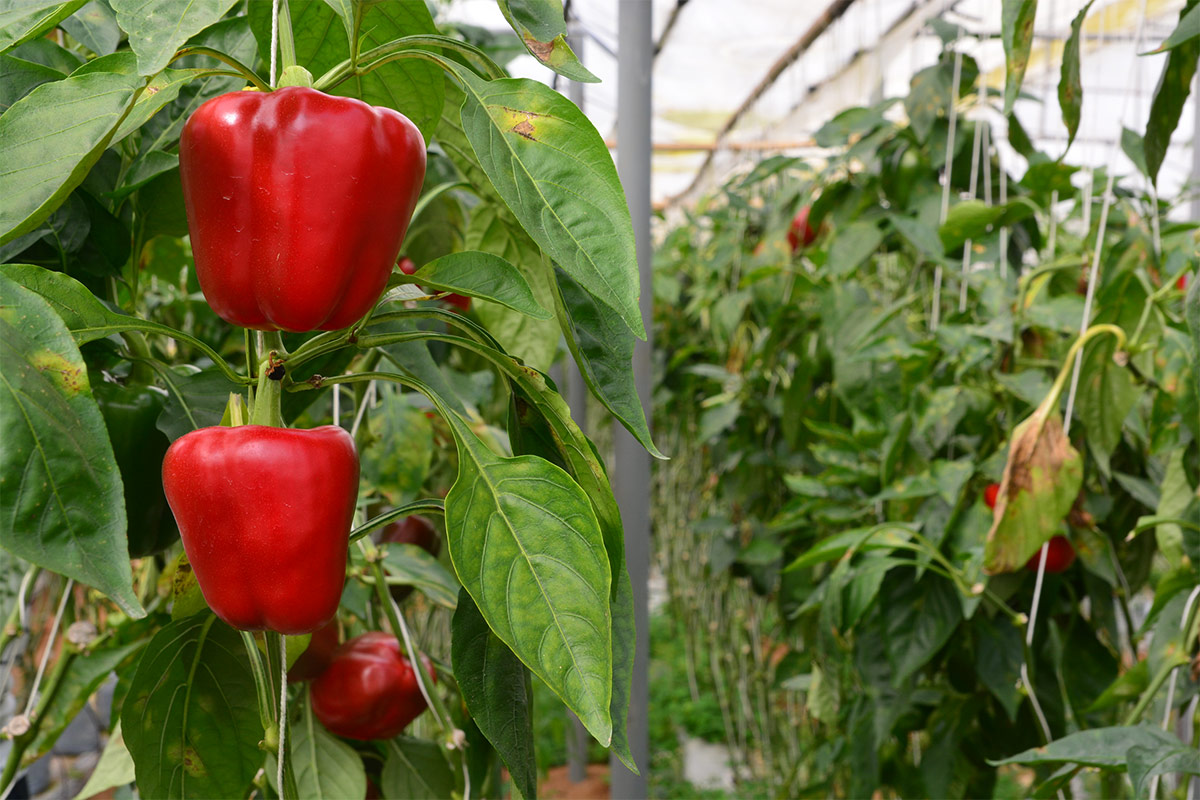 Sweet peppers, like tomatoes and squashes, are considered fruits while being classified as vegetables.
They have a naturally sweet taste and can be eaten raw or cooked. From a scientific perspective, these sweet peppers are formally referred to as Capsicum annuum.
Sweet potato
It's no surprise that the word "sweet" describes this well-liked starchy root vegetable. Its meat is orange or yellow, and its skin is brown.
Its sugary flavor complements a wide variety of savory preparations, including baking, roasting, mashing, and boiling.
Ipomoea batatas is their scientific name.
Swiss chard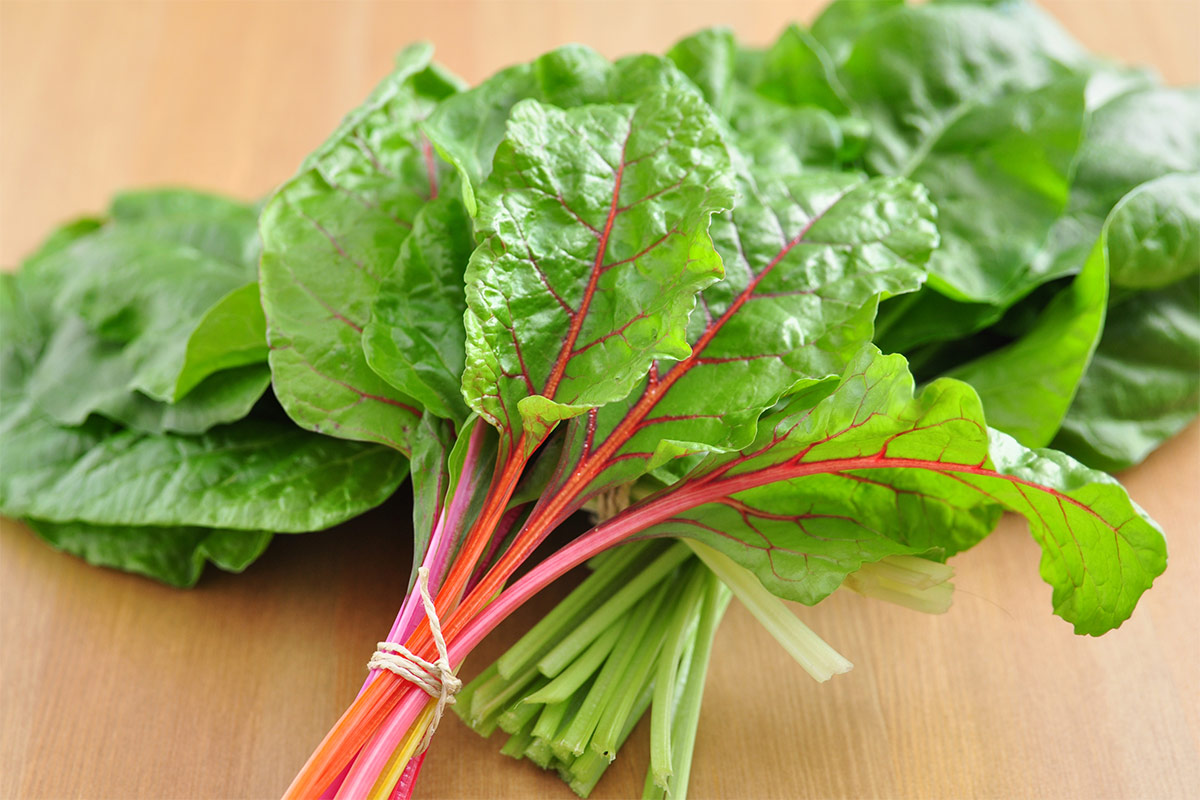 Vitamin K, magnesium, and potassium are just a few of the vitamins and minerals found in Swiss chard. It has almost no calories, a lot of fiber, and many positive health effects.
The bitterness of the raw leaves disappears and is replaced with a sweet, earthy taste when the hard, meaty leaves are cooked. The scientific name for swiss chard is Beta vulgaris var. cicla.
Fruits that start with S
Safou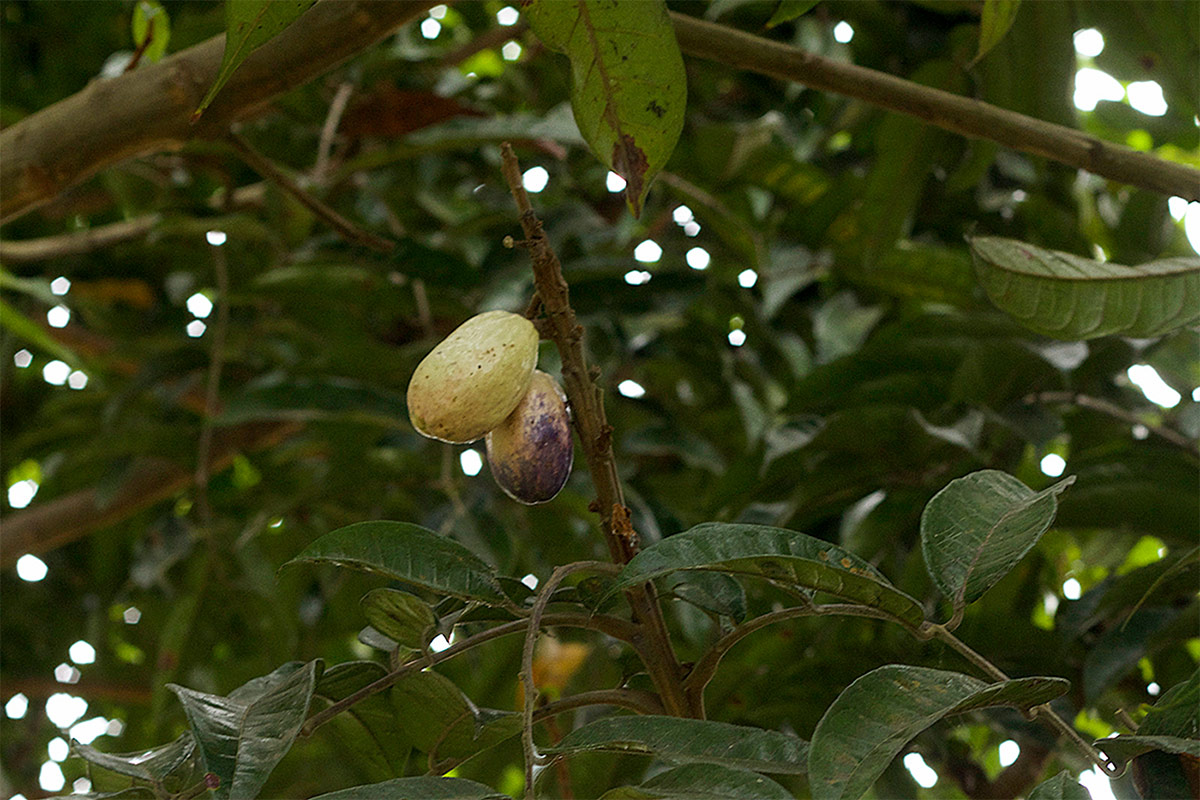 Safou is a unique, nutrient-dense S fruit from several African locations. The bush butter tree, or safou tree, produces smooth, avocado-like fruit with a peculiar taste.
Safou can be eaten raw, cooked in salty water, or roasted over an open flame. Its scientific name is Dacryodes edulis.
Salak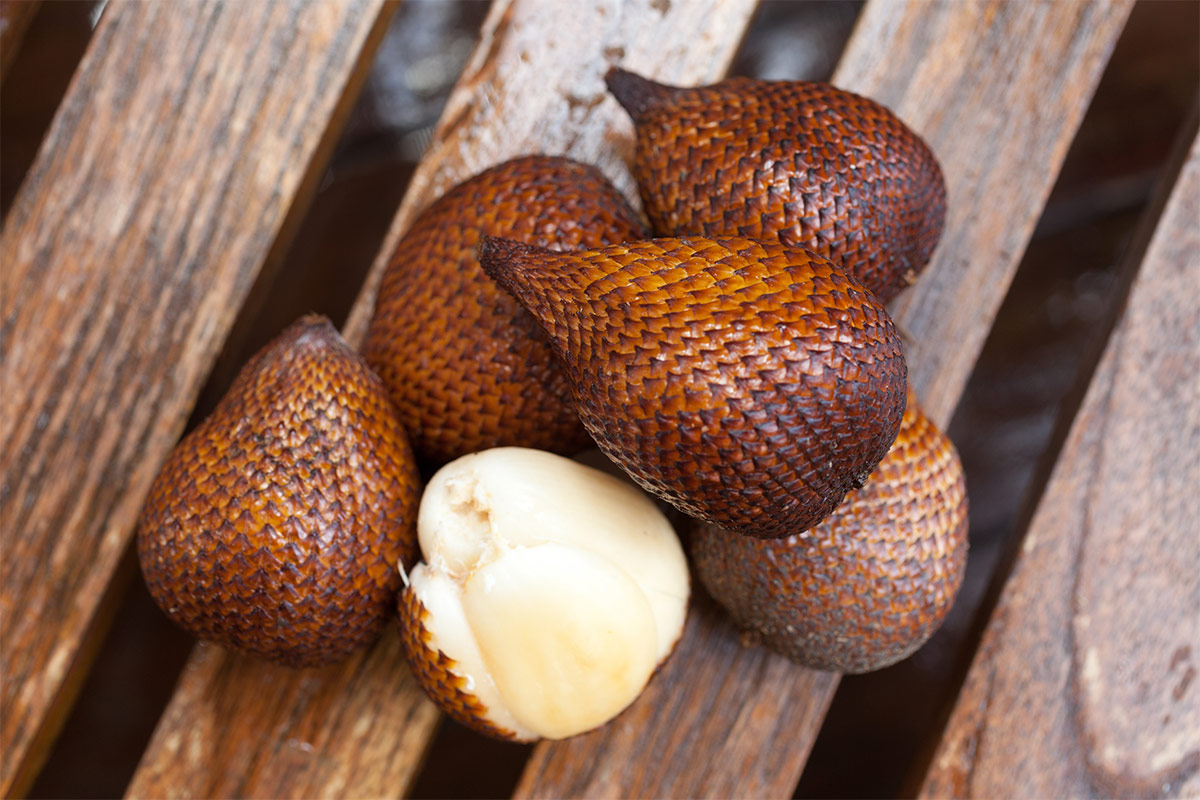 A brown fruit from Southeast Asian, the salak, is also called the snake fruit owing to its look.
Its types range from bitter to sweet yet sour and from soft and juicy to dry and crunchy like apples.
Scientists call this fruit Salacca zalacca.
Salal
The salal berry is one of the most common but underappreciated Pacific Northwest berries. It is tiny, somewhat hairy, and black in color, often ripening in late summer.
It tastes like a cross between blackcurrants and blueberries.
The scientific name for this fruit is Gaultheria Shallon.
Salmonberry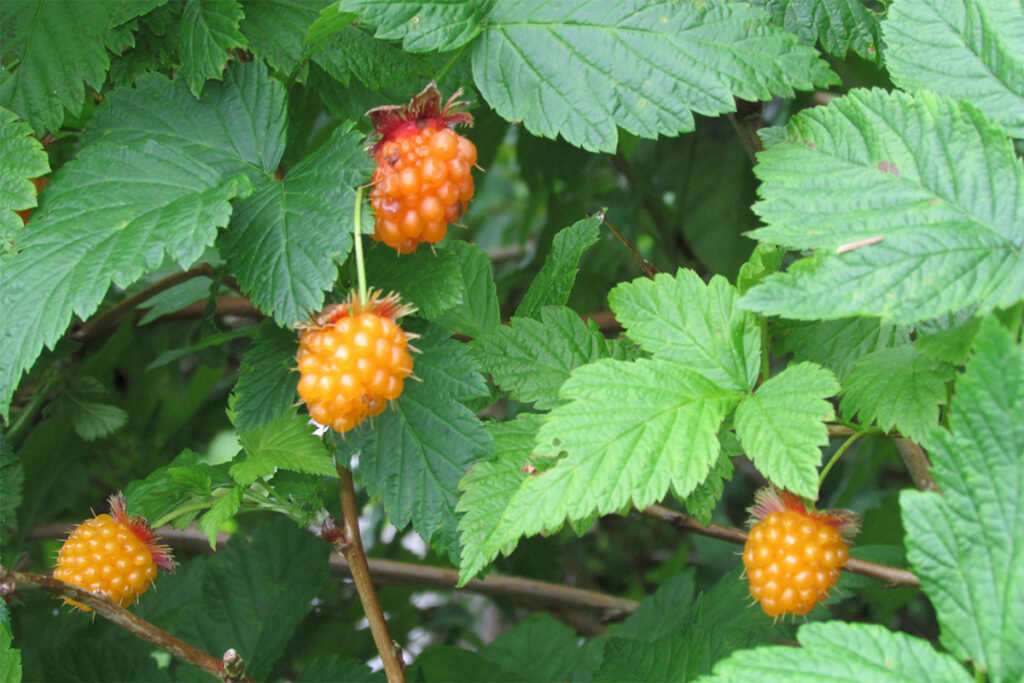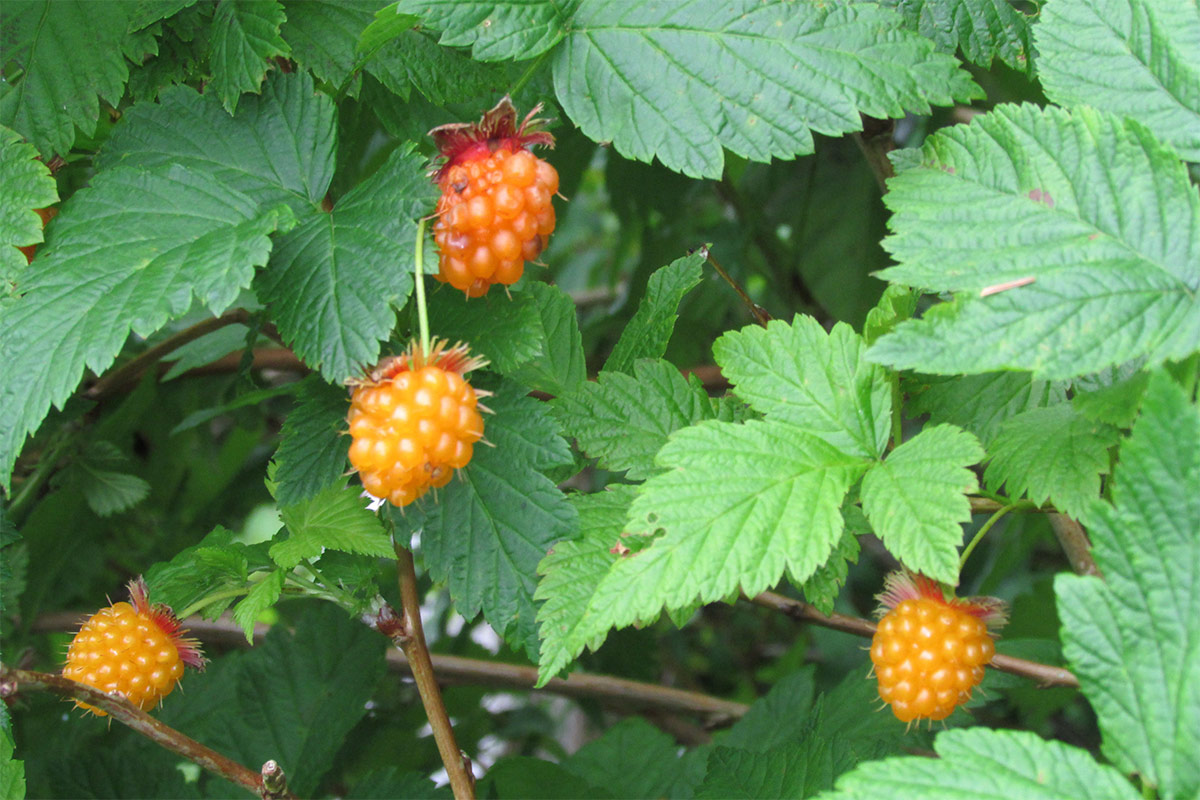 Salmonberry, a fruit native to North America and Alaska, is used to flavor beer and wine of various types with its soft, somewhat sweet flavor and sour undertones.
The S fruit and its plant have several therapeutic applications. Rubus spectabilis is its scientific name.
Sand cherry
In North America, you can find a fruit called a sand cherry. They have a wonderful flavor when they are completely ripe, but they may sometimes be a little bitter.
Prunus pumila is the scientific name for these dark crimson or even black berries.
Santol
The santol fruit is another kind of tropical fruit found in some parts of Southeast Asia. The red variety is more frequent than the yellow one.
The soft, milky pulp of the santol gives it another name—the cotton fruit. It's got a sour edge, yet it's sweet and fragrant all the same.
The scientific name for this plant is Sandoricum koetjape.
Sapodilla
The sapodilla fruit is a native of southern America, Mexico, and the Caribbean; its scientific name is Manilkara zapota. The egg-shaped fruit has a rough exterior and yellow to light brown flesh.
Its sweet, earthy taste is sometimes compared to caramel and its texture ranges from soft to gritty.
This fruit is also known as a 'naseberry,' so it's included in my collection of excellent N fruits.
Satsuma
Satsumas, which belong to the citrus family, are a specific kind of tangerine with a thin, easily peeled, yellowish-orange rind. It has a juicy texture and a sweet, sour flavor.
An immune system booster and rapid source of energy, satsuma mandarins are a great fruit to have on hand. Citrus unshiu is its official scientific moniker.
Seagrapes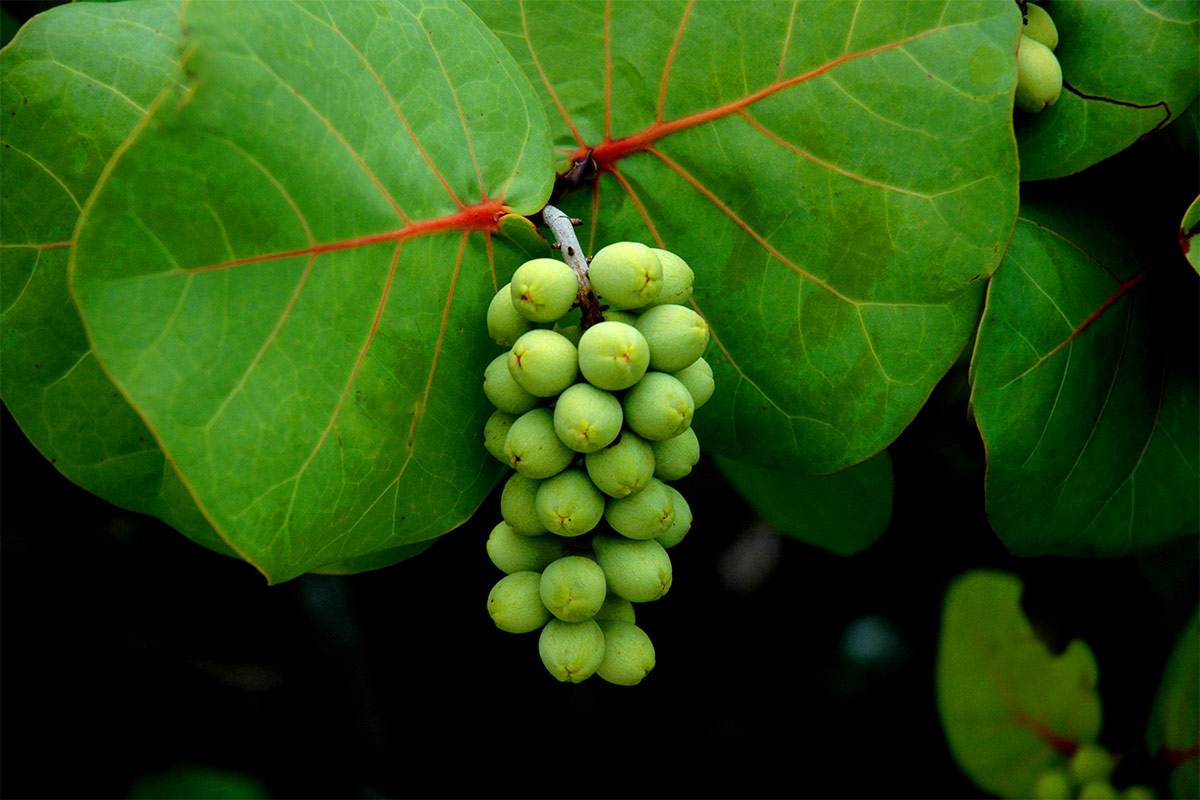 Sea grapes are tiny, slightly translucent fruits with a peculiar flavor; they are also known as green caviar for their look, which is remarkably similar to that of fish roe. They have a similar flavor to muscadine grapes and thrive in the shallow seas.
Popular in Japanese cuisine, seagrapes are known for their "pop" when chewed.
This fruit's scientific name is Caulerpa lentillifera.
Serviceberry
A serviceberry is a cranberry-colored fruit with a flavor profile that combines grape and blueberry with nutty and fruity undertones. You can eat the fruit raw if you prefer, but it really shines in baked goods like pies and jams.
This fruit is known by its scientific name, Amelanchier alnifolia.
Sharon fruit
The Sharon fruit is a delicious and fruity persimmon. Its sweetness complements many other flavors, therefore it works well as a snack or in sweets.
This fruit is an excellent source of vitamin A, which is good for the eyes. Diospyros kaki is the scientific name for this fruit.
Shonan gold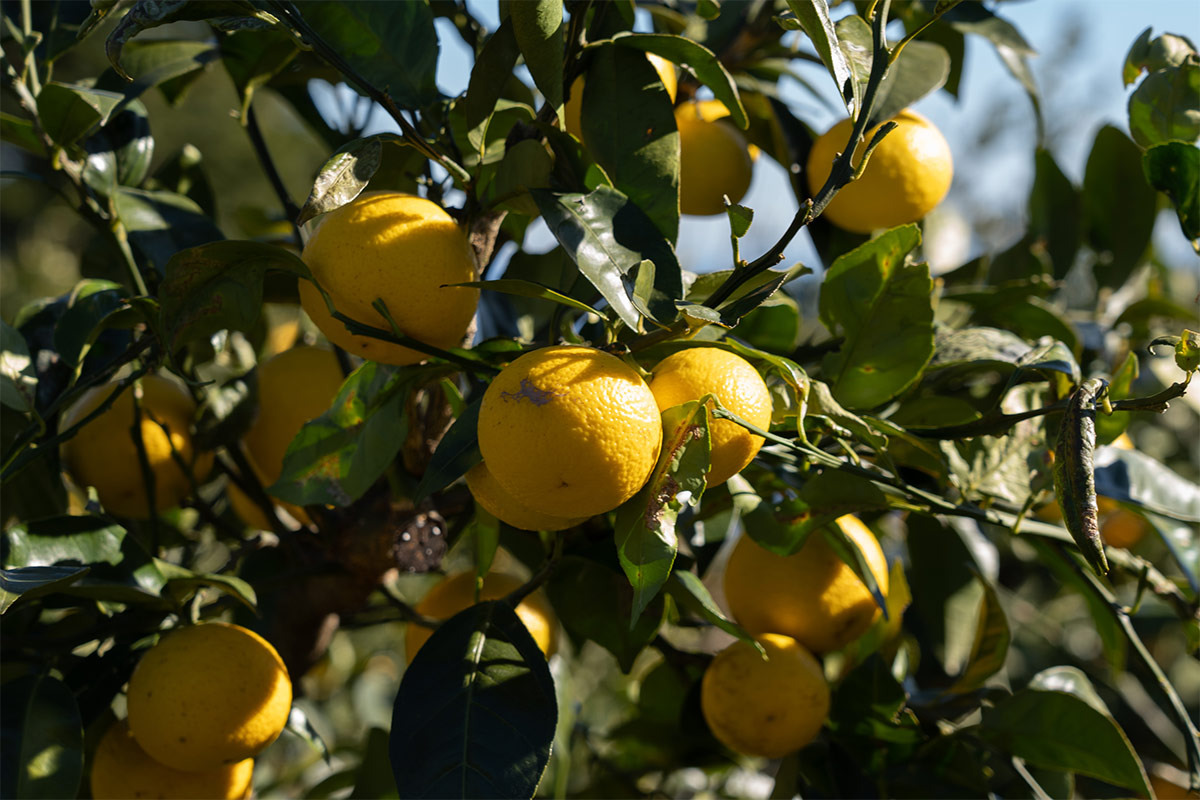 The shonan gold is a unique yellow fruit that comes from a cross between two citrus species.
This citrus fruit is quite similar to the lemon in appearance and has the signature sweet and sour flavor of its genus and species.
Citrus flaviculpus is its scientific name.
Soncoya fruit
The Soncoya fruit, also known as the sincuya, is native to several areas of North and South America, including Central America. Its flavor is reminiscent of mango, and its flesh is soft and fibrous.
The mature fruits may be quite difficult to cut due to the sharp protrusions that cover the outside. Annona Purpurea is its official scientific name.
Sour cherries
Tart and delicious, sour cherries (Prunus cerasus) are a specific variety of the cherry fruit.
They're used in a wide variety of baked goods and beverages and provide a healthy dose of antioxidants and vitamins.
Tart cherries, or sour cherries, are sometimes known as dwarf cherries. A sour cherry has a smooth, shiny skin and is rather spherical and plump.
Sour orange
The sour orange, a variation of the orange in the citrus family, has a harsh and bitter flavor that makes it ideal for sour pies and marinades. It originates in the eastern part of South Asia and is called variously as the seville or bitter orange.
The scientific name for this fruit is Citrus aurantium.
Soursop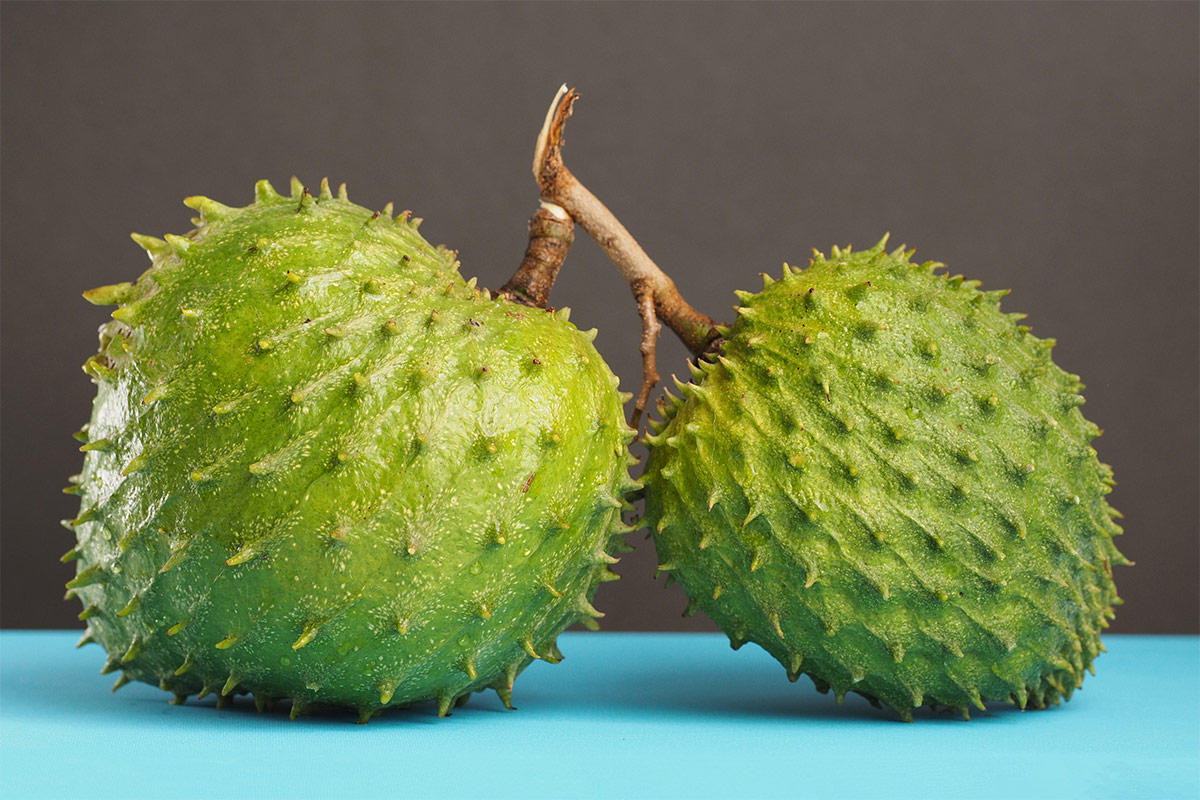 Soursop is a green fruit that comes from the tree apple custard family and is also known as the Brazilian pawpaw. Its fibrous, lemony flesh is reminiscent of mangoes and pineapples in texture and flavor.
In its home nations, sour sop is quite popular due to its versatility as an ingredient in desserts, drinks, and even ice creams.
The soursop fruit is known by its scientific name, Annona muricata.
Splendor apples
Apples of the Splendor kind are a cross between a cultivated variety and a wild New Zealand apple species. It's delicious, and it comes in a striking shade of red.
They are often used as dessert apples due to their size and sweetness.
Malus domestica is the scientific name for these trees.
Star apple
The star apple is a rare fruit that can be found in many different parts of the West Indies and Central America.
It looks like an apple in size and form, but when it's sliced, it looks like a star, thus we call it a star apple.
Chrysophyllum cainito is the scientific name for the star apple fruit.
Starfruit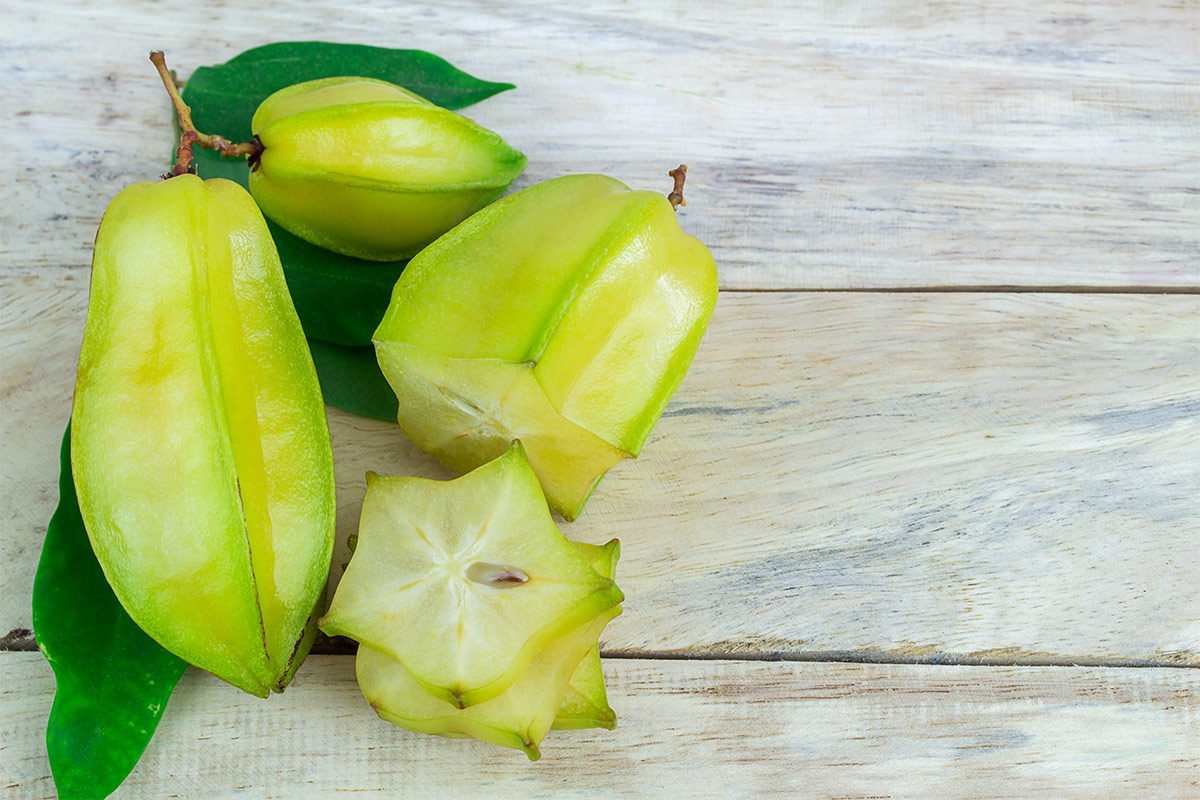 Starfruits are unusual fruits with ridges along their sides with a taste that is both sweet and acidic. The shape it makes when cut in half gives this brilliant yellow vegetable its name.
Vitamin-wise, starfruits cover just about every base. Averrhoa carambola is the scientific name for the star fruit.
Strawberries
One of the most popular and commonly produced fruits in the world is the strawberry. These tiny, juicy berries give a burst of flavor and a healthy dose of minerals and antioxidants to a wide variety of dishes.
This well-liked fruit's official scientific name is Fragaria x ananassa.
Sugar apple
The sugar apple, or sweetsop, is a tropical fruit. Smoothies and pastries often use it because of its rich, sweet flavor and creamy texture.
The sugar apple fruit is an excellent source of vitamin C, potassium, and magnesium. The scientific name for this tropical plant is Annona squamosa.
Sugar baby watermelon
Small in size but big in flavor and nutrients, this watermelon is a fan favorite. It has a dark green exterior and a bright red, grainy inside.
The botanical name for Sugar baby watermelon is Citrullus lanatus.
Sugar palm fruit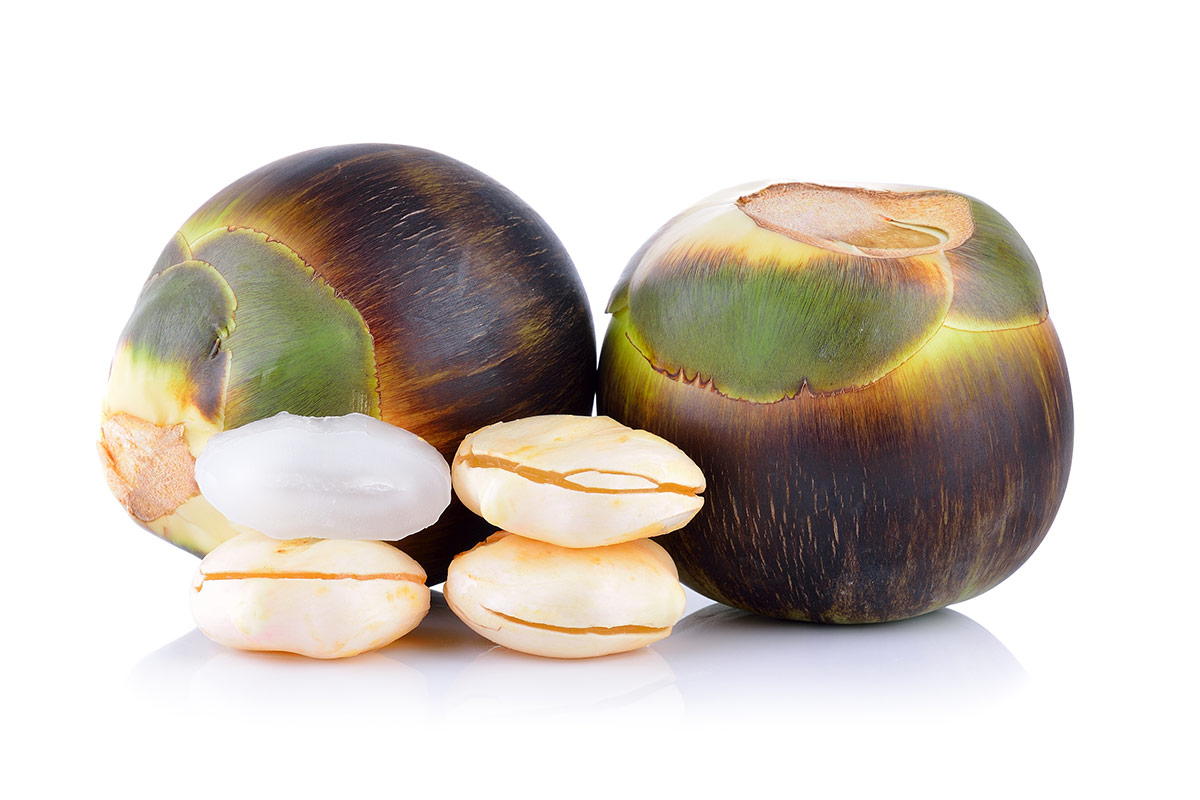 Large and black in color, sugar palm fruits have a jelly-like consistency and a subtly sweet flavor. They originated in South Asia and are now commonly consumed there because of their versatility in cooking.
Sweet lemons
The term "sweet lemon" is used to describe a wide variety of citrus fruits that are low in acidity and, therefore, lack the typical sourness associated with the citrus family.
They look just like other citrus fruits, whether they're green or yellow. Citrus limetta is the scientific name for the sweet lemon.
Within the realm of sweet peppers, one can find an array of varieties, including cherry peppers, as well as green, orange, purple, and red bell peppers.
There you have it, a delightful collection of over 60 dishes and foods that start with an S.
So go ahead, explore these delicious options and enjoy the culinary delights that the letter S has to offer!
P.S. If you'd like to know more about veggies that begin with the letter S or fruit that start with S, you can find info about them by clicking on those links!
110+ Foods Starting With S (With Pictures and Facts)
Have a look at this list of foods that start with letter S. Use this as a prep resource for a pop quiz or to explore new and exciting cuisines!
Ingredients
Savory and spicy foods
Salsa

Salt and pepper shrimp

Samosas

Sauerbraten

Sausage and peppers

Scrambled eggs

Seafood paella

Shepherd's pie

Shish kebab

Shrimp scampi

Soba noodles

Spaghetti bolognese

Spanakopita

Spicy tuna roll

Spinach and artichoke dip

Spinach and stuffed chicken breast

Steak

Stir fry

Stuffed peppers

Sushi

Swedish meatballs

Szechuan chicken
Satisfying soups
Seafood chowder

Soba noodle soup

Spicy chicken tortilla soup

Split pea soup

Squash soup
Scrumptious salads
Shepherd's salad

Southwestern black bean salad

Spinach salad

Strawberry fields salad

Summer caprese salad
Sensational snacks
Salted pretzels

Shepherd's salad

Soft pretzels

Stuffed mushrooms

Spring rolls

Sweet and spicy nuts
Sandwiches
Smoked salmon bagel

Sloppy joe sandwich

Spinach and artichoke grilled cheese

Steak sandwich

Sausage and egg breakfast sandwich
Sides and appetizers
Saffron rice

Saganaki

Sauteed mushrooms

Scalloped potatoes

Spanish rice

Steamed vegetables

Sweet potato fries
Sweets and desserts
S'mores

Salted caramel brownies

Sangria

Scones

Sherbet

Sorbet

Sourdough pretzels

Sponge cake

Sticky buns

Sticky toffee pudding

Strawberry cheesecake

Strawberry shortcake
Vegetables that start with S
Salad burnet

Salsify

Savoy cabbage

Scallions

Scarlet runner beans

Sculpit

Sea kale

Shallots

Skirret

Snake gourd

Snow peas

Soko

Sorrel

Soybeans

Spaghetti squash

Spearmint

Spinach

Squash

String beans

Sugar snap peas

Sunchokes

Sweet corn

Sweet peppers

Sweet potato

Swiss chard

Sweet pepper
Fruits that start with S
Safou

Salak

Salal

Salmonberry

Sand cherry

Santol

Sapodilla

Satsuma

Seagrapes

Serviceberry

Sharon fruit

Shonan gold

Soncoya fruit

Sour cherries

Sour orange

Soursop

Splendor apples

Star apple

Starfruit

Strawberries

Sugar apple

Sugar baby watermelon

Sugar palm fruit

Sweet lemons