As a certified food enthusiast, I'm always on the lookout for a new wonderful dishes I can add to my menu. That means I know a whole lot about a wide range of meals and I'm always eager to share.
Today, I'm going to be taking you on a delightful journey through the culinary world as we explore more than sixty different kinds of edibles that have one thing in common—they're all foods that start with P.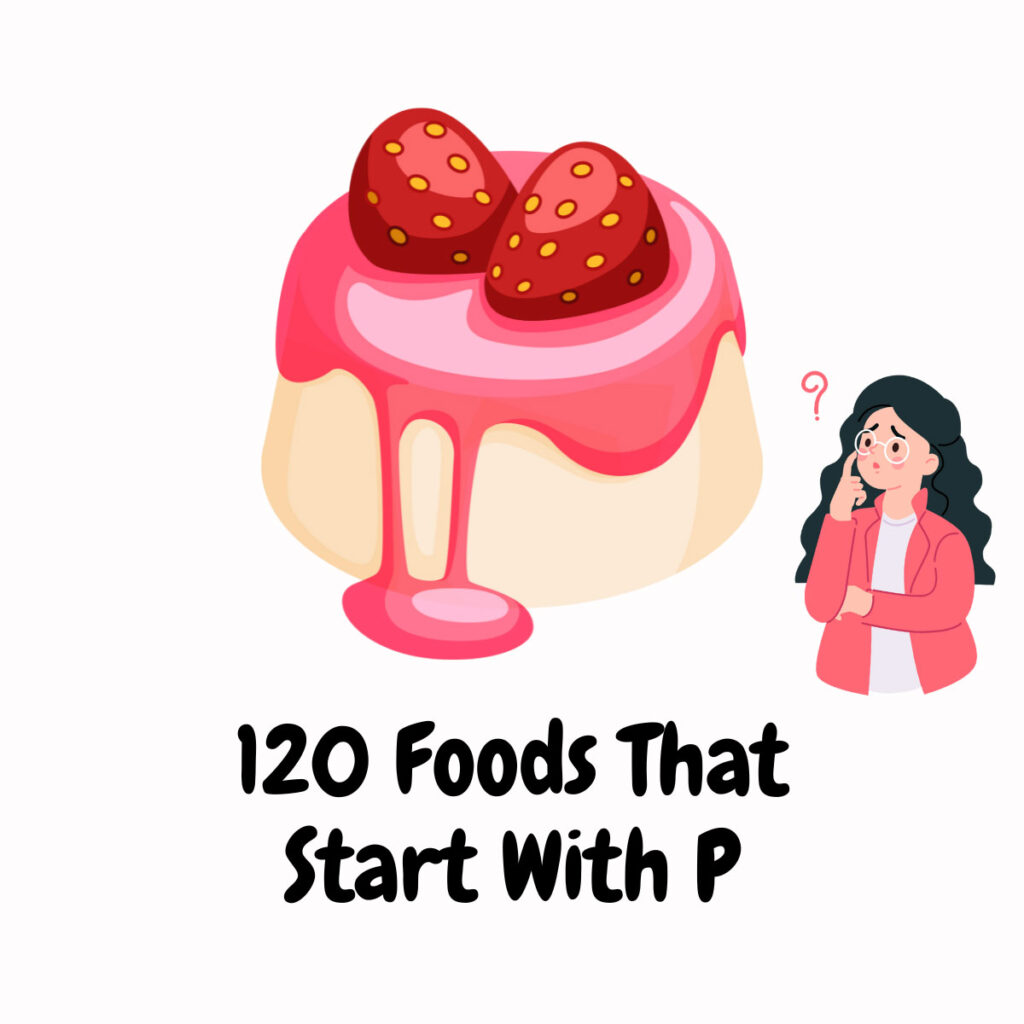 From exotic cuisines to nutritious ingredients, sweet treats to savoury dishes, we'll uncover a cornucopia of delectable foods that start with the letter P from all over the globe.
So, put on your culinary hat, and let's get to it!
Whole foods that start with P
Parmesan cheese
Originating from Italy, Parmesan chees is a hard, granular cheese that's got a nutty and savory flavor. It's also called parm and is used to add more depth in taste and richness to pasta, fruit salad as well as other cuisines.
This type of cheese can also be frozen and you can learn everything about freezing parmesan in this guide!
Pastrami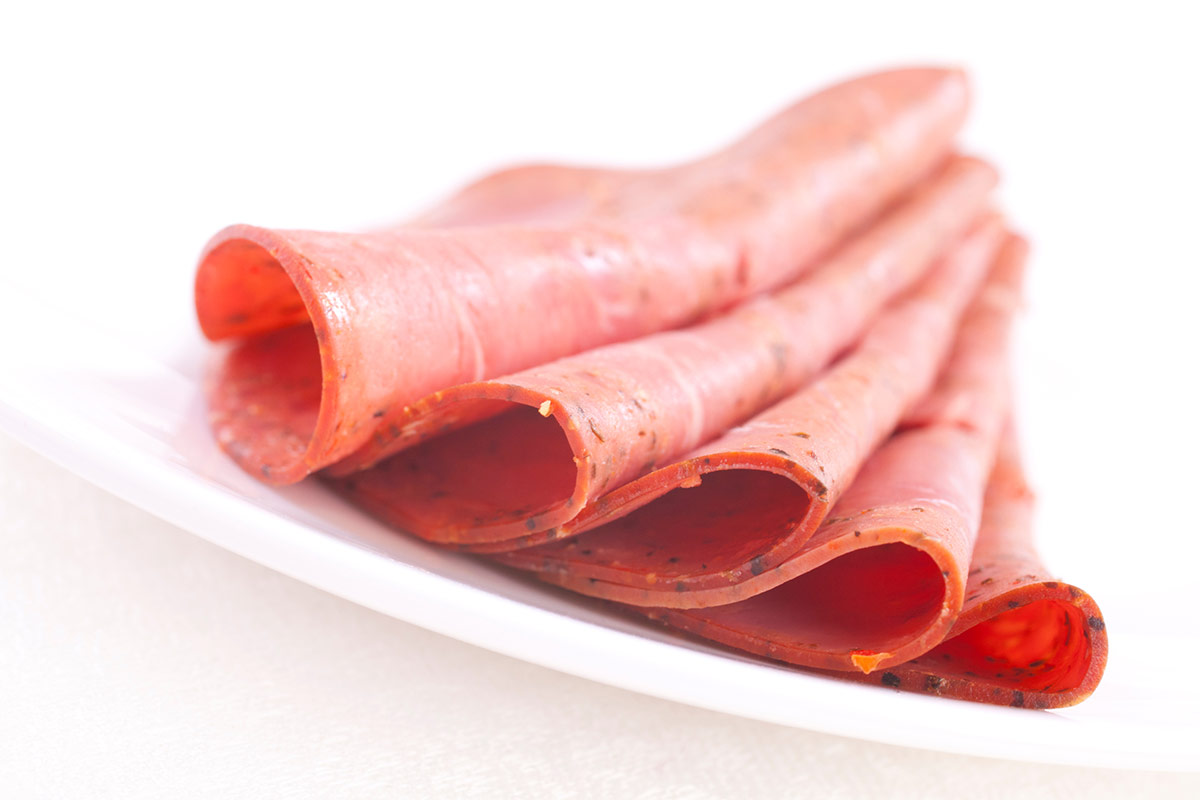 Pastrami is basically beef brisket that has been brined, dried and seasoned with herbs before it's cooked by smoking and steaming. It's usually used in sandwiches.
Peanut butter
One of the most widely consumed spreads in the world, peanut butter is a kind of nut butter made from roasted peanuts. It's usually creamy and can be smooth or have small bits of peanuts included.
I love the uniquely nutty flavor of peanut butter on my sandwiches, all kinds of desserts and even for savory sauces.
Pickles
Pickles are basically vegetables that are left to ferment in an acidic solution. The vegetable can either be bell peppers, carrots or asparagus but the most common condiment for pickles is usually cucumber.
Pistachios
Pistachio nuts are the seeds of the pistachio tree. They're usually green and encased in shells (just like many other kinds of nuts) and are botanically considered drupes, a type of fruit.
They're packed with nutrients and can be used as a snack or as a healthy addition to desserts, salads or even as a crust for meats.
You can even try them as a unique substitute for cashew nuts!
Pita bread
Pita bread is a kind of middle eastern flatbread that's common in the Mediterranean and regions near both locations. It's a staple in many cuisines of those areas as it is excellent for dipping, stuffing, or making all kinds of other dishes.
Plaice
Plaice is a mild and delicate flatfish with an umami taste. The small fish is usually breaded and fried then had as a side to chips with a dipping sauce for a full meal.
Prosciutto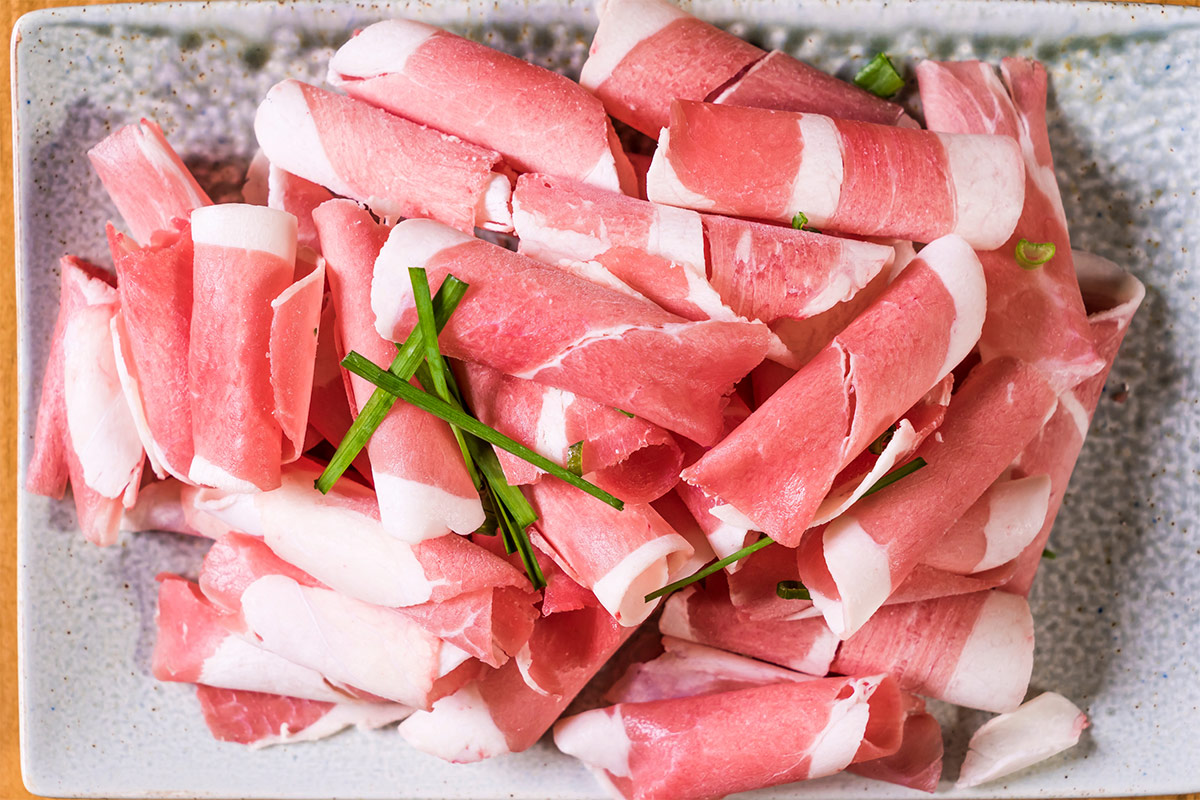 If you're looking for some meat that starts with P, prosciutto is a popular option!
Proscuitto is basically uncooked, dry-cured lamb that's usually thinly sliced. It's then wrapped around fruit, cheese, bread or raw vegetables before being oven roasted or grilled for a delightful appetizer or side.
Provolone cheese
This is a kind of Italian cheese made from cow's milk. It has a smooth texture, a flavor that can range anywhere from mild to sharp and a texture that's semi-hard.
Provolone cheese is a great melting cheese so it's usually used in sandwiches and can also be added to salads, desserts, casseroles or even pizza.
Prunes
Not to be confused with raisins which are dried grapes, prunes are a species of dried plums. They have a lot of medicinal value and are a great pre-workout snack that can also be used in baked goods as well as in sauces.
Pumpernickel bread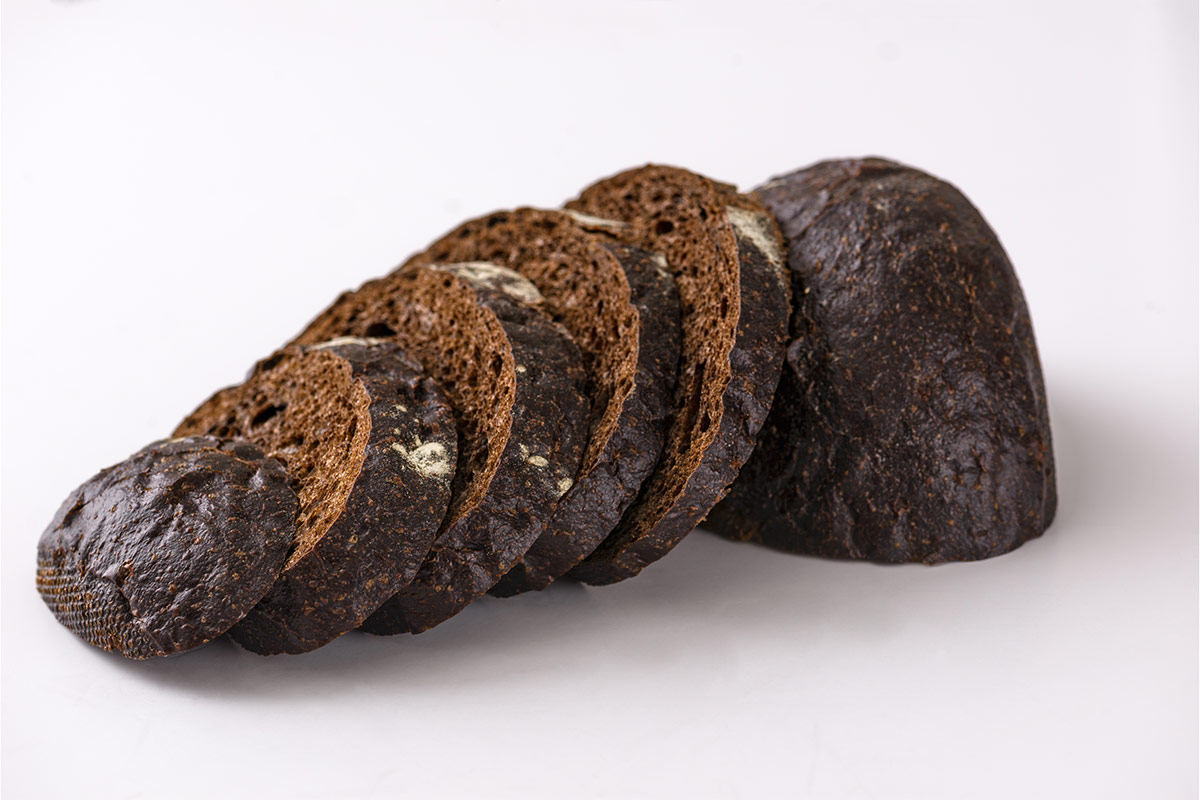 This traditional German bread starting with P is dense and made of rye. It a hearty and slightly sweet bread with a robust flavor that pairs well with all kinds of toppings like cheese, smoked meats and fish as the base for an open-faced sandwich.
Pumpkin seeds
Pumpkin seeds are the edible seeds of the variety of squash, the pumpkin. It's usually roasted and seasoned to make a nutritious snack or as a garnish for many kinds of salads and soups.
Appetizers and desserts that start with P
Paneer tikka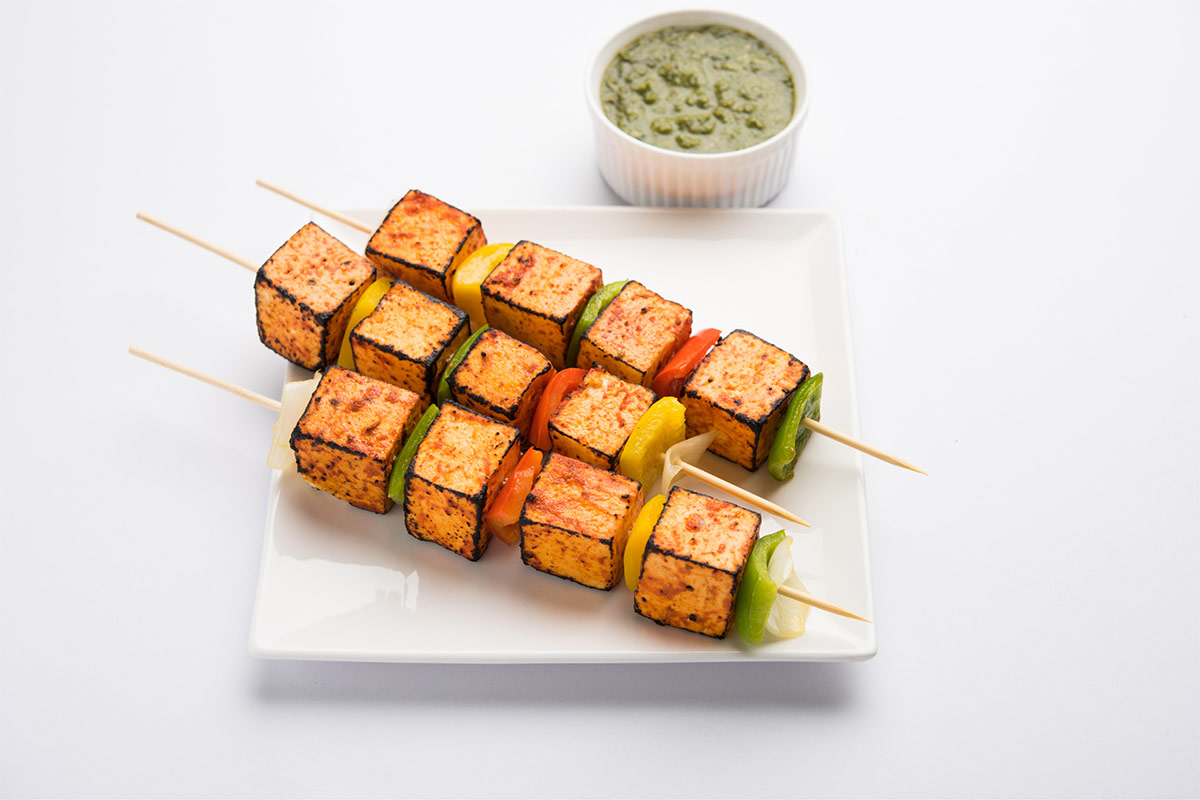 Paneer tikka is a popular Indian appetizer that's made up of paneer cheese that's been marinated in spicy yogurt and grilled alongside some veggies till it turns brown and crispy.
Panna cotta
Panna cotta is a classic Italian dessert made from dairy that's been thickened with gelatin. It has a silky, custard-like texture and is usually served topped with syrup, caramel sauce or a fruit compote for a sweet flavor.
Peach cobbler
A cobbler is a kind of dessert made from a fruit filling topped with some thick and crusty pastry. For peach cobbler, the fruit filling is made from peaches with sugar and sometimes cinnamon then served warm.
Peach melba
A dessert with a sweet taste made from peaches (fresh fruit) and raspberry sauce, the peach melba is a classic.
It's a decadent dessert made from a stone fruit that usually includes toppings like nuts and even some whipped cream. This same recipe is usually replicated with a tropical fruit instead.
Peanut brittle
Peanut brittle is a kind of sweet confectionary made from caramelized sugar and pieces of whole or crushed roasted peanuts that have been cooked and then poured into a sheet pan to cool. It's then cut into bits and served as a treat.
Pecan pie
As the name implies, a pecan pie is a decadent dessert made from pecans that can sometimes be whole or chopped, mixed with some butter, eggs and sugar and all coated over a simple pie crust.
It's popular in North America and a staple of the Thanksgiving season in the United States of America.
Phirni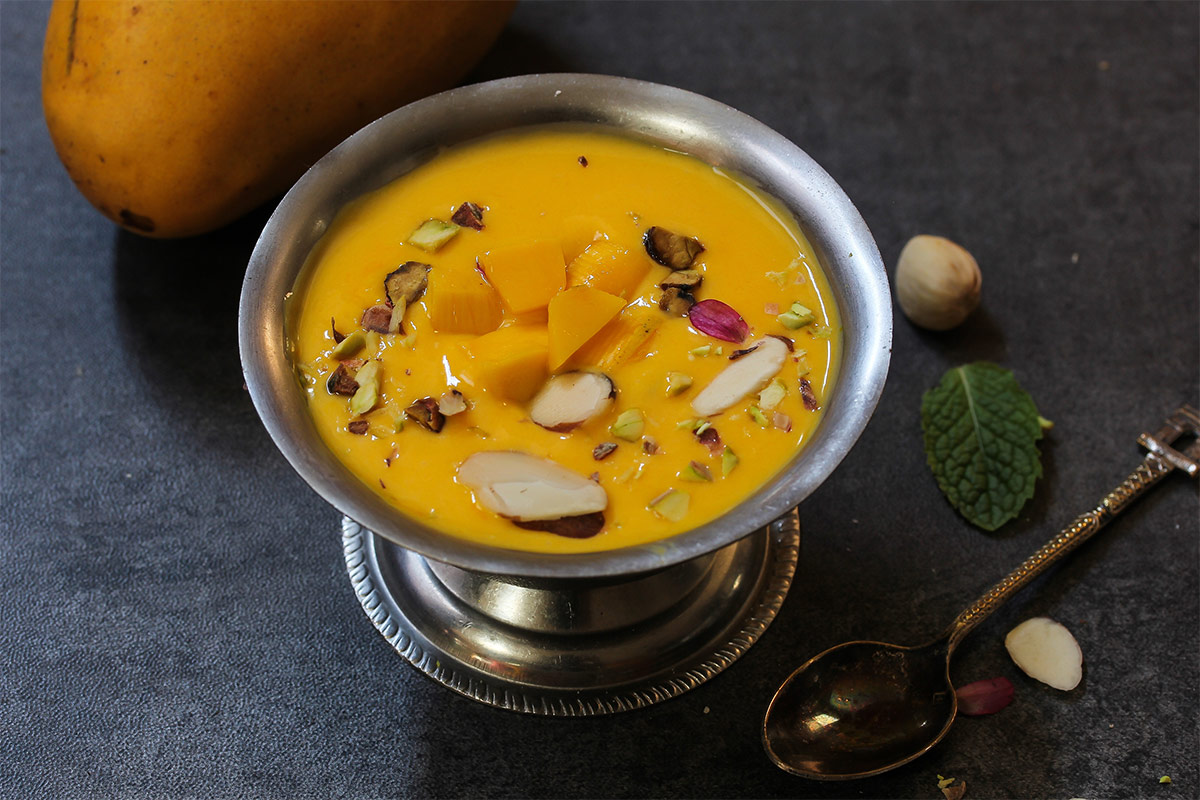 Rice is ground into a flour and mixed with almonds, sugar, saffron, milk and cardamon powder to make this aromatic Indian rice pudding. This rich and sweet ground rice dish is best served cold.
Pistachio ice cream
Pistachio ice cream is a kind of cold and sweet dessert that use pistachios as it's main source of flavouring. It usually has a nutty taste and a green colour due to this. Pistachio ice cream is also usually topped off with the whole or crushed nuts.
Prosciutto-wrapped asparagus
Proscuitto-wrapped asparagus is a filling appetizer made of a fatty cut of meat that's been thinly sliced called the prosciutto and some stalks of asparagus.
The meat is usually ham and the asparagus is wrapped in it before being spiced and baked till has a tender but crispy texture.
Pumpkin pie
A classic dessert, pumpkin pie features a spiced pumpkin filling baked in a flaky crust. The pumpkin is usually pureed and this wonderful dessert and staple food is often enjoyed during the fall and holiday seasons when the fruit is popular.
Dishes that start with P
Pad Krapow Gai
This Thai stir fried dish is made of finely chopped pieces or ground chicken cooked with a variety of spices like peppers, garlic and even shallots, seasoned with a sweet and savoury sauce then topped with some fresh herbs like basil. It's usually served over steamed rice.
Pad See Ew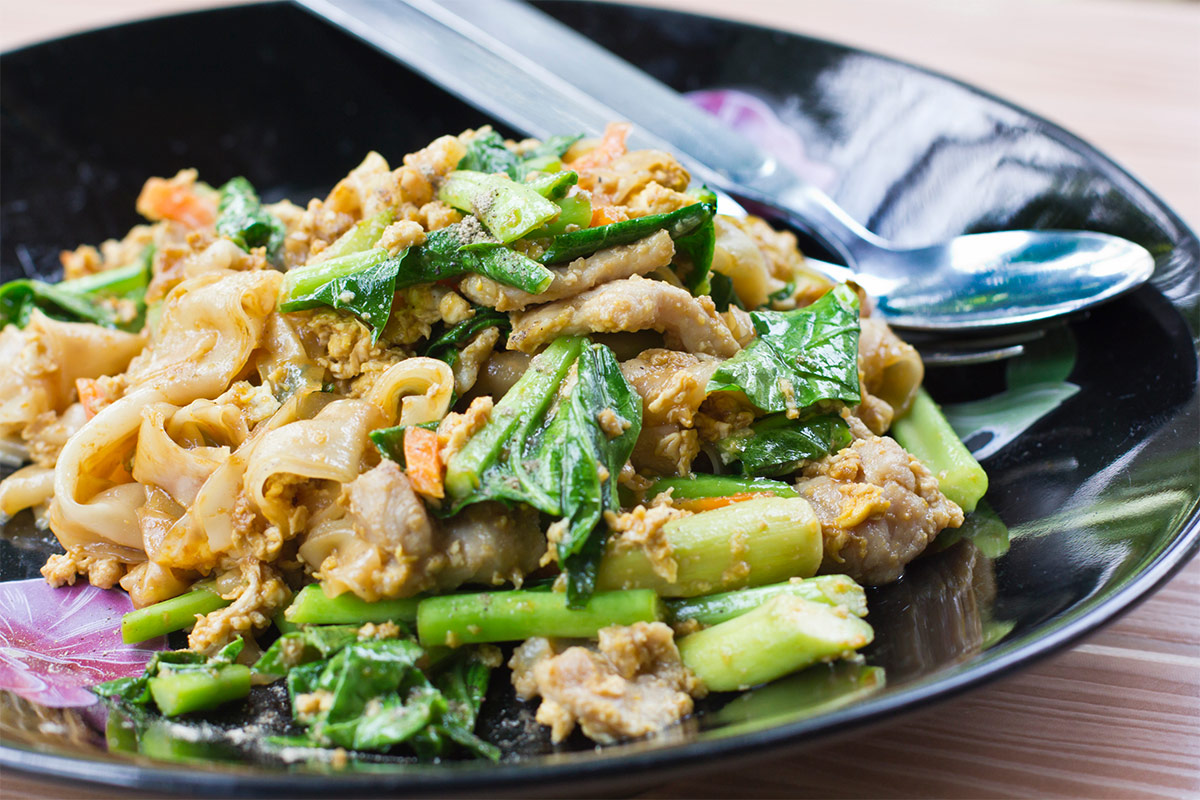 Pad see ew is a popular Thai street food starting with P. It's a stir fried noodle dish made of any kind of wide rice noodle or pasta tossed in a savory soy sauce with meat, tofu, some vegetables like broccoli.
Pad Thai
Pad Thai is a popular and iconic stir-fried noodle dish originating from Thailand. It usually includes any variety of noodles or even pasta that's tossed in some meat or sea food, a tangy and savoury sauce and veggies with oil in a wok or skillet.
Paella
Looking for some Spanish foods that start with P?
Paella is an iconic Spanish dish that's usually cooked and served in a huge shallow metallic dish. It consists of small cuts of meat alongside seafood and vegetables like onions, bell peppers and carrots.
Palak Paneer
This popular indian dish involves cooking cubes of the non-aged soft cheese, paneer, in a thick paste of spinach puree to make a creamy and savoury gravy.
Panang curry
Made from coconut milk, a thick red curry paste, meat or a plant based source of protein like tofu, ground peanut and a variety of veggies, panang curry is a rich, creamy and popular Thai dish.
Pancakes
Pancakes are a kind of flat cake that are fried in a pan with oil or butter instead of baked in an oven. It's a popular breakfast food that's usually eaten on its own, with a topping like whipped cream, berries or maple syrup and can also be had with a sweet or savory filling.
Pancit
Pancit is a general term for a traditional Filipino noodle dish but most varieties usually include some kind of noodle (usually rice noodles) that have been cooked with soy sauce, veggies and small cuts of meat or even seafood.
Paneer Makhani
A popular Indian dish made from paneer cheese that's been cut into cubes then cooked in a rich tomato sauce for a rich and creamy gravy that can be served with naan bread or even rice for a savoury and filling meal.
Pappardelle bolognese
Pappardelle pasta is slathered in rich bolognese sauce to make this hearty meal. The bolognese here is a slow cooked sauce whose major ingredient is ground beef or pork. It's a classic Italian dish that's usually topped with shredded cheese and herbs.
Parmesan-crusted chicken
This dish involves chicken (usually the breast) that's been skinned and deboned before being marinated, breaded or dipped in an egg wash and coated in parmesan cheese. The chicken is then baked or fried till it's crispy on the outside and tender on the inside.
Pasta carbonara
One of the most popular pasta dishes, Pasta Carbonara is a delightful Italian dish made of spaghetti (or any other long kind of pasta) garnished with a sauce made with a hard cheese, eggs, olive oil, salt and pepper called a carbonara.
Occasionally, veggies are added to make the meal all the more hearty.
Pav Bhaji
Pav Bhaji is a popular Indian street food starting with P and consisting of a buttery bread roll (called the pav) that's served with a savoury and tangy mix of vegetables, spices and herbs to make a curry (called the bhaji). It's usually served hot and as a snack.
Peanut pad thai
Peanut pad thau is a kind of dish made of noodles, meat or a plant based source of protein like mushrooms or tofu, scrambled eggs and veggies with the special ingredient here being some whole, slightly rushed peanut and a creamy peanut sauce.
Peanut Satay
Roasted peanuts are whirled to make a smooth paste before being combined with water and other spices to make a peanut satay. This rich, thick and creamy sauce is popular in Indonesia and is usually poured over skewered or grilled meat.
Peanut Satay Noodles
Noodles are tossed in a creamy, tasty, nutty and smooth peanut sauce and cooked in a wok to make this delightful savory dish.
It's usually accompanied with veggies like carrots, red peppers and spices like onions and garlic. Mushrooms, tofu and other sources of plant based protein are also added to make it more hearty.
Peking duck
Peking duck is a renowned traditional Chinese dish of roasted duck torn into strips and served alongside some pancakes, a savory sauce and vegetables that have also been cut into little strips.
Peking hot pot
A peking hot pot is a unique kind of dish and dining experience. It usually consists of a herbal broth cooked in a copper pot that's brought to a boil and left to stew throughout the duration of the feast.
Pepper steak stir-fry
Small cuts of flank steak is spiced with seasonings like black pepper and cooked in a frying pan with green and red bell peppers to make this pepper steak fry.
The result is usually tender and tasty meat with soft veggies in a savoury gravy with a unique flavor.
It's served with a side of rice pilaf or scalloped potatoes to make a more filling meal.
Pepperoni Stromboli
Mozzarella cheese, a savory sauce and pepperoni are placed over some pizza dough as it is rolled up into cinnamon like rolls and baked to make pepperoni stromboli.
It can be eaten on its own as a pocket snack or with a dipping sauce for a more filling meal.
Peri-Peri chicken
Peri peri chicken is a savoury dish of both European and African origin. It features different cuts of chicken that's been marinated with a tangy "peri peri" sauce and grilled to give it a smoky flavor.
The cut of chicken often used is the drumstick and it's often topped with chopped herbs.
Pesto sauce
Pesto sauce is a vibrant green sauce that most likely originated in Italy. It's made of fresh basil, pine nuts, a spice like garlic, olive oil and parmesan cheese. Pesto sauce is usually used for pasta, in sandwiches or as a dip.
Pesto pasta
Pesto pasta is a kind of Italian dish made of a type of pasta (usually spaghetti) coated in green and herby pesto sauce. The pesto sauce is made of crushed garlic and basil leaves with hard cheese (usually parmesan cheese), pine nuts and olive oil and can be had with sides like french fries.
Pho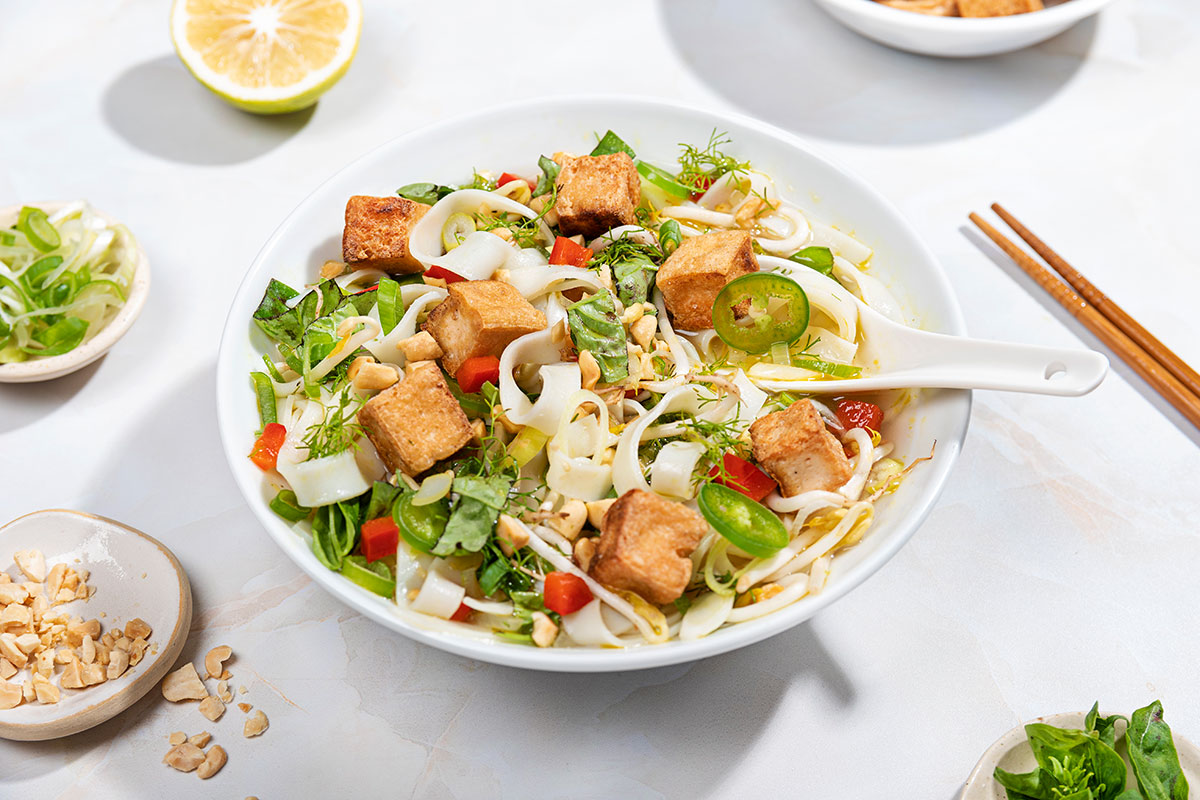 Pho is a traditional Vietnamese soup made of a nice broth that's filled with spices, rice noodles and tender slices of either beef or chicken.
You can try this vegan pho version for an incredible mix of flavors inspired by the classic Vietnamese dish!
Phở Bò
Phở Bò is a noodle soup that's made from a fragrant broth, noodles, spices and various cuts of tender meat. The meat here is usually either beef or chicken and the final dish is usually topped with herbs like cilantro and veggies like onions.
Phyllo Spanakopita
Phyllo Spanakopita is a Greek delicacy made of crumbled feta cheese, herbs and spices like onions mixed with the leafy green, spinach, and topped with several layers of a kind of thin unleavened pastry dough called phyllo.
Piccata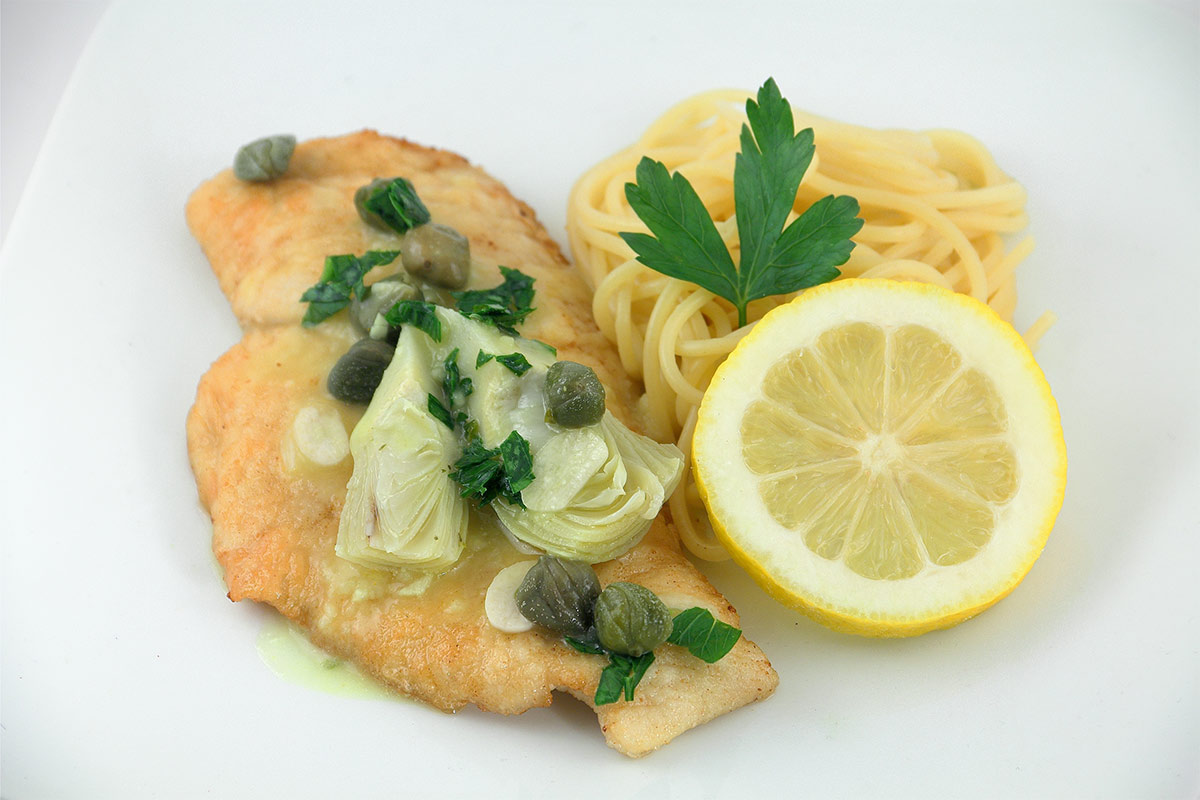 Boneless and skinless chicken breast cutlets are lightly coated in flour before being pan seared till brown and crisp then served with a simple sauce made of butter, fresh lemon juice, olive oil and capers called the piccata.
Pierogi
A savoury or sweet filling is wrapped in some unleavened dough and boiled in water, baked in an oven or fried on a skillet to make the pierogi. It's a kind of dumpling that originated in Poland.
Pineapple fried rice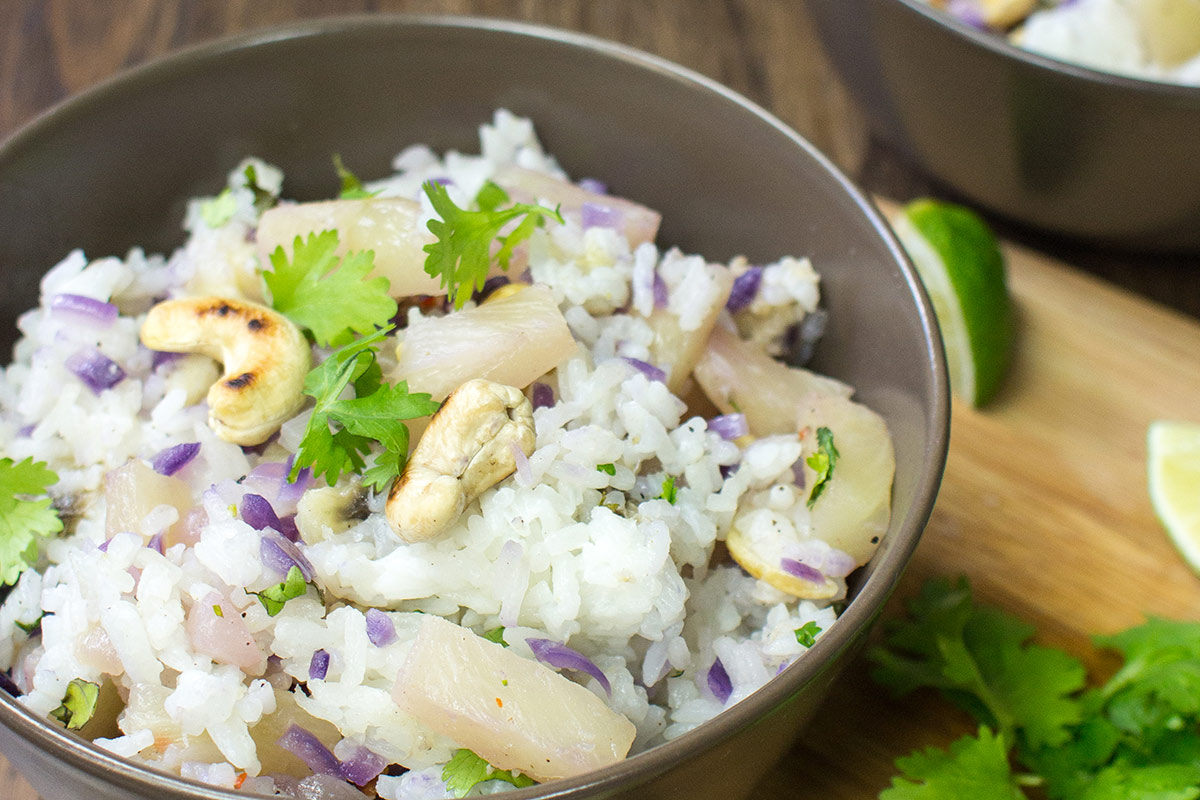 Pineapple fried rice is a kind of thai inspired cuisine that involves adding fresh pineapples to savoury rice. It usually includes chicken or seafood like shrimp, veggies like tomatoes, onions and bell peppers as well as cashew nuts.
Pimento cheese sandwich
A pimento cheese sandwich is a classic sandwich popular in the southern region of America. This popular type of sandwich is basically pimento cheese spread on two slices of some fluffy white bread.
The pimento itself is a simple mix of red bell peppers, cheddar cheese and some mayonnaise.
Check my article on how to freeze pimento cheese if you need to preserve it for other days.
Pistou soup
Pistou soup is a kind of fresh vegetable soup made of veggies, legumes like beans and a sauce that's very similar to pesto, only that it lacks pine nuts and cheese.
Pita gyro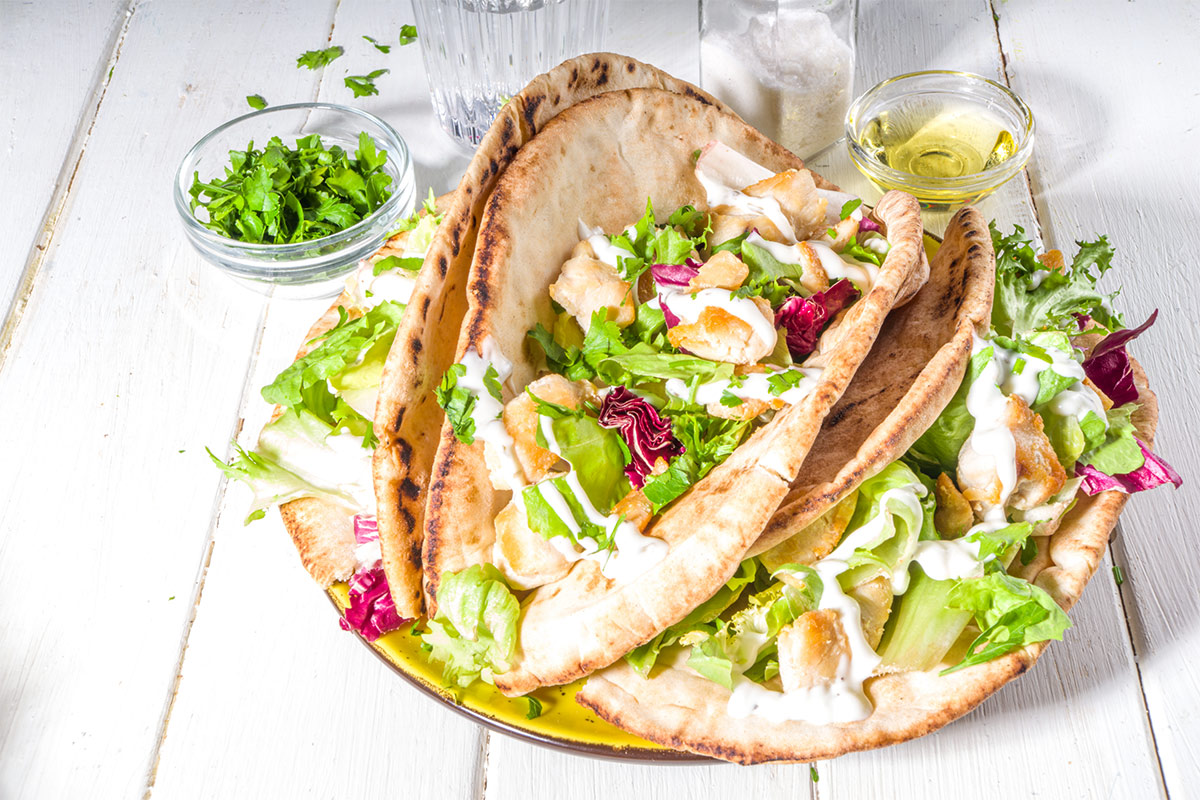 A pita gyro is a common Greek dish of pork, chicken, beef or lamb cooked on a spit and served in a slice of pita with fresh veggies like tomatoes and onions. Fried potato chips are often included as well as some tangy tzatziki sauce to give this main course more flavour.
Pizza
Pizza is one of the most popular and beloved dishes in the world. This staple food with P is made of leavened dough that's topped with a sauce, cheese, fruits like pineapples, meat like beef or chicken or even a plant based source of protein like mushrooms.
It's then baked so the dough becomes crusty and is usually served while hot.
Plum sauce
Often used in Asian cuisine, plum sauce is a dark, sweet and tangy sauce made of plums cooked in vinegar with garlic, ginger and sugar. It is often used as a dip for fried dishes and barbecued meat.
Polenta
Polenta is a kind of porridge made from cornmeal. It's flavoured with butter and a cheese like parmesan to make it creamier before it's served or left to sit till it becomes solid and then fried, grilled or baked.
In it's creamy, porrige form, it can be served with roasted veggies or a savoury sauce for extra flavor.
Pollo Asado
Pollo Asado is Mexican cuisine consisting of different cuts of marinated chicken that have been cooked till they're brown and crispy on the outside and tender on the inside. The marinade is usually a red sauce with loads of spices and some tangy lemon juice or lime juice.
Pommes Anna
Pommes Anna is a popular french cusine that's usually served as a side dish. Here, very thin slices of potatoes are coated with a lot of butter and layered over each other before being baked to give a dish that's crispy on the outside but soft and tender on the inside.
Popcorn chicken
Meaty pieces of chicken are cut down into bite-sized pieces, coated in a batter and deep fried until golden brown to create popcorn chicken. It's usually eaten as a snack or appetizer alone or accompanied with some kind of savory dip.
Pot-au-Feu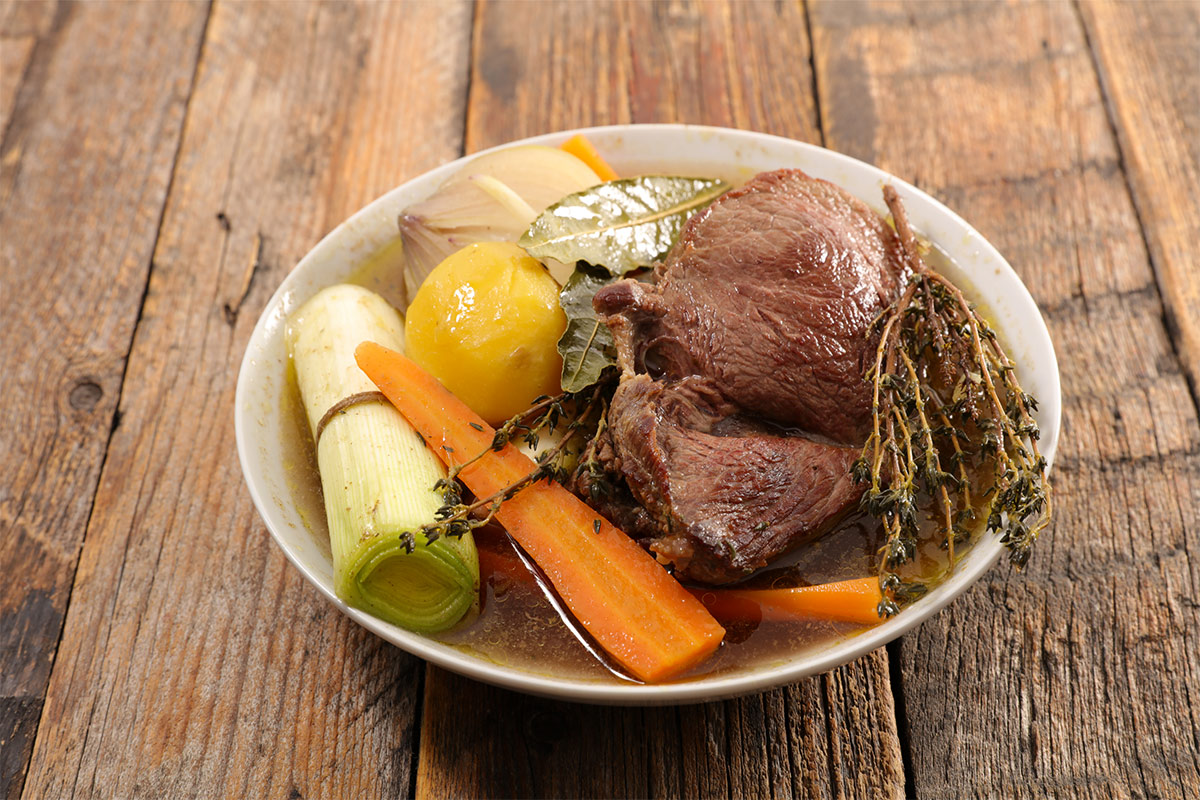 This french cuisine is a soup made up of slow cooked condiments. It usually includes a tender meat, most especially beef, with veggies like potatoes and carrots. The broth is then served first and then the beef after.
Pot roast
A tough cut of beef is spiced and slow cooked with a broth in a pot to make a pot roast. The meat is usually served in its own gravy alongside some cooked carrots, potatoes and other veggies to make the meal all the more hearty.
Potato leek soup
Potato leek soup is a classic comfort meal made of a blend of potatoes, butter, and leeks as well as herbs and spices like garlic for taste. This French and Welsh cuisine has a creamy texture, is usually thickened with cornstarch and includes a vegetable broth.
Potato Gnocchi
Potato Gnocchi is a kind of soft Italian pasta made from cooked potatoes, flour and eggs (instead of wheat flour) that are mixed and rolled up before being boiled.
It's usually served with cream sauces, salads and either baked or sauteed veggies to make a hearty meal.
Potato salad
Small white or yellow potatoes are boiled and tossed with some mayonnaise, herbs, spices and other veggies to make this side dish. It's usually creamy and can also include small chunks of hard-boiled eggs.
Poutine
Poutine is a Canadian dish made of crispy, deep-fried potato chips tossed together with cheese curds and topped with a rich and savory gravy. It can be served as a main dish or a side with some roasted veggies or a side salad.
Pulled pork sandwich
This kind of sandwich is made from pork (usually the leg or shoulder) that's been slow-cooked till it's so tender, it can be easily torn into strips.
The pork is then garnished with a rich and savory sauce, topped with veggies or coleslaw and squeezed between two slices of a sandwich bun.
Snack foods starting with P
Pambazo
This Mexican dish is a kind of sandwich that usually involves a popular kind of bread that's been dipped in a pepper sauce before being lightly sauteed. The bread is then stuffed with a savory mixture of potatoes, chorizo, sour cream, veggies and queso fresco.
Pani puri
Panipuri is a kind of Indian snack made of stuffed dough that's deep fried till it's crisp. The stuffing here is usually masala and a liquid with a tangy flavor made of a mix of herbs like coriander and mint with lemon juice, green chili and ginger.
Popcorn
Popcorn is a staple snack made from corn. The corn kernels are heated in a little oil until they expand, bursting to become light and white. The popcorn is then sweetened with sugar or caramel or seasoned with chilli or even butter.
Potstickers
Potstickers are a kind of Chinese dumpling made from wonton wrappers that have been filled with meat or veggies before being pan fried. They're then served with a soy-based dipping sauce and eaten as a savory snack.
Fruits that start with P
Papaya
The papaya fruit is a pleasant, sweet tropical fruit with orange flesh and black pulpy seeds.
This large fruit, known scientifically as Carica papaya, apparently originated in the southern part of Mexico.
Here is a list of various tasty alternatives to papaya that you can try.
Passion fruit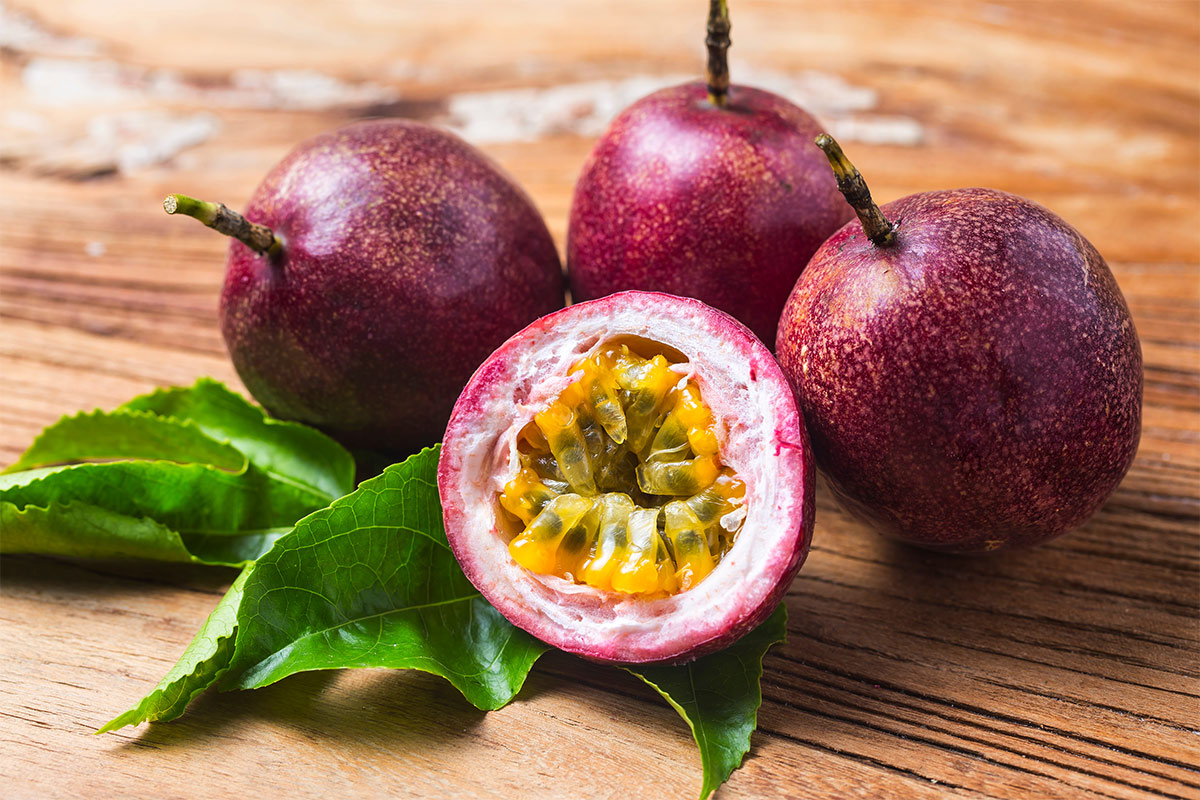 The tropical climate is ideal for the growth of passion fruit, which is prized for its striking purple color and distinctive tangy-sweet taste.
Passion fruit is a healthy and pleasant option because of its high vitamin C and antioxidant content.
Its scientific name is Passiflora edulis, and it was originally found in South America.
Pawpaw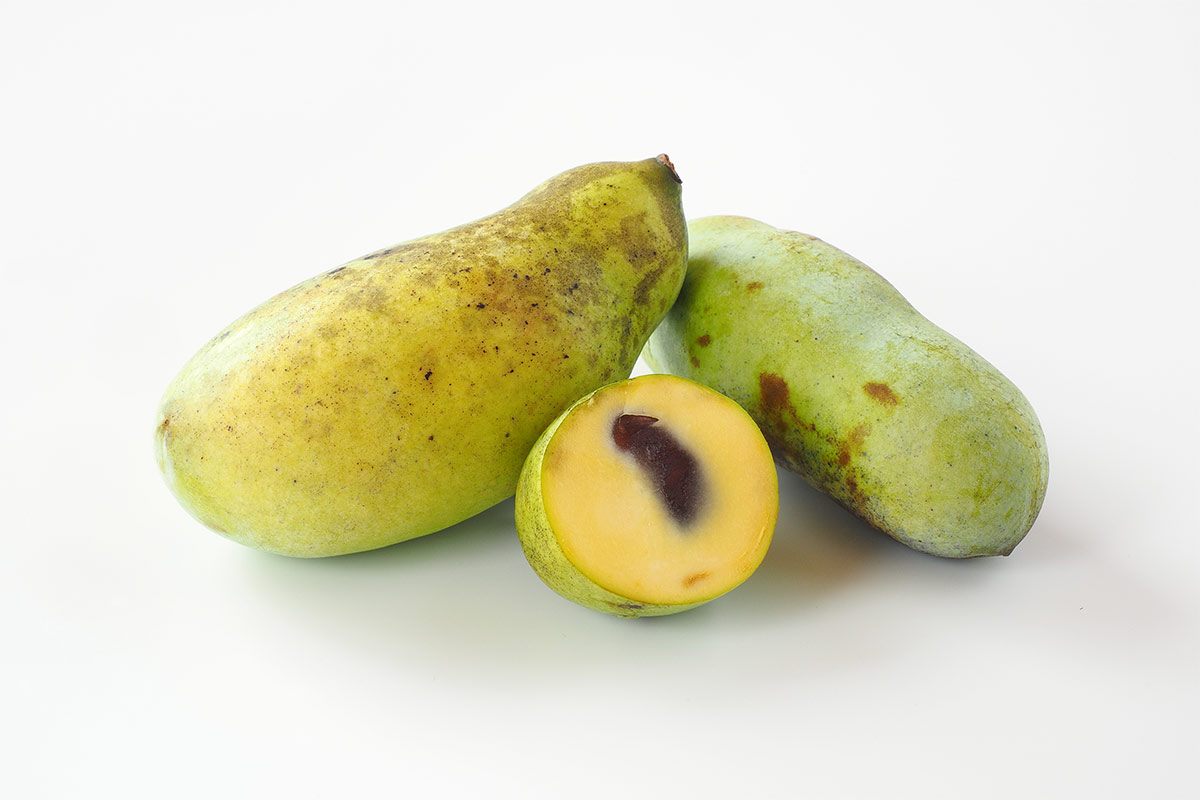 The paw paw fruit, which originated in North America, tastes tropical, like mango or banana. The outside looks like a mango, while the interior is as soft and white as custard.
Vitamin C, magnesium, and potassium can all be found in pawpaw.
This unusual fruit's botanical name is Asimina triloba.
Peach
Peaches are delicious, spherical stone fruits with a fuzzy, white surface and slightly orange, juicy flesh.
Peaches are used in a wide variety of sweets, from ice cream to candies, and provide a wealth of health benefits.
Prunus persica is the binomen for this popular fruit.
Pear
Pears are distinctive fruits with elongated, concave shapes, green skin, and white, grainy flesh. The base of each one is spherical, but it tapers to a point just at the stalk.
The pear is one of the world's most frequently cultivated fruits and is native to many different climates.
Part of the rose family, pears (Pyrus communis L.) are prized for their delicious and distinctive flavor and for the versatility they provide to the kitchen.
Pecan
Pecans are brown nuts, which are botanically speaking fruits with a woody epicarp.
They're crumbly, full of nutrients, and have a taste somewhere between sweet and buttery.
Pecan trees are classified as Carya illinoinensis in the plant kingdom.
Pepino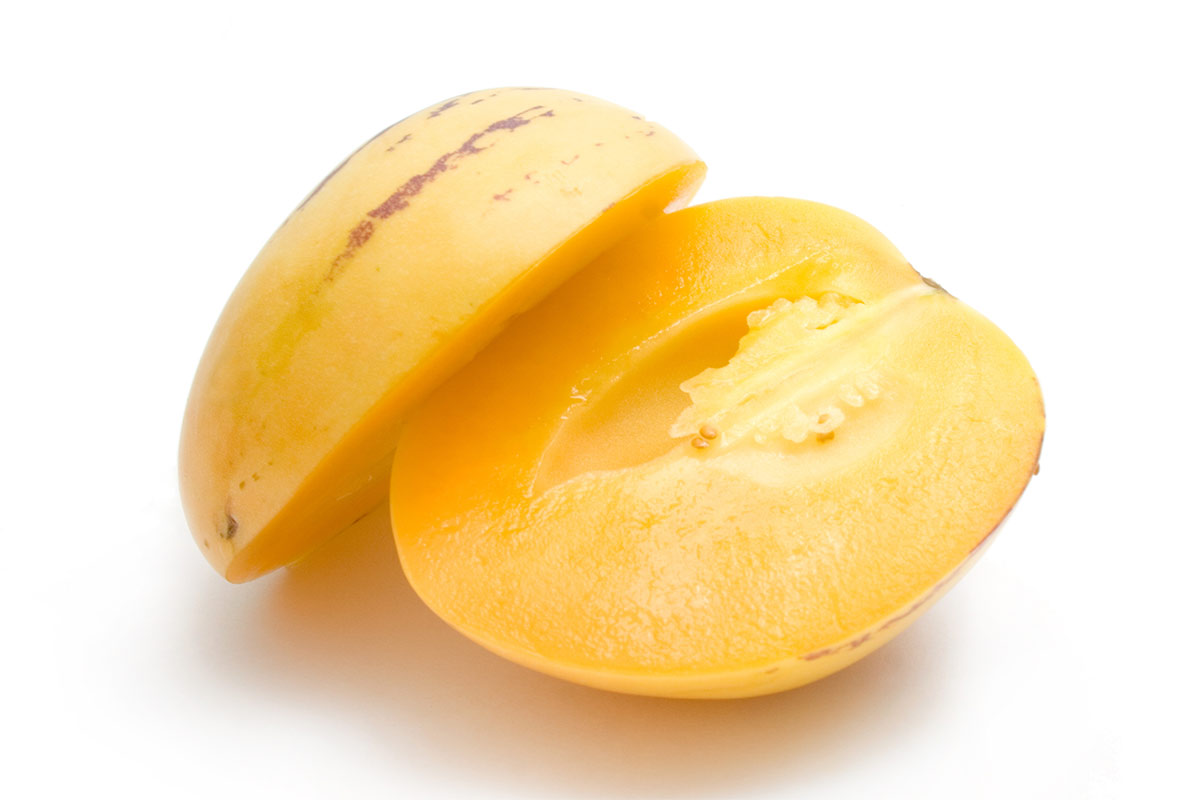 Pepinos are little, watermelon-like fruits with an oval shape. The skin of this P fruit, which also goes by the name "melon pear," is often yellow or green and striped with dark green or purple.
Pepinos are a kind of fruit found in some parts of South America. Their flavor is somewhere between that of a cucumber and honeydew.
This fruit's official scientific name is Solanum muricatum.
Persian lime
A fruit of unknown origins, the Persian lime fruit is one of the most widely cultivated species of lime. This fruit has a tangy flavor is seedless and also known as the Tahiti lime.
Persian limes are more acidic than key limes and have a smooth rind.
Scientifically, they're known as Citrus × latifolia.
Persimmon
This fruit beginning with the P is bright orange in color and tastes somewhat sweet, like a mango, but has a softer, almost jelly-like consistency.
Fiber, vitamin C, and antioxidants can all be found in abundance in persimmons.
The scientific names for the two most common types of these P fruits are Diospyros kaki and Diospyros virginiana.
In the event that you ever find yourself without persimmons, this handy guide to persimmon substitutes will steer you in the direction of an appropriate alternative.
Peruvian apple cactus
The Peruvian apple cactus, like the prickly pear, is a fruit that may develop on several types of cacti. This Peruvian apple cactus, in contrast to the prickly pear, does not have spines, albeit its plant does.
They range in hue from violet red to yellow and are often referred to by the indigenous name, pitaya.
Cereus repandus is the scientific name for the somewhat sweet Peruvian apple cactus.
Peruvian groundcherry
The Peruvian groundcherry is a tiny, sweet, tart fruit with a papery husk that is also known as the cape gooseberry.
They have a glossy, smooth exterior and a high water conten, and they're also members of the berry family.
The scientific name for these plants is Physalis peruviana, and they do well in warm areas.
Peumo fruit
Red peumo berries are edible. The tree is endemic to South American countries and is prized for its decorative qualities as well as the peumo fruits it bears.
Their flavor has been regarded as unpleasant, therefore the Cryptocarya alba tree is more prized for its bark than its fruits.
Pie pumpkins
Pumpkins are often cultivated for their decorative and symbolic value; however, pie pumpkins are cultivated for their edible qualities in the kitchen.
Its flavor is comparable to that of a squash, and its flesh is sweet. Desserts and other sugary foods are often made using it.
Pineapple
Native to the tropics and subtropics of the Americas, pineapples are a delicious and luscious fruit. Its delicate, light yellow or golden flesh is packed with nutrients including vitamins, minerals, and enzymes.
Ananas comosus is the scientific name for this luscious tropical fruit.
Pineberry
Pineberries are a cultivar of the common strawberry. They taste very much like a pineapple and have a white or pink flesh color with scarlet seeds.
Pineberry fruit, which is used in a wide variety of desserts and drinks, looks like tiny pinecones.
The fruit is called Fragaria x ananassa in the scientific world.
Pindo palm fruit
Small golden yellow fruits with a sweet tart and juicy flavor are produced by the pindo palm tree. They can be found in many different dishes and also go by jelly palm fruits or palm dates
Fresh or dried, they can be sprinkled over desserts or rehydrated to make jams and jellies. This fruit is known by its scientific name, Butia capitata.
Pitanga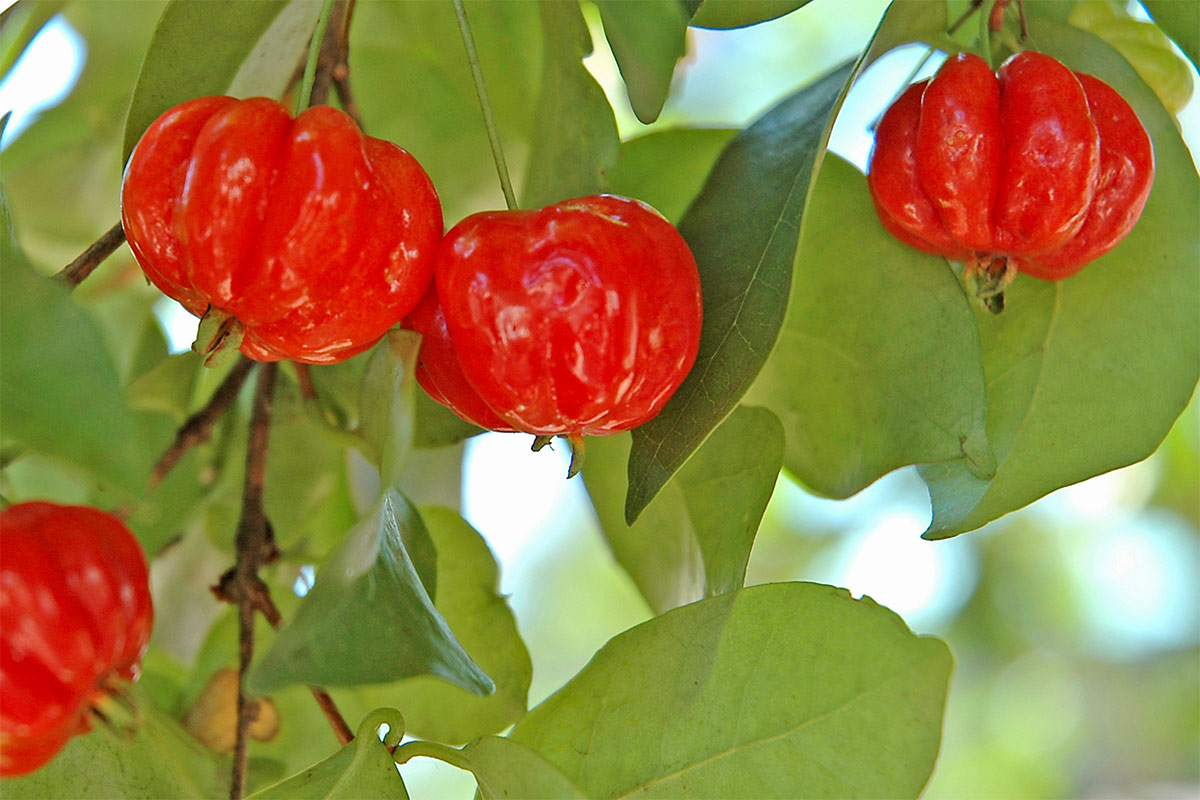 These small, bright red tropical fruits that start with P are also known as pitanga cherries. They're packed with nutrients like vitamin C and many types of minerals, and they have a sweet yet sharp flavor.
Eugenia uniflora is the botanical name for pitanga.
Pitaya
Pitaya is a little tropical fruit with a bright yellow or pink outer covering that goes by several names, including the dragon fruit. The inside is white or pinkish in color and is dotted with tiny black seeds.
It has a somewhat sweet flavor that has been likened as a cross between kiwi and watermelon. Pitaya, or Selenicereus undatus, is a fruit that is high in vitamin C, iron, and fiber.
Plantain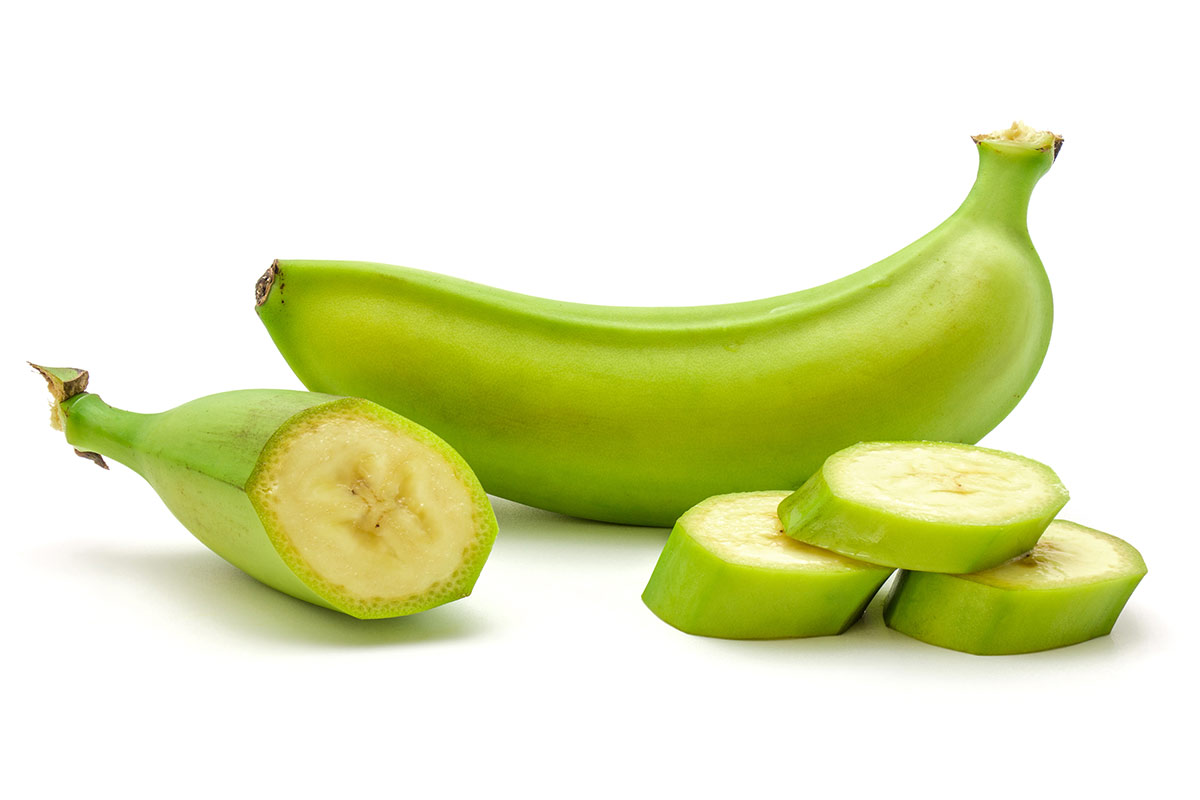 Plantains are like bananas but bigger and starchier. They seem like fruits, but you have to boil them before you can eat them.
Cooking options include frying, roasting, boiling, and mashing. Many people in the tropics rely on plantains as a main source of nutrition due to their high fiber, potassium, and vitamin A and C content.
Musa paradisiaca is the scientific name for this fruit.
Plum
The category of fruit known as "drupe" or "stone fruit" includes plums. Peaches, nectarines, and apricots are all related fruits that come from the same family.
Plums are little fruits that range in color from a deep purple to a bright yellow or a deep crimson. Their calorie count is low, their vitamin content is high, and they're rich in fiber.
Plums scientifically belong to Prunus subg. Prunus.
Pluot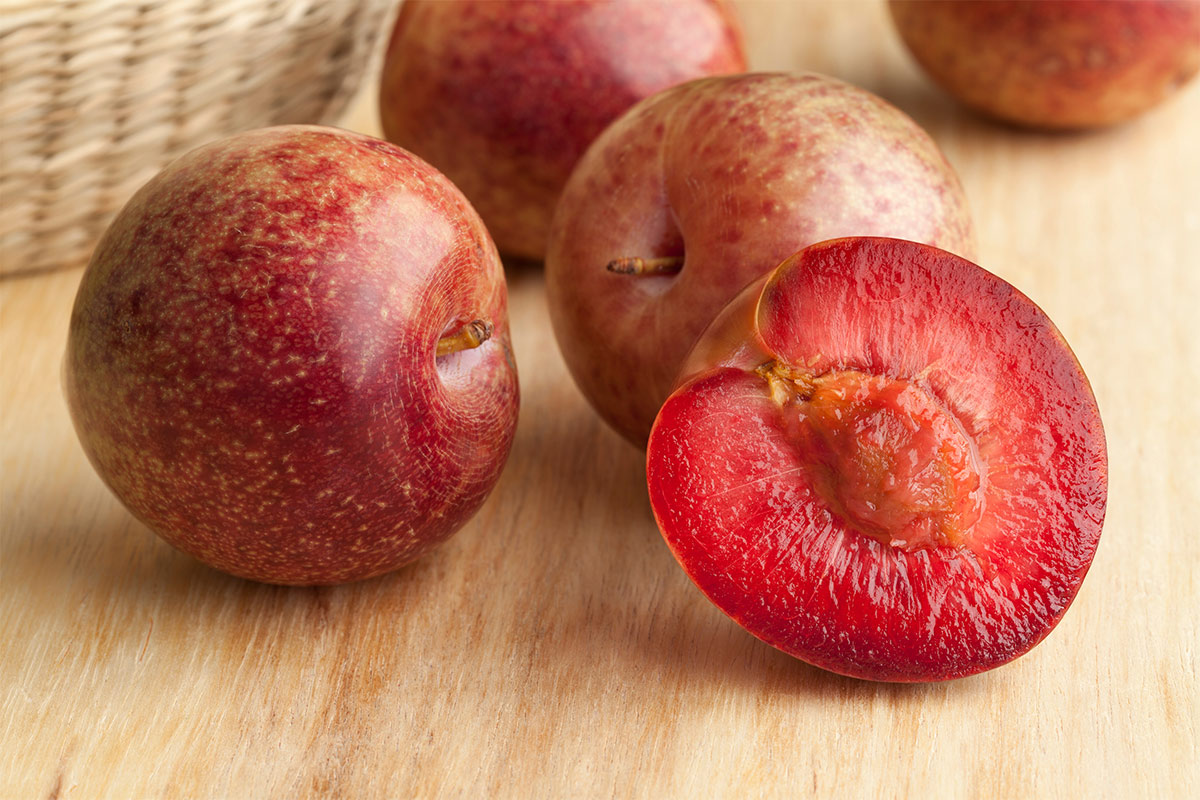 Pluots (sometimes spelled plumcot) are another example of a cross between an apricot and a plum. It has various varieties, most of which are more plum than apricot in flavor.
Their flavor is quite close to that of plums, but their skin is sweet and juicy like an apricot's.
Pomegranate
Pomegranates are exotic fruits prized for their antioxidant content and luscious crimson arils. The arils contain healthful and delicious edible seeds.
The arils have been praised for their nutritional value; they are high in potassium and numerous B vitamins.
Pomegranate is known as Punica granatum in the scientific community.
If you're interested in learning about other fruits with comparable flavors to pomegranates, check out my suggestions.
Prickly pear
Prickly pears are a kind of edible fruit that grows on some species of cactus. Its exterior is prickly and comes in a variety of colors, from green to orange to red.
Its flesh is tender, sweet, and juicy, and it is often referred to as the cactus fruit.
Pulasan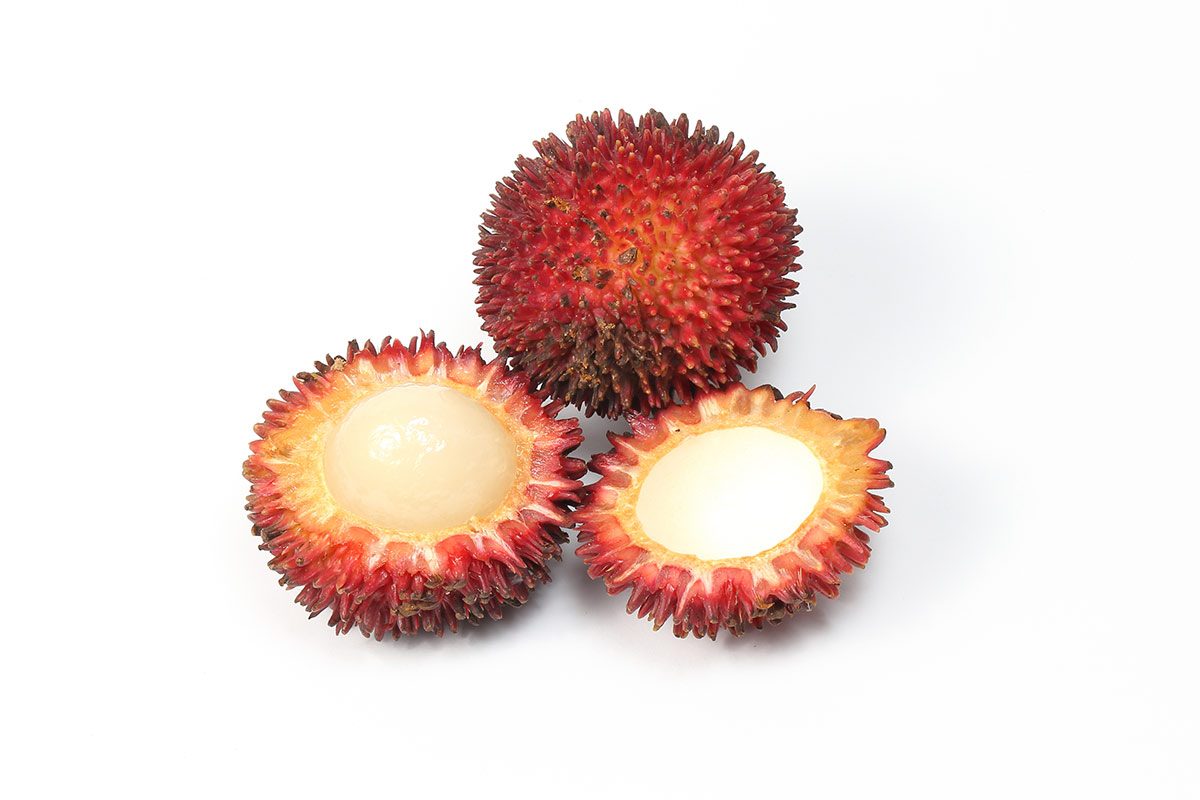 The pulasan fruit is a little tropical fruit distinguished by its crimson exterior and luscious, transparent flesh. Due to its similar appearance, it is sometimes mistaken for the rambutan. However, the rambutan is smaller and has softer, more projecting spines.
Originating in southeast Asia, this P fruit is a local superfood there. Nephelium mutabile is the scientific name for the pulasan fruit.
Pomelo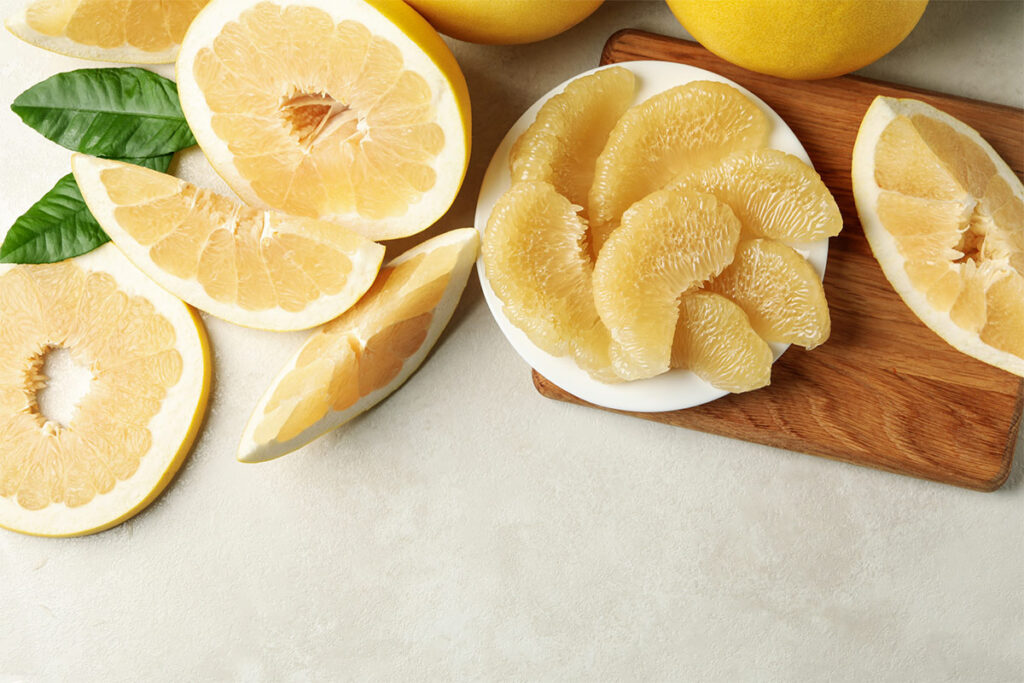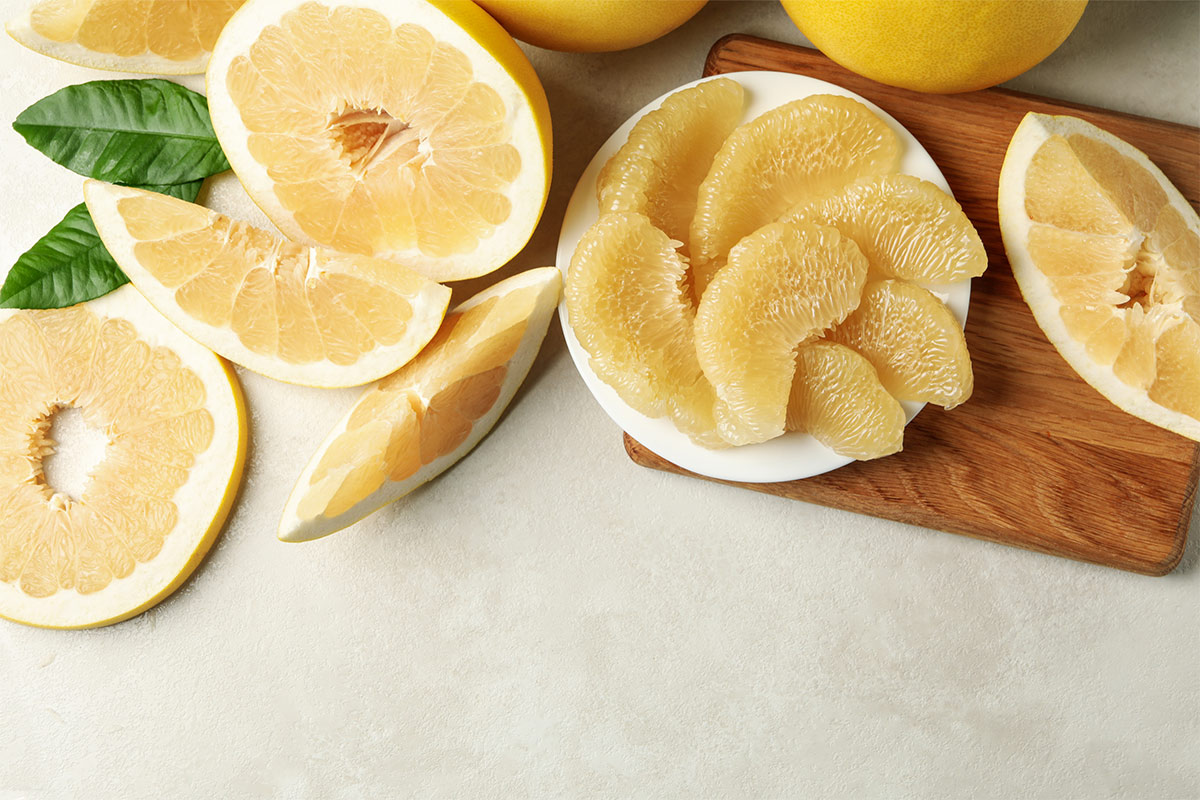 The pomelo is one of the few fruits on this list that is not a hybrid of two different species. The biggest citrus fruit in the world, it originated in Southeast Asia.
The taste is somewhat sweet and tangy, like a grapefruit, and rather pleasant. The Citrus maxima, as it is formally named, also has a thick rind.
Vegetables that start with P
Pak choi
Commonly employed in Asian cooking, this leafy green vegetable starting with P is also known as Chinese cabbage and, more recently, bok choy. The base is bulbous and white, and it's topped by a clump of green leaves.
The mild flavor and crisp texture of this traditional Chinese vegetable make it a wonderful complement to both soups and stir-fries.
Bok choy, or Brassica rapa subsp. Chinensis, is its scientific name.
Check out my post on pak choi alternatives if you want to learn more about this P vegetable.
Parsley
Parsley is a popular herb for use as a garnish because of the bright, clean flavor it imparts to food.
This herbaceous plant is a great way to get more nutrients into your diet, and the leaves can be used to enhance the flavor of salads, soups, and sauces.
In botany, this plant is classified as Petroselinum crispum.
In addition to its more well-known use, parsley is also one of the substitutions I recommend for celery, and it can also provide some unique taste notes when used as a replacement for basil.
Parsnips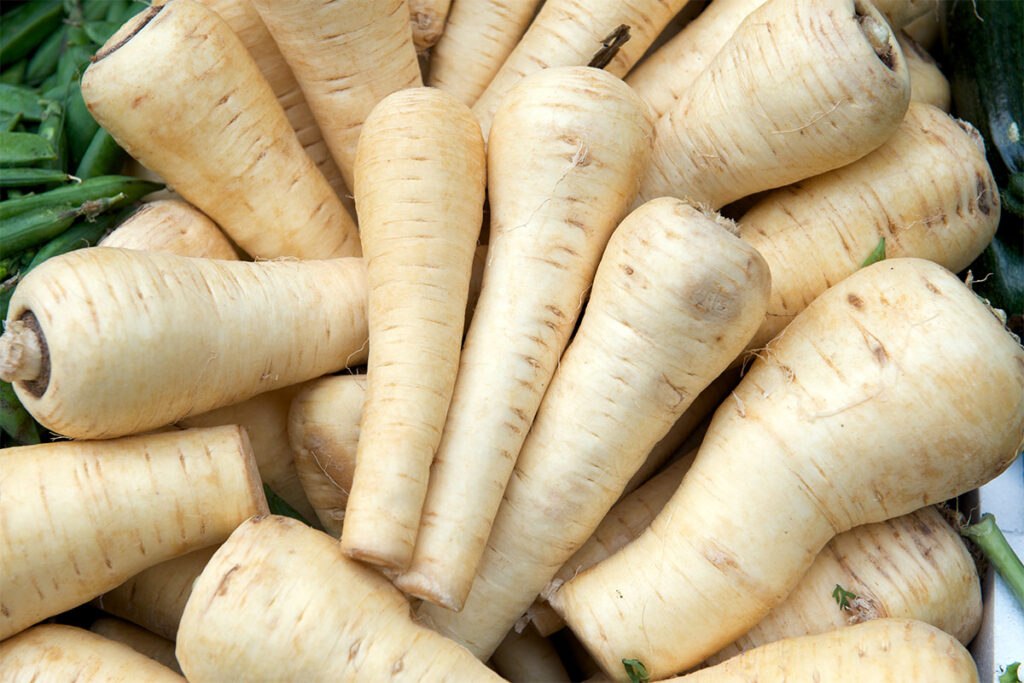 Parsnips, a kind of cream-colored starchy root vegetable, are quite similar to their orange-fleshed relatives, the carrots. They are sweet and spicy, with an earthy and nutty undertone.
They are very flexible vegetables that can be roasted, mashed, or used in soups.
Parsnips, or Pastinaca sativa to use its scientific name, are a great source of vitamin C.
Pattypan squash
The pattypan squash is a kind of summer squash that resembles a little pumpkin but is flatter and smaller. Its mild taste and supple texture are enhanced by steaming, roasting, or stuffing, making it a fantastic ingredient in a wide range of dishes.
Pea eggplant
Very little eggplants known as "pea eggplants" are only a tad larger than a pea in size. Green in color, these little eggplants are a staple in Southeast Asian cooking.
They are often used in pickles, stir-fries, and curries because of their mildly bitter flavor. The botanical name for pea eggplants is Solanum torvum.
Pea shoots
Pea shoots are green vegetables beginning with the letter P and consisting of the tender young leaves and tendrils of pea plants. They have a mild, somewhat sweet flavor and are safe for human consumption.
The light, fresh flavor and high nutritional value make them a welcome complement to a wide variety of dishes, from salads to stir-fries.
Peas
Peas are pod-enclosed, green, tiny, ball-shaped vegetables. They belong to the leguminous family of plants and thrive at milder temperatures.
As a nutritious complement to many different dishes, such as salads and stir-fries, they are often served as a side dish. They are classified as Pisum sativum scientifically.
Pepper squash
The pepper squash is a summer squash type that looks like a bell pepper and has a mild, delicate taste. It is more often known as the acorn squash.
It has a mild, somewhat sweet flavor and works best in savory applications including sautéing, grilling, casseroles, and stir-fries.
Cucurbita pepo var. turbinata is the scientific name for this veggie.
Pepper
Capsicums, or peppers, are a kind of fruit that are used as a vegetable in cooking. They are a diverse genus of brightly colored berries, the tastes of which range from mildly sweet to fiery and spicy depending on the species.
They are cultivated in many different countries and are used to add flavor and color to dishes of various types.
Pepperoncini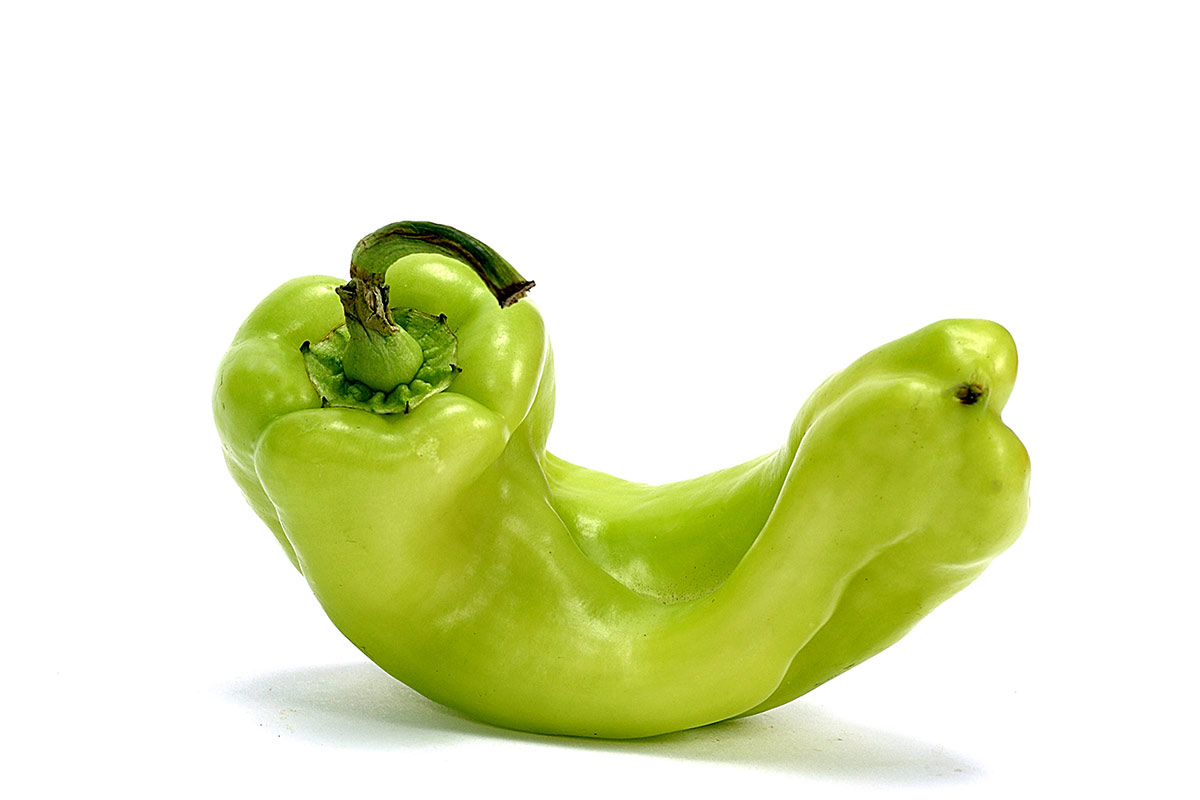 Pepperoncini, often called Tuscan peppers, are tiny, mild peppers with a sour taste that are frequently used in Italian cooking.
They're somewhat spicy, so they're great for pickling or sprinkling on top of sandwiches and salads.
The scientific name is Capsicum annuum 'Friggitello'.
Pigeon peas
Pigeon peas, which are tiny, spherical members of the legume family, are often found in pods and are widely used in the cuisines of tropical climates. The flavor is nutty, and the texture is somewhat crunchy.
Cajanus Cajan is the scientific name for pigeon peas.
Pimentos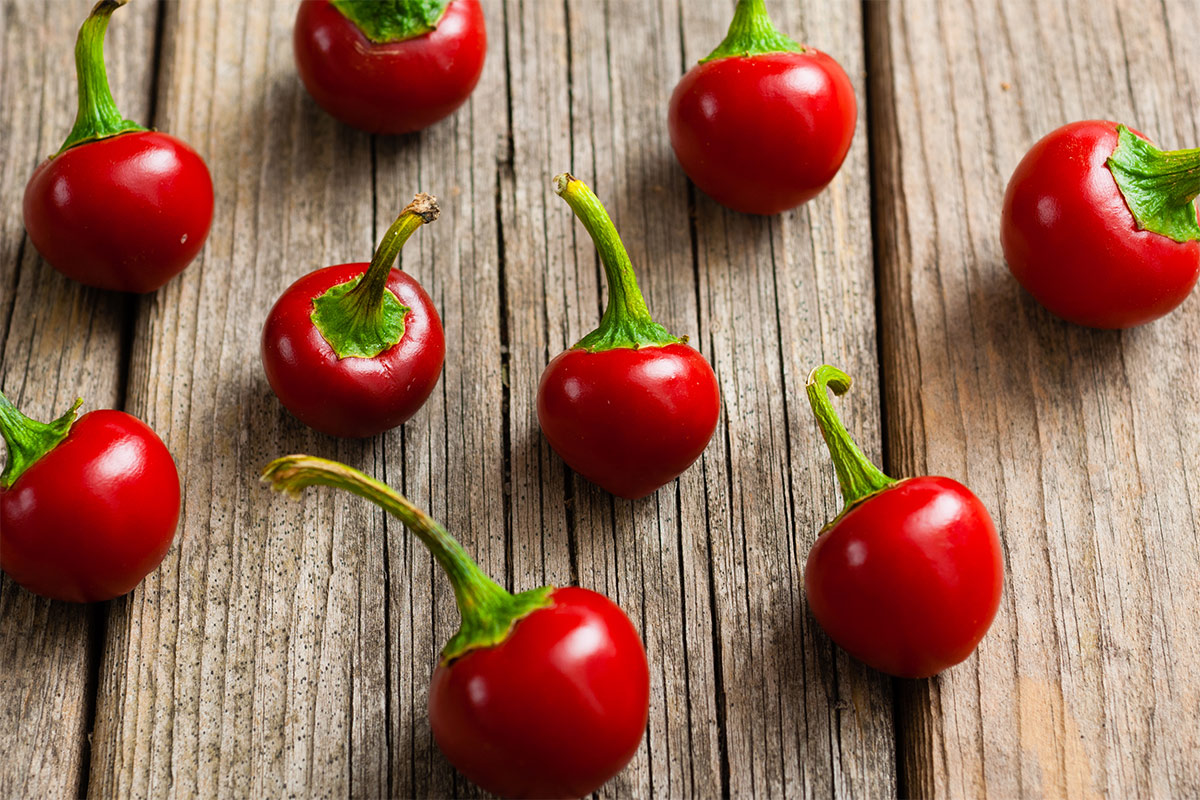 Because of their spherical, heart form, these little red peppers are often referred to as cherry peppers. They are used to enhance the taste of meals rather than to add heat since they are mild and sweet chili peppers that are more fragrant than hot.
Pimento is also known as Capsicum annuum, its scientific name.
Pinto beans
Pinto beans are a versatile ingredient that can be used in a wide variety of Mexican and Southwestern American dishes. Soups, stews, and chili all benefit from their creamy texture and nutty taste.
Pinto beans, or Phaseolus vulgaris Pinto Group beans, are a great plant-based source of protein and fiber.
Portobello mushrooms
Although they are botanically classed as a fungus, portobello mushrooms are used in the kitchen just like any other kind of vegetable. Vegetarians love these mushrooms because of their heartiness.
Grilling, sautéing, or stuffing Portobello mushrooms with other ingredients to make a special baked dish are common ways to prepare them.
Agaricus bisporus is their official name in the scientific community.
Portulaca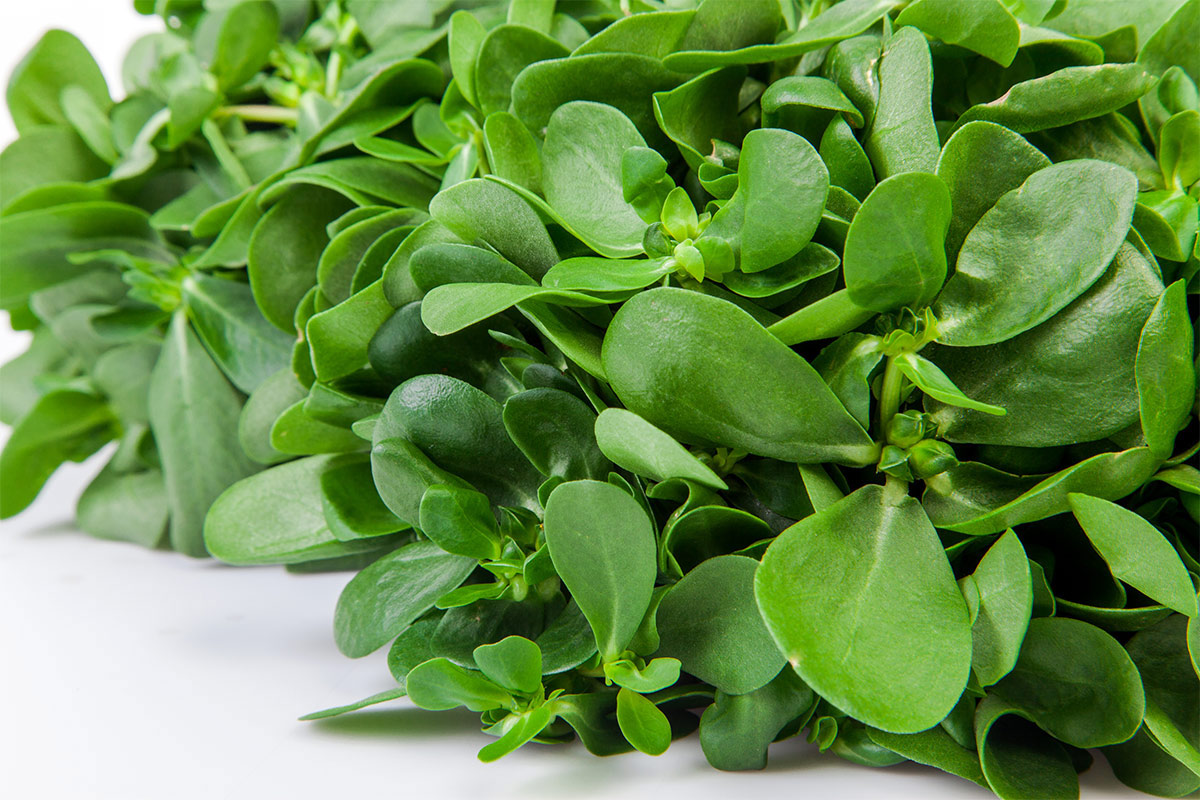 Portulaca, also known as common purslane, is a leafy green vegetable that starts with P. It has a fresh, somewhat salty and sour flavor with overtones of lemon .
It's a healthy addition to salads and stir-fries, and it may also be eaten on its own. The scientific name for this green vegetable is Portulaca oleracea.
Potato
Potatoes are a kind of root vegetable and starchy food that originated in America and are now farmed in many parts of the globe.
Because of their high nutritional content and adaptability, they are used in a wide variety of dishes, from baked to boiled to fried to mashed to roasted.
Solanum tuberosum refers to the plant species that yields these nutritious tubers.
Prickly pear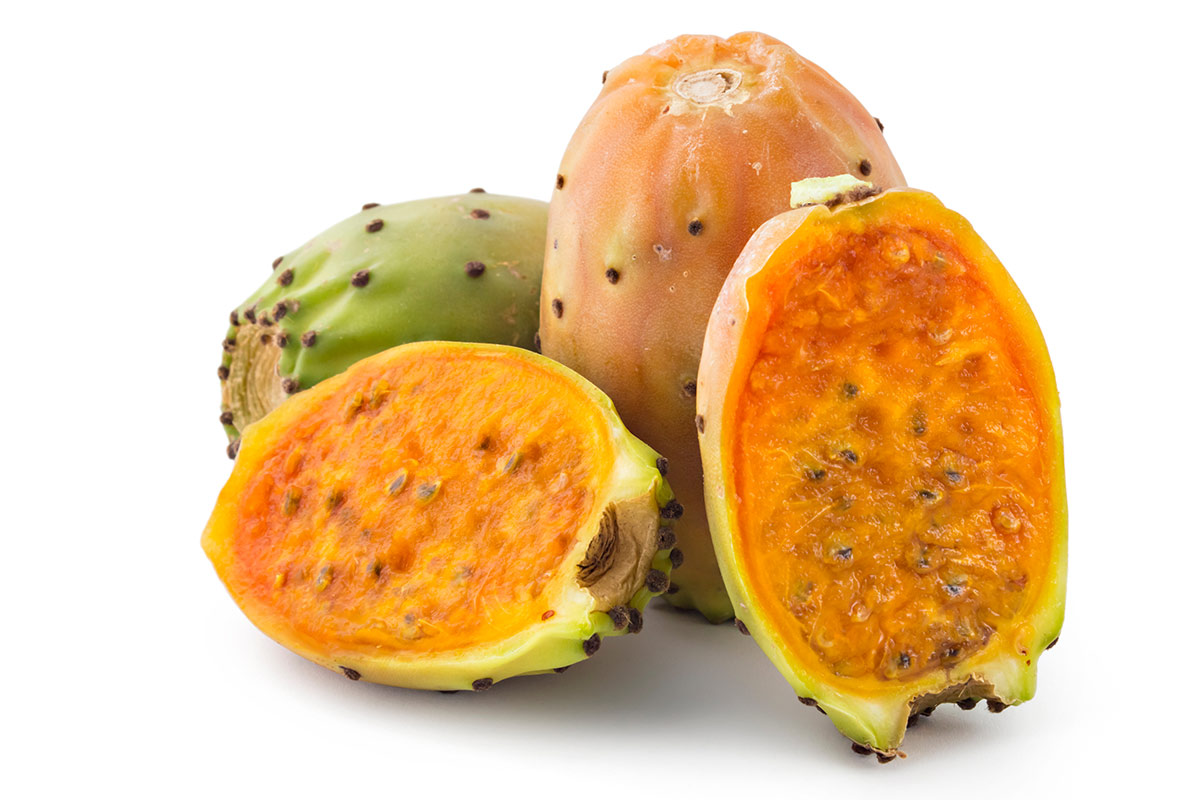 The prickly pear cactus is a member of the fruiting cactus family, and it produces edible fruits. Due to their spines, they must be harvested with extreme caution.
The pads and fruits are both edible, although the pods are especially prized in Mexican cooking.
When peeled, the fruit reveals a juicy, sugary pulp that is often used in drinks, preserves, and other food preparations. Opuntia humifusa is the scientific name for this fruit.
Pumpkin
Similar to peppers, the pumpkin (or winter squash) is a big, spherical fruit that is used in cooking.
In their native range (the United States and other areas of North America), they represent the beginning of winter and have enormous cultural, artistic, and gastronomic value.
The flowers of the pumpkin plant, which emerge before the pumpkin fruit, are not only beautiful but also edible. These yellowish-orange blossoms can be used in a wide range of cuisines.
The scientific name of pumpkins is Curcubita pepo.
Purple asparagus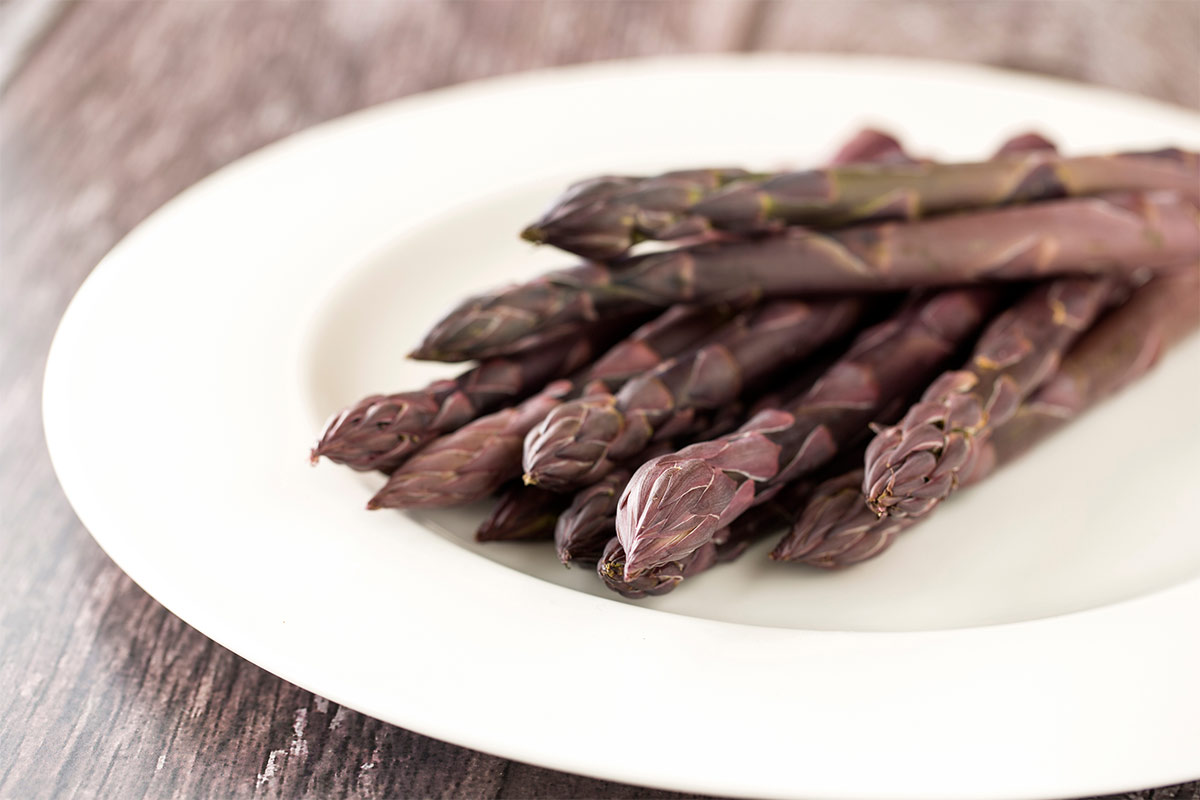 The pigment anthocyanin gives purple potatoes and red cabbage their distinctive color.
This brightly colored asparagus has a flavor that is somewhat more strong than its green version, and it lends a touch of elegance to any meal.
The delicate taste of its spears can be enhanced by steaming, grilling, or roasting. Asparagus officinalis is the scientific name for this delicious vegetable.
Purple cabbage
The purple cabbage, or red cabbage due to its distinctive color, is a popular vegetable across the world. This P-vegetable's leaves are tightly wrapped and somewhat waxy to the touch; it belongs to the cabbage family and has a spherical shape.
Compared to green cabbage, the taste is fresh and spicy. Brassica oleracea var. capitata F. rubra is its official scientific name.
Purple carrots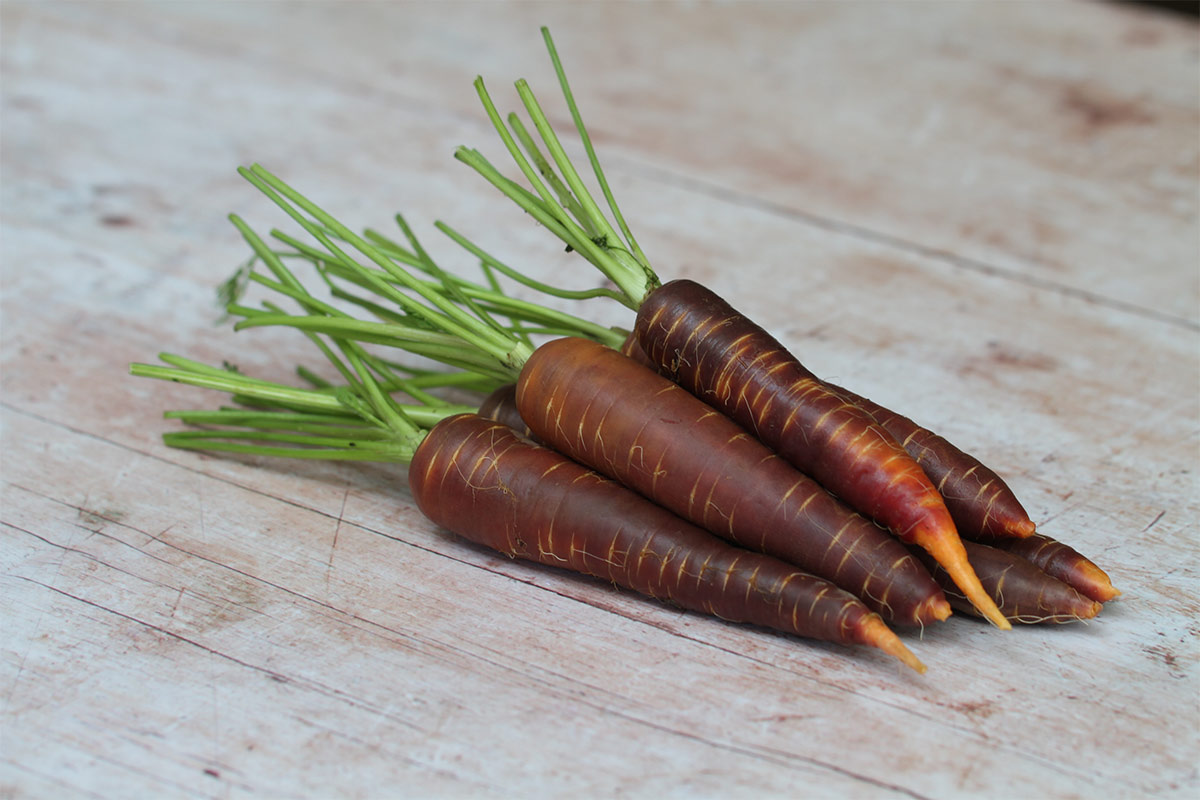 While most carrots are orange, the unique purple variety is a welcome change. The same pigment that gives blueberries and the other purple vegetables on this list their antioxidant qualities also gives these cultivars their color.
The scientific name for these plants is Daucus carota subsp. sativus.
Purple kohlrabi
Purple kohlrabi is a great addition to salads and slaws because to its brilliant color and crisp texture.
Peeling reveals white flesh that looks and tastes just like green kohlrabi (subtly sweet, nutty, and peppery, with a texture akin to broccoli stems).
Botanically, it belongs to the Brassica oleracea Gongylodes group and is one of the most overlooked leaf vegetables.
Purple potatoes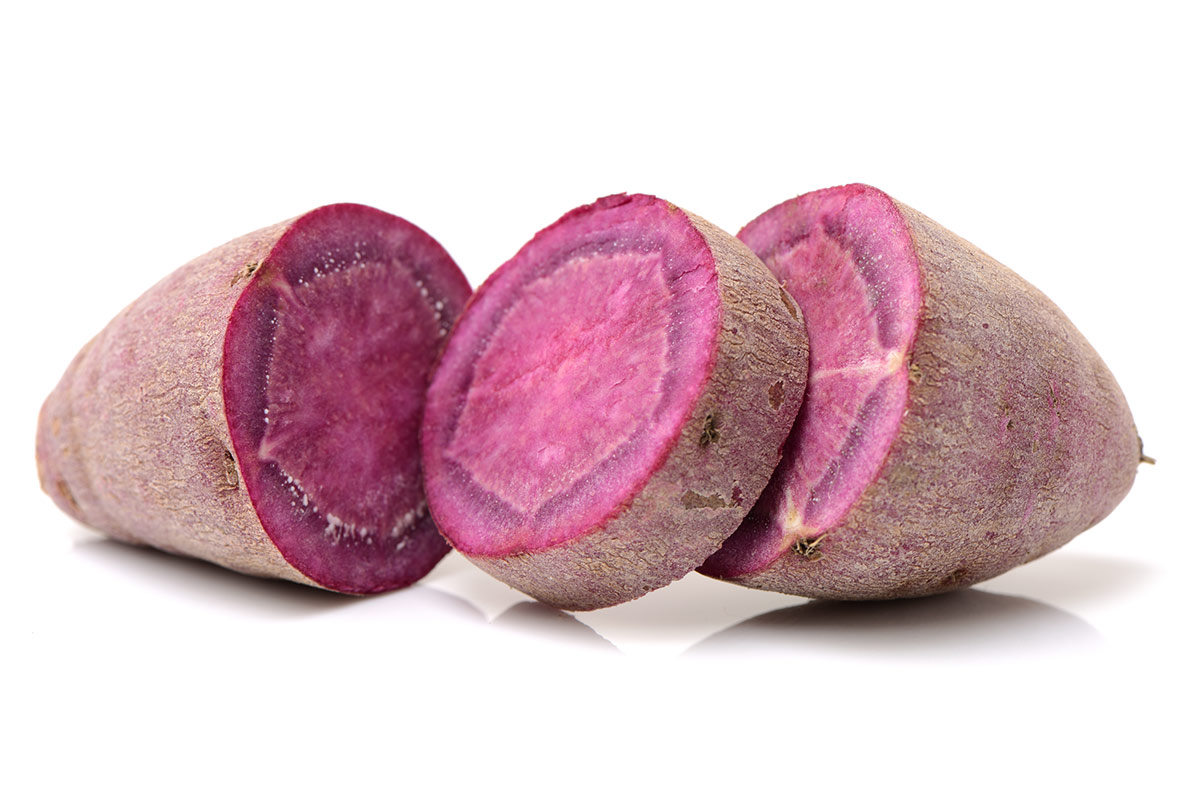 Purple potatoes, which are aesthetically attractive and contain beneficial antioxidants, are rich in the same pigment blueberries are.
They're colorful and tasty whether boiled, mashed, or roasted, and they're packed with healthful minerals like vitamin A and fiber.
The scientific name for purple potatoes is Solanum tuberosum.
Purple sweet potatoes
The purple sweet potato is just a sweet potato that happens to be purple. When cooked, they take on a pleasantly sweet taste and a somewhat creamy texture, and they can be used in any recipe that calls for white or orange sweet potatoes.
This tuber is known by its scientific name, Ipomoea batatas.
From breakfast to dinner, snacks to desserts, and cuisines from around the world, we have explored an array of delightful foods that start with P.
Whether you have a craving for pancakes, an inclination for Peking duck, or a hankering for a slice of pecan pie, there is no shortage of palate-pleasing options to satisfy your culinary desires.
You can also learn about all the delicious vegetables that start with P and fascinating P fruits just in two clicks!
So, go forth, embrace the P foods, and embark on your own gastronomic adventure. Enjoy the journey, one bite at a time!
120 Surprising Foods That Begin With P (2023 Edition)
From cuisines to ingredients, treats to savoury dishes, uncover a world of delectable foods from all over the globe.
Ingredients
Whole foods that start with P
Parmesan cheese

Pastrami

Peanut butter

Pickles

Pistachios

Pita bread

Plaice

Prosciutto

Provolone cheese

Prunes

Pumpernickel bread

Pumpkin seeds
Appetizers and desserts that start with P
Paneer tikka

Panna cotta

Peach cobbler

Peach melba

Peanut brittle

Pecan pie

Phirni

Pistachio ice cream

Prosciutto-wrapped asparagus

Pumpkin pie
Dishes that start with P
Pad Krapow Gai

Pad See Ew

Pad Thai

Paella

Palak Paneer

Panang curry

Pancakes

Pancit

Paneer Makhani

Pappardelle bolognese

Parmesan-crusted chicken

Pasta carbonara

Pav Bhaji

Peanut pad thai

Peanut Satay

Peanut Satay Noodles

Peking duck

Peking hot pot

Pepper steak stir-fry

Pepperoni Stromboli

Peri-Peri chicken

Pesto sauce

Pesto pasta

Pho

Phở Bò

Phyllo Spanakopita

Piccata

Pierogi

Pineapple fried rice

Pimento cheese sandwich

Pistou soup

Pita gyro

Pizza

Plum sauce

Polenta

Pollo Asado

Pommes Anna

Popcorn chicken

Pot-au-Feu

Pot roast

Potato leek soup

Potato Gnocchi

Potato salad

Poutine

Pulled pork sandwich
Snack foods starting with P
Pambazo

Pani puri

Popcorn

Potstickers
Fruits that start with P
Papaya

Passion fruit

Pawpaw

Peach

Pear

Pecan

Pepino

Persian lime

Persimmon

Peruvian apple cactus

Peruvian groundcherry

Peumo fruit

Pie pumpkins

Pineapple

Pineberry

Pindo palm fruit

Pitanga

Pitaya

Plantain

Plum

Pluot

Pomegranate

Prickly pear

Pulasan

Pomelo
Vegetables that start with P
Pak choi

Parsley

Parsnips

Pattypan squash

Pea eggplant

Pea shoots

Peas

Pepper squash

Pepper

Pepperoncini

Pigeon peas

Pimentos

Pinto beans

Portobello mushrooms

Portulaca

Potato

Prickly pear

Pumpkin

Purple asparagus

Purple cabbage

Purple carrots

Purple kohlrabi

Purple potatoes

Purple sweet potatoes